Vandy Vape Gaur-21 Review
Vandy Vape has been known to partner with media personalities from the vaping world on various product lines, like the Pulse squonk mod or the Berserker MTL RTA, and it has been working out very well for them. Well enough to keep doing it, apparently, as they recently teamed up with popular YouTube reviewer Matt from SMM for a dual battery vape mod that's both durable and lightweight, the Gaur-21 box mod.
Vandy Vape Gaur-21 Specifications
Dimensions: 96.5 mm x 30 mm x 59 mm
Weight: 128g
Material: Polycarbonate
Batteries: 2 x 18650/20700/21700
Wattage range: 5W – 200W
Voltage range: 0.5V – 8V
Resistance: 0.05Ω – 3.0Ω
Vandy Vape Gaur-21 Packaging and Presentation
The Gaur-21 dual-battery vape mod comes in a rectangular cardboard box packaged in a turquoise wrapper featuring a picture of the device on the front, and a list of contents, some age-restriction warnings, and a list of main features, on the back.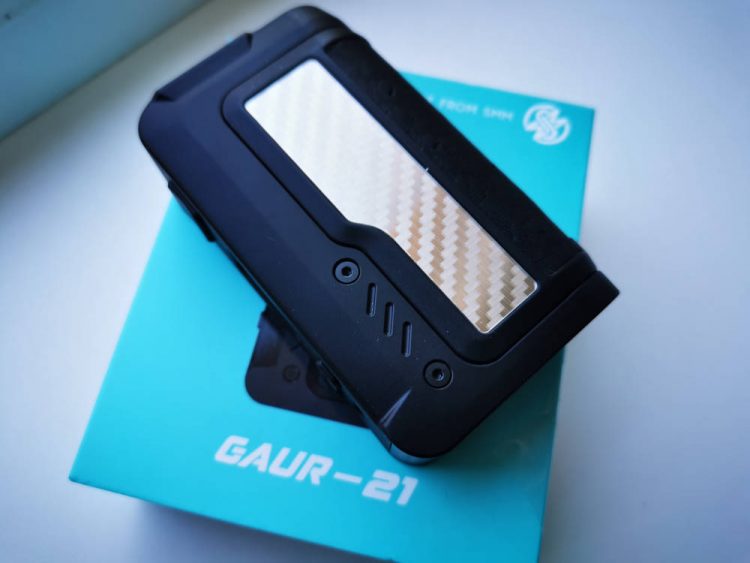 Inside the box, we have the Gaur-21 sitting nicely in a Styrofoam holder, next to a USB Type-C cable for charging and firmware updates. Underneath the holder you'll find the user manual, a separate manual for the Vandy app, as well as warranty and battery safety cards. Inside the mod, we also have two battery adapters, designed to be used with 18650 batteries.
Vandy Vape Gaur-21 Design and Build Quality
The new Gaur-21 is being advertised as the lightest dual-21700 battery mod ever made, and while I don't have all of them available for comparison, I will admit that it is pretty darn light for its size. At just over 128 grams with no batteries inserted, it feels surprisingly lightweight.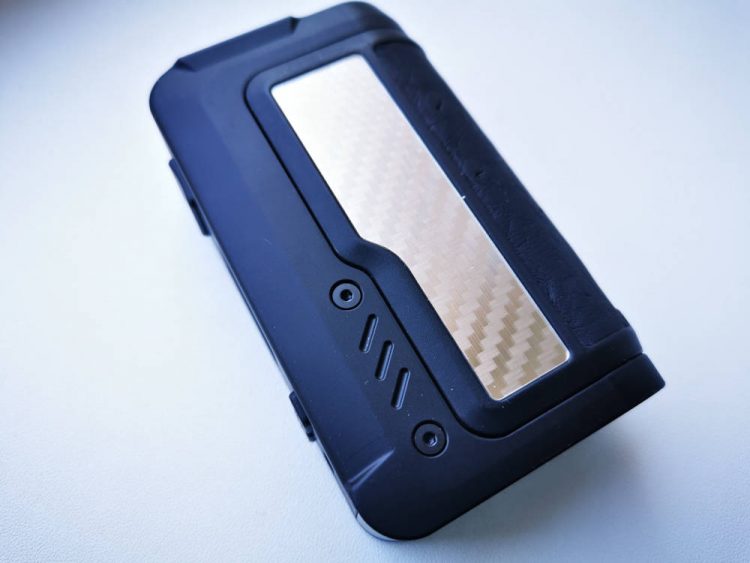 The secret to this unusual lightness lies in the material used to make the Gaur -21. While most vape mods are primarily made of zinc, aluminum or some other metallic alloys, this one is made primarily of fiberglass-reinforced polycarbonate, a material that Vandy Vape has used before on the Swell mod. It's super light, but also extremely durable, so it should handle shocks quite well.
I love how light the Gaur-21 feels, even with batteries inside, but I personally can't get over how large it is. It's huge, even for a dual-battery vape mod, and I just can't see myself using this every day, especially on the go. I can barely wrap my hand around it (granted, I have small hands), and I hate the way it looks in my hand. It's just personal preference, but the size is a deal-breaker for me.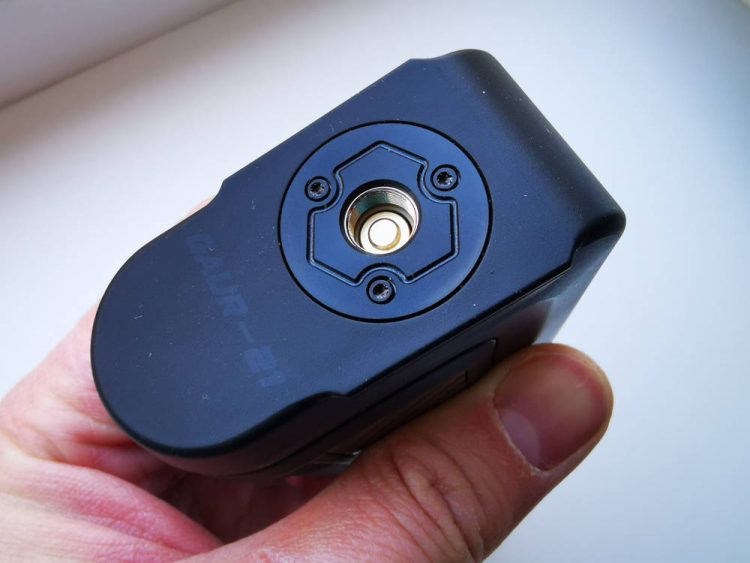 Interestingly, the name Gaur was apparently inspired by an Indian bison of the same name. It's a massive animal, so I guess you could say it fits perfectly.
In terms of design, the Vandy Vape Gaur-21 is a C-frame type vape mod, like the Smoant Charon 218, or the newer Druga Foxy One. The battery door wraps around the device and slides in and out through the side. The rounded battery door makes the Gaur-21 very comfortable to hold, despite its size, and the powerful magnets keep it firmly locked in place.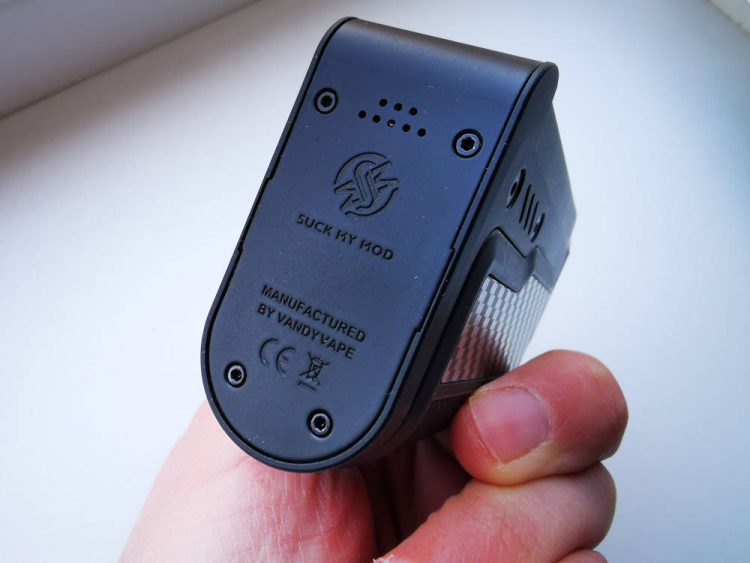 The battery compartment has enough space for two 21700/20700/18650 batteries, and features very clear polarity indicators, which I like. I wish there was one of those ribbons for removing the second battery, though, as you now have to stick your fingernail between the battery and the mod to yank it out. It's not the end of the world, but it could have been designed better.
The 510 connection of the Gaur-21 mod is not perfectly centered, but the width of the mod makes it possible to use atomizers up to 28mm in diameter without any overhang. Looking at the mod from the top, you can see that Vandy Vape actually enlarged the platform around the connection to make it usable with larger attys.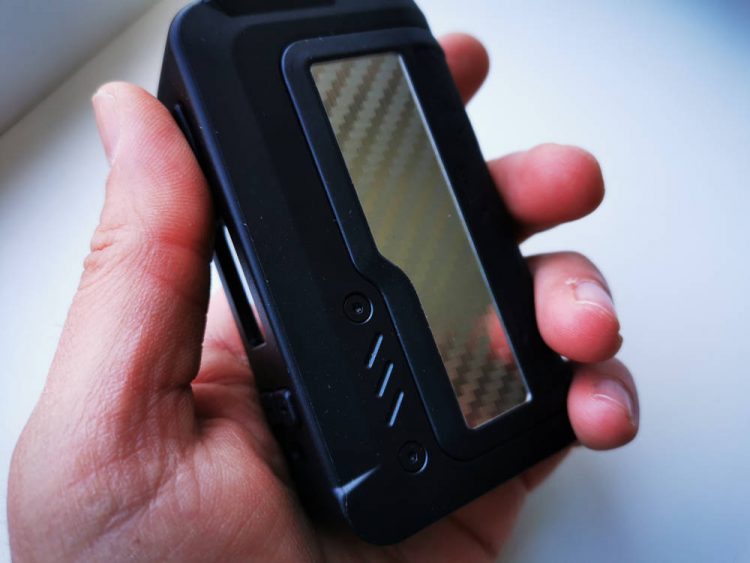 The command panel has a classic design, a fire button, two smaller power adjustment buttons, and a rectangular display in-between them. Near the very bottom, we have a USB-C charging port. The buttons are made of the same polycarbonate as the body of the mod, so they have kind of a cheap feel. They work fine, make that satisfying click when pressed, but they just feel like plastic buttons.
The display is similar to the one we saw on the new Vandy Vape Pulse 2 squonk mod. It's a very bright and vibrant color display that's reasonably sized for this mod. Speaking about the display, the Gaur-21, like other Vandy Vape mods, has a water-resistant PCB, so if you were to drop it in water, or if juice happened to get into the device, you'd be fine.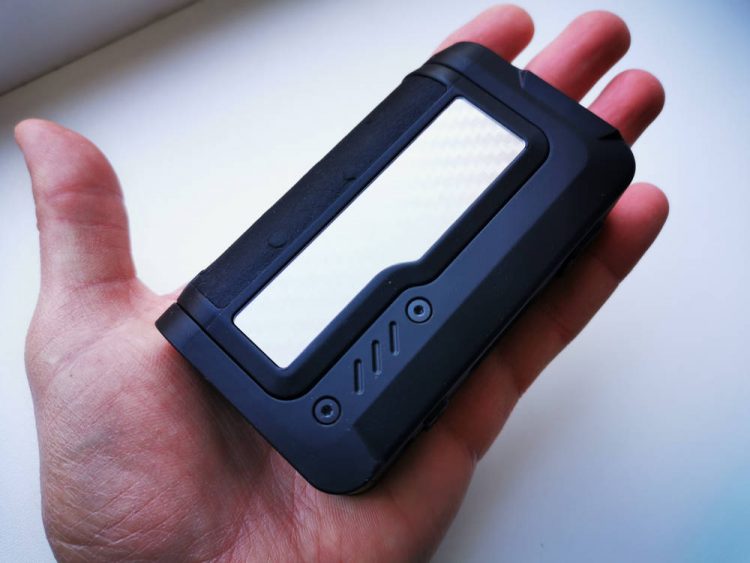 In terms of esthetic elements, the Gaur-21 featured some "leather" wrapping and carbon fiber or resin-imitating panels, none of which are that well-done, to be honest. The leather is particularly ugly-looking; it doesn't even look or feel like leather, but rather like a sort of compressed rubber. The review sample I received was the Carbon Fiber Silver version, which basically has this plastic panels that look like silver carbon fiber. I'm not a fan…
Vandy Vape Gaur-21 Menu System and Navigation
The Gaur-21 dual-battery vape mod is powered by an updated version of the Vandy Chip we saw in the Pulse 2 squonk mod. It now offers access to extra features, as well as connection to an advanced smartphone app, for the tech-oriented vapers.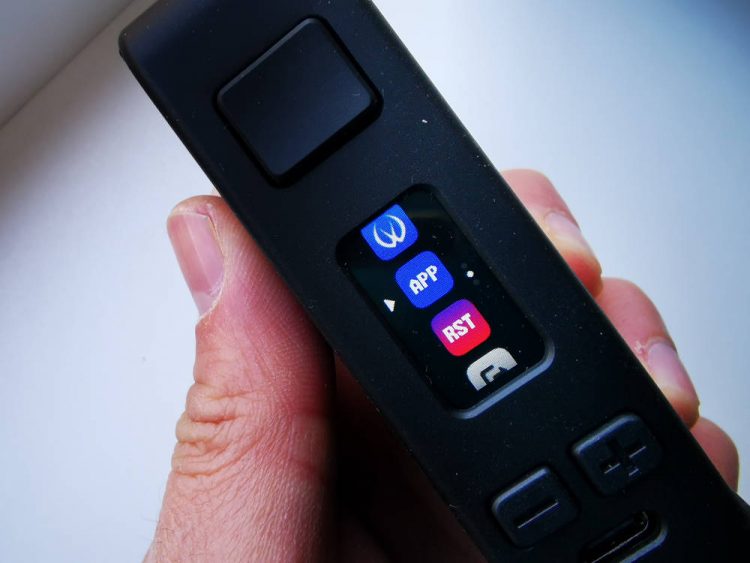 The mod turns on automatically after you insert two compatible batteries, and to turn it off, all you have to do is press the fire button five times in rapid succession. To get into the menu, you need to keep both the + and – buttons pressed for a couple of seconds. You will then be presented with a number of sub-menus to interact with.
First, there is the Settings sub-menu, where you can activate multiple vape modes (variable wattage, variable voltage, temperature control and bypass). Active modes will be available when browsing through vape modes on the home screen, by using the + and – buttons after pressing the fire button three times in rapid succession.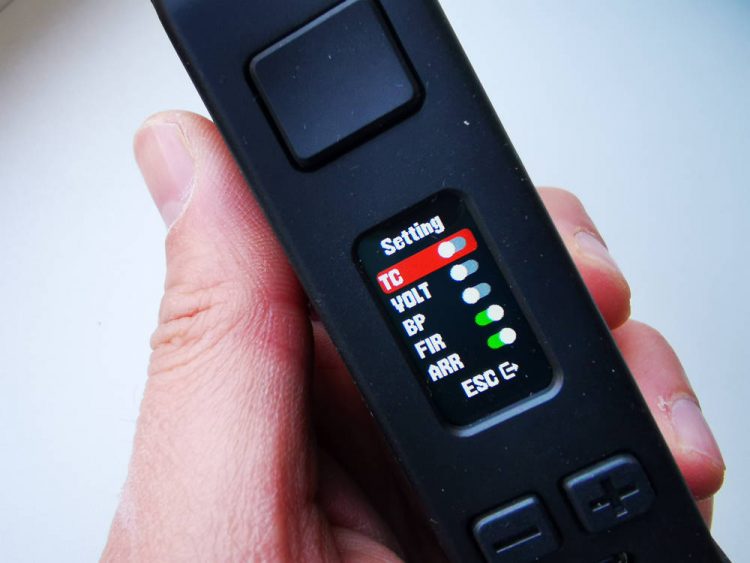 Also in Settings are the possibility to keep the fire button active when locking the other buttons (FIR), bypassing the "atomizer new/old" message when turning on the device (ARR), and activating the Vandy app.
The Gaur-21 menu also offers you the possibility to set the number of minutes after which the mod goes into hibernation, adjust the brightness of the display, reset the puff counter, change the color of the main interface, check the firmware version, reset the mod to its factory settings, and getting a QR code to scan with your smartphone in order to download the Vandy app.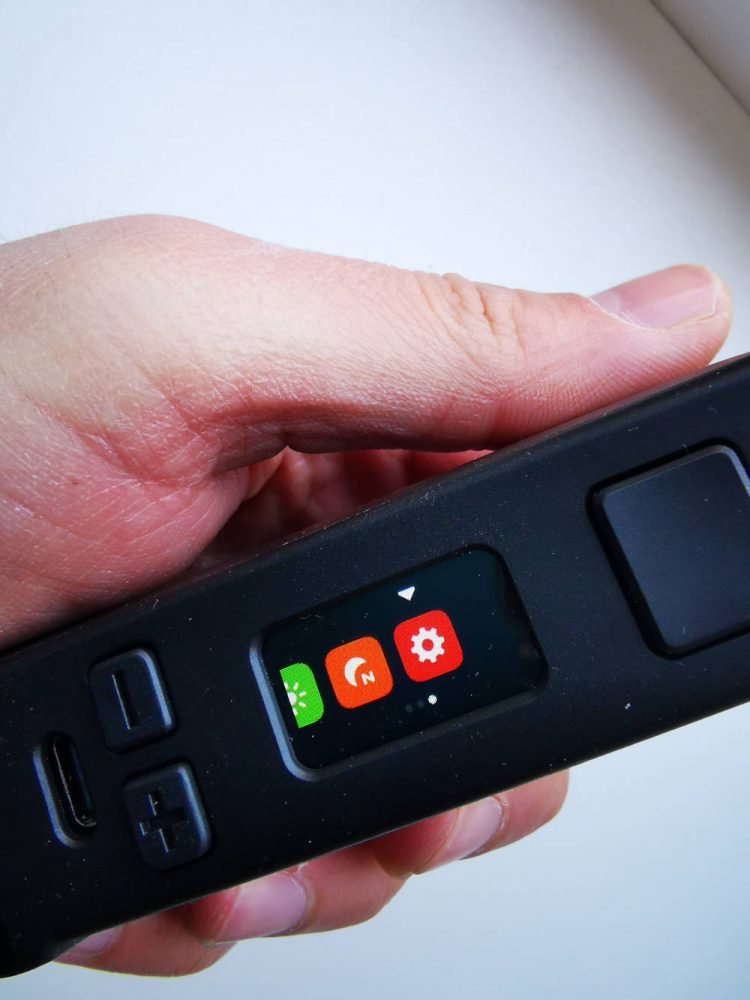 I personally wasn't too curious about the mobile app, as my previous experience with such gimmicks weren't exactly positive, or even interesting. But, I'm not going to bash it without having even tried it. All I can tell you is that it allows you to do firmware upgrades wirelessly, and comes with "find my device" functionality, if you're the kind of vaper who misplaces their mod all the time.
Vandy Vape Gaur-21 Battery Life and Performance
The new Gaur-21 is built with battery life in mind. It's a huge device, but if you're someone who vapes at over 100W and goes through at least a set of batteries a day, you'll probably care less about its size and more about the battery life it offers.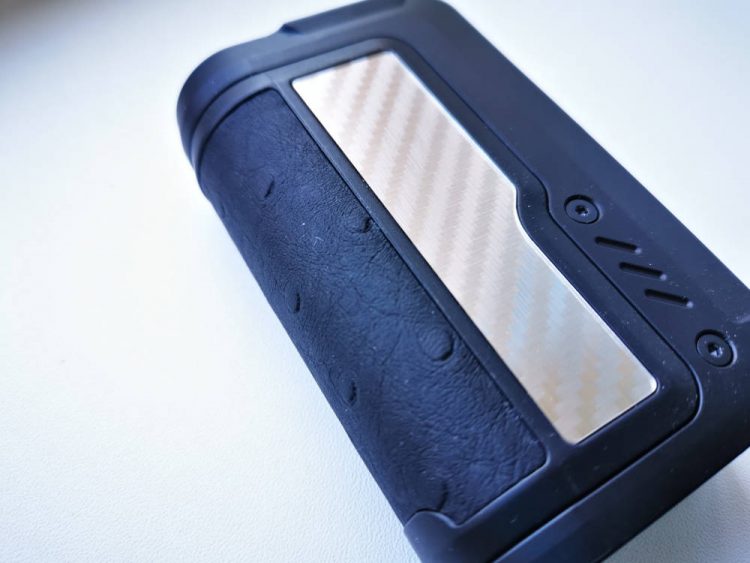 This thing works with two 21700 batteries, which should give you a few extra hours of vaping over dual-18650 battery mods. But if you vape at under 100W, do you really need the extra battery capacity? That's the question you should ask yourself. I get by well enough with two sets of 18650 batteries, in case i vape more than usual, but I generally get a day of use out of a set, so the extra battery life isn't a huge deal.
I never recommend charging the batteries inside the mod, but if you have no alternative, as least the Gaur-21 comes with USB-C charging, so you should get much faster recharging times than via the old micro-USB interface.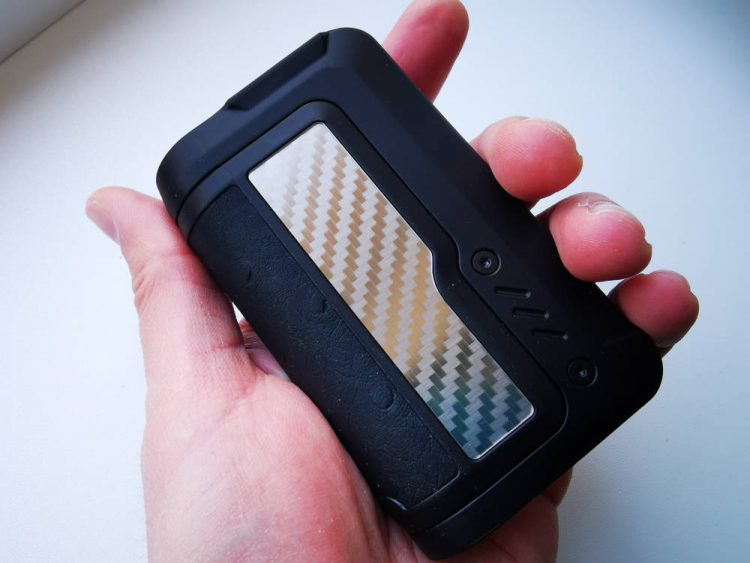 In terms of performance, I really can't fault the Vandy Vape Gaur-21 in any way. It fires extremely fast (virtually instant battery activation), which can also be said about most other modern vape mods, the power output feels accurate enough where I don't really care if it puts out 40W or 40.5W, and it seems to do a good job reading resistances as well.
I haven't tested the mod's temperature control capabilities, and I don't intend to, as it's not something I'm interested in. And since the vast majority of vapers don't use TC either, why even bother? Manufacturers keep putting it in as a vape mode, but if it hasn't taken off so far, it probably never will.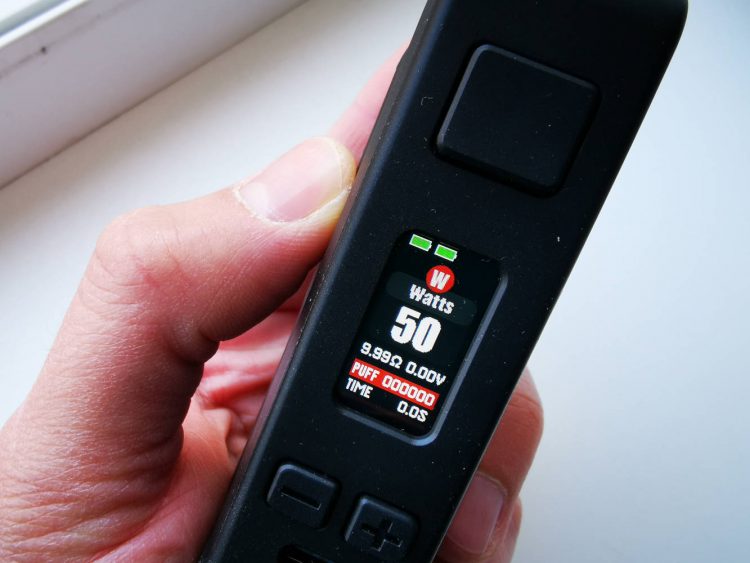 As I said, I can't see myself using the Vandy Vape Gaur-21 as my daily driver, because of its massive size, but I can't really fault its performance in any way. It works as intended, it's super fast and responsive, I've encountered no errors in my five days of use, so congratulations on a job well done, Vandy Vape and Matt from SMM.
Conclusion
If you can get past the size of the Vandy Vape Gaur-21, you'll be rewarded with excellent battery life and performance, but that's a big 'if'. This is a big boy, and with the focus being on compact vaping devices, I have serious doubts that it will make much of a splash in terms of sales and user adoption. I'm sure there are some vapers who can ignore its size for the extra battery life provided by dual 21700s, but they are the minority. Still, it's refreshing to see companies experiment outside the vape pod and pod mod markets.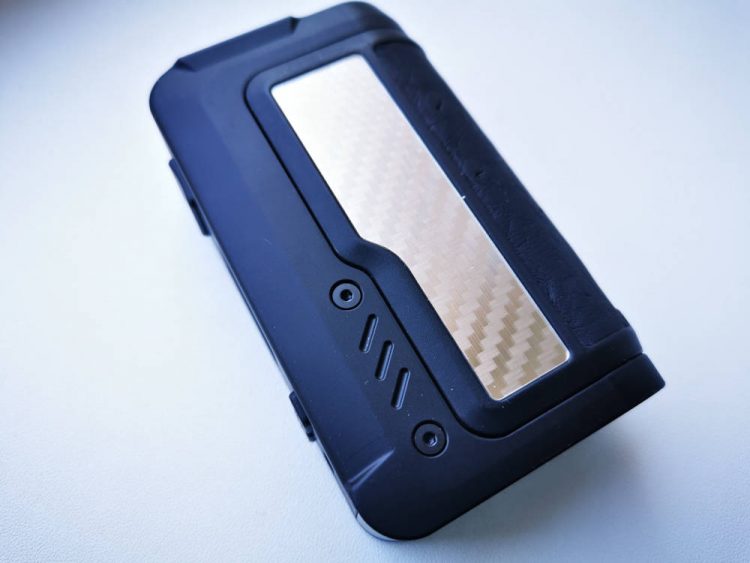 The Vandy Vape Gaur-21 mod was sent to me by Sourcemore, for the purpose of this review. They currently have it in stock for $58.99, but you can use the code GA21 at checkout, for a nice discount.
Pros
lightweight
21700/20700/18650 battery compatibility
smartphone app
great performance
nice color display
USB Type-C
Cons
too big
polycarbonate body