Vaporesso Luxe PM40 Review
Vaporesso Luxe PM40
Get a discounted price on the Vaporesso Luxe PM40 pod mod from a reputable seller.
There is no denying that pod mods are the hottest thing in vaping these days, but when it comes to small, compact devices, there aren't that many to choose from. There is the SMOK Nord 2, but other than that, there aren't any big brand vaping devices available. Until now that is, as Vaporesso seems dead set to take on SMOK and its popular pod mod with the Luxe PM40, a very similar device with adjustable airflow and a bigger battery.
Luxe PM40 Packaging and Presentation
The new Vaporesso Luxe PM40 comes in the standard Vaporesso packaging, a rectangular cardboard box with a picture of the device and pictograms representing its main features on the front, and technical specifications, a list of contents, and a scratch-and-check authenticity sticker on the back.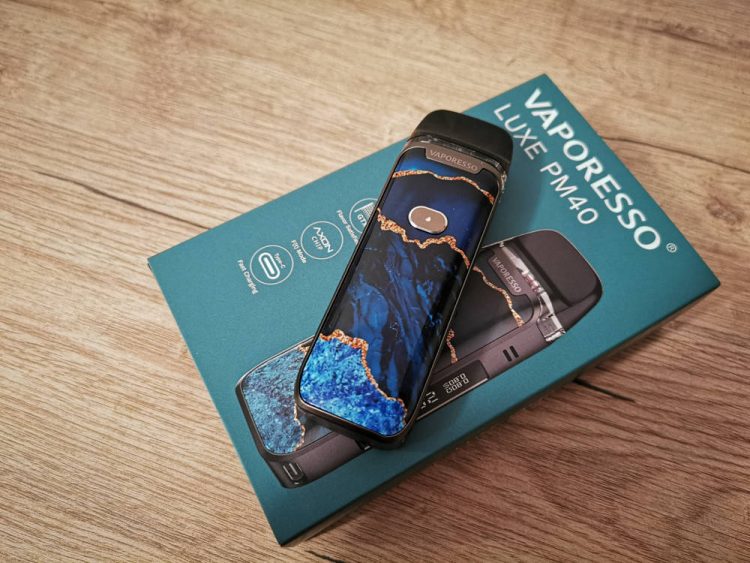 Inside the box, we have the Luxe PM40 battery unit, two refillable plastic pods, two GTX mesh coil-heads – one 0.8Ω and one 0.6Ω – a USB Type-C charging cable, user manual and some other reading material I didn't really bother with.
It's always nice to see an extra pod included, and the two coil-heads and USB-C cable are both pretty nice as well, so a very good starter kit overall.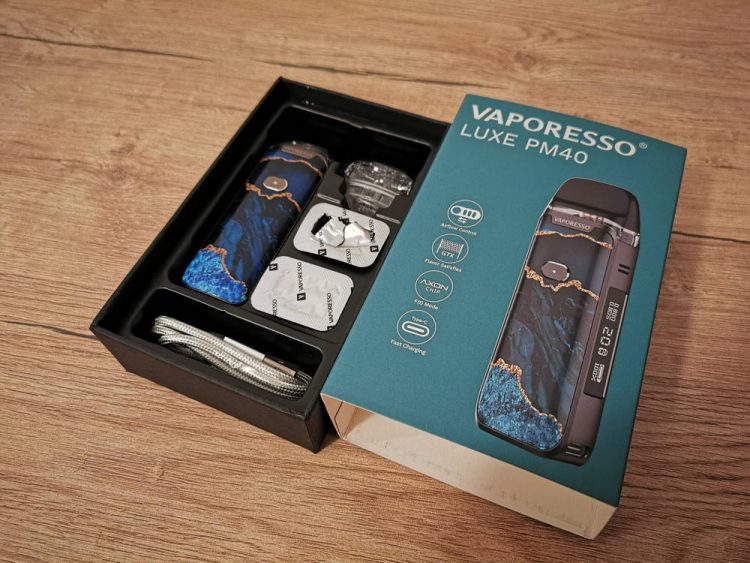 Luxe PM40 Design and Build Quality
If you're familiar with the SMOK Nord 2, it only takes a glance at the Luxe PM40 to see where Vaporesso got its inspiration for the design. From the general shape, to the motifs for the decorative panels and the location of the digital display, these competing devices look so similar that you could swear they were different generations of the same product.
The Vaporesso Luxe PM40 measures 96.5mm x 30.6mm x 21.5mm, is made primarily of zinc alloy and comes with a variety of decorative panels to choose from. My review samples had these rather nice stabilized wood design, but you can get them in carbon fiber and rainbow designs as well.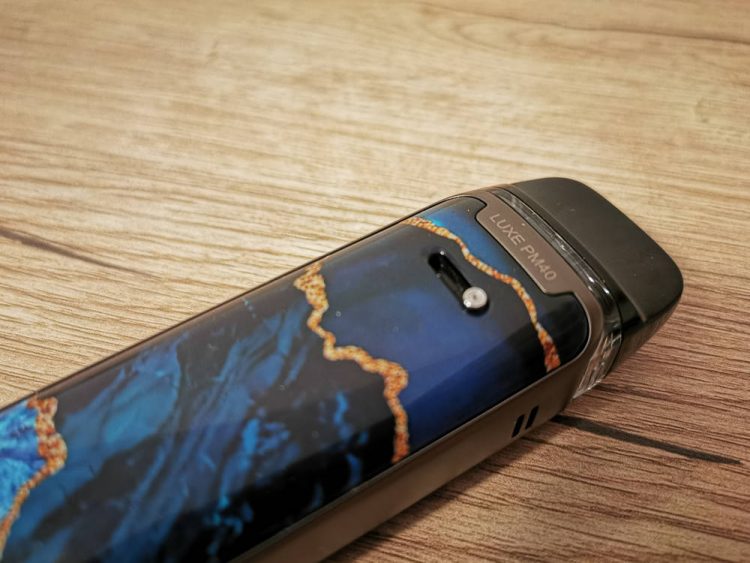 Only slightly thicker than the SMOK Nord 2, the Luxe PM40 is just as ergonomic and comfortable to hold in the hand as its main rival, so there's no telling them apart in that department. One of the few differences between them is the inclusion of an adjustable airflow system on the Luxe PM40, which looks similar to the knob system we saw on the Vaporesso Xros not too long ago.
The Luxe PM40 airflow control basically consists of a metallic knob on one of the sides of the device, which opens and closes the airflow slots on the narrow sides of the device. It's a simple system, although the knob did feel kind of stiff, so some users may struggle to open and close it. As for how it works, we'll cover that later in the review.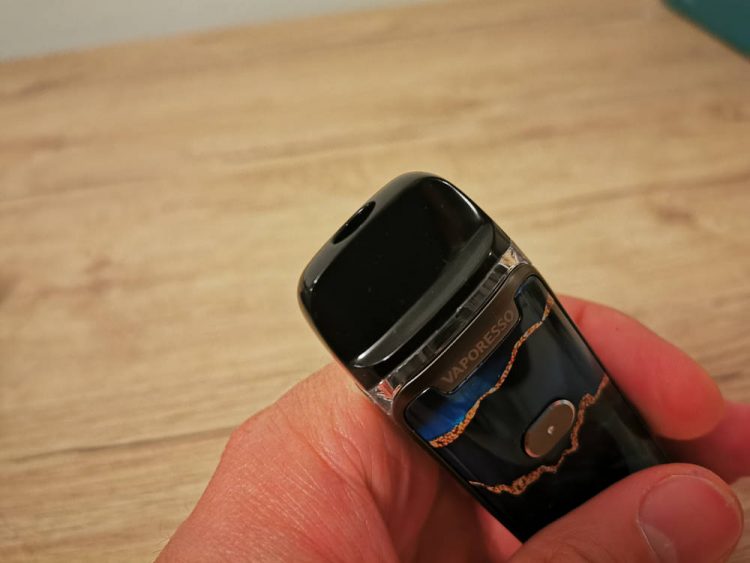 The decorative panels on the Luxe PM40 are made of glossy plastic, so they are going to be fingerprint magnets. They do come with protective plastic film and I recommend you keep them on for as long as possible to protect your device from scratches and smudges.
The display on one of the narrow sides of the Vaporesso Luxe PM40 is rectangular and seems decently-sized for such a compact device, but that's just an illusion. The protective plastic cover is large, but the actual display underneath is actually tiny. It's not all bad though, as the screen is bright enough, and the fact you get a display at all on this type of device is a bonus in itself.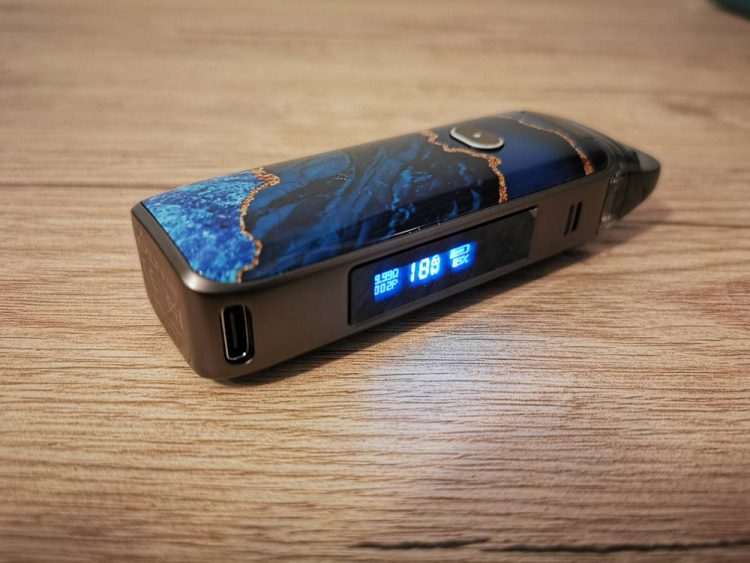 The power button on the Luxe PM40 also acts as a scroll button to cycle through the variable wattage range (5W – 40W). It's nice and clicky, although it does have a fair bit of play to it.
The refillable plastic pods of the Vaporesso Luxe PM40 have the classic flattened mouthpiece, which also acts as a cover for the fill port. Basically, you have to yank off the black mouthpiece to reach the fill slot. That has proven hard to do on several occasions, especially when I had greasy or sweaty fingers, as the mouthpiece is on there pretty tight. It's not a deal-breaker, but this is definitely not the best fill port cover I've ever seen, and I know Vaporesso can do a lot better.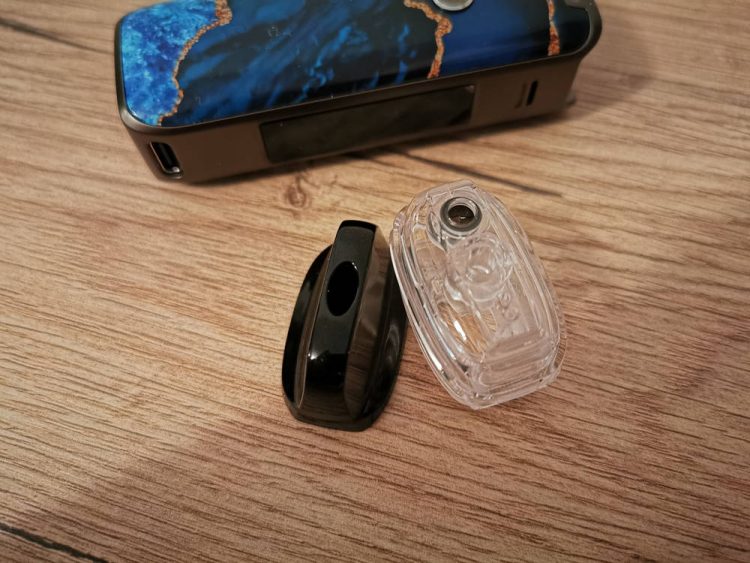 The pods have an e-liquid capacity of 4ml, and to fill them all you have to do is insert a dropper or unicorn bottle tip through the membrane-covered fill port after removing the mouthpiece. Once you're done, pop the mouthpiece back on and you're good to go.
The included GTX coil-head are inserted through the bottom of the refillable pods, just like on most pod mods. They don't have a certain orientation, so all you have to do is make sure they are pushed all the way in, to prevent leaking. Although the kit comes with two types of coils, there are plenty of other GTX coil-heads to choose from, including and RBA base, so you can do a lot of experimenting to find the one you like best.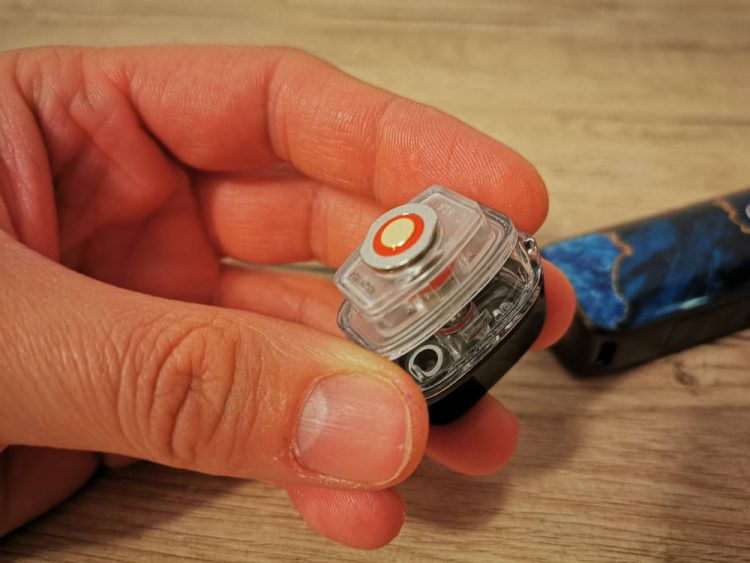 The pods have to be pressed fit onto the battery unit until they click into place. They go almost all the way in, so you can't really see the e-liquid level without popping the pod out to check. You can look through the narrow sides, but even so, if the juice level is too low, you can't see it.
The Vaporesso Luxe PM4o draws a lot of inspiration from the SMOK Nord 2, at least in terms of design, and has decent build quality. Honestly, there isn't a lot to complain about in this department.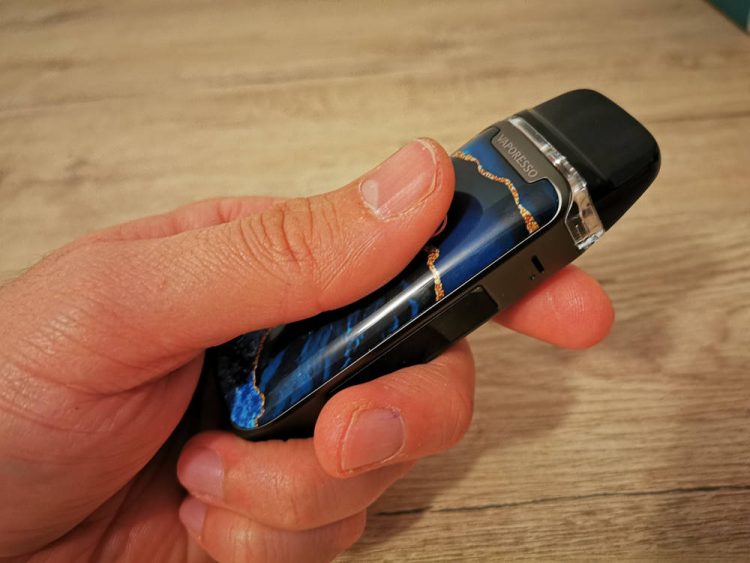 Luxe PM40 Battery Life 
The Vaporesso Luxe PM40 has a built-in 1800mAh battery, which is 300mAh more than that of the SMOK Nord 2, its main competition. This is definitely a big plus for Vaporesso, as battery life is one of the main criteria when deciding what vaping device to buy.
Another big advantage the Luxe PM40 has over the Nord 2 is the USB Type-C interface, which allows fast charging at a rate of 2A, which is huge for this type of device.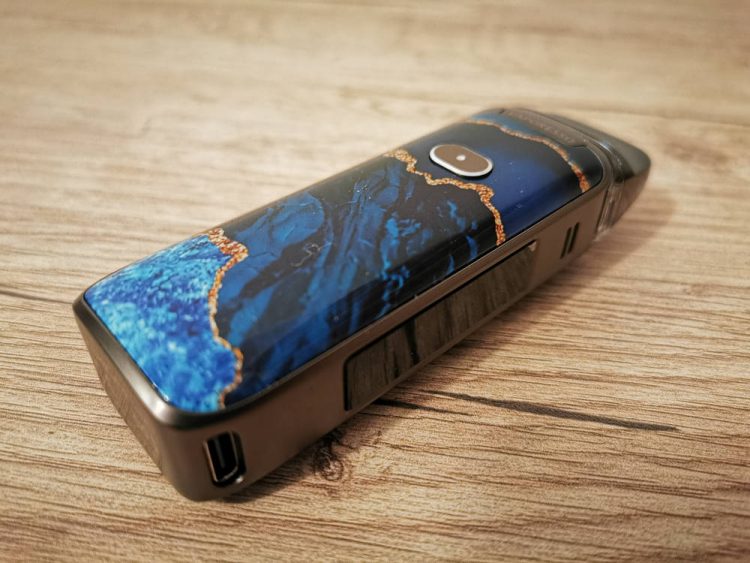 It's hard to estimate how long the battery of the Luxe PM40 will last a vaper, as this is a variable wattage vaping device, but I can tell you that it will likely last about an hour longer than a SMOK Nord 2 used at the exact same wattage.
How the Luxe PM40 Vapes
Vaporesso's GTX coil-heads are tried and true, so that gives you a pretty good idea of what you can expect from the Luxe PM40 in terms of flavor, but what about the vaping experience as a whole? Well, for me it has been a mixed bag, as the flavor is indeed very nice for a pod mod, but the airflow control isn't what I expected.
The Vaporesso Xros has one of the simplest yet best airflow adjustment systems I've ever seen on a vape pod, so when I saw that the Luxe PM40 had a similar knob, I got excited. Sadly, I got my hopes up too quickly, as the two systems couldn't be more different. While the Xros knob allowed you to close the airflow down almost completely, the one on the Luxe PM40 barely closes down the airflow at all.
While you can tell the difference when the airflow is completely closed compared to when it's wide open, any adjustment in-between those two settings is virtually pointless. This is not one of those sensitive airflow control systems where even a millimeter can make a difference, but a crude one that lest plenty of air through even when completely closed.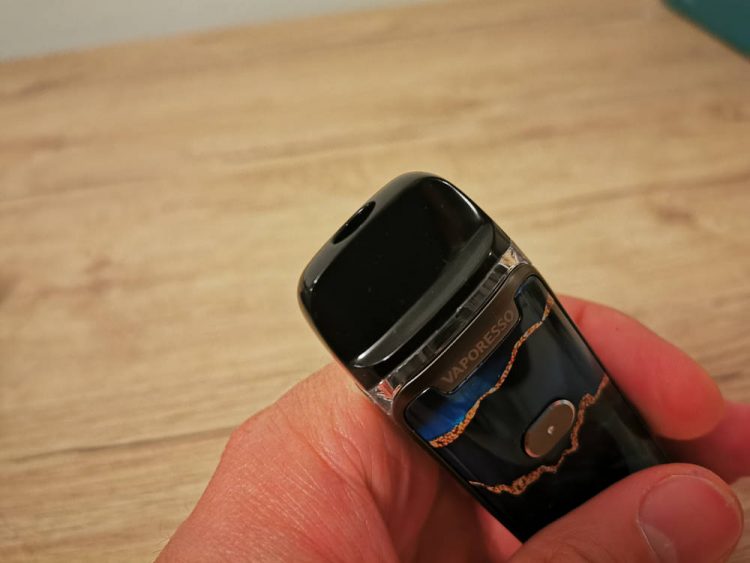 That's right, even when you close the air off, the draw is extremely loose, to the point where you can barely pull off a loose mouth-to-lung. If you're looking for a true mouth-to-lung (MTL) experience, there are much better devices out there.
Ironically, the Luxe PM40 isn't best suited for direct lung vaping either. You see, that airflow system that lets too much air in for MTL doesn't let enough of it through for an airy direct lung hit either. It's like Vaporesso tried to appeal to both MTL and DL vapers with a middle-of-the-road type of device, but in the end failed to satisfy either.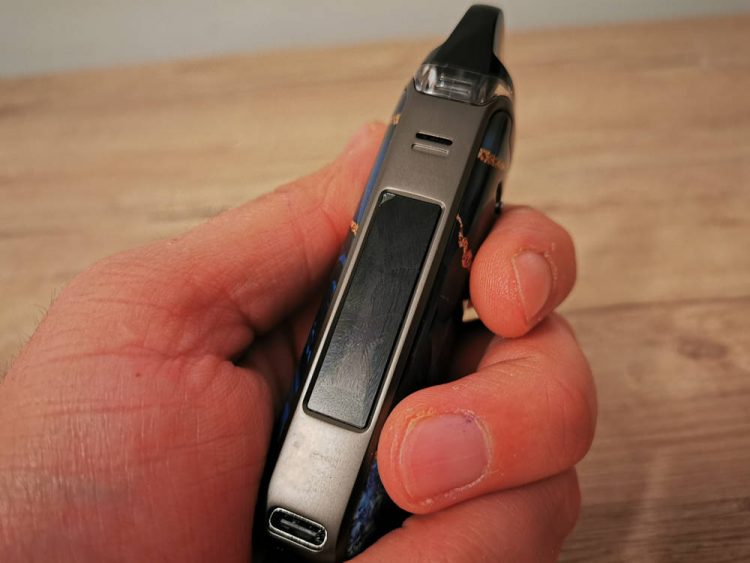 Another thing that annoyed me when using the Vaporesso Luxe PM40 was the built-in smart mode that we saw on other AXON chip devices. It basically reads the resistance of your coil-head and adjusts the power output to ensure you don't ruin the coil-head by mistake. It adjusts the power to fit the coil resistance, but it does that every time you attach a coil-head.
Even if you just pull out the pod to check the juice level and then push it back into the battery unit, the power output changes, which can get really annoying after a while. That said, I can't tell you that the Vaporesso PM40  is a bad vaping device. I can however tell you that it could have been so much better, at least in terms of performance.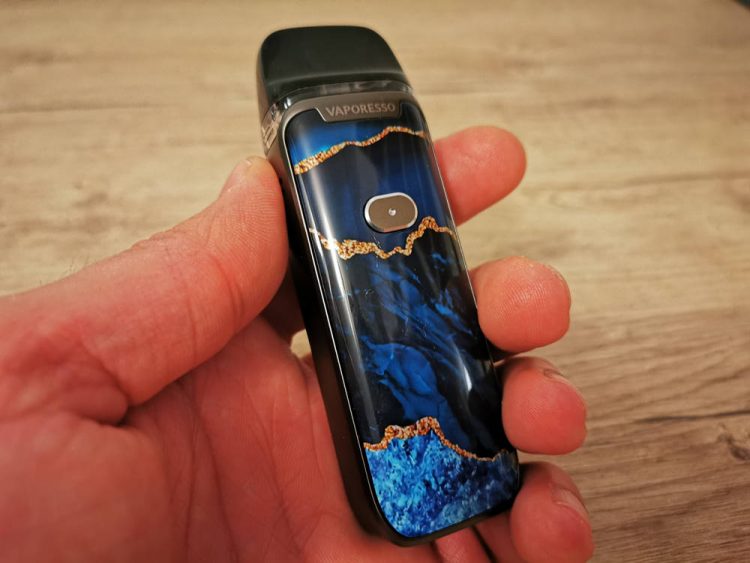 Conclusion
Vaporesso designed the Luxe PM40 as a direct competitor for the SMOK Nord 2. It has a very similar design, better battery life, adjustable airflow control and even a smart mode, so on paper it looks like the better device. And it may very well be, but my gripe is that it could have been a lot better had Vaporesso nailed the airflow control system as it did on the Xros pod system. As it stands, the Luxe PM40 is a middle of the road-type device that tries to satisfy both fans of MTL and DL vaping, and that never really works out.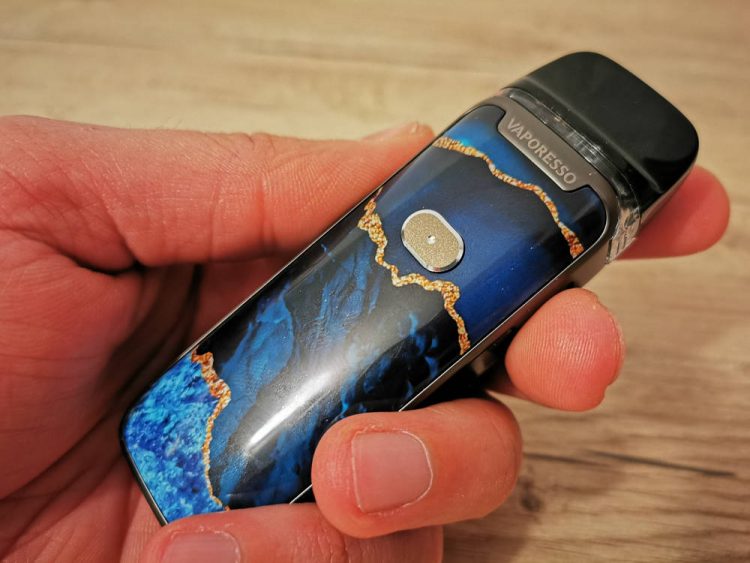 The Vaporesso Luxe PM40 was sent to me directly by Vaporesso, for the purpose of this review.
Pros
compact design
good build quality
adjustable airflow control
great battery life
adjustable power output
GTX coil compatibility
USB Type-C
Cons
disappointing airflow control
too similar to the SMOK Nord 2
Vaporesso Luxe PM40
Get a discounted price on the Vaporesso Luxe PM40 pod mod from a reputable seller.