Vaporesso LUXE Q Review
With pod mods being so popular these days, it's easy to forget that there are vapers out there who hate getting their hands dirty and just want to keep it simple. Simple-to-use vaping devices that don't require much tinkering or sound knowledge of Ohm's Law still have lots of fans, and for good reason – they are an excellent alternative to tobacco cigarettes. Today we'll be looking at one such device, the new Vaporesso LUXE Q pod system.
Vaporesso LUXE Q Specifications
Dimensions: 92 mm x 26 mm x 16.5 mm
Material: Zinc alloy, PCTG
Battery: 1,000mAh (non-removable)
E-liquid capacity: 2 ml
Vaporesso LUXE Q Packaging and Presentation
The new LUXE Q comes in a small, rectangular cardboard box featuring a picture of the pod mod next to some pictograms of its main features on the front, and some technical specifications, a list of kit contents as well as a scratch-and-check authenticity sticker on the back.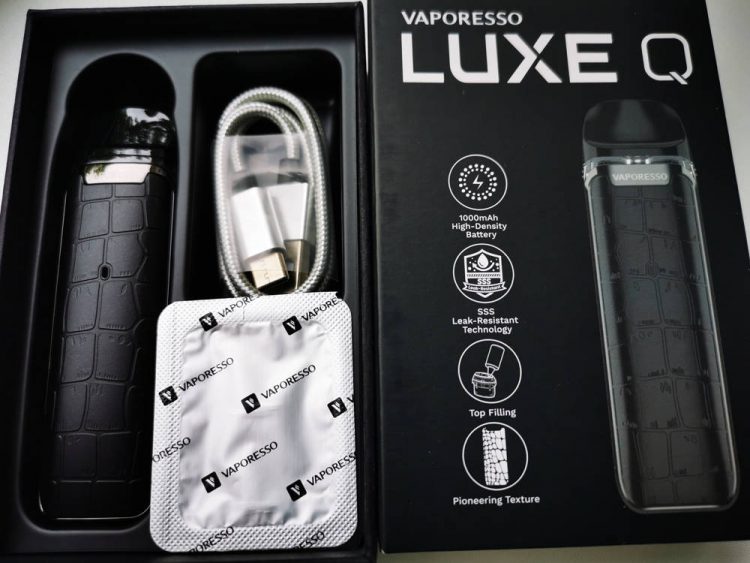 Inside the box we have the LUXE Q pod system, a spare refillable pod, a USB-C charging port, user manual and a warranty card. As far as contents go, this is your typical vape pod starter kit.
Vaporesso LUXE Q Design and Build Quality
Design-wise, the new LUXE Q pod system is heavily inspired by the Vaporesso LUXE PM40 pod mod. A side-by-side comparison reveals that they have very similar design elements, with the biggest differences being the size – the Q is a much thinner, more compact device – and the texture of the decorative panels.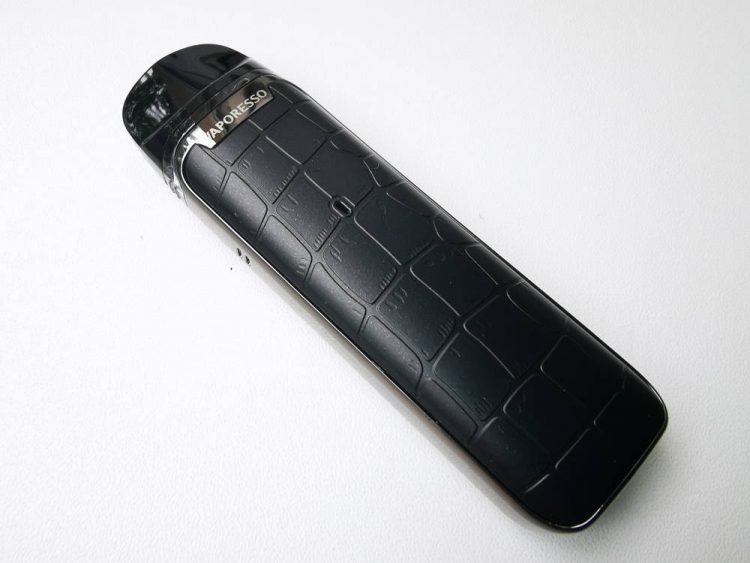 Instead of the stabilized imitation we saw on the LUXE PM40 pod mod, the LUXE Q pod system now features a strange alligator leather imitation that feels more like rubberized plastic in the hand. It's not bad, it actually fells smooth to the touch, but I didn't really get the alligator skin texture, which doesn't fit the material at all.
The LUXE Q has a zinc alloy frame that makes it feel very sturdy for its size. Speaking of size, Vaporesso's newest pod system is one of the slickest, most compact I've reviewed in quite a while. It's inconspicuous, easy to carry around in the smallest of jeans pockets, and feels great in the hand.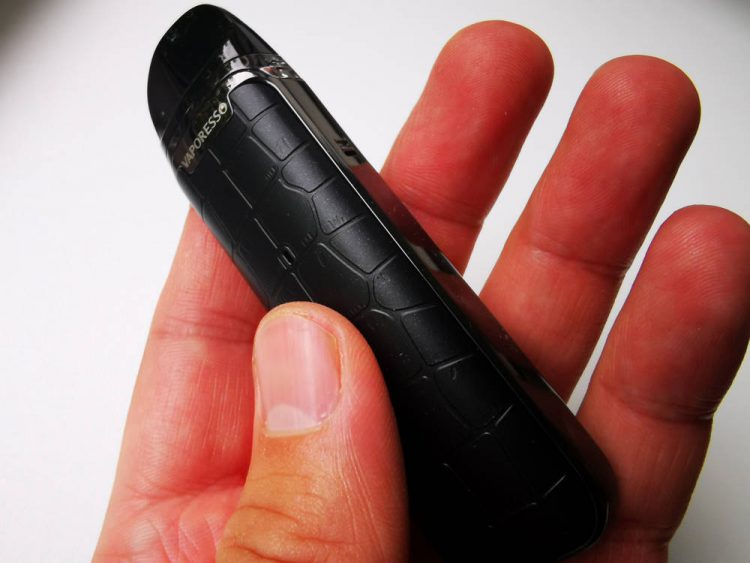 Starting at the top, we have a comfortable mouthpiece featuring a thin duck bill design that's much nicer than most other similar implementations that come to mind, including the entire SMOK RPM series. The mouthpiece is removable, all you have to do is tilt it to either side and it comes off. Underneath it you'll find the fill port, which is protected by a membrane, to prevent accidental leaks. Once you're done, pop the mouthpiece back on and you're good to go.
The pods hold up to 2 ml of e-liquid and are press-fit into the battery unit, instead of magnetically attached as we see in most cases. These are disposable pods, meaning once the built-in, non-removable coil-head inside goes, you have to throw away the whole pod. That may be a con to vapers who prefer to just change the coil-head, but this solution is much more convenient.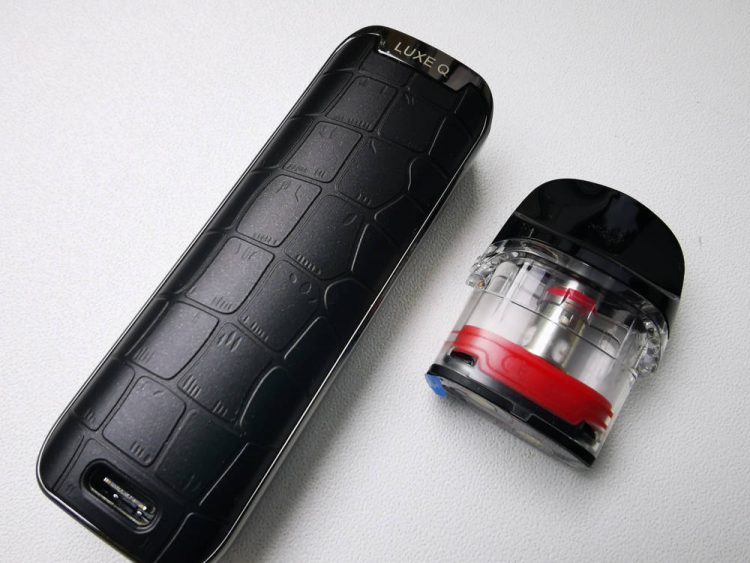 On the bottom of the pods we have gold-plated contacts, the tiny slots that the draw-activated switch goes into, as well as a rudimentary airflow control system. The latter is a bit trickier to explain, as it's basically just a tiny indentation on one side of the pod, and aligning it with an airflow slot cut into the frame of the device either restricts or loosens the draw. It sounds fine, but it's really not that good, in my opinion, as Vaporesso already has a much better pod system airflow control solution.
There is a reason why I gave the Vaporesso Xros the number one spot on my list of best pod systems money can buy, and that's the airflow control. It uses a simple knob that you can slide from one side to the other to open and close the airflow, and it works in credibly well. Why they didn't use the same system on the LUXE Q I do not know. I wish they had, though.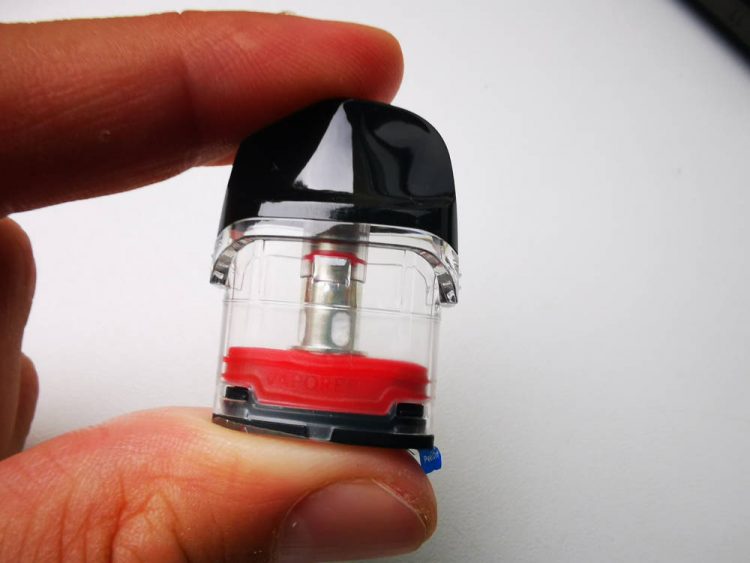 The battery unit feels smooth yet solid in the hand, which is what we've come to expect from Vaporesso over the years. I'm not a big fan of the texture choice for the new material, but that's definitely not a deal-breaker. This is a very well put-together pod system, and the Chinese manufacturer deserves all the praise for that.
As a whole, the Vaporesso LUXE Q is an interesting pod system that takes inspiration from the company's past creation, but also introduces new elements, like the new coating material of the panels.
Vaporesso LUXE Q Battery Life and Performance
One of the main advantages of the new LUXE Q pod system over virtually all other devices in its class is the battery capacity. How Vaporesso managed to squeeze a 1,000mAh battery in such a tiny space is a mystery to me. This thing is smaller than the good ol' Renova Zero, but it has almost double the battery capacity, which is mind-blowing.
The large battery capacity makes it possible to go even a whole day without recharging, depending on how much you vape, and the USB Type-C interface allows you to recharge a depleted battery in about an hour, which is a big plus. Also, you have vape-while-charging, so you can use it while it recharges.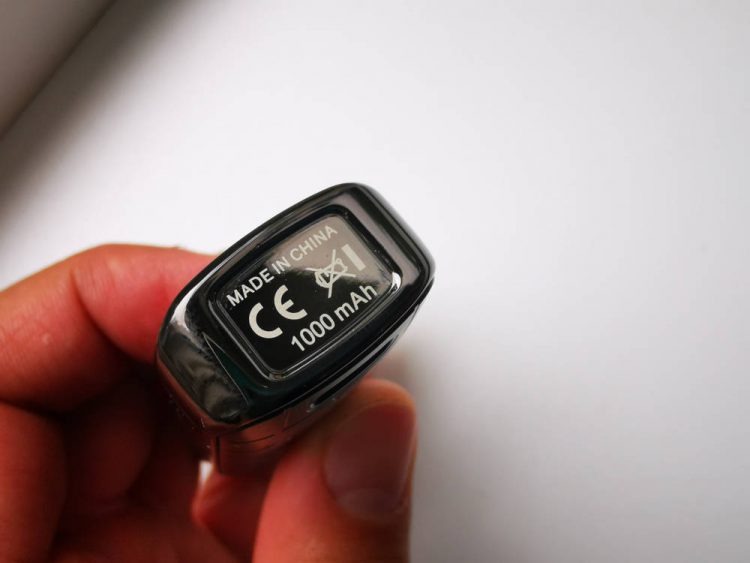 The Vaporesso LUXE Q features a classic battery indicator in the form of a small LED that lights up in different colors (green, blue and red) depending on the level of the battery.
When it comes wo coil-head options, LUXE Q pods come in two different options – the 0.8Ω and the 1.2Ω – at least these are the two options included in the kit, there may be other released later on. As it stands, the LUXE Q is currently an MTL-style pod system, at least judging by the coil-heads available, which makes sense, since this is aimed at casual vapers and people trying to give up smoking.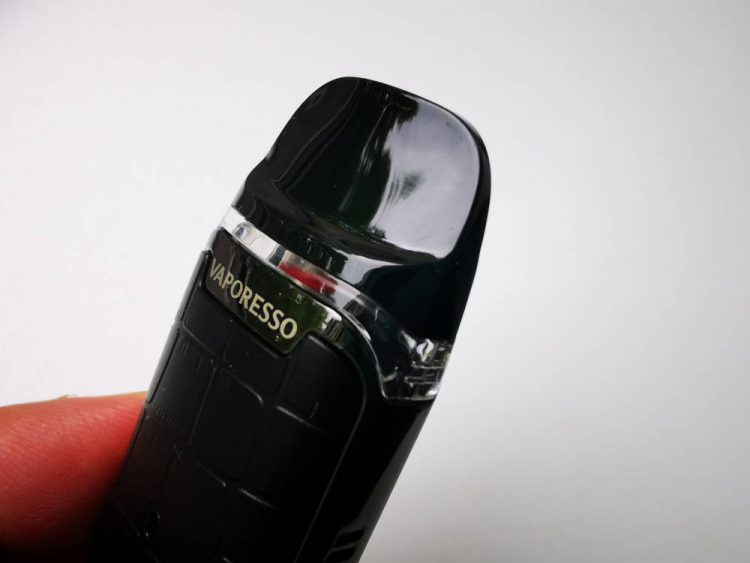 Does it really work as an MTL pod system, though? As far as I am concerned, it only barely makes the cut, and that's because of the rudimentary airflow control system. Whichever way you turn the pod, and whatever coil-option you opt for, you're only going to get a loose or very loose mouth-to-lung draw, which is not what most fresh ex-smokers are looking for. If you're trying to replicate that cigarette draw, you're going to have a hard time doing it with this device.
It's hard for me to understand why Vaporesso went with this airflow system which reminds me of the original VooPoo Vinci, when it had the perfect adjustment system already available on the Xros? Why couldn't they just implement something like that?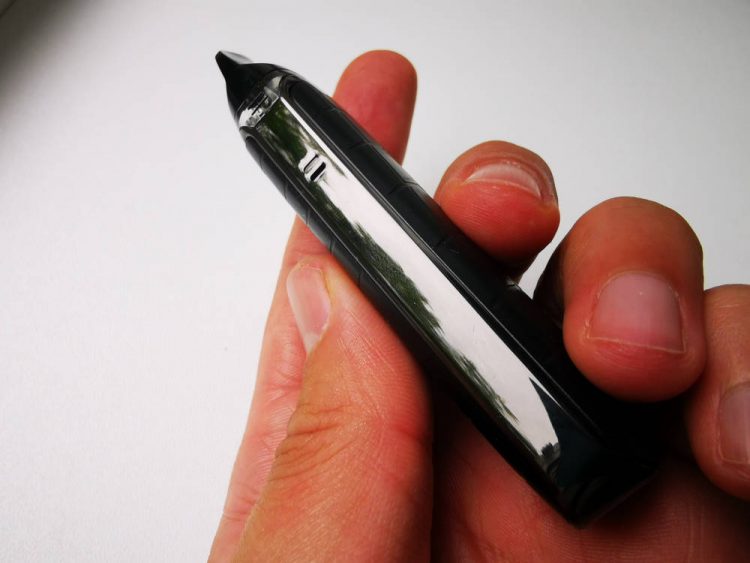 I'm not trying to bash the LUXE Q, it's still a good vaping device if you prefer the looser MTL vaping style, but a better airflow control system could have made it great, maybe even one of the best.
In terms of flavor, I think the LUXE Q works great, especially when using it with the 0.8Ω pods, which not only deliver a considerably warmer vape, but also bring out the hidden notes in complex e-liquids better than the higher resistance option.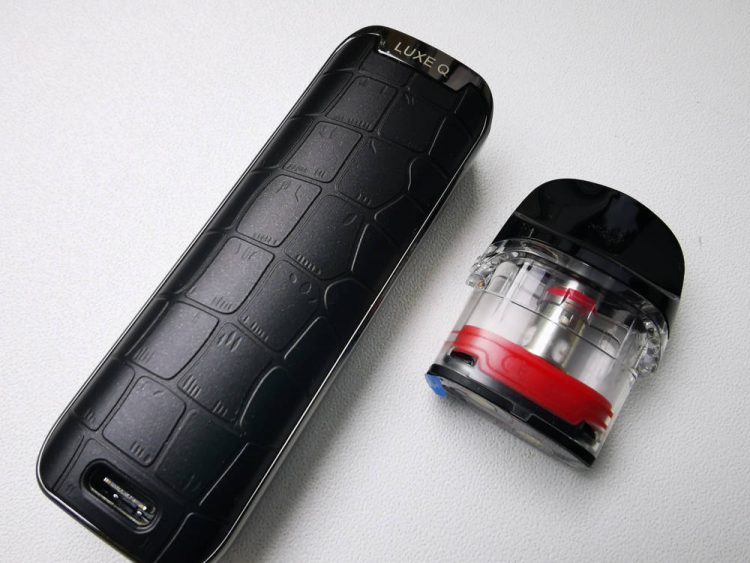 As far as technical issues, I have yet to encounter any. The pods don't leak at all, the contacts are dry as a bone, the automatic activation sensor does a great job of activating the battery when it should, and everything just works as advertised, so nothing to report on this front.
Conclusion
Vaporesso made some of the best vape pods in history, so the LUXE Q has a reputation to live up to. While it's not perfect, and could use some improvements if a 2.0 version is ever considered, it's still a nice vaping device. The build quality is great, as always, it's one of the slickest vape pods money can buy, and there's no beating that battery capacity in this size category. If you prefer a loose MTL draw, the LUXE Q is for you.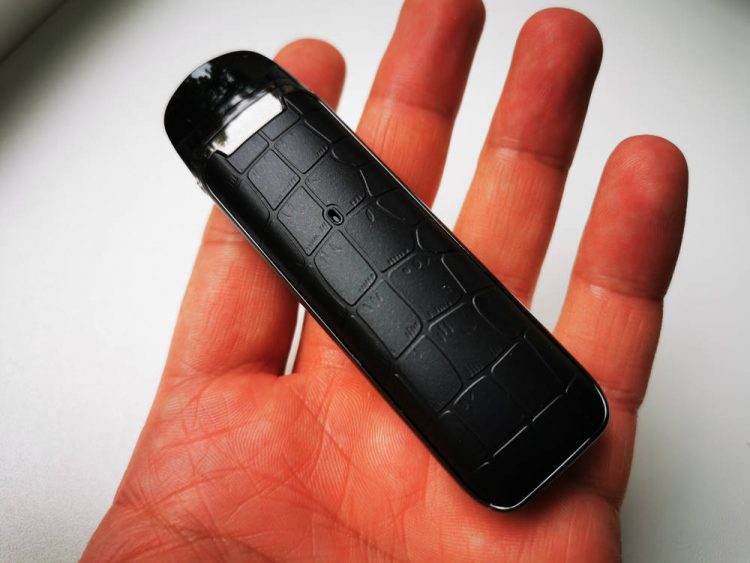 The Vaporesso LUXE Q was sent to me directly by Vaporesso, for the purpose of this review.
Pros
great build quality
sleek and compact
1,000mAh battery
USB Type-C
Cons
rudimentary airflow control