VaporFi VAIO 75 TC Review
The VAIO 75 TC is an all-in-one (AIO) vaporizer from VaporFi, one of the oldest brands in the vaping industry. The American company has been making a push into the advanced mod market since late 2016, and the VAIO 75 plays a very important part in this venture, It comes with all the features experienced vapers have come to expect from advanced mods, but it's also relatively easy to use, even by beginners and intermediate users, which plays well into the general strategy of the company.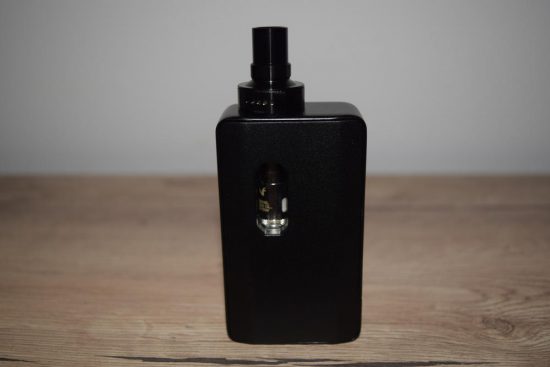 The $129.99 price tag of the VAIO shouldn't surprise you if you've ever dealt with VaporFi in the past. Their prices are always considerably higher than its competition, but are also somewhat justified by the company's excellent customer service, as well as its convenient 30-day money back guarantee and full-proof warranty. If you buy a device from them and decide that it's not for you, you can just send it back within a month, and get your money back. Customer service is also one of he best in the business, with VaporFi consultants available both online and by phone. You just don't get these benefits when buying from brick and mortar vape shops, or other online dealers. You do pay a hefty premium for them, but a lot of people seem to think they are worth it.
In this review, we'll be taking a look at what makes the VaporFi VAIO 75 TC special, and determine if it's worth paying a considerable amount of money for.
A Look at the Contents
The VAIO 75 TC comes in the standard VaporFi packaging – a large white-and-green cardboard box – and contains the assembled mod, a micro-USB charging cable, a spare coil-head, a 510 adapter for using the VAIO with a different tank, and a user manual. As it's usually the case with this sort of advanced kits, batteries are not included, so you'll have to buy a high-discharge 18650 battery separately. VaporFi also sells its own brand of batteries, if you want to buy the whole package from them.
Measuring 48 x 25.5 x 82mm, the VaporFi VAIO 75 is a mid-size vaporizer that fits easily in your pocket and is unlikely to draw too much unwanted attention. It is however unusually heavy for its size, especially after you pop-in a battery. I for one don't see that as a con, because it gives the device a high-quality feel, as opposed to that cheap-plastic vibe you get from low-end vape gear.
Design and Build Quality
Looking at the VAIO 75 TC mod for the first time, it's easy to see that VaporFi was inspired by one of the most stylish all-in-one devices I have ever used, the Joyetech eGrip 2. The overall design is very similar, they are about the same size and even the chip powering them is almost identical. This confirms my hunch that VaporFi has licensed Joyetech technology for its push into the advanced vaporizer sector, seeing as the recently reviewed VaporFi VEX 150 also relies on Joyetech technology.
Unlike the eGrip 2, which featured a built-in, non-removable battery, the VAIO requires an 18650 battery (not included in the package). One of the sides of the device doubles as a magnetic battery door, which locks in place with help of a couple of very powerful magnets – one on the door and another on the mod. Most magnetic battery covers tend to wobble in the hand or when shaken vigorously, but the VAIO has no such issues. Once placed over the mod, the cover simply snaps on and stays fixed in place.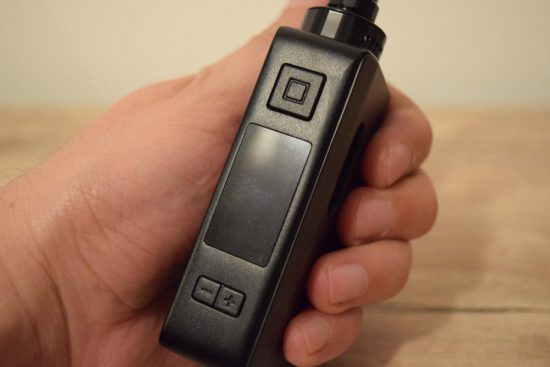 Removing the battery door also allows you to take a look at the built-in tank of the VAIO 75 TC. It doesn't look very impressive, but it doesn't need to, since you only get to see it when replacing batteries. What's important is that it holds 3.5 ml of e-liquid, has a leak-proof design inspired by the Joyetech Cubis tank, and is easily filled by removing the top-cap and simply pouring the juice in. It's a very convenient, easy-to-use system that actually performs very well, which is essentially what AIO devices are all about.
For a device that features a built-in tank and an 18650 battery compartment, the VaporFi VAIO 75 is actually a streamlined device. It's definitely not as bulky as I would have expected, and the rounded edges make it very comfortable to hold in the hand.
The design detail that most hints at the all-in-one system are is the small window to the tank, on both side of the mod. This allows you to keep an eye on the e-liquid level inside the tank at all times, so you never have to worry about dry hits. The buttons and display are located on one of the narrow sides of the device. A large, square fire button is located near the top, the 0.96-inch display is located in the center, and below that we have the '+' and '-' buttons.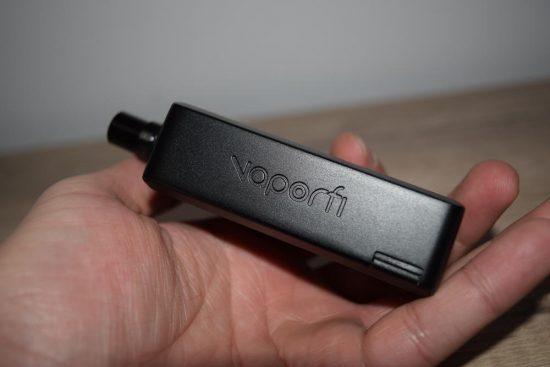 On the bottom, we have a few vent holes, but I was surprised to see they were positioned under the the board of the VAIO, instead of the battery. The mod does have a series of built-in protections, but battery venting is still a very important safety measure, in my opinion. Finally, on top of the device, we have a removable Delrin drip tip and a stainless steel top cap with adjustable airflow control.
As I mentioned in the introduction, the heavy stainless steel body of the VaporFi VAIO 75 TC feels very sturdy, and the fine machining and elegant matte finish contribute to the high-quality feel of this device. The buttons are nice and clicky, there is no rattle noise or wobbling, so I really have nothing bad to say about it at this point. The only thing that bothered me was the lack of battery venting on the battery side.
Battery Life
Accurately estimating the battery life of a variable wattage/temperature device, especially one powered by an external battery is virtually impossible. The power output, capacity of the battery and the vaping style of the user are just some of the variables that have to be taken into consideration, so the battery life is going to vary greatly. What I can do is give you an idea of what you can expect, based on my personal experience with the VAIO 75 TC.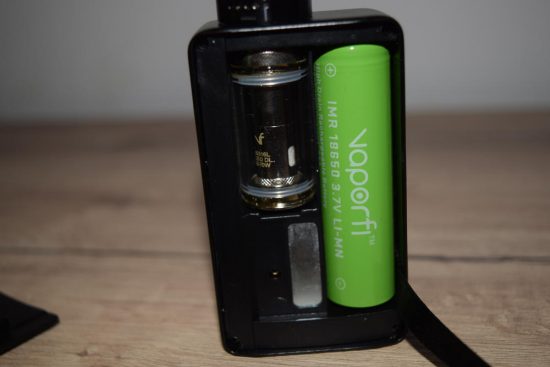 I have been using this AIO device for about a month, two weeks of which have been exclusive use specifically to assess its battery life. I used the 0.25Ω stainless steel "Notch" coil at around 60W – 70W with an LG HG2 4000mAh battery for one week, and the 0.50Ω stainless steel coil head at around 35W – 40W with the same battery, for another week.
With the lower resistance coil, I got an average battery life of 6 hours, which is pretty decent in my book, considering I was hitting it pretty much all the time. I'm pretty sure that casual vapers could get a lot more out of it, though.
With the 0.50Ω coil head I got between 8 and 9 hours of vaping out of the VaporFi VAIO, which, again, was a satisfying result. Casual vapers could easily get a full day of vaping with this one, especially if they use a high-capacity battery like the HG2.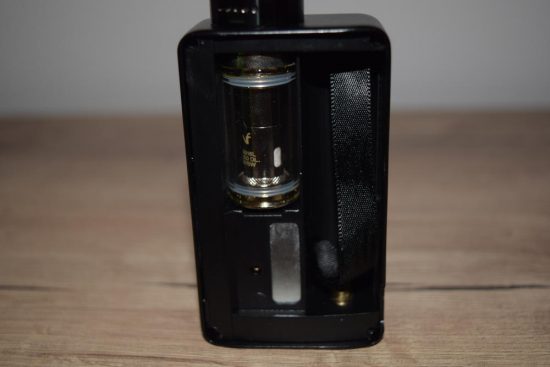 Overall, battery life was ok for this type of device, but keep in mind that it can vary greatly based on a number of factors.
Display and Menu System
If you've ever used an advanced mod made by Joyetech, both the 0.96-inch screen and the menu system of the VaporFi VAIO 75 TC will seem vary familiar to you. They're also the same ones used by VaporFi on the VEX 150 mod, with the only difference being that instead of two battery indicators, you now only have one.
I don't have any cons to report regarding the OLED display. It's large enough to make out all the various information – wattage/temperature, voltage, coil resistance, amperage, puff counter, puff timer – even from an arm's length away, and it's really bright.
The menu system, on the other hand, is not what I would call user friendly. It's not that there are too many options to go through, or that you have to browse through too many submenus – all the settings are done on the home screen – but the navigation system can be very frustrating.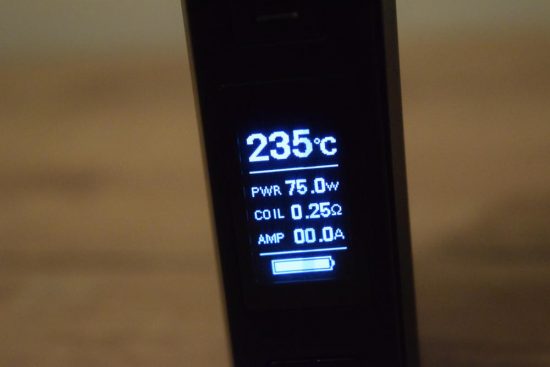 I already explained my thoughts on Joyetech's menu navigation system when I reviewed the eGrip 2, the Cuboid and the VEX 150, but I'm going to say it again, hoping that it finally gets changed.
You access the menu by pressing the power button in rapid succession. You'll see the Power/Temp./Bypass (depending on which one you're using) text start to flicker. You can then use the '+' and '-' buttons to change the settings or move down to other options. For example, pressing the '+' button allows you to switch between the three modes (Power, Temperature Control and Bypass), while the '-' jumps to the next setting. The problem is that if you press the wrong key at any time, you either have to round-robin through all the options to get back to the one you wanted, or just exit by pressing the fire button and start over. I no longer have problems with that, but someone who's not used to this menu is definitely going to find it frustrating in the beginning.
I really wish they'd go for something simpler, like the menu system used by iJoy, for example. All their devices, from the Limitless LUX to the RDTA Box are very intuitive.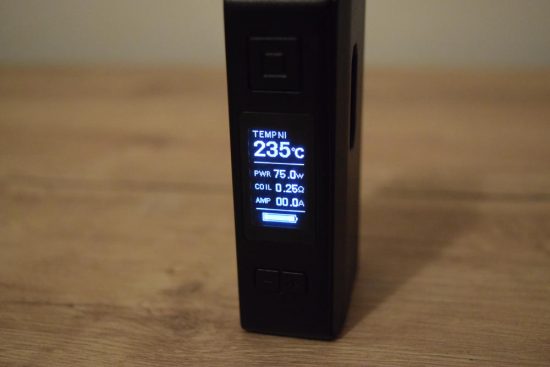 You can find all the different button combinations to adjust the settings in the user manual, but they are still going to take some getting used to.
How It Vapes
The VaporFi VAIO 75 TC has a power output range of 1W – 75W, and a temperature range of 200°F-600°F / 100°C-315°C. In Power Mode, it supports resistances of between 0.15ohm and 3.0ohm, and in Temperature Control of between 0.05ohm and 1.0ohm.
I've mostly used the VAIO in power mode, not because there is anything wrong with the temp. control feature of the mod, but because I simply prefer direct power output, I always have and probably always will. That said, I did try vaping in temperature control with the included stainless steel coil heads and it was decent. Just make sure to set the material that your coils are made of, and adjust the initial wattage you want the mod to fire at, in the menu.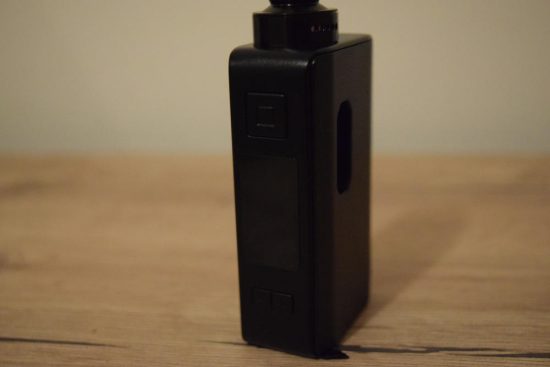 In power mode, VaporFi's all-in-one device performed about as well as I expected a modified Joyetech eGrip to do. There were some minor spitback problems for the first couple of draws, but other than that, I have nothing major to report. The fire button is very responsive – there is no noticeable delay in battery activation – and I've had no misfires in the four weeks of fiddling with the VAIO 75.
Getting the built-in tank ready for use is a breeze. All you have to do is unscrew the top cap and remove it, along with the attached coil-head and pour in the juice, as you would in a small cup. There is no marking on the tank, but I suggest filling it about three quarters, to make sure that it doesn't spill over when you put the coil-head in. Finally, screw on the top cap and you're good to go.
To make sure that you don't get a nasty dry hit when vaping the VaporFi VAIO for the first time, put a couple of drops of e-liquid into the coil before putting it back in the tank. This will ensure that the cotton is nice and moist, so you won't burn it the first time you fire.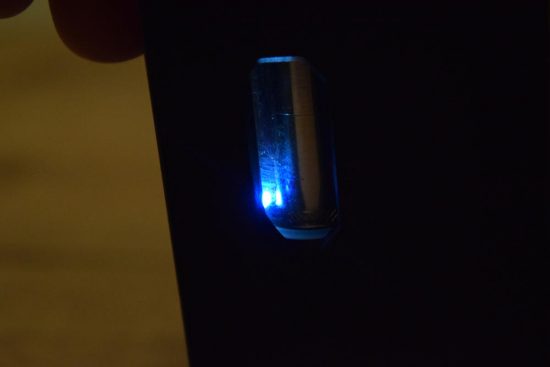 I've always liked this type of Joyetech bottom-feeding coil-heads. They may not produce as much vapor as SMOK TFV8 coils, for example, but they are a lot cheaper and actually perform quite well for their size. The only issue I have with them is that they tend to spit back juice from time to time, especially when you use them for the first time, and when you refill the tank. I've noticed that a void forms inside the coil head after a few draws, which fixes this problem, but it tends to come back whenever you open the tank for refilling. It's not as annoying as some people make it out to be, and it only happens occasionally.
However, if you don't like this type of coils, or if you simply want to try other tanks and coils, you can use the included 510 adapter to cancel the AIO function. This will allow you to attach any other tank onto the VAIO, and its built in tank simply acts as a connection. It beats the purpose of buying an AIO device, but it's nice to know that you can use it as a regular mod as well, if you ever get tired of the same vaping experience.
Conclusion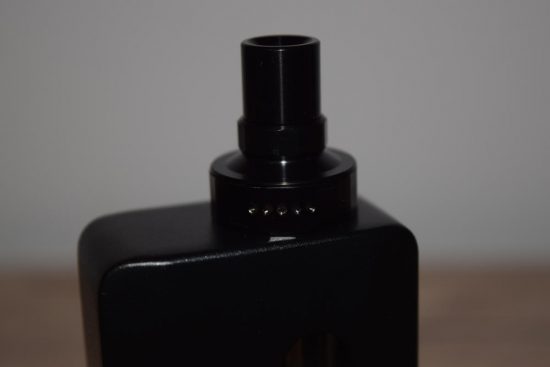 The VaporFi VAIO 75 TC is a great all-in-one vaporizer. If you're looking for something that provides all the features of an advanced mod, combined with the convenience of a built-in tank, this is that type of vaporizer. It's a really solid device, both in feel and performance, which is what you would expect from a company like VaporFi. The only big con remains the huge price. This thing sells for $129.99, which is a lot more than what similar devices made by competitors usually go for. But I've already explained the perks that the company offers for this price, and it's totally up to you to decide if they're worth it or not.
VaporFi VAIO 75 TC 10% Off
Get a 10% discount on the VaporFi VEX 150 mod by using the coupon code below (click activated).