Wizmix E-Liquid Review
Ecigwizard claims to be the UK's leading e-liquid supplier and boasts over 50 different flavors, from the classic tobacco and menthol to unique concoctions like Christmas Cake and Nuclear Plusion. I recently had the chance to try out some of their juices and decided to give you my opinion in a quick review.
When the guys at Ecigwizard contacted me about doing a review of their Wizmix e-liquid range, I already had an idea about what flavors I wanted to try, based on previous experiences. I usually have pretty clear idea of what tastes appeal to me, but after browsing through their extensive list of juices, each featuring dozens of customer reviews, I was confused. The flavors I had been meaning to try didn't seem to be crowd favorites, plus there some tastes I had never sampled and was really curious about. In the end, I went for the Wizard's Leaf tobacco, Havana Mild, Rhubarb Coulis, Lovely Bubbly and Nuclear Plusion.
The UK-based company claims all their e-liquids are 100% made in the UK, using only pharmaceutical grade ingredients and only the best flavorings. They are available in five different combinations of PG and VG.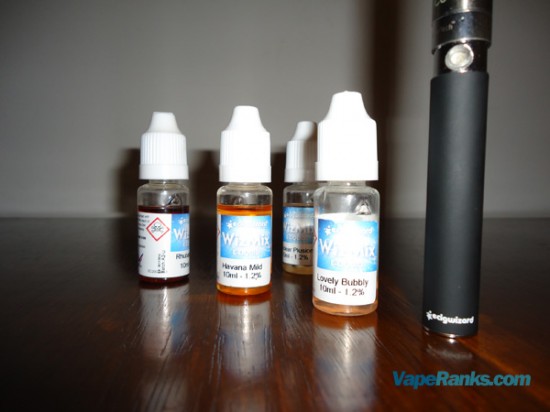 For this review I used a 900 mAh eGo battery with Kanger EVOD BCC clearomizers (standard resistance).
Wizard's Leaf – Touted as Ecigwizard's flagship tobacco e-liquid, this blend is described as a touch of caramel around a heavier tobacco base. That sounds a lot like the popular RY4, but let me tell you, these flavors couldn't be more different. In fact, after vaping a whole bottle of the stuff, I couldn't detect a hint of caramel. It has a mild tobacco flavor, but even that is almost muted by the strong anise taste and especially the aftertaste. I would have preferred a more authentic tobacco flavor, as I am ever in search of that perfect cigarette-like vape, but the added anise essence was a nice touch as well. It certainly gives the juice a nice bite.
The thing I liked most Wizard's Leaf tobacco was that it didn't leave a chemical aftertaste in my mouth, as it so often happened with other tobacco flavors I've tried in the past. It might be the anise, but even so, it's definitely a plus. If you're not a fan of this very potent spice, you should probably try one of Ecigwizard's more straightforward tobacco flavors, like Sherlocak Holmes or Dark Horse, but if you're in the mood for something different, I recommend you give it a try.
Havana Mild – If this is indeed "a delightful taste of Havana", as described on the Ecigwizard website, then I should slash Cuba off my places-to-visit-before-I-die list, because I absolutely hated this e-liquid. I couldn't even go through one clearomizer of this stuff, although I tried to, repeatedly. I just couldn't handle its overwhelming pungent taste, although, judging by user revewies, others are crazy about it. I admit I've never been a big fan of cigars and the faintest smell of cigar smoke always makes me want to throw up, so you can write this review as very subjective, but I can't lie and say I loved it either.
Lovely Bubbly – Ahh, the sweet taste of my childhood. Every puff of Lovely Bubbly took me back to my carefree days as a kid, playing in the streets all day and saving every penny to buy bubblegum – not the sugar-free stuff that's so popular these days, but the really sweet bubbly that ate away at my teeth. If you haven't already guessed, I positively loved this e-liquid. It tasted just like the pink strips of bubblegum I used to chew on, and even had a nice throat hit to it. Ecigwizard aren't exaggerating one bit when they say "the resemblance to the real thing is simply uncanny, you almost feel as if you ought to be chewing, not inhaling".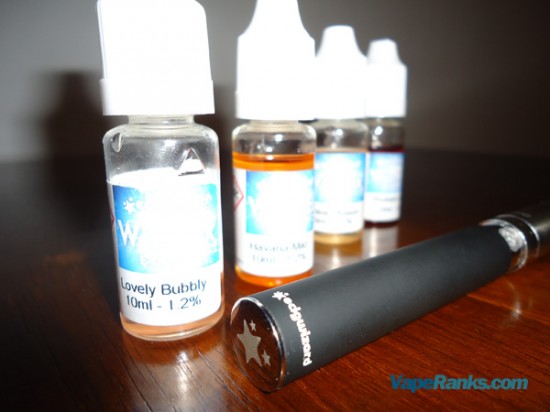 Rhubarb Coulis – I'm a big fan of rhubarb, but until trying this Rhubarb Coulis e-liquid, I couldn't find something that truly tasted like fresh-cut rhubarb, only overly-sweet juices that tasted more like rhubarb jam. Although Ecigwizard advertises their rhubarb flavor as "sweet and savory" I would only agree with the second part of this description. Rhubarb Coulis is not a sweet flavor, just like fresh rhubarb isn't exactly the sweetest plant in the world. Vaping it feels like you're actually inhaling a piece of fresh rhubarb, which I personally enjoyed very much. It's got some tartness to it, so if you're a vaper who prefers sweet juices, you may not appreciate this one very much.
Nuclear Plusion – I'll admit it, the name of this flavor intrigued me, and the over 120 customer reviews – most of them positive – on the  Ecigwizard website convinced me to give it a try. If you're bored with all the usual e-liquid flavors and are in search of something that will knock your socks off, Nuclear Plusion is certainly it. A roller-coaster of flavors packed in a tiny bottle, this unique juice will first introduce your taste buds to a symphony of fruitiness, before bombarding your mouth with spicy antiseed and finally leave you with a citrus aftertaste. It's a blast, and the name fits it like a glove.
Nuclear Plusion is one of those flavors that you absolutely love or hate, there's really no in between. I for one am most definitely a big fan.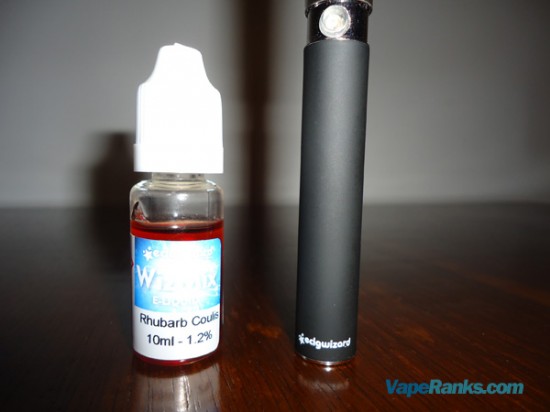 Excluding the awful cigar-like Havana Mild, I had a great experience with Wizmix e-liquids, and actually regret not trying more of them. I already have my eyes on some other flavors I'd like to sample and will update this review as I go along. As you probably already know, flavors are very subjective, but with over 50 Wizmix juices to choose from, you're bound to find something to your liking.
The e-liquids for this review were supplied by Ecigwizard.