Vaptio Wall Crawler Mod Kit Review
The Vaptio Wall Crawler is a very interesting single 18650-battery mod. On the one hand it is compact enough to easily fit in your pocket, but it can also accommodate tanks and RDAs up to 26.5 mm in diameter with no overhang and comes packed full of advanced features like multiple curve modes, menu themes and language selection, some of which I have yet to see on other devices. It definitely sounds like a really good device, but let's take a closer look at it.
Interestingly, this was only the second Vaptio device I've ever reviewed, the first one being the Ascension S150 mod, which has since been discontinued. That one was also a very interesting device, but suffered from a few design flaws that ultimately affected its commercial appeal. Hopefully the Wall Crawler won't share its fate.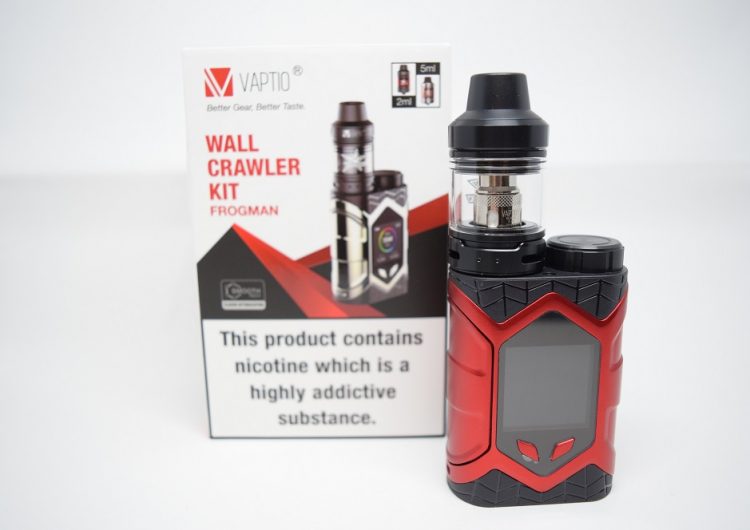 A Look at the Contents
The Vaptio Wall Crawler comes in a very nice looking cardboard box, with a picture of the mod and included tank on the front, a list of kit contents and company information on the back, as well as all the legally required warnings, pictograms and a list of available color combinations on the sides of the box.
Inside the box, you'll find the Wall Crawler 80W mod sitting in a plastic tray, and underneath that you'll find the tank, user manual and a bunch of accessories. The kit I received for review included the 26.5mm Frogman subohm tank, but Vaptio also sells the mod with its Throne tank, so check them both out on their website to see which one fits your needs.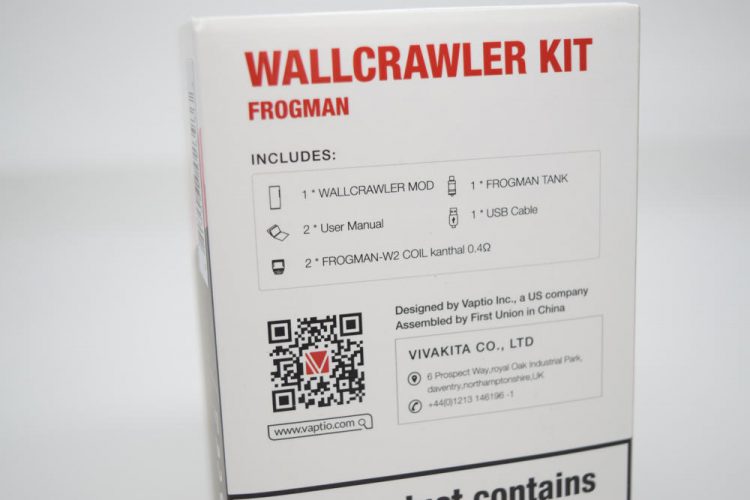 The kit also contains a micro-USB cable for charging and firmware upgrades, a second coil-head (there is one pre-installed in the tank) and a bag of replacement o-rings for the Frogman tank. It's pretty much your average starter kit, but I personally would have liked to see a spare glass tube included as well. Having cracked a few tanks myself, I know just how important spare glasses can be.
Design and Build Quality
If you're looking at these photos of the Vaptio Wall Crawler and thinking that you've seen this design before, it's probably because this device is heavily inspired by mods like the Eleaf iStick PICO, SMOK AL85 and iJoy Capo 100. It has that same stubby body and the characteristic battery cap on the top, next to the 510 connection. However Vaptio's device stands out thanks to the "Wall Crawler" theme, which, if you haven't guessed by now, is the name you use when you want to use the Spider Man theme without infringing copyright laws. The mod features a spider web design and even a slightly modified Spider Man logo so you could say Vaptio were as blunt as they could be without actually using the Spider Man brand.
The Wall Crawler mod measures 73.5mm x 50mm x 28.5 mm, according to the Vaptio website, but in reality, the mod is only 27mm wide, so atomizers over 27mm in diameter will overhang.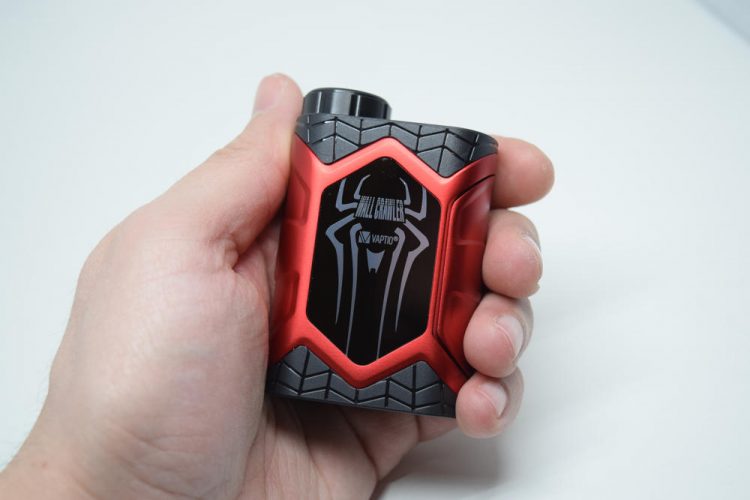 My first and biggest con about the Vaptio Wall Crawler mod is that both the top and bottom sections of the mod are made of plastic. It's a hard, tough plastic, but it's still just plastic. I haven't dropped it yet and I didn't want to abuse it just to see how those sections hold up, but I think the risk of chipping or even cracking on impact is pretty high. I don't know why the Chinese company decided to go with plastic, maybe to cut down on costs, but in such a competitive market using inferior quality materials is definitely not a sure way to success. The middle section of the device, including the large firing bar, is metallic, probably aluminum or zinc alloy.
The Wall Crawler features a 1.3-inch TFT color display with a decent resolution. Underneath the display are the '+' and '-' buttons designed like a pair of menacing eyes. On the opposite side of the mod is a plastic panel with the Wall Crawler spider logo.
The metallic firing bar feels very solid and has a very large pressable area. As long as you don't press it at the very bottom, you'll hear that satisfying 'click'.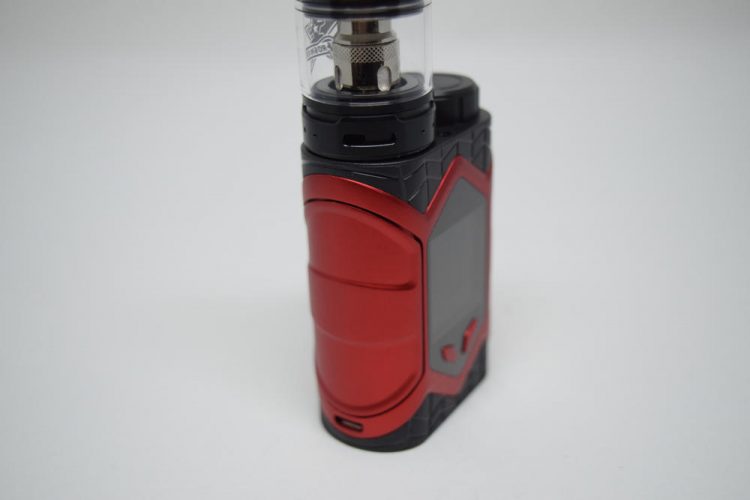 The 510 connection features a gold-plated, spring-loaded pin, but I'm not sure it's very solid. The plastic surrounding isn't very reassuring and the connection itself is completely exposed with no screws to hold it down. I'm not saying it's flimsy, but maybe don't pull too hard on your atomizers if you can help it.
To insert your 18650 battery, all you have to do is unscrew the metallic cap right next to the 510 connection, slide your battery in with the positive terminal facing down, as per the polarity markings, screw the cap back on and you're done. The threading on the cap is smooth as butter, and I can confirm that the mod doesn't have any battery rattle at all.
All in all, not the best build quality I've ever seen, I'm afraid. Personally, I just can't get over the use of so much plastic on the Wall Crawler, it just has a cheap look and feel and ultimately compromises the otherwise cool design of the device.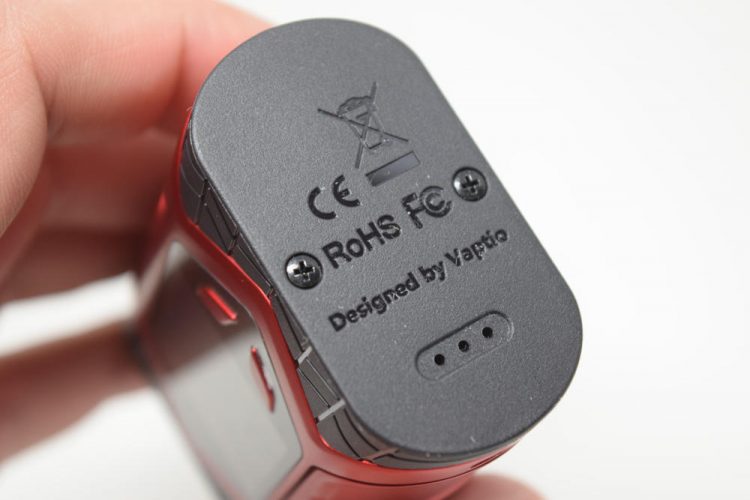 Menu System and Navigation
The Vaptio Wall Crawler may look like a small and simple device, but it actually has one of the most feature-rich menu systems I've ever seen on a vape mod. There's a lot to go through, but luckily, navigating the different sub-menus and options is very simple to do.
To get into the menu, you have to press the firing bar three times in rapid succession. You are then presented with four colorful icons on the screen, three for sub-menus and one that takes you back to the home screen.
In 'Modes', you can select the mode you want to use the device in. If you select 'VW Mode', you can then choose from three preheat options – Soft, Normal and High.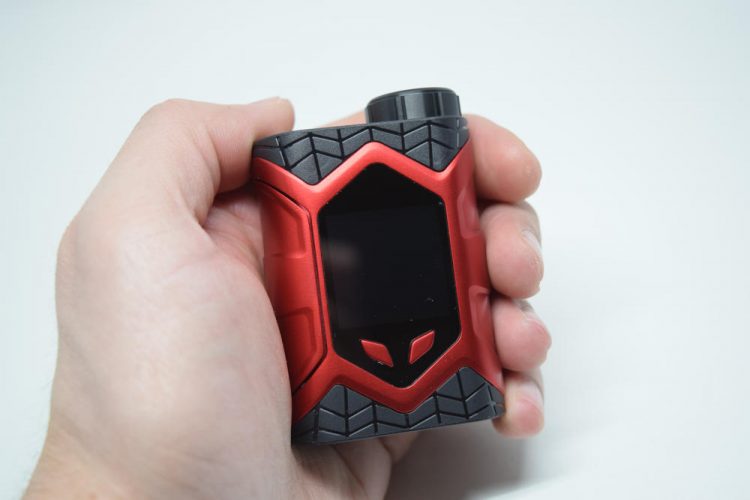 In 'TC Mode', you can choose to have the temperature displayed in degrees Celsius or Fahrenheit, select one of the three supported materials – stainless steel, nickel and titanium – as well as two TCR modes, and 'T-Criteria' which lets you tweak the resistance of your atomizer. I recommend leaving that last one alone, unless you really know what you're doing.
The 'CCW' and 'CCT' modes are adjustable curve modes for wattage mode and temperature mode, respectively. You can save four different curve configurations in each mode, to use with your different atomizers. These modes present you with 10 wattage/temperature bars, each representing one second, so you can program the mod to operate at a different power output/temperature for the first 10 seconds of your vape, in 1-second increments.
Finally, we have 'Bypass Mode' which basically allows you to draw the maximum wattage currently available in your battery, like a mechanical mod.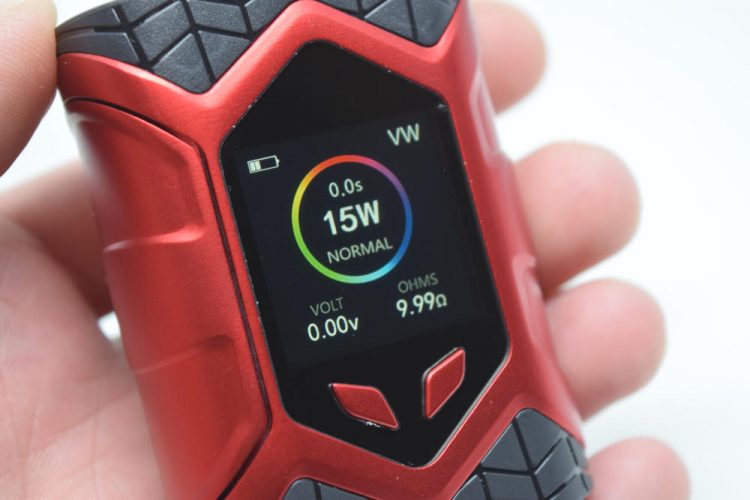 The second sub-menu, 'Setting', also features a variety of options. In 'System', you can check the version of the software and hardware, but also restore the Wall Crawler mod to its factory settings, in case you mess up some settings and don't know how to fix them.
'Smoke Time' lets you set the mod's cut-off time, but the maximum 10 seconds is already set by default, and I see no reason to lower it. 'Screen Time' lets you adjust how long the display stays on after you have, as well as the mod's stand-by time.
Then we have 'Inner Resistance' and intriguing feature that I for one could not use. Theoretically, this option is a "smart battery screening system" that monitors the battery you're using and tells you if it is a suitable battery for the mod, and if it's time to replace it. The interface features a split screen with 'Testing Conditions' on one side and 'Actual Situation' on the other. Here's the thing though, apparently, the battery voltage needs to be over 4.15V and the atomizer resistance between 0.3Ω and 0.5Ω for this feature to work, otherwise you get a 'Mismatch' error.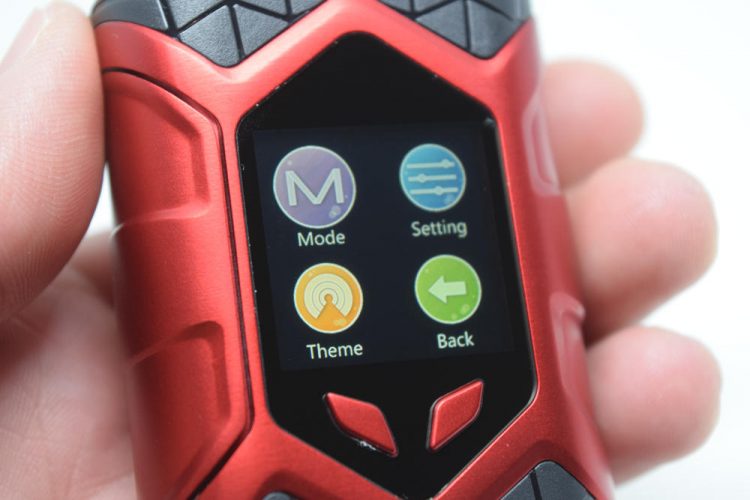 What's even weirder is that even with a brand new, fully-charged Sony VTC5A battery, the Actual Situation screen showed a voltage of 4.12V. None of my batteries reached the 4.15V threshold for the Inner Resistance feature to work, even though my Nitecore D4 external charger showed they were all at 4.2V. I guess this option needs some work.
The final available feature in the Setting sub-menu is 'Language', where you can theoretically change the language in which the menu and home screen information is displayed. However, there are currently no options to choose from, so I guess this is something that will be added in the future.
The 'Theme' sub-menu is supposed to allow users to change the theme of the home and menu screens, but like in Language, there is currently only one option available, the mod's default theme. Hopefully, Vaptio will make others available in a future update, because currently, this feature is pointless.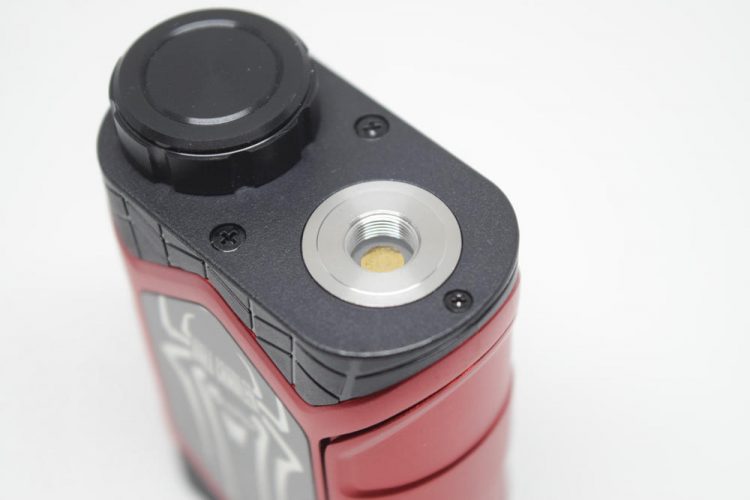 All in all, the Vaptio Wall Crawler menu is very intuitive and has loads of settings you can play with, but I just wish the company would have actually finished the job, instead of making some of the available options unusable until it decides to update the firmware.
Battery Life and Performance
To power the Vaptio Wall Crawler, you will need one high-drain 18650 battery. How long it will last you before needing a recharge depends on a variety of factors, like the capacity of the battery, the power output you set on the mod, how much you vape, and how efficient the mod's board is.
I for one noticed no significant difference between the battery life I got from the Wall Crawler and similar devices like the SMOK AL85. However, one thing I can tell you is that the battery indicator on the display won't be of much help to you. Even when you're using a fully-charged battery, as soon as you press the firing bar, the battery indicator will start to fluctuate, sometimes even showing a completely drained battery. It doesn't affect your vaping experience at all, but it's just an unreliable feature.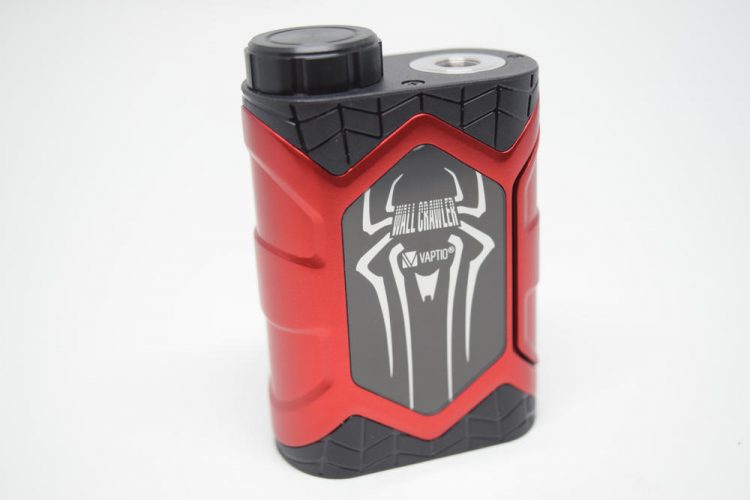 Regarding performance, I can only recommend using the mod in wattage mode, or wattage curve mode. In temperature control, I've never actually seen the mod "protect" my cotton wick, ever. First of all, even at low temperatures, like 230 degrees Fahrenheit, the mod hits really hard, way too hard in my opinion, and I was unable to find an option that allowed me to tweak the wattage for temp. control. I just kept the firing bar pressed waiting for the mod to lower the power output, but it never did. It just pushed the current until the wick started to give off a burnt smell, and I just gave on it then. Temperature control is just not functional on the Vaptio Wall Crawler, at this time.
Things are a lot better in power mode. The official Vaptio website claims that the Wall Crawler has an extremely fast firing time of 0.0005 seconds, which would probably make it the fastest vape mod on the market. I don't have the equipment to test this claim, but I can confirm that it does in fact fire instantly. It's so fast, in fact, that when pressing the firing bar three times to enter the menu, I can always see some vapor coming out of my atomizer. That tells me that it has a very quick power ramp-up as well, getting the coils hot enough to vaporize the e-liquid in just a few milliseconds.
Apart from that fluctuating battery icon on the display, I've experienced no other issues with this mod, but I can't ignore the fact that its temp. control feature is noticeably inaccurate. That's an understatement, actually, since I've never seen it go into protect-mode, regardless of what temperature I had set in the menu. I'm not a fan of temp. control, but if you're going to offer a features, you should definitely make sure it works.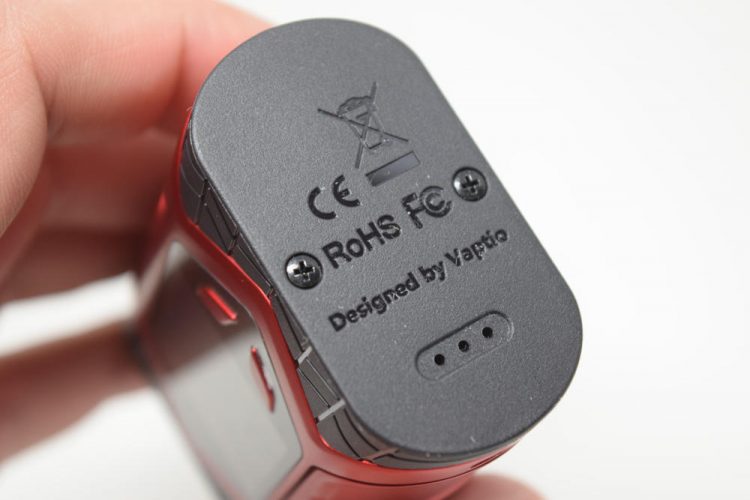 The Tank
The Wall Crawler kit I received included the 5ml-capacity Frogman Tank. With a diameter of 26.5 mm, it fits very well on the mod, with no overhang.
The Frogman tank features a proprietary drip tip that I for one could no remove from the top-cap. I tried pulling on it, twisting it, but it just didn't come off. That could be an issue if you want to use it with a different tip, like an 810 Goon-style one.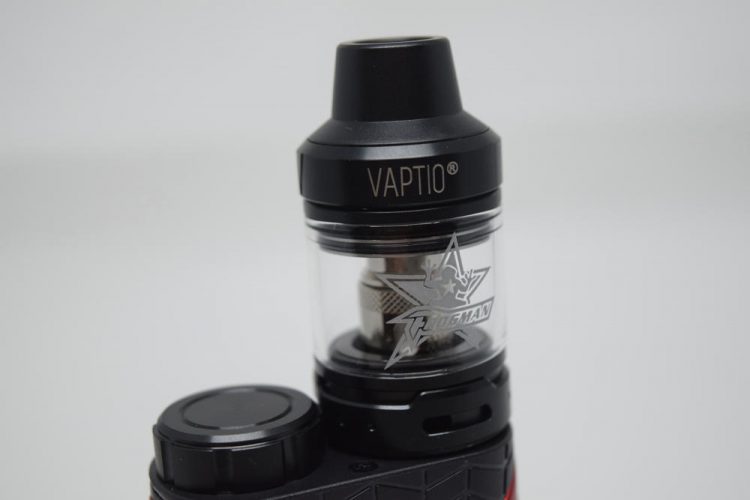 Filling the tank is very simple. You just turn the top-cap counter-clockwise and it just pops up, revealing two large fill ports. Just pour the juice into the tank and then align the two metal notches on the edge of the tank with the holes on the inside of the top cap, press down and turn it clockwise to lock it in place.
The Frogman tank comes with two Baby Beast style coil heads, both 0.4Ω and with a recommended wattage range of 30W – 80W. They are all right for ling-inhale vaping, offering great vapor production and decent flavor as well. I don't know what material they are made of though.
All in all, it's a decent tank with a good e-liquid capacity and above average performance, but it's nothing revolutionary, nothing we haven't seen before.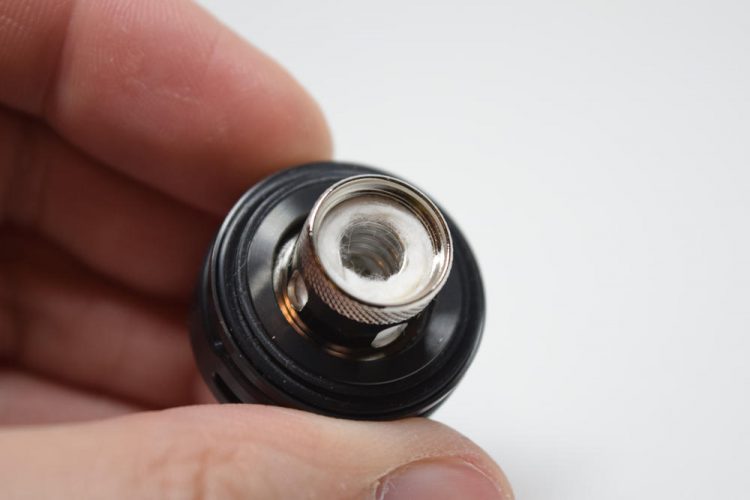 Conclusion
The Vaptio Wall Crawler kit has an interesting design which is sure to appeal to Spider Man fans, but its build quality leaves a lot to be desired. The use of plastic is just a big fail in my book.
I love how intuitive and feature-rich the menu is, but it does feel like a work in progress, especially with unusable options like Language, Theme and Inner Resistance. Hopefully, the Chinese company comes up with a firmware update that fixes this issue.
Speaking of issues than need fixing, temperature control mode is virtually unusable at this point, and that flickering battery icon also needs some attention from the manufacturer. Luckily, it does seem to work pretty well in power mode, firing pretty much instantly and with an impressive ramp-up.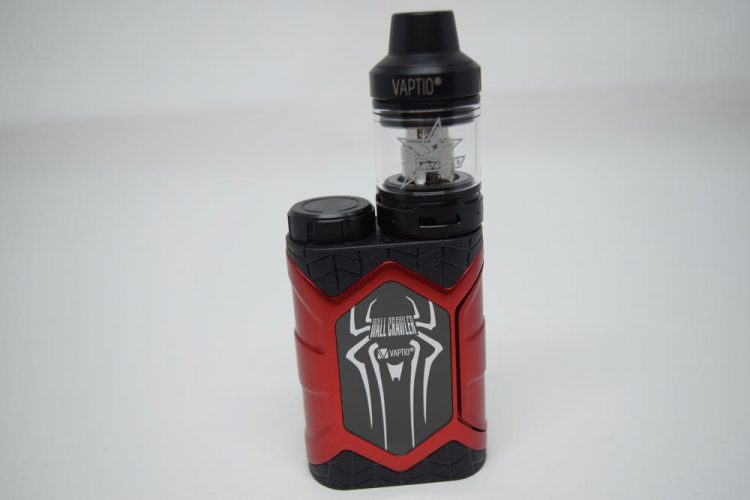 The Vaptio Wall Crawler kit retails for $59.99 on the Vaptio website. It's a decent price and I would definitely say it's worth it IF the device worked as intended. At this time, however, it does not, so I can't recommend you buy it.
Pros
cool look
instant firing
intuitive menu system
feature-rich
large atomizer compatibility
Cons
plastic elements
incomplete features
Inner Resistance feature
faulty battery indicator
virtually unusable Temp. control