The Australian e-cigarette market is a very hard one to tackle due to the restrictions on the retail sale of products containing liquid nicotine set in place by the Therapeutic Goods Administration. However, the millions of smokers looking for viable alternatives are a tempting enough client base for e-cigarette companies to take a leap of faith and make their products available any way they can.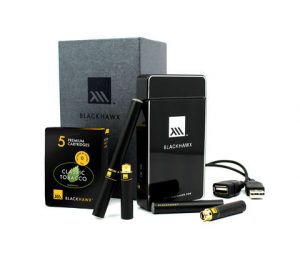 One such company is UK-based Blackhawx E-Cigarettes. Taking advantage of a loophole in the Australian legislation on electronic cigarettes that allows users to lawfully order up to 3 months personal supply of nicotine-containing products from overseas suppliers, they've recently entered the Australian market, via the internet. Customers in the Land Down Under can access the Blackhawx website, place their order and have it delivered straight from the company's manufacturing facility right to their doorstep, under Australia's personal importation scheme.
Australia has long been considered somewhat of a paradox, considering potentially deadly tobacco cigarettes can be sold legally by retailers, while electronic cigarettes, which contain none of the dangerous tar and chemicals can only be purchased by exploiting loopholes in an outdated legislation. However, the Australian vaping community is effortlessly campaigning to have electronic cigarettes legalized, and there is already a dim light at the end of the tunnel.
A preliminary study is currently underway at the University of Queensland, which is collecting information about electronic cigarettes based on experiences of e-cig users and their opinions on how the products should be regulated. It's expected additional clinical trials on the efficacy of e-cigarettes will be required before authorities can decide on proper regulations, despite abundant scientific and anecdotal evidence of their efficacy as smoking cessation aids and infinitely lower health risks, compared to analogs.
By entering the Australian market at this pivotal moment, Blackhawx hopes to get a firm foothold that will allow it to compete with bigger players if and when the current restrictions on electronic cigarettes are lifted.