According to a recent survey conducted by American bank Wells Fargo the accelerated decline of tobacco cigarette sales in the first quarter of 2013 might have been caused by the exponential growth of the electronic cigarettes market, among other factors.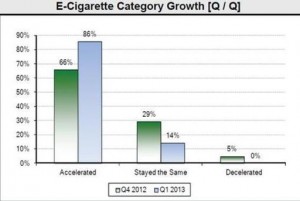 Cigarette sales have been steadily declining for some time now, but Wells Fargo predicts the sales volume in the first quarter of 2013 might be down 4.5% compared to the same period of last year, historic average of 3-4%. While this may be due to a series of economic factors, like higher cigarette taxes, increased gas prices and the payroll tax increase, the bank believes the downward trend could have also been influenced by the growing popularity of e-cigarettes. Considered just another novelty item until a few years ago, the electronic cigarette has come a long way since then, and analysts have gone as far as to predict that it might actually surpass traditional cigarettes within the next decade. It's a bold statement, considering electronic cigarette sales account for less than one percent of the $80 billion cigarette industry, but it says a lot about this small segment that no one took seriously until recently.
Thanks to more aggressive advertisement and better distribution, the electronic cigarette industry has really become a competitor for the tobacco business, and could reach $1 billion in sales in 2013, more than double the $300 – $500 million registered in 2012. According to the Wells Fargo research, 100% of the surveyed tobacco resalers and wholesalers, representing over 45,000 U.S. convenience stores, are now selling electronic cigarettes, and 98% of them reported growing sales in the first quarter of this year by an average of 30%. A particularly interesting find of the bank's survey is that repeat sales are now outnumbering trial purchases, which suggests e-cigarette companies are winning over users from Big Tobacco, and actually affecting their profits.
Regarding tobacco companies' involvement in the growing electronic cigarette market, Wells Fargo survey respondents predict Philip Morris USA will enter the e-cigarette business in late 2013 or early 2014, while Altria will wait until the FDA rules on the future of electronic cigarettes before venturing into this profitable sector, probably through a combination with NJOY. The third US tobacco giant, RJ Reynolds has launched its own range of smokeless cigarettes, the Vuse, although it's still in a very limited test market. Retailers expect the company to begin a broader expansion at some point in the near future.
Although the exponential growth of electronic cigarette sales is unquestionable, as evidenced by the graph released by Wells Fargo based on the numbers of Q4 2012 and Q1 2013, the long-term prospects of this successful market depend a lot on the soon-to-be-announced decision of the FDA regarding regulations. Government regulators are skeptical of e-cigarettes, health lobbyists have been speculating about the potential dangers of using a yet thoroughly untested product, and the tobacco and pharmaceutical industries are certainly not going to stand by and see their margins threatened. The future looked pretty grim for e-cigs, but growing profits have given big players like NJOY the chance to get into the lobbying game and protect their interests on Capitol Hill. According to records file with the US Senate the electronic cigarette company has hired a team of congressional staffers-turned-lobbyists to lobby Congress and the Food and Drug Administration on its behalf. NJOY's decision to hire Beltway insiders — and place former Surgeon General Richard Carmona on its board are clear indicators that the e-cigarette industry isn't planning to go down without a fight.