Last year, Phillip Morris International launched a new type of smokeless cigarette called iQOS. It's supposed to be a cleaner and less smelly alternative to smoking, but one researcher at rival Imperial Tobacco doesn't seem to agree with that description.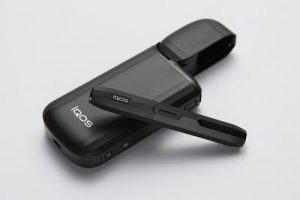 Speaking at a tobacco industry conference in Bologna, last week, Steve Stotesbury, head of scientific regulatory affairs at Imperial Tobacco, had some not-so-nice things to say about the Phillip Morris iQOS. "There's a lot of black crud in the iQOS device after using it," he told reporters during an interview. "It smells like an ashtray."
The iQOS is basically a vaporizer that heats tobacco, instead of burning it, like conventional cigarettes. So-called "heat-sticks" are inserted into the iQOS and pierced by a metal blade that heats them at high temperatures to produce tobacco-flavored vapor. Phillip Morris is betting that its new product will eventually become more popular than electronic cigarettes because using it tastes and feels more like smoking.
This heat-not-burn process could theoretically eliminate a lot of the risk associated with smoking, only Stotesbury thinks e-cigarettes are still much safer. Apparently, he and his team at Imperial Tobacco tested the iQOS and found that some of the processes that occur during a burning cigarette are also occurring in Phillip Morris' new device.
"While iQOS is capable of reducing harmful compounds associated with cigarette smoke by a factor of ten, an e-cigarette is capable of eliminating most of them completely," the Imperial Tobacco researcher said.
Although, not as blunt as Steve Stotesbury, Phillip Morris spokespeople were quick to dismiss these statements. Moira Gilchrist, a scientific director at PMI said that trials on almost 350 smokers showed using the iQOS resulted in "a rapid and substantial reduction" in their exposure to harmful chemicals.
"While we are pleased that Imperial now recognizes the harm-reduction potential of heat-not-burn products such as iQOS, it is disappointing that they try to disparage a very promising technology for tobacco harm-reduction they do not have in their portfolio," an official Phillip Morris statement read.
This kind of statements between tobacco companies is highly unusual, as they normally tend to always form a united front against anti-smoking activists and state authorities trying to impose restrictions on smoking. But this seems to have changed a bit as cigarette companies take different approaches to less-harmful alternative to smoking. Imperial Tobacco, for example, is betting big on e-cigarettes and has already launched its proprietary brand, called Puritane. It has also acquired Blu e-cigs from competitor RJ Reynolds, this summer, but perhaps its most interesting venture was the acquisition of the original e-cigarette patents from Hon Lik, the Chinese inventor known as the 'father of electronic cigarettes'.
Phillip Morris International, on the other hand, is busy testing and marketing its innovative iQOS, although parent company Altria has also launched its brand of electronic cigarette, the MarkTen, and acquired the popular Green Smoke brand last year.
The iQOS was launched in Japan and Italy at the end of 2014 and has recently gone on sale in Switzerland, as well. Phillip Morris has already conducted eight clinical studies of its products and other long-term tests are already underway, as the tobacco giant plans to submit its finding to the Food and Drug Administration in 2016.