Augvape AIO Review
Before pod systems were eve a thing in the vaping world, all-in-one (AIO) devices were the best option for casual vapers. They were easy to use, had great battery life and the performance wasn't too shabby either. Then the JUUL became hugely popular and manufacturers started producing their own vape pods to satisfy demand, but some companies believe that there's still a place for all-in-one devices in this pod-dominated industry. Case in point, Augvape, which recently launched its first AIO device, the Augvape AIO. Let's check it out:
A Look at the Contents
The Augvape AIO comes in a white cardboard box with a small picture of the device on the front, and some age restrictions as well as a scratch-and-check authenticity sticker on the back. This is probably the most minimalist packaging I've seen since I started reviewing vaping products. It doesn't even feature a list of contents, or company information.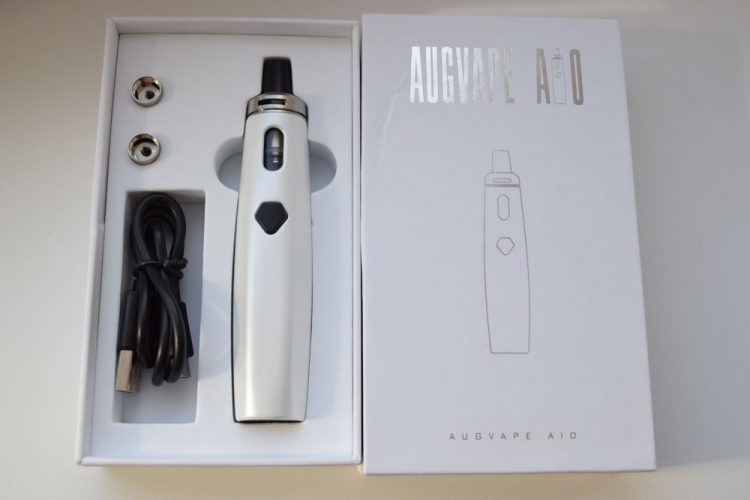 Inside the box we have the Augvape AIO, a couple of 0.6Ω mesh coil-heads, a micro-USB charging cable, and a small user manual.
Design and Build Quality
The Augvape AIO is made of zinc alloy and measures 117.5mm in length, from the drip tip to the bottom of the battery, and 24.5mm in diameter, at its thickest point. It comes in three different colors – white, black and red – and has a pearlescent paint finish. Well, at least the white version I received for this review, does.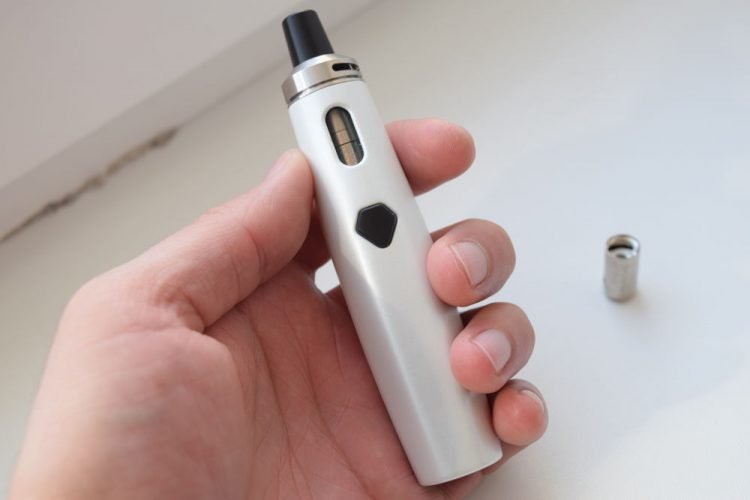 At the top, we have a nice, long Delrin drip tip. I personally like it, but if you don't , you can replace it with any 510 drip tip. Then we have a stainless steel top cap which doubles as an airflow control ring. Like most other all-in-one devices, the Augvape AIO only has top airflow, as the bottom of the built-in tank is completely sealed to prevent leaking. The airflow control on my sample was extremely loose, to the point where even putting in a tight jeans pocket would almost always screw-up my airflow configuration, and I'd have to readjust it. I don't know if this is a general issue, but if it is, I hope the company addresses it soon, because it's kind of annoying.
The Augvape AIO has the same cup-like tank that we first saw on the Joyetech Cubis tank, and then later on the Joyetech eGo AIO and the eGo AIO 2. Its main advantage is that it makes leaking a non-issue. The tank is completely sealed at the bottom, so there's nowhere for the e-liquid to leak through. That said, this design does have a small drawback – having to always remove the top cap and the attached coil-head when refilling, which can be a bit messy if you don't have a paper napkin to set it on. But, personally I prefer this over having juice leaking all over my hand while I'm vaping.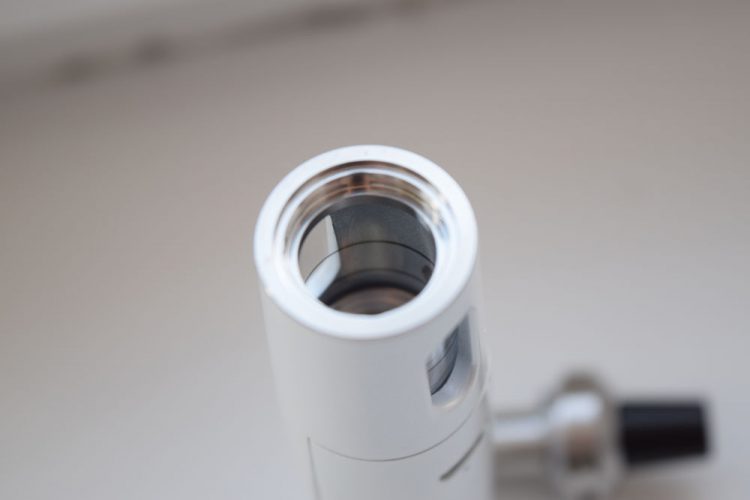 One thing you want to pay attention to when refilling this device is the max juice line on the tank. You don't want to fill over that line, as when you put the coil-head in, the e-liquid can spill over. There is also a less visible minimum juice line, but that one is only visible when you take out the coil-head. Having to remove the top cap every once in a while just to check the juice level is not exactly ideal, so I just make sure to add a bit more juice when the tank looks about a quarter full, just to be sure I don't burn the coil-head.
Right under the tank, we have a diamond shaped-fire button that you have to press to activate the battery, and opposite that button we have the micro-USB port for charging, and a tiny LED indicator that lights up every time the fire button is pressed, and flashes when the battery needs recharging. The placement of the LED indicator is a bit weird, in my opinion, as you can only see it when using your thumb to press the fire button. If, like me, you prefer using your index finger, the LED is on the other side of the device, so you can't see it. I think they would have been better off embedding the LED inside the tank, like on the eGO AIO, which would have made it visible any way you vaped.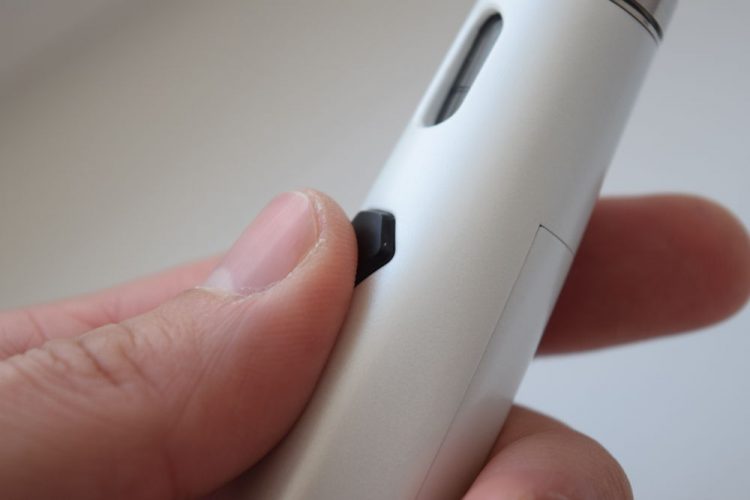 Overall, the Augvape AIO is everything an all-in-one vaping device should be – light and easy to carry around in your pocket, easy to use and refill and sturdy enough to handle an accidental drop, which, let's face it, will occur at some point. And while it may seem very similar to older AIO vaping systems – same design, battery capacity and coil-head resistance as the eGo AIO, for example – there is definitely a difference in performance. But we'll get to that later.
Battery Life and Performance
The Augvape AIO features a non-removable 1,500mAh battery. That's a lot more battery life than what pods have to offer, but that doesn't necessarily mean that it will keep you vaping for longer. You see, because this device comes with sub-ohm coil-heads (0.6Ω) the wattage output is going to be considerably higher than that of a pod system (up to 30W). Personally, I've getting about half a day out of a fully charged battery, but your experience may vary depending on how much you vape.
Personally, I'm very happy with the battery life of the Augvape AIO, but what I'm really disappointed about it the fact that it lacks vape-while-charging functionality. That's right, you can't vape this thing while it's charging, which to me it a huge con. I spend most of my day working on a laptop, so in an ideal world, I'd just keep my Augvape AIO hooked to my laptop and not have to worry about battery life. But that doesn't work, because I can't use it while it's charging, which really sucks.
For some reason, Augvape doesn't do vape-while-charging. The Chinese company's pod system, the otherwise decent Lyfe Pod, can't be used while it's charging either. Passthrough technology has been around since the early days of the cigalikes, so it's not like they have to reinvent the wheel just implement the technology in their devices. Get with the program, Augvape!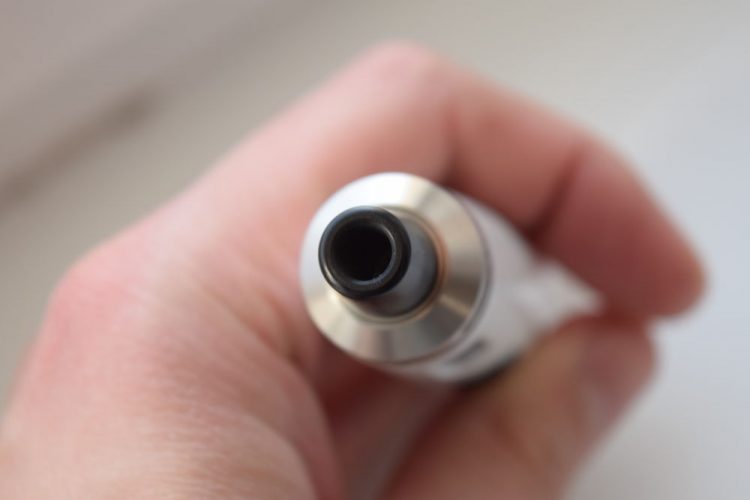 Whether you'll be happy with how the Augvape AIO performs depends on your expectations. If you're expecting a restricted mouth-to-lung draw, you'll probably be a little disappointed. You can do a mouth-to-long draw on this device, but you have to close the airflow almost completely, and even so, it's not that restricted, cigarette-like draw you get from a pod system like the Smoant Karat, for example. It's a very loose mouth-to-lung is what I'm trying to say.
But the Augvape AIO really shines when used for direct lung hits. The battery heats up the coil-head almost instantly, so you get a lot of flavorful vapor. Just don't try doing direct lung-hits with a high-nicotine e-liquid, because it will hit your throat hard and most likely cause coughing.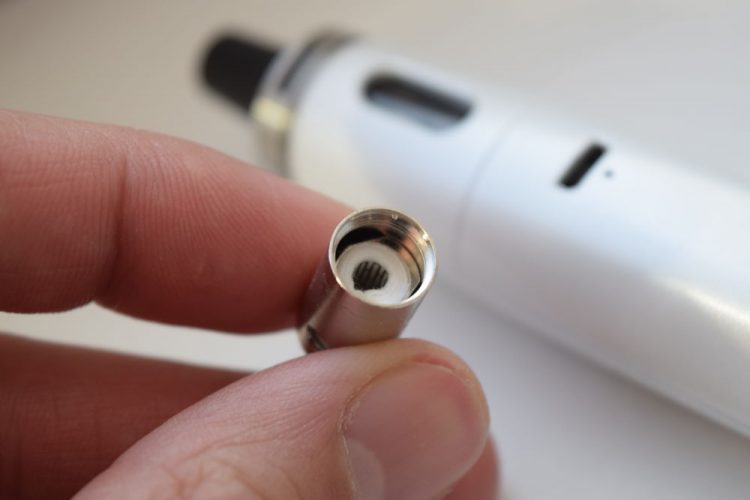 As I mentioned, the vapor production in direct lung mode is impressive, but what really makes the Augvape AIO better than other similar devices I've tried in the past is the flavor. These new mesh coils really bring out the flavor in the e-juice, and even with the airflow wide-open, you can still enjoy a flavorful vape. Another nice thing about these coil-heads is that, unlike those of the Joyetech eGo AIO, they don't seem to flood at all, so you don't have to worry about gurgling and spitback, both of which were common issues with Joyetech's device.
Conclusion
The Augvape AIO is not without its faults, with the lack of vape-while-charging technology and an extremely loose airflow control ring being its most obvious weaknesses, but it's still a decent all-in-one device, especially if you're looking for an easy-to-use direct lung setup. The battery life is ok, vapor production is impressive, and those mesh coils really bring out the flavor in an e-liquid. Plus, it's really affordable compared to an advanced setup with comparable performance.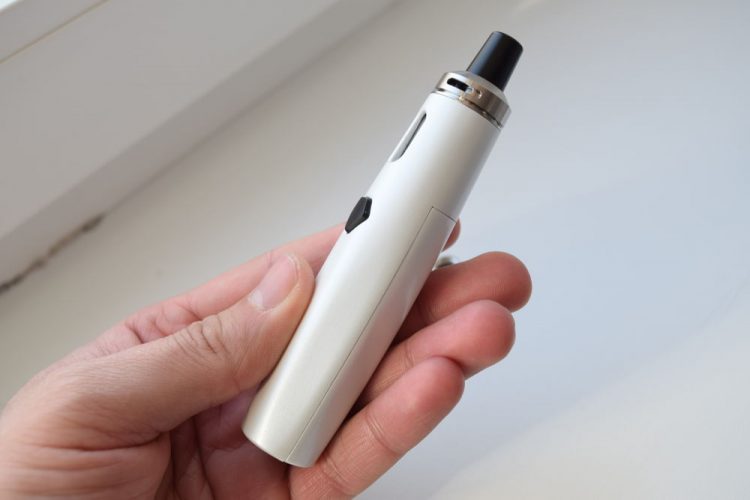 The Augvape AIO was sent to me directly by Augvape, for the purpose of this review.