Cosmic Fog E-Liquid Review
I love trying new e-liquid flavors, particularly ones that combine different tastes to create new and exciting blends, and that's exactly what the mixologists at Cosmic Fog Vapors specialize in, so I just had to try their line of gourmet juices. The up-and-coming e-liquid company based in Orange County, California, has already launched seven different concoctions under the Cosmic Fog brand, and has also gained a reputation for creating unique flavor pairings, within the vaping community.
One of the things that compelled me to give Cosmic Fog a try was learning that it was the sister brand of Space Jam Juice, one of the most talked about e-liquid lines in the world. I hadn't tried it either, at the time, but I had seen their flavors discussed on forums so many times that when I got the chance to buy both collection at a discounted price, I jumped at the opportunity. Rumor has it the two brands are no longer affiliated and , although I am not one hundred percent sure it's true, there is no mention of any connection between them on either of their websites.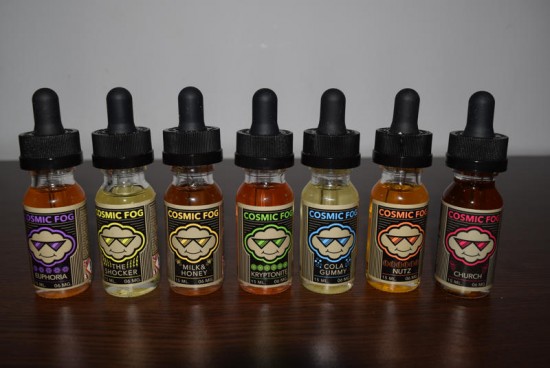 As I mentioned, Cosmic Fog is well known for coming up with original flavor combinations, and according to the company's official site, they spend "an average of 7-10 months on EACH FLAVOR, combining their experience in the culinary world and dedicated research to craft every blend into a unique user experience.  In addition, each flavor is used by the mixers/founders non-stop for weeks after development, ensuring that it is not only blended to perfection, but will also stand the test of time, never tiring the tongue." That sounds like a pretty impressive process, so let's see if the results are on par:
Milk & Honey – I wanted to start with this particular flavor because it is by far the most popular one in the Cosmic Fog lineup. Everyone's been talking about it for a while now, and from what I could tell, the feedback has been overwhelmingly positive.
For that reason, I had my hopes up for Milk & Honey, which is never a very good idea, because you're almost always going to be disappointed. That's not exactly the case here, but I can't really say I liked the flavor that much, either. It's a sweet, tasty vape to be sure, but it doesn't taste like milk and honey to me, and I drank buckets of the stuff growing up.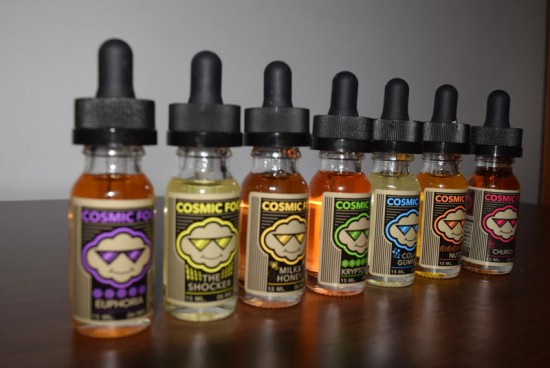 The honey is definitely there, but it was the milk that I've been focusing my senses on, and I just couldn't find it. This is a smooth e-liquid, and that's great, but it lacks the genuine milkiness of say Unicorn Milk, from Cuttwood. Instead, I got hints of pastry, or more precisely cinnamon buns minus the cinnamon.
Another con, for me, was that it is a very light flavor, so light in fact, that after vaping it for two days, I didn't get anything but simple sweetness out of it. Yes, vaper's tongue is a thing, but it usually takes much longer for my senses to get used to a flavor, before they completely ignore it.
Bottom line, I think Milk & Honey is a nice dessert vape, but somewhat overhyped.
The Shocker – One of Cosmic Fog's latest creations, this e-juice is a perfect blend of lemonade and strawberries. The sweet undertones of strawberries complement the strong citrus taste of this e-liquid, making this one of the most refreshing and tasty fruit flavors I've ever tried.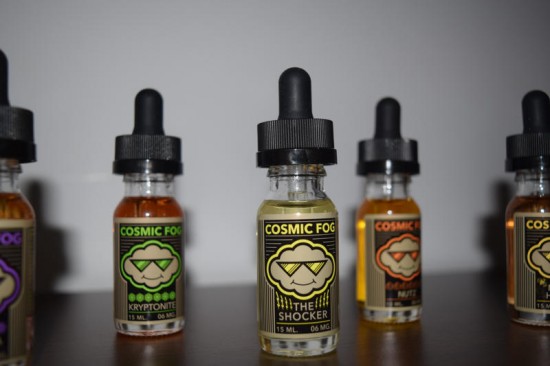 The name might be a bit exaggerated, as the cistrus isn't strong enough to be shocking, but if you're in the market for a refreshing summer vape, I highly suggest you give it a shot. The Shocker was definitely one of my favorite blends in the entire Cosmic Fog collection.
Kryptonite – The description on the Cosmic Fog website sounds very enticing, and after reading it, I was sure this flavor would become one of my favorite fruit vapes. "A sweet and refreshing blend of cool melon paired with your favorite candy," they say, and that's not entirely inaccurate, but they also don't mention anything about the strong floral taste of Kryptonite. Unfortunately that makes vaping it taste like drinking a shot of perfume.
I could definitely taste green melon in this juice, a fairly accurate flavor, in fact, mixed with menthol candy, which without that strong lavender-like perfume taste, I'm sure would have been a great combination, especially on hot supper days. As it stands, however, Kryptonite is just unvapable, for me, right now. Hopefully, Cosmic Fog will tweak the recipe at some point, so I can actually enjoy the refreshing taste of watermelon with a hint of menthol.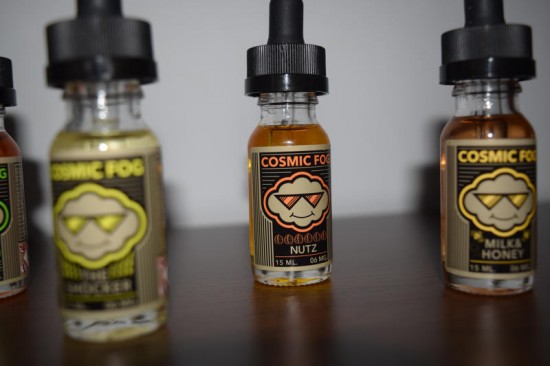 Nutz – This was an unexpected surprise. I for one had never tried almond butter and strawberry preserve sandwiches, so I was completely blown away by how well they go together.
A combination of almond butter, strawberry preserve and whipped honey creme, Nutz is one of the most complex flavors I have ever vaped, so props to Cosmic Fog for executing it to perfection. I find it hard to explain just how well all these different flavors go together, so I suggest you try it for yourself.
I remember taking a whiff of the juice bottle out of curiosity and getting just a strong nutty taste with very week notes of strawberry, but vaping it was a whole different experience. The strawberry flavor was very bold on the inhale, with the nuttiness of the almond butter taking center stage on the exhale. The creamy aftertaste just made everything even better.
Euphoria – Pop open the bottle, take a quick sniff, and there's no mistaking the smell of fruit cereal. After trying Cuttwood's Bird Brains e-liquid, I was sure nothing else would ever come close, but Cosmic Fog have done a fantastic job with this flavor.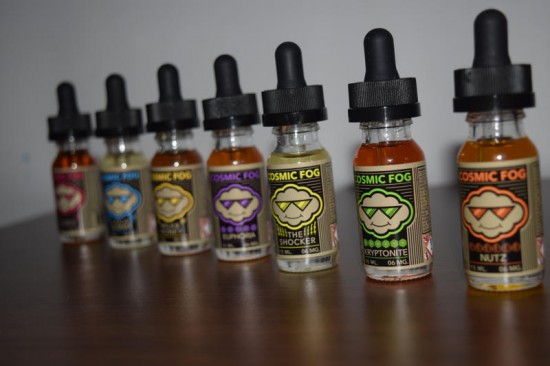 Apart from the strong taste of cereal, I also got clear notes of blueberry, but strangely, not orange, which Cosmic Fog claims is also in their blend. Also, instead of a realistic milk flavor, I tasted vanilla custard, which worked surprisingly well.
All in all, a really nice vape, especially if you actually like fruit cereal, but not an all-day vape, as the strong taste of cereal can become sickening after a while.
Gummy Cola – I have the same problem with Gummy Cola that I had with soap when I was a small kid – it smells great, but it tastes horrible. Unfortunately, Gummy Cola tastes a lot more like soap than colla gummies, and while that may sound harsh, it's the sad truth. Frankly I don't know how this flavor got passed testing, it's just so bad.
To be perfectly honest, Gummy Cola doesn't even smell like cola. I personally think it smells like Disaronno, the popular amaretto liqueur, but sadly it tastes nothing like it.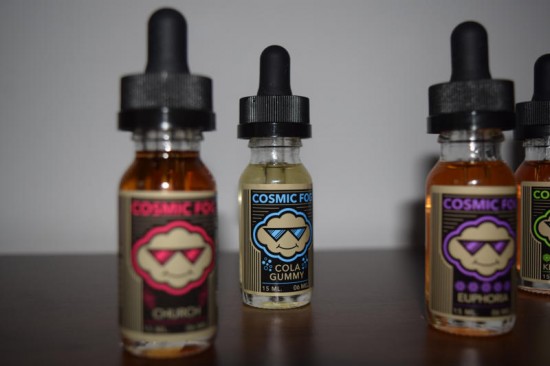 I really wanted to like this juice, having grown up with gummy bears, but I couldn't even go through a tank of the stuff. I let it steep, forced myself to vape it for a longer period of time hoping the taste would grow on me, but i could never get passed the obvious chemical taste.
Church – The authentic taste of communion waffers. Just kidding, although the bizarre name of this flavor might lead you to believe just that. Cosmic Fog Church is actually supposed to taste like an ice cream sundae, which also explains the name, kind of.
Ice cream sundae in vapor form sounds mighty tasty, but also very hard to pull off. Church is definitely a valiant effort by Cosmic Fog, put I think it still needs a bit of work. The chocolate flavor is so bold that it virtually mutes the vanilla ice-cream and bananas, leaving only the maraschino cherry syrup that's probably supposed to symbolize the cherry on top of the ice-cream.
Church is not a bad e-liquid, and if you're a fan of chocolate and maraschino cherries you might actually love it, but it's no ice cream sundae.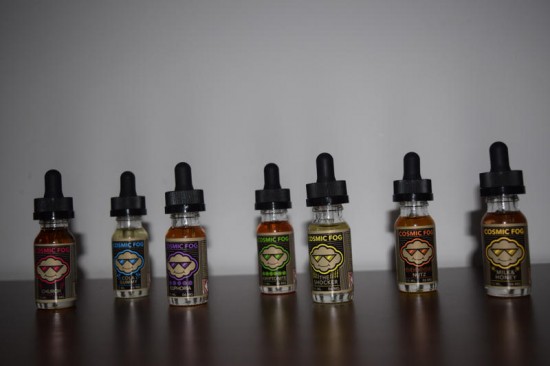 Before we wrap up this review, let me disclose that I have tested Cosmic Fog e-liquids on the X Cube 2 160W mod, at around 80 watts, with both the SMOK TFV4 Mini tank and my Plum Veil RDA. The juices were all 6mg nicotine, and throat hit didn't vary considerably between the seven flavors.
In conclusion, Cosmic Fog was a surprisingly inconsistent lineup. Some of the flavors made a big impression on me, like Nutz and The Shocker, others were ok but nothing to write home about, while a few were just horrible (Kryptonite and Gummy Cola). That's not very high praise for a collection of high-priced premium e-liquids, and while I commend Cosmic Fog for taking a risk with new and exciting flavors, I think they should probably be more selective about the ones they actually launch commercially.