Eleaf Trance Max Review
It took a while, but we're starting to seem some real innovation in the pod system sector. Sure, there are plenty of generic devices still coming out, but every now and then we get a gem that gives us hope. One such gem is the new Eleaf Tance Max, a compact and affordable all-in-one vape mod that looks like a pod system but has some of the useful features of an advanced device, like adjustable airflow, replaceable coil-heads and decent battery life. Let's check it out:
A Look at the Contents
The Tance Max comes in a rectangular cardboard box featuring a picture of the device – in the actual color it comes in – on the front, and a list of kit contents, as well as technical specifications and the manufacturer's contact information on the back. There's also a scratch-and-check authenticity sticker on the side of the box, if you want to make sure your product is genuine.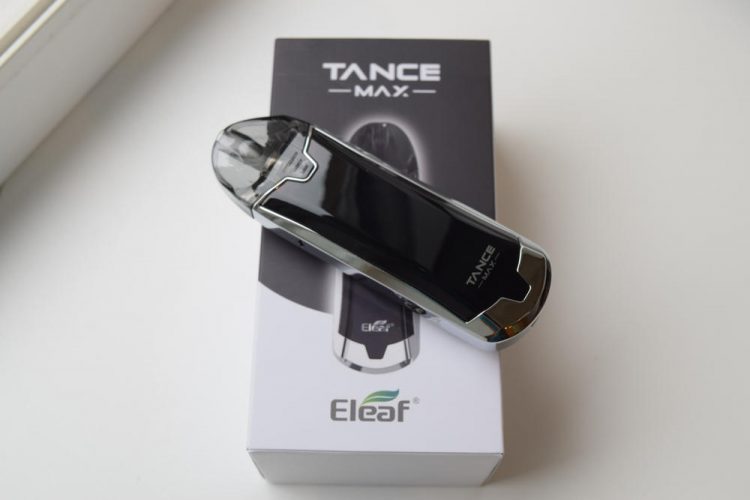 Inside the box we have the Tance Max mod and refillable pod/cartridge sitting in a Styrofoam holder, and underneath that you'll find the accessories this device comes with, which include a USB-C charging cable, a spare coil-head, user manual and a couple of small o-rings for the coil-heads. This is the third pod system featuring USB-C compatibility I've reviewed in the last month, which is definitely surprising. I didn't expect manufacturers to adopt the new standard so quickly, but it's nice to see that they have.
Design and Build Quality
The Tance Max has the same stick-like design of most pod system, but it's a bit longer and considerably thicker, which is justified by the 1,100 battery it houses. It measures 101mm x 31mm x 20mm, and weighs around 87 grams. It's still a tiny and very ergonomic device compared to most advanced vape mods and vape sticks, and will fit comfortably in your pocket.
Eleaf's newest pod system is made primarily of zinc alloy and high-quality plastic inserts, and comes in a variety of artistic finishes, including geometric patterns, paint splash, as well as the classic black, which is the one I received for this review.
Probably the first thing that caught my attention after taking the Tance Max battery out of the box was how chubby it looked compared to most pod systems I had tested. As I mentioned, there is a perfectly good reason for this, but I just wanted to point out that its thickness doesn't affect its ergonomics at all. It's still a very comfortable device to hold and store, plus you get a lot more battery life thanks to the large capacity battery inside.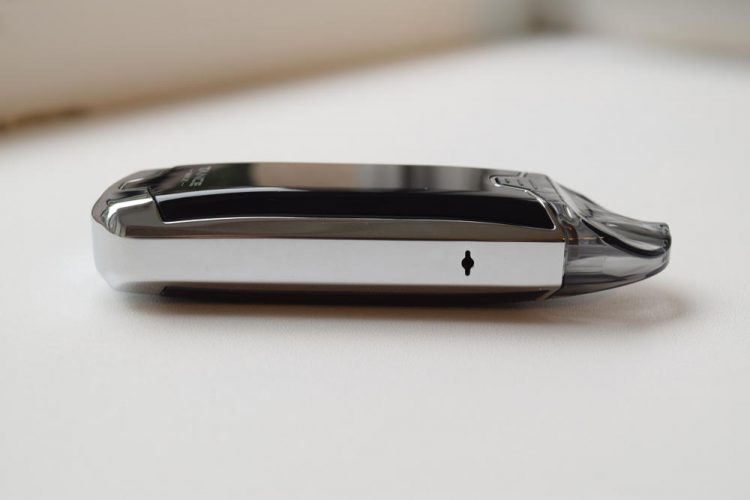 Unlike the Eleaf Tance, which uses an automatic switch to activate the internal battery of the mod when you draw, the Trance Max is a manually-activated vaping system. That means you have to press a fire button when you need to vape. The rectangular fire button is located on one of the sides of the Tance Max and has an LED indicator that lights up whenever you attach a pod or when you press it. The LED also acts as a battery indicator, lighting up green, blue and red depending on how much power is left in the battery.
On the sides of the mod you'll notice these large holes which is act as airflow slots, directing the air to the bottom of the pod and into the coil. Luckily, there's more to it than that, as this particular pod system probably has the best airflow control I've ever seen. In fact, for me, the system Eleaf created here is by far the most impressive thing about the Tance Max.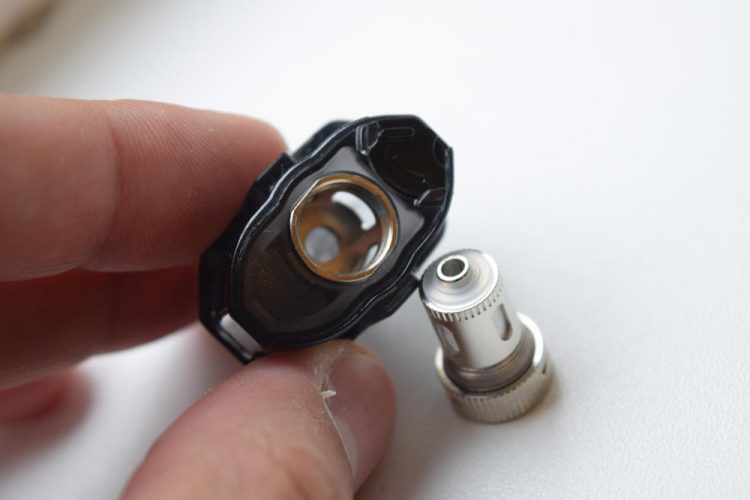 On the bottom, we have the USB-C port for charging. I usually don't like it when manufacturers place the port on the bottom, as you can't place the device upright while it's charging, but that's irrelevant in this case, as the Tance Max isn't designed to stand upright anyway. USB-C is always nice to see on a mod; it's easier to hook up, it's more stable, and it's the newest standard available.
At first glance, the Tance Max pod looks pretty ordinary. It has the same tinted finish we've seen on virtually every other pod system, although I will say the tinting is much more discrete here, allowing you to keep a close eye on the e-liquid level. The mouthpiece is flattened on one side to fit more comfortably in the mouth, and it attaches to the mod via a pair of powerful magnets. However, when you take a look at the bottom of the pod, you notice there's something more going on.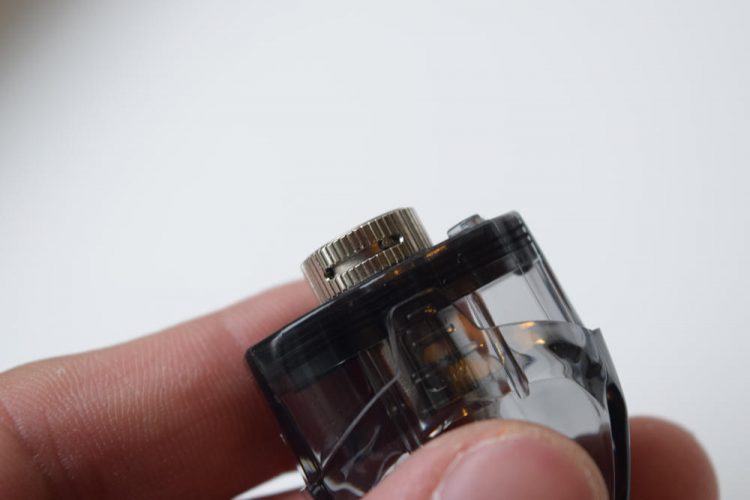 Like the Smoant Pasito and VooPoo Find S Trio, the new Eleaf Tance Max is a pod system that allows you to replace the coil-head without having to replace the whole cartridge. This seems to be the next evolutionary step in the world of pod systems, and I for one am already a fan. It may not be very appealing to people looking for a simplistic alternative to tobacco cigarettes, but they already have plenty of rudimentary devices to choose from. It's time for use seasoned vapers to have some fun as well.
Anyway, the Tance Max pod comes with an 0.6Ω mesh coil-head already preinstalled, but if you prefer a cooler vape, you can replace it with the included 1.6Ω standard coil included in the kit. To do that, you have to remove the pod from the mod, unscrew the metallic base from the bottom of the pod, and then unscrew the coil-head from the base and replace it with the other one. It sounds a lot more complicated than it really is. As I see it, this is probably the most ingenious coil-replacement system I've seen on a pod system so far.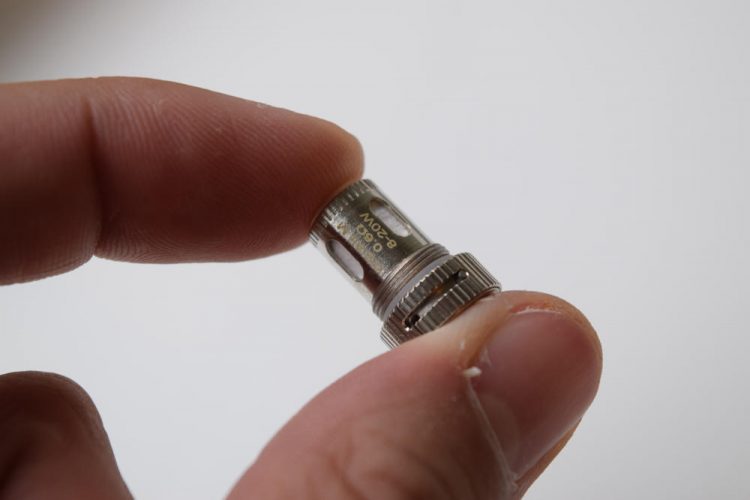 What really makes the Tance Max stand out from other similar vape mods is that metallic base at the bottom of the pod. It doesn't only lock the coil-head in place, it also features an adjustable airflow system. Once you've screwed it on to the pod, you can open and close a series of small air holes in order to set the airflow you prefer. You can leave it wide open for a very loose lung hit, close it all the way for a restrictive mouth-to-lung, as well as any setting in between. It's awesome!
The Tance Max pods hold up to 4ml of e-liquid, which is more than enough for a device this size.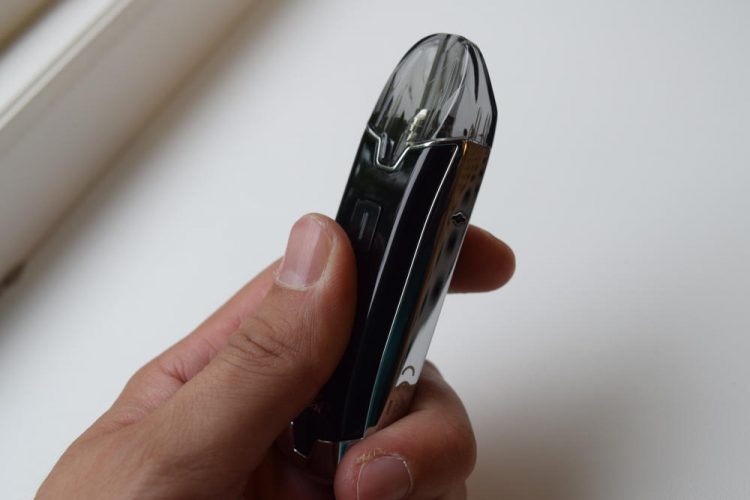 Battery Life and Performance
Battery life has always been the Achiles heel of pod systems. Yes they're simple to use, affordable and some perform pretty good, but they're just a piece of metal if they run out of power. Luckily, you shouldn't have that problem very often with this device, because the Tance Max battery is rated at a respectable 1,100mAh. That's just 100mAh less than the VooPoo Find S Trio, the largest capacity pod system battery I know, so not bad.
You can also use the Tance Max as a passtrough, while it's charging, but even on the go, it should keep you vaping for a whole day without you having to recharge it. Just make sure you keep an eye on the LED indicator lights, and remember that red means you have under 20 percent battery life.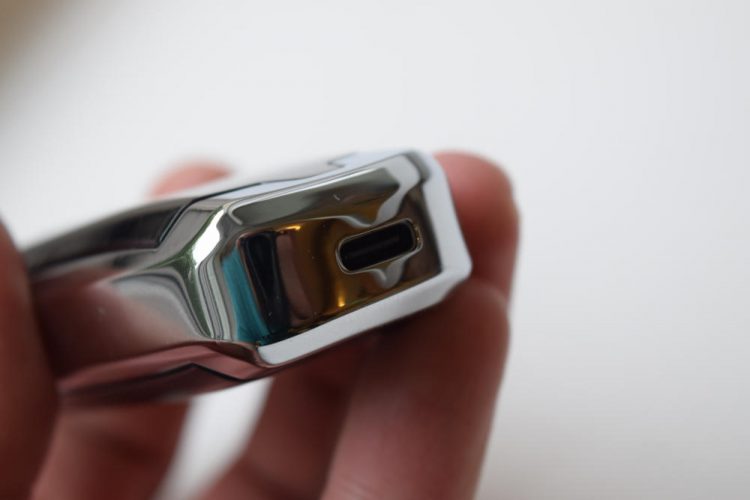 Performance-wise, the Tance Max was a lot better than I expected, primarily thanks to that very ingenious airflow adjustment system on the base of the coil-head. Usually, pod systems are either designed for tight or loose mouth-to-lung vaping or direct lung vaping, but not for all of them. This is the first such device I've tried that let's you vape anyway you want just by turning a metal knob on the bottom of the pod. And it actually works perfectly. You want a tight mouth to lung? Just close the airflow until only a quarter of an air hole remains exposed. Want and airy direct lung hit? Open the airflow all the way. You can also play with the airflow and decide whatever works for you.
The coil-heads were pretty good too, and while I assumed I was going to like the 1.6Ω standard coil more because it's more suited for MTL vaping, the high resistance made the vape way too cool for my taste, so I ended up using the 0.6Ω mesh coil instead, only with the airflow almost closed up completely, for a tight draw. I've been using it for a week now and it's only been getting better with each pod refill.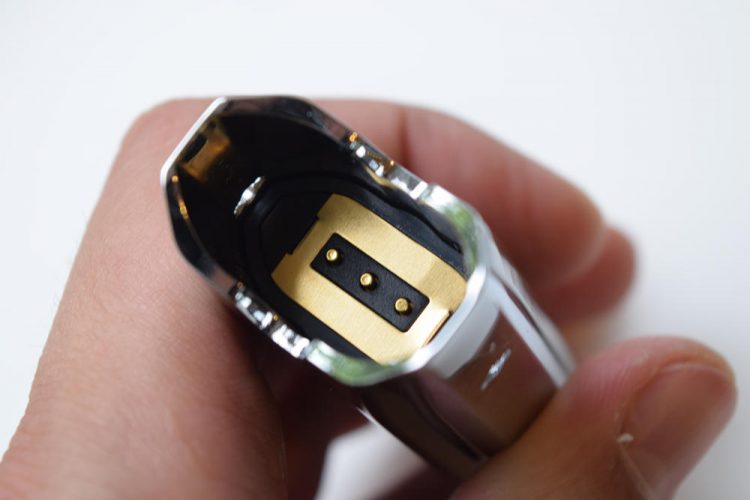 Now, my only real complain with the Eleaf Tance Max is the flavor. It has the same problem I noticed on the SMOK Novo and Oukitel Nano pod systems. A lot of people have been leaving comments on my review of the Novo, saying they didn't agree with my opinion that the pods had a funny taste the first time I used them, but I stand by it. Unfortunately, the Tance Max pods have the same problem. You need to refill them a few times to get rid of this chemical, plastic-like taste that I really don't like. Luckily, it goes away after about three refills, but it's still not ok in my opinion. If other manufacturers can get better pods, so can Eleaf.
Conclusion
Other than the bizarre flavor and smell of the pod, I really have nothing to complain about. The Tance Max is one of the best, most advanced, pod systems out there and if you're looking for a simple and portable vaping device with some serious customization options I suggest you check it out. Hopefully, Eleaf will upgrade to better pods soon, and if they do, the Tance will definitely become one of my favorite pod systems ever.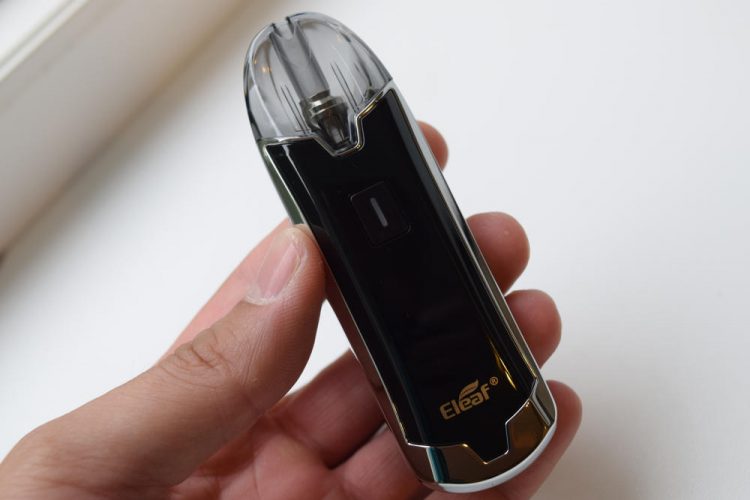 The Eleaf Tance Max was sent to me by Vapesourcing, for the purpose of this review. They currently have it in stock for just $19.99.