VapeOnly Mind Pro Review
If you're as bored with the design of all-in-one systems inspired by the original Lost Vape Orion, you'll be glad to know there are some viable alternatives out there, like the new VapeOnly Mind Pro. Featuring an original design, adjustable wattage, voltage, as well as three simplistic power levels and a large built-in battery, this device is not scared to take on market leaders like the Lost Vape Quest or Smoant Pasito. So let's check out the VapeOnly Mind Pro:
A Look at the Contents
The VapeOnly Mind Pro comes in a clear plastic case with a cardboard sleeve that features all the information we usually find on the back of cardboard packaging, so make sure you keep it for a while.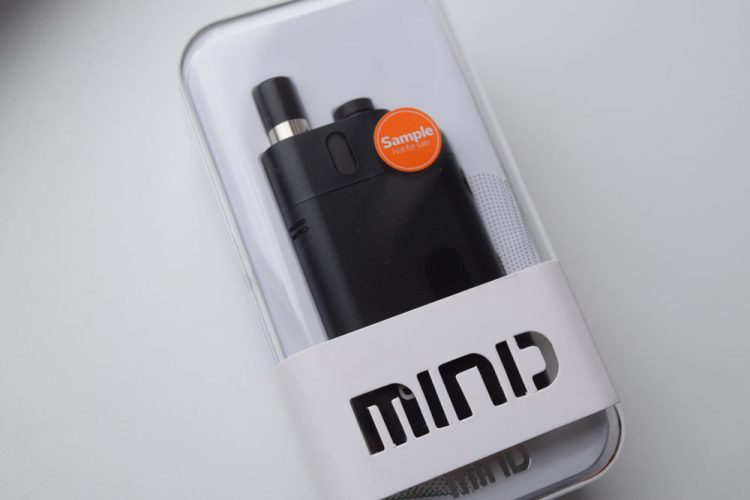 Inside the box we have the Mind Pro all-in-one/pod system, a user manual, and a small box containing the USB Type-C charging cable and a spare coil-head (another one comes pre-installed). It's your typical all-in-one starter kit, nothing to complain about, but nothing to write home about either.
Design and Build Quality
As I mentioned in the opening paragraph of this review, the Mind Pro look very different compared to the most popular AIO vaping systems on the market. Instead of adopting the same boxy shape introduced by the Lost Vape Orion, VapeOnly went for something original, and for that I personally think they deserve praise. I don't know about you, but I've had my fill of Lost Vape copycats.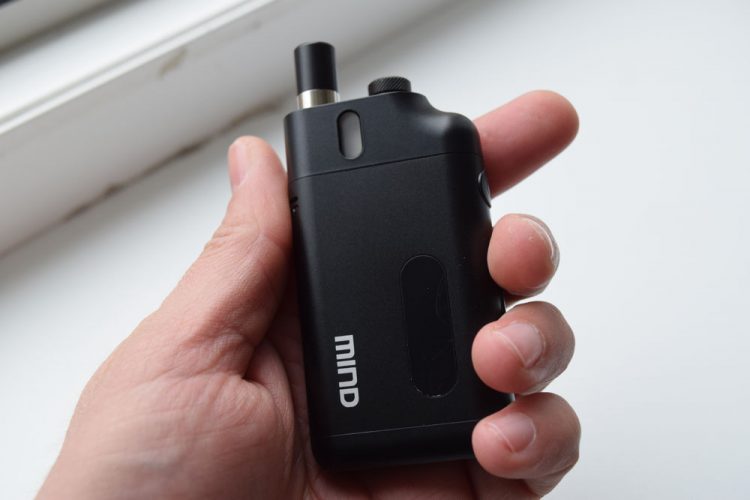 The VapeOnly Mind Pro measures 45.5mm x 16mm x 96.6mm, is made primarily of zinc alloy, and comes in four different colors – black, grey, blue and red.
At the top of the Mind Pro mod we have the pod port, where the refillable plastic pods go. Unlike most other pod mods, which rely on magnets to hold the pods in place, the VapeOnly Mind Pro features a plastic clamp that activates when you press down on the pod. It's an interesting solution, and one that has been working very well so far, but the fact that the clamp itself is made of plastic is a bit worrying. We'll see how it holds up in the long run. For the time being, the pods are held perfectly in place, without any kind of wobble.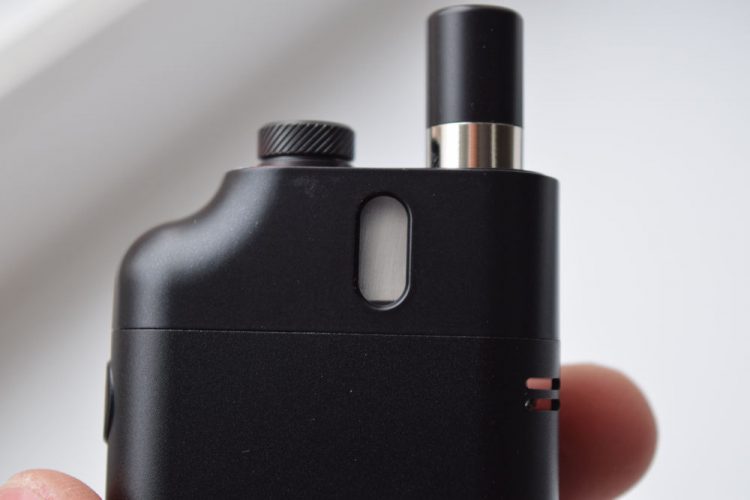 The metallic body of the mod features two small cutouts on each side, allowing you to see the juice level inside the pod, without having to take it out and check.
The VapeOnly Mind Pro is a manually-activated pod system, which means you have to press a fire button in order to activate the battery. We've seen manual all-in-one pod systems before, like the VooPoo Vinci and SMOK RPM40, but the Mind Pro also features + and – power adjustment buttons, as well as a small display.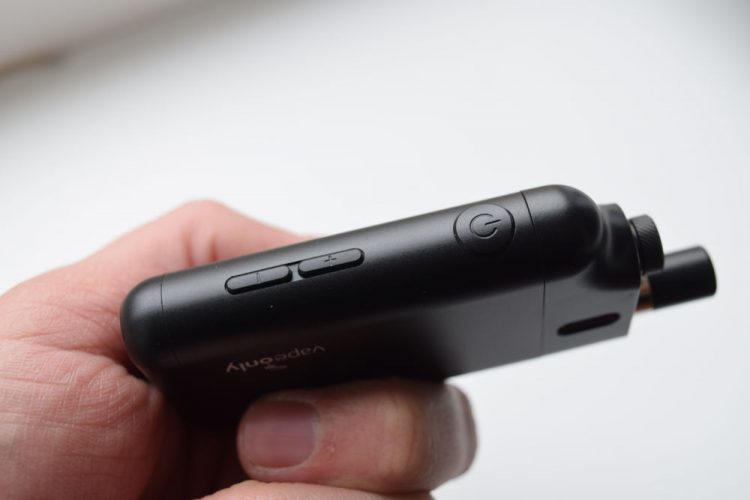 The plastic buttons are clicky and seem to work pretty well, and the screen is nice and bright, especially for such an affordable device. Finally, on the bottom of the mod we have a USB Type-C charging port. It's not an ideal location, as far as I am concerned, as you can't charge the device while it's upright.
The refillable pod of the VapeOnly Mind Pro holds up to 2.7ml of e-liquid, is only slightly tinted, allowing you to clearly see the juice  level inside, and features a top fill port, similar to that of Lost Vape pods. It even has the same type of fill port cap that you have to twist off, but be careful not to lose it, because that would render the whole pod virtually unusable.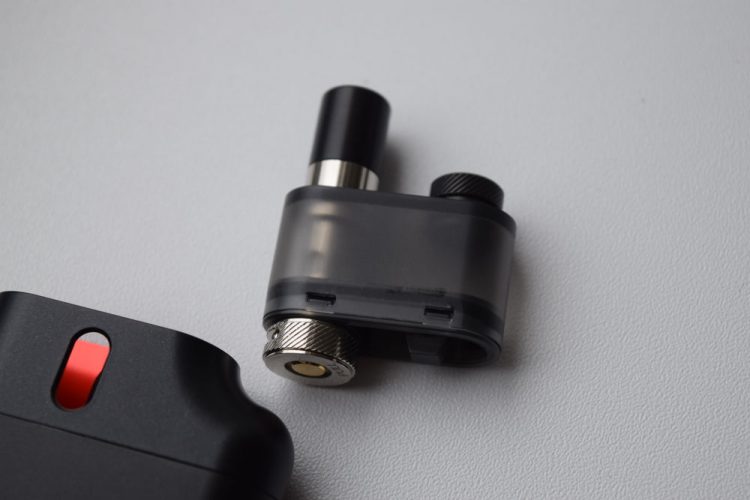 Mind Pro pods feature plug-n-play type of coil-heads, which go in through the bottom of the pod, and connect to the 510 drip tip base. The coils are press fit, so all you have to do is press them into the pod, while turning them around to make sure they go in all the way. Also, the pod also comes with a removable base for the coil-heads, which doubles as an adjustable airflow system. It's the same type of setup we've seen on the Eleaf Tance Max pod system, with its adjustable airflow.
Make sure to always unscrew the base from the coil-heads before throwing them away, otherwise you can kill adjustable airflow goodbye.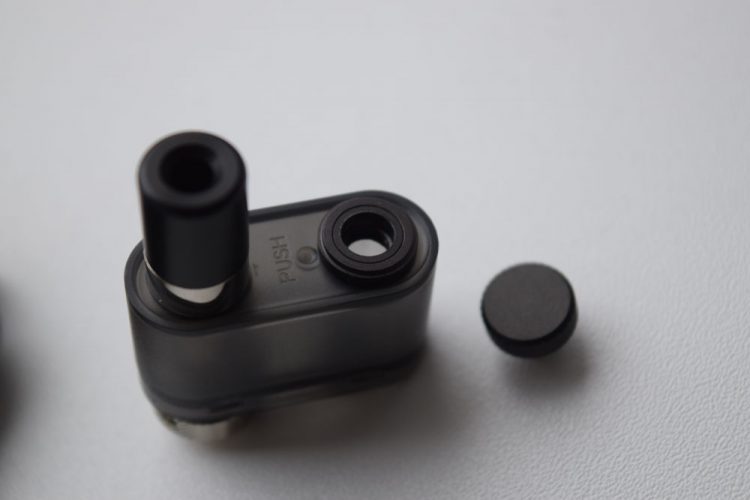 The VapeOnly Mind Pro is an interesting looking all-in-one vaping device featuring solid build quality, an ingenious pod locking system, as well as adjustable power. If you're looking for a different-looking pod mod, this is definitely an interesting alternative to the many Lost Vape copycats.
Battery Life and Performance
One of the main advantages of a device like the VapeOnly Mind Pro over the competition is battery life. While the Lost Vape Orion or Smoant Pasito only have around 1,000mAh battery capacity, it has a capacity of 1,500mAh, just like the excellent VooPoo Vinci all-in-on pod mod. Not only that, this device also features USB Type-C fast charging (2A), which means you can charge a completely depleted battery back to full in about an hour.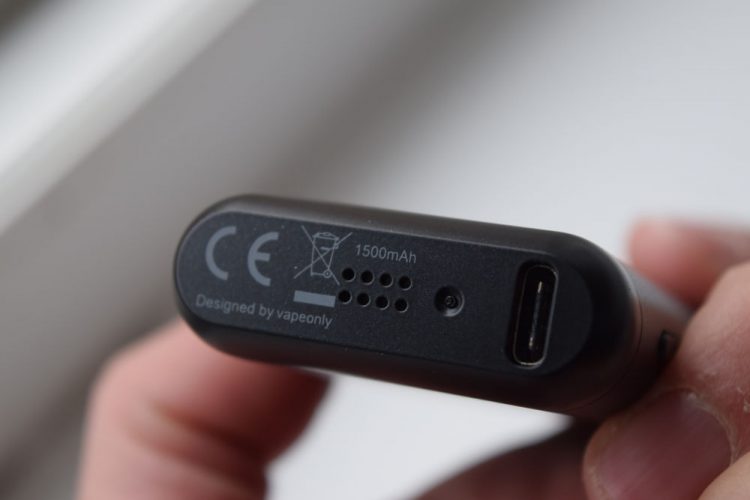 Performance-wise, I found the Mind Pro to be a very versatile vaping device. It comes with a pre-installed 1.2Ω MTL coil-head, but you can also use it in direct lung mode thanks to the 0.6Ω coil-head, as well as the 0.4Ω one (not included in the kit). All you have to do is push the coil-head into the plastic pod, attach the airflow adjustment accessory according to your taste, and you're good to go. I found that you can close up the airflow almost completely, for a super tight MTL draw, but also open it up completely for a loose and airy direct lung hit. It's all about personal taste.
The airflow isn't the only department where you can personalize the vaping experience according to your needs, though. The VapeOnly Mind Pro features adjustable wattage, from 5W and 34W, with the highest power level only being attainable with the 0.4Ω coil-heads I mentioned. With the coil-heads included in the kit, the Mind Pro will limit the maximum power in order to prevent user from accidentally burning their coil-heads. But this device lets you adjust power in other ways as well.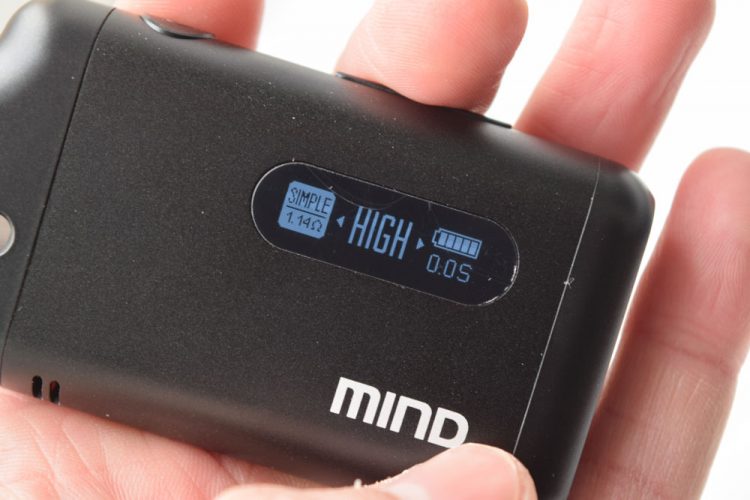 Pressing the fire button three times in rapid succession changes power adjustment from wattage to voltage, and pressing the fire button three times again switches to a thee settings system – Low, Mid and High. I don't know exactly what wattage each setting stands for, but I think it's a really simple system for people who don'd know Ohm's Law and can't be bothered to educate themselves. Sadly, these secondary power adjustment systems are that well advertised by the manufacturer. I personally discovered them by mistake.
I've been using the VapeOnly Mind Pro for over a week and a half now, and I'm pretty happy with it. Battery activation is super fast, as it should be by today's standards, power output seems fairly accurate, and the ability to adjust the airflow allows for a lot of customization. Whether you enjoy a tight mouth-to-lung draw, or a loose direct lung hit, the Mind Pro delivers, as long as you know how to set the airflow properly.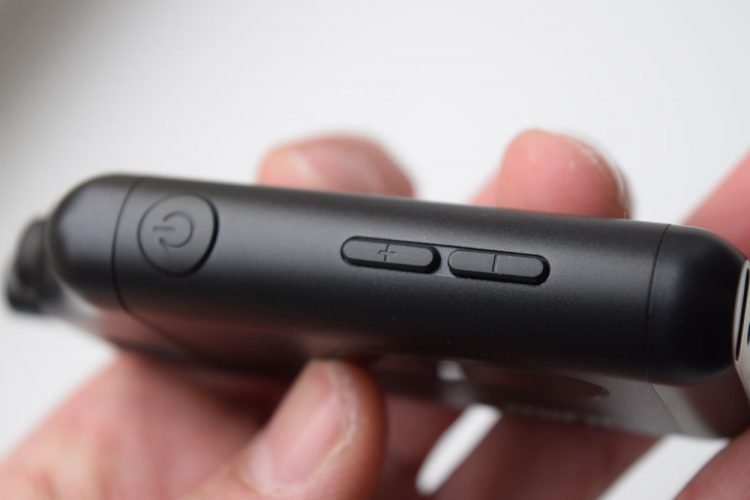 Conclusion
The VapeOnly Mind Pro is not the most eye-catching vaping device ever created, but if you care more about functionality and performance than you do about design, I think you'll love using this thing. It has a lot of things going for it, from the exceptional battery life to the adjustable airflow and several power adjustment options, and really nothing particularly bad worth mentioning, except maybe the looks of it, which is a very subjective topic. I personally am glad to see someone do their own thing,m and not copy or get inspired by what other, more successful manufacturers are doing.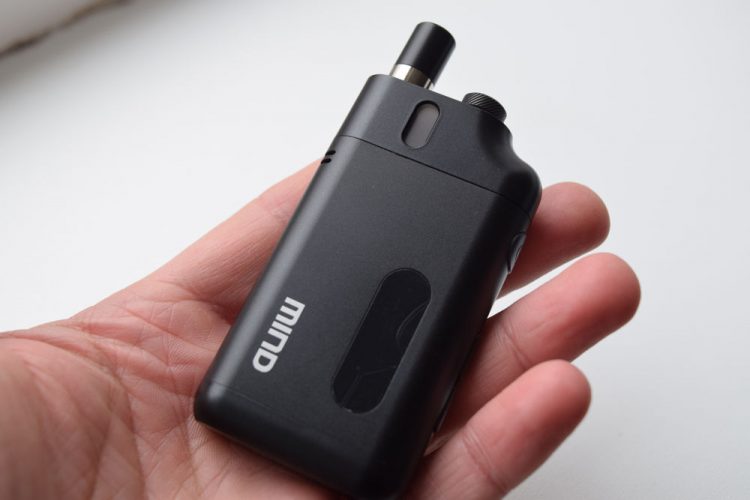 The VapeOnly Mind Pro was sent to me by Heaven Gifts, for the purpose of this review. They currently have it in stock for $35.