VooPoo Find S Trio Review
As popular as pod systems are these days, a lot of people in the vaping community have been complaining about the lack of customization, and companies are actually doing something about it. Following the success of the SMOK Nord, with its interchangeable coil-heads, manufacturers are coming up with similar all-in-one vaping devices that allow users to swap various types of coils for different style of vaping. The new VooPoo find S Trio is one such vaping device. It comes with two different type of coil-heads designed for both direct-lung and mouth-to-lung vaping, as well as a large built-in battery. Let's check it out:
A Look at the Contents
The VooPoo Find S Trio comes in a flimsy cardboard box colored in the same two-color combination as the device inside – in my case, turquoise and black – and featuring a life-size picture of the pod system on the front. On the back of the box we have a list of contents, the mandatory safety warnings and a scratch-and-check authenticity sticker.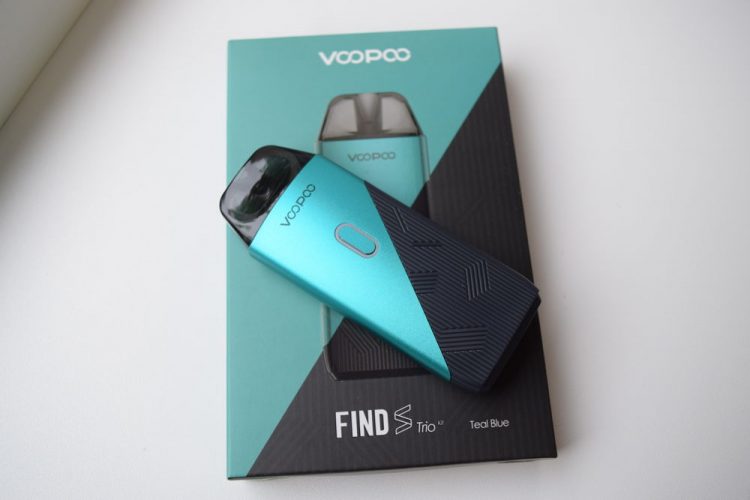 Inside the box, we have the Find S Trio all-in-one vaporizer, one refillable pod, a micro-USB charging cable, two different coil-heads, a user manual, and the same metal lanyard included with the Drag Nano pod system. While it only comes with one pod, this kit actually includes two compatible coils, so that's technically a good thing. Just the other day I was criticizing VooPoo for only including one pod with their Drag Nano pod system, so I'm glad they stepped up their game with this one.
Design and Build Quality
The VooPoo Find Trio measures 122mm x 35.9mm x 17mm and is primarily made of aluminum alloy and plastic. It weighs just 60 grams which is extremely light even for a device this size. The materials are actually visibly split, with the top half odf the mod made of plastic, and the lower half out of plastic. The two parts have very different texture as well, with the metal being smooth and slippery, and the plastic featuring these small grooves to improve your grip.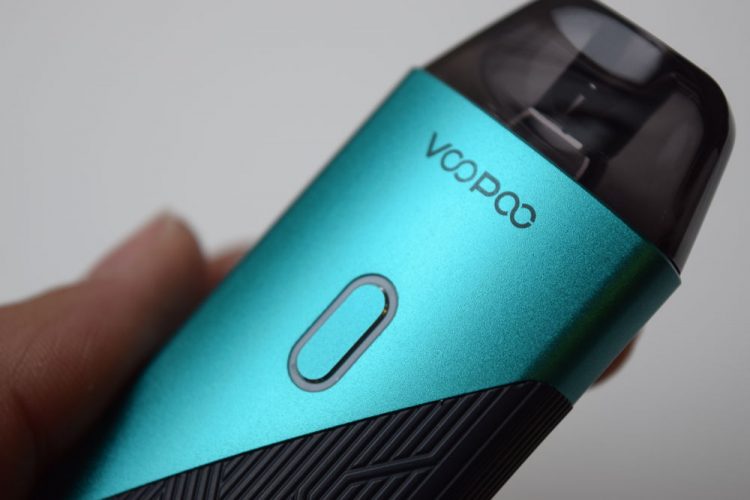 The mod itself is fairly straightforward, with the only worth mentioning being the micro-USB port on the bottom, and the oval-shaped fire button on one of its large sides. This is a manually-activated device, so if the thought of having to push a button to activate the battery every time you want to vape puts you off, the Find S Trio may not be for you. Manual mods do have their advantages, though, like being able to preheat the coil for a more satisfying vape and not having to worry about e-liquid leaking into the battery. It's a matter of personal preference is what I'm trying to say.
Anyway, the fire button is nice and clicky, but a little too loose, in my opinion. It works perfectly, but I don't really like feeling it wobbling every time I search for it with my thumb. In fact, it's so wobbly that it rattles if I shake the device. This may be just an issue with the unit I received for review, but it's my job to let you know everything about the devices I test.
The pod is larger than those of most similar pod systems -they hold up to 3ml of juice, instead of 2ml – and feature a large port on the bottom. That's where you're suppose to insert one of the included coil-heads. The pods are made of a tinted plastic, but are still transparent enough that you can easily see the e-liquid level inside. The mouthpiece is ergonomically designed and fits comfortably in your mouth.
The VooPoo Find S Trio features 2 PnP coil-heads, which I assume is an abbreviation of Plug n' Play, as all you need to do is plug them into the bottom of the pod and you're good to go. You can also twist while your pushing them into the pod, but you don't have to. As always, I recommend dropping a bit of juice inside the coil-heads and waiting at least five minutes after filling the pod with juice, to minimize the risk of dry hits.  When replacing a coil, all you need to do is grab the bottom with your fingers and just pull it out of the pod. It's all very simple and convenient.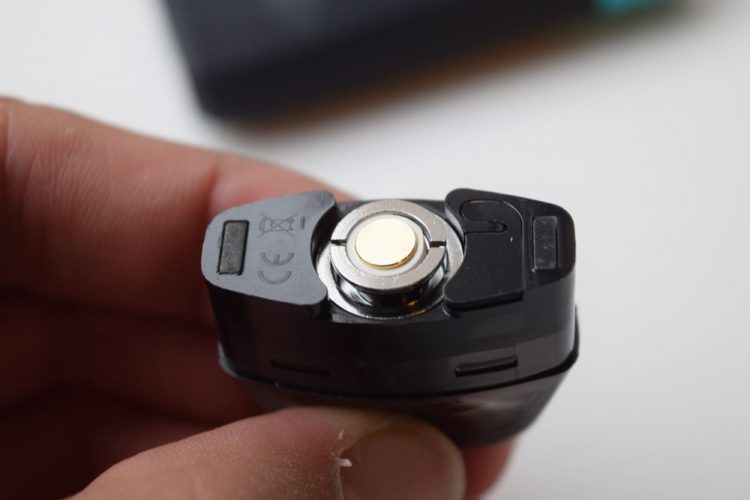 All in all, a fairly simple device designed to be easy to use. Build quality is decent, but I did notice that the pod is a bit unstable when connected to the battery unit. The powerful magnets prevent it from coming off the mod, but it tends to rock from one side to the other instead of staying firmly attached to the three gold-plated connectors on the Find S Trio. It's not a deal-breaker by any means, and again, it could be an issue with just the device I received for review, but I thought I would mention it.
Battery Life and Performance
One of the biggest advantages of using the VooPoo Find S Trio all-in-one system over conventional pod systems like a JUUL or a SMOK Novo, is the superior battery life. This thing features a built-in 1,200mAh lithium battery, while the average pod system only has a capacity of around 400mAh. That's a considerable difference, and while you have to take into consideration the power output of the device, it should still keep you vaping for a lot longer.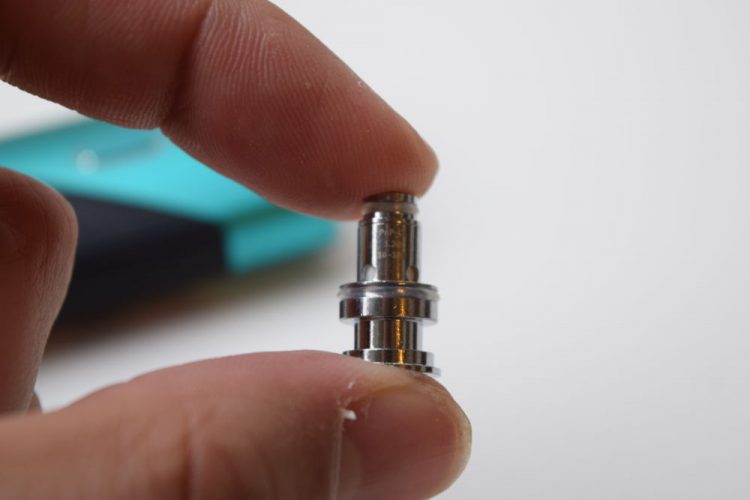 The Find S Trio takes just over an hour to charge, but you can also use it as a passthrough using the included micro-USB cable. To figure out how much battery life you have left, just keep an eye on the LED indicator around the fire button. If it lights up green when you press the button, you have between 60% and 100% battery, blue means 20% to 659% and red signals that battery life is under 20% and it's time to recharge.
One thing to keep in mind before pulling the trigger on the VooPoo Find S Trio is that it is not meant for mouth-to-lung vaping. Yes, it comes with a 1.2Ω ceramic coil-head that provides a more restrictive draw than the 0.8Ω coil-head, but it's not the tight draw you get from the Vladdin RE or the Renova Zero. I'd call it a restrictive direct lung hit, to be honest. I was able to do mouth to lung as well, but it's really not the most satisfying experience, especially if you prefer a more restrictive, cigarette-like draw.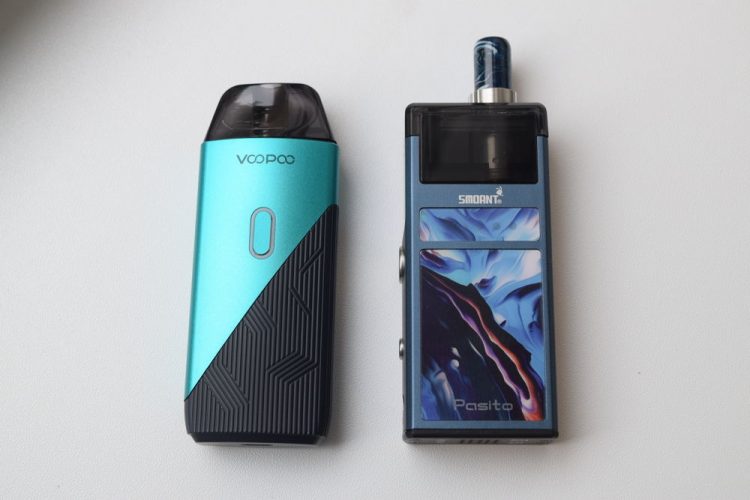 Now, if you're into direct lung vaping, this little guy is actually pretty impressive. Not only does it produce quite a bit of vapor, especially with the 0.8Ω coil-head, but the flavor is pretty good as well. I was really surprised about that, because the PnP coil-heads use regular coils instead of the mesh-coils we've seen on similar devices like the Smoant Pasito. But the thing that most impressed me about the performance of the Find S Trio was the firing speed.
VooPoo has been pushing the Drag and Gene Chip brands on most of its products, and for good reason – the original Drag 157W remains one of the most popular mods of all time, and the firing speed of the Gene Chip is legendary. Still after being slightly disappointed by the Drag Nano pod system, I wasn't expecting too much from the Find S Trio, despite the mention of it being powered by a simpler version of the Gene chip called "Gene Trio".  But it turns out that as far as firing speed is concerned the VooPoo Find S Trio is just as good as the Drag.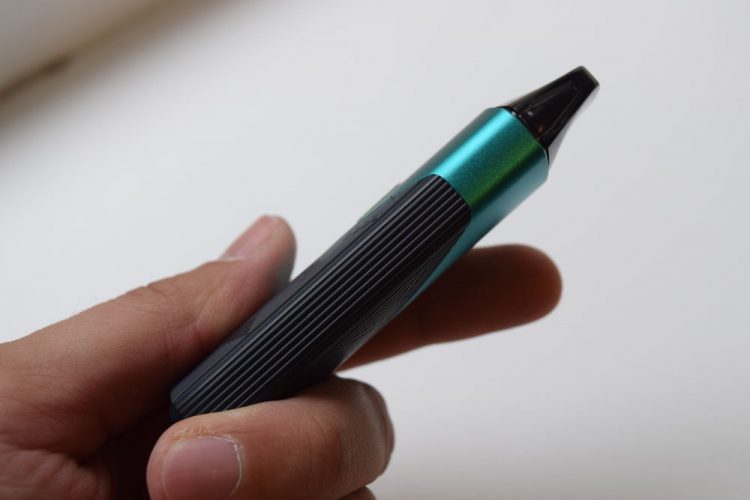 This thing fires as soon as you push the power button. I don't know if it has some sort of a preheat function built in, but you can hear the coil start to sizzle instantly when pushing the button. It's actually quite impressive for such a simplistic device, and it eliminates the need to prime your coil before taking a toot.
Conclusion
The VooPoo Find S Trio is probably the next evolutionary step in the world of pod system. It's a simple enough device that caters to beginners and intermediate vapers, but it adds an extra layer of customization by using different styles of interchangeable coils. Battery life is fantastic as well, but there are things that could use some improvement. For example, I wish VooPoo would implement some sort of power adjustment options to allow for even more customization, and I'd like to see them tackle proper mouth-to-lung as well, instead of catering exclusively to direct lung vapers. Still, I think the Find S Trio is a step in the right direction.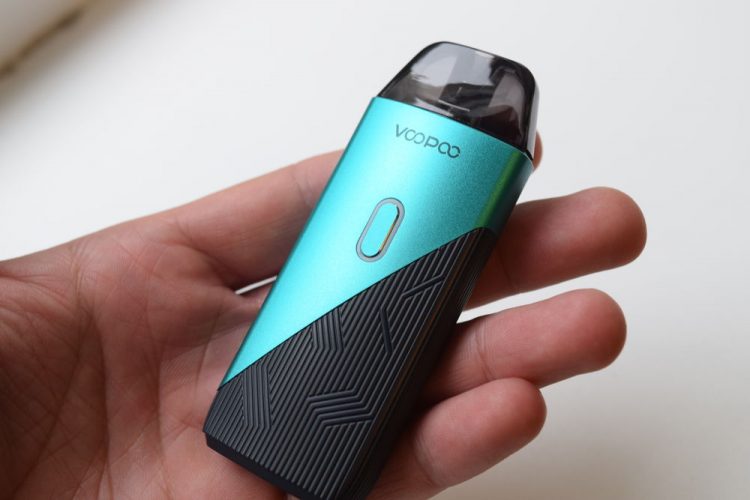 The Voopoo Find S Trio was sent to me directly by VooPoo for the purpose of this review.