Smoant Pasito Review
Smoant was one of the first major vape mod manufacturers to jump on the pod system bandwagon, and they've actually seen some success with devices like the Smoant S8 and Smoant Karat. But instead of simply riding the wave and putting out new designs of basically the same functionality, the Chinese manufacturer decided to change the game and create the world's first rebuildable pod system. The Smoant Pasito uses coil-heads instead of disposable pods and even be used with an RBA base. That's unheard of for pod systems, so it's no wonder everyone is talking about it.
A Look at the Contents
The Smoant Pasito has the nicest packaging I've seen in a long time. It looks pretty ordinary on the outside – a white flip-top box with a picture of the pod system on the front, and a list of kit contents and manufacturer information on the back. But the inside is pretty cool. Flip the lid open and you're greeted with a simple but thoughtful 'Have a good day' message on the left and a second, window-style lid painted in the same artistic pattern as the Pasito mod.  Open that one up and you'll notice that the user manual is actually printed on the inside of those cardboard windows, which is kind of cool, as this way you can never misplace it.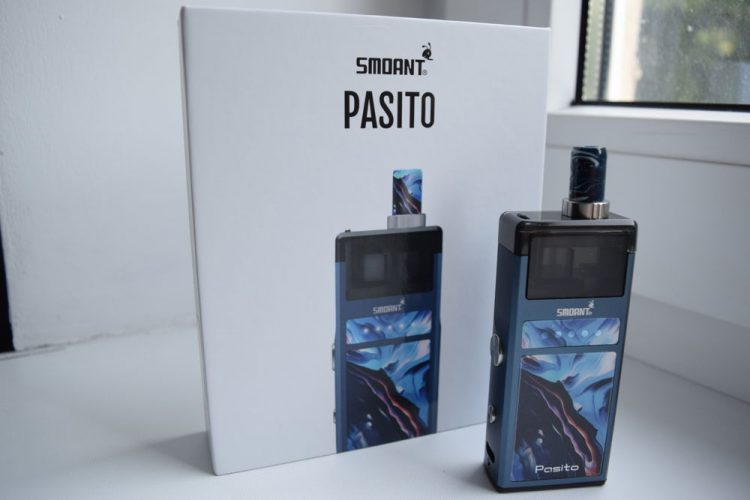 Inside the box, we have the assembled Smoant Pasito placed in a Styrofoam holder, right next to an accessories box containing  USB Type-C charging cable and the two coil-heads included – one 0.6Ω coil-head for direct-lung vaping and a 1.4Ω one for mouth-to-lung. That's pretty much all you get. If you want to try the RBA base everyone's talking about, you'll have to buy it separately.
Design and Build Quality
Design-wise, the Smoant Pasito is very similar to the SMOK Trinity Alpha we reviewed a while back, which in turn was inspired by the innovative Lost Vape Orion pod system. It has a rectangular design with large plastic pods that connect to the mod via strong magnets.
The Pasito is apparently made of aviation-grade aluminum, which explains why it feels so light in the hand, and measures 102mm x 38mm x 18 mm. It's pretty small for an all-in-one device, but as far as pod systems go, this one is not the stealthiest. Compared to a Renova Zero or a SMOK Novo, it's actually considerably larger.
Starting at the top, we have a sleeve-style resin drip tip that matches the artwork on the mod. It connects to a metallic top cap that also acts as a cap for the fill port. The tinted plastic pods hold up to 3ml of e-liquid and feature adjustable airflow. On the top of the pod, opposite the drip tip, you'll see this little plastic nob that you can flip one way or the other to open or close the airflow. It has very short travel, so even though you can try to tweak the airflow in between closed and wide open, you won't feel too much of a difference. I always keep it closed for mouth-to-lung, and it's still too airy for me, so keep that in mind.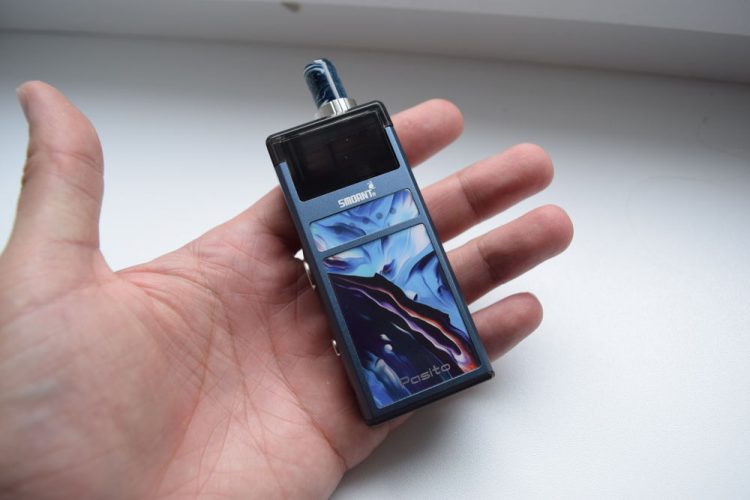 The pods look pretty big, so I was surprised that they only hold 3ml of juice, but upon thorough inspection I noticed that half the space is taken up by an L-shaped airflow channel that connects the coil-head to that little nob on the pod. It's an interesting design, but I just wish it made more of an impact on the vaping experience. Right now, you can only choose between an airy vape and airier one.
At the bottom of the pods, you have magnetic contact on one side and the coil-head base on the other. The pod included in the kit doesn't come with a coil-head pre-installed, so in order to get it ready for vaping you have to remove that metallic base by grabbing it with two fingers and pulling it out. Luckily, it has notches on both sides so you can get your nails in there for a better grip. Once it's out, just grab one of the coil-heads, screw it onto the base and then push it back into the pod. Just make sure to drop a bit of juice into the coil-head first to make sure the cotton wicking is saturated.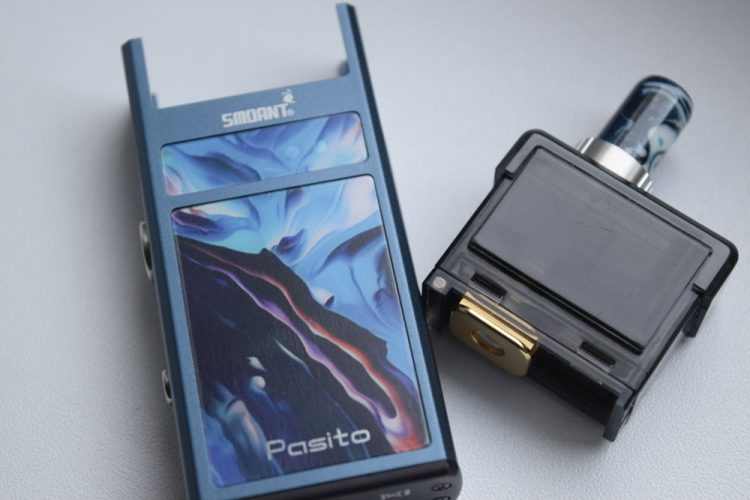 Once you're done setting up the pod, just drop it into the large slot on top of the Pasito mod and the magnets will keep it in place. You can hear a bit of wobbling if you shake the device, but in real-life conditions I can confirm that the pods lock onto the mod quite strongly and don't come off unless you actually drop the Pasito.
The Smoant Pasito is a more advanced pod system than we're used to seeing. First of all it's a manually-activated device whereas most other pods have a draw-activated switch. There's also a power adjustment button under the fire button, which allows you to tweak the wattage according to the resistance of the coil-head or personal preference.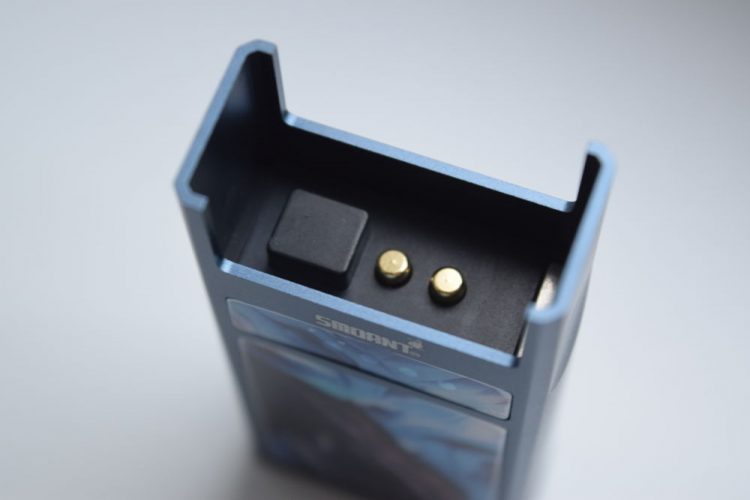 On the larger sides of the mod, Smoant went with two resin-like panels that really help the Pasito stand out. Unfortunately, they are not actual resin, but simple stickers, albeit cool-looking ones. They also come with protective film that prolong the new look of the device a bit.
On one side of the mod, you'll also see five LED indicators that act as both battery life indicators and power indicators. For battery life, each individual light signifies 20% battery life, so when just one of them lights up, you have <20% battery life, and when all five light up, the battery is at about 100%. For power, each press of the smaller power button bumps up the wattage. The Pasito has a wattage range of 10W – 25W, with each of the five LEDs acting as a different power level. One LED is 10W, 2 is 13W, 3 – 16W, 4 – 20W and 5 – 25W.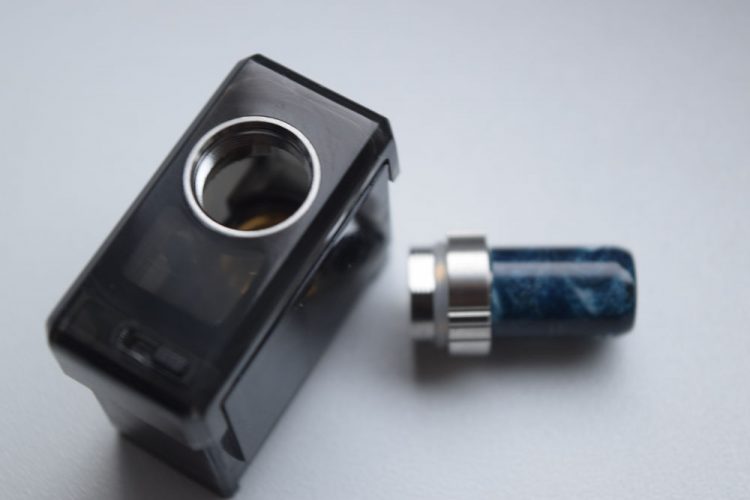 Under the two buttons of the Smoant Pasito we have a USB Type-C charging port. If you've read my review of the Eleaf iStick RIM, you already know I'm a fan of Type-C, so I'm glad to see more manufacturers adopting the newer standard.
Finally, at the bottom of the Pasito, we have some battery venting holes, just in case something goes wrong with the built-in battery. This thing has all the safety protections of an advanced mod, but it's always a good idea to take precautions.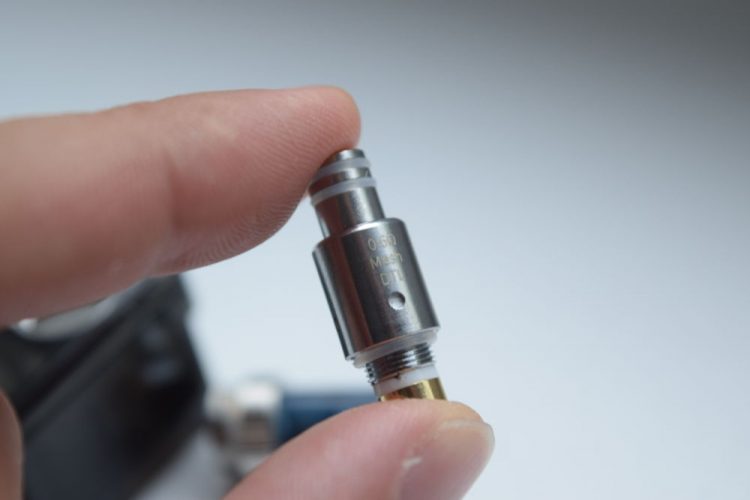 Overall, I think Smoant did an ok job designing the Pasito, but there are a few things that could have been done better. For example, I'm not a fan of the filling system, as with the coil-head sticking out, there's not a lot of space left to insert a thicker dropper or juice bottle tip. Also, the positioning of the fire button is kind of awkward. It's too low for thumb-pressing, so you're kind of forced to use your index finger instead. I understand the constraints with the pods taking up so much space, but SMOK found a way to do it on the Trinity Alpha pod system, so I'm sure Smoant could have done the same.
Battery Life and Performance 
The Smoant Pasito features a built-in 1,100mAh battery, which is pretty much the largest capacity battery I've ever seen on a mod. It even puts the 600mAh battery of the Renova Zero to shame, and it's 100mAh larger than that of the SMOK Trinity Alpha. So it's safe to say battery life isn't an issue with this device .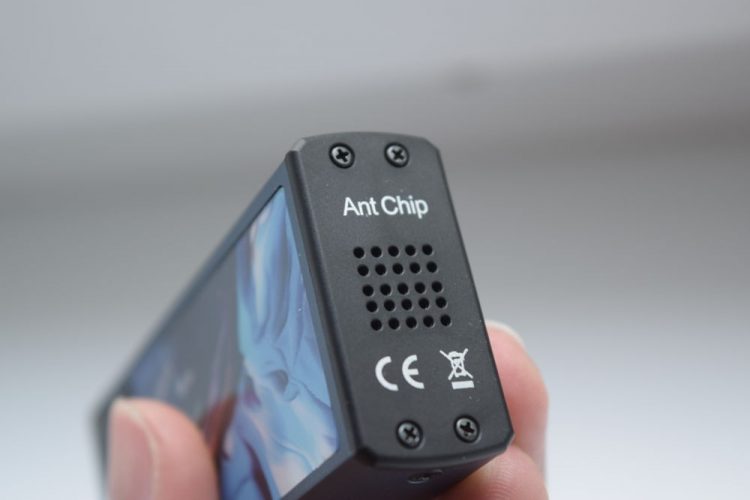 I was pleased to see that the Pasito features USB Type-C charging, but while the Smoant website mentions that this device has fast charging technology, my personal experience didn't live up to my expectations. Having depleted the battery to the point where the device didn't fire anymore, it took almost an hour and a half for it to recharge completely. That's not exactly fast, in my book. I don't know if it's a software or hardware thing, but they really need to work on it.
The Smoant Pasito is an interesting-looking vaping device, but all everyone really wants to know is how it vapes with those changeable coil-heads. Well, if you're interested in direct-lung vaping, you'll most likely love the way it performs. While it doesn't produce the insane clouds that an advanced mod and sub-ohm tank are capable of, it's definitely more than you can get out of any other pod system.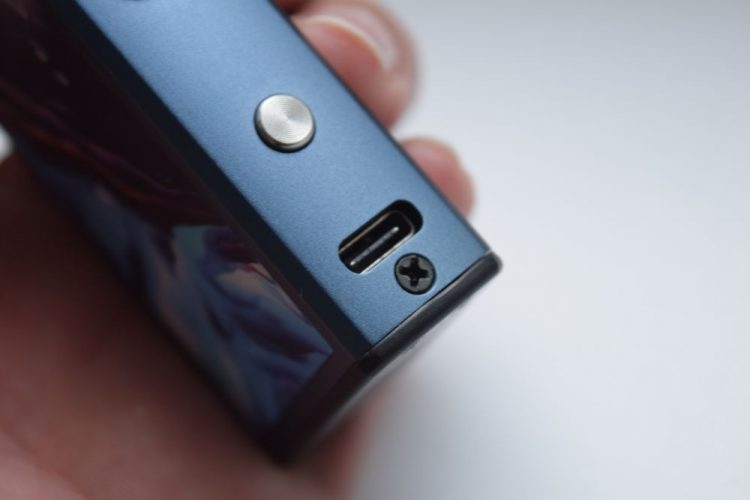 Where this device fails, however, is MTL (mouth-to-lung). I personally prefer a tight, cigarette-like draw, which is why I was such a big fan of simple devices such as the Vladdin RE or Smoant Karat. They didn't have any of the fancy features of the Pasito but they did one thing right – provide a satisfying MTL vape. Unfortunately, even with the airflow fully closed and using the provided MTL coil-head, the Smoant Pasito is way too airy for me. I can barely do mouth-to-lung on it, and it's definitely not the most satisfying one.
But, as I said, if you actually prefer an airier MTL draw or better yet direct-lung vaping, the Pasito works very well. The ability to tweak the power to your liking, and even the resistance of the coils (with that separate RBA base) are potentially game changing, as is the fact that you can replace coil-heads instead of having to throw the whole pod when you're done with it.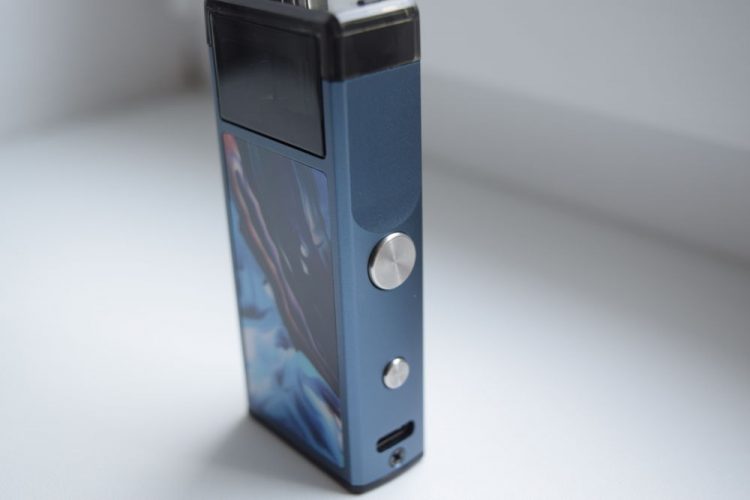 Personally, I don't thing the Smoant Pasito is aimed at beginner vapers or even casual ones, for that matter. Having to get your hands dirty removing the coil-heads once they've outlived their usefulness is not something I see as appealing for pod system users. Not to mention building coils on that tiny RBA base, which has to be a gruelling endeavour. Again, I didn't get it for this review, but judging by the size of the coil-heads and having seen other reviewers showcase it, I think installing a coil on it is challenging even for experienced builders.
There's nothing wrong with creating a pod system for advanced users, God knows we have enough rudimentary devices to choose from, but I just want to point out that if you're looking for simplicity and convenience, this just might not be the device for you.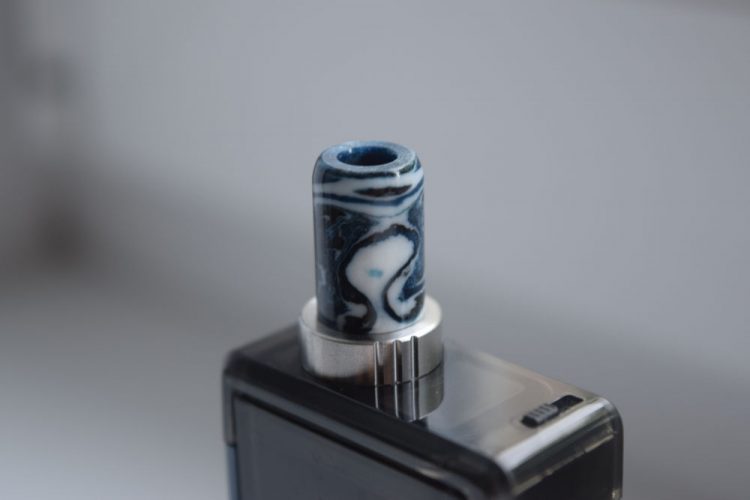 Conclusion
The Smoant Pasito is generating a lot of hype in the vaping world right now, and for good reason. It introduces new concepts we haven't seen in the pod system sector before, such as replaceable coil-heads, an optional RBA base, and amazing battery life. Smoant definitely needs some praise for trying to shake things up in an industry that for the most part has been riding the success of the JUUL without implementing any serious innovative ideas. That said, it still has a lot of work to do to achieve its goal of creating an all-in-one device that works for all styles of vaping.
Mouth-to-lung vaping is very hard to pull off with the Pasito, especially of you like that restrictive, cigarette-like draw, the airflow system is kind of clunky, the optional RBA base isn't worth the hassle in my opinion and the power button makes is awkwardly positioned. Neither of these are deal-breaking issues, but you should definitely be aware of them before buying this device.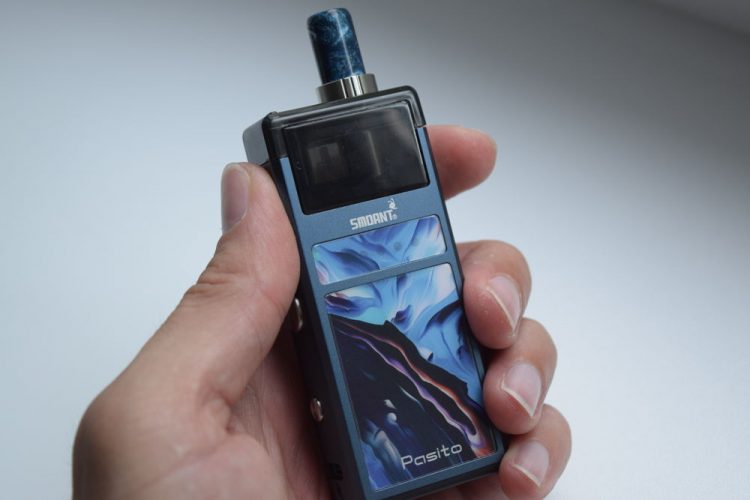 The Smoant Pasito was sent to me by GearBest for the purpose of this review. They are currently selling the full kit for $35.