Gloop E-Liquid Review
Gloop is a line of shortfill e-liquids created by the same company that operates ECigaretteDirect, one of the largest and oldest vaping retailers in the UK. It consists of four dessert flavors – blueberry donut, caramel latte, hazelnut cookie and sticky strawberry cake – but expect to see more such delicious treats added to the roster in the near future.
Presentation
Gloop e-liquid come in shortfill bottles, meaning 50ml of juice in 60ml unicorn bottles which allow for quick and easy nicotinization. All you need is some nicotine shots and a nicotine calculator to make sure you get the nicotine concentration you are aiming for. Removing the plastic needle tip of these bottles can be a bit of a pain, but the good news is that you only have to do it once, when/if you add the nicotine shot. When you're done, plug the needle tip back on, give the bottle a good shake, and you're good to go. Actually, I recommend giving the nicotine base some time to properly mix with the juice, but I can understand if you can't help.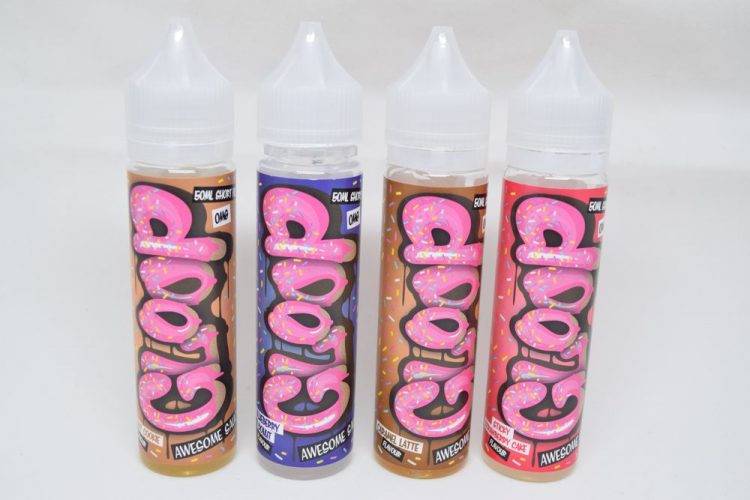 The bottles all feature differently colored labels that match the flavor of the juice – for example, blue for blueberry donut and red for strawberry cake – and child-proof plastic caps. The labels feature most of the necessary information, like nicotine content, ingredients, the amount of e-liquid in the bottle, the name of the flavor, batch number, as well as the legally required warnings. For some reason, they left out the VG/PG ration, but the ECigaretteDirect website states that they are all 70VG/30PG.
One thing I liked about the Gloop packaging was that all the bottles came in individual colored cardboard boxes featuring the graffiti-like logo of the line. What I didn't like the minuscule font on the labels, which made reading the ingredients and all the other information hard to read.
Because of the EU's TPD requirements, 50ml Gloop e-liquid bottles are only available in 0mg/ml nicotine strength, so if you need nicotine, make sure to get some boosters as well.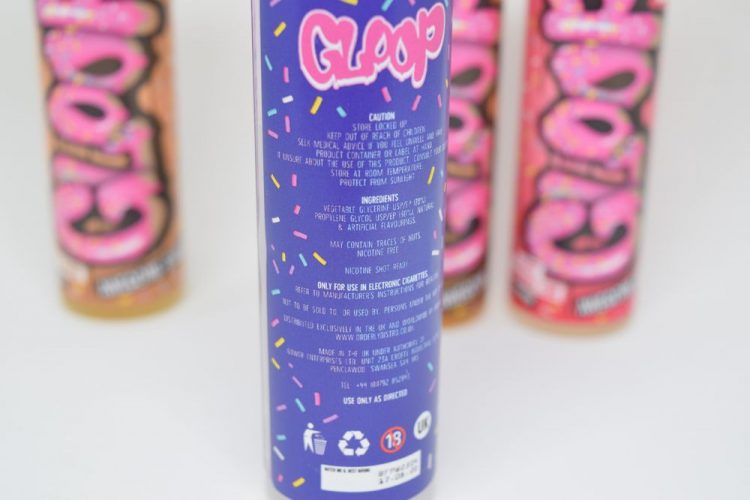 Flavors
Blueberry Donut – I usually save the flavors that I am most excited about for last when reviewing e-liquids, but I just couldn't wait to try this blueberry donut, so it was the first bottle I opened. I've been hooked on this flavor ever since I first vaped DRPN Donuts Blueberry, and I really wanted to see how Gloop's version was compared to it. I discovered DRPN Dnouts a long time ago, but it still remains my gold standard in terms of donut vapes.
Gloop Blueberry Donut is a very different donut than DRPN, not in a bad way, just in an English versus American way. I noticed the same difference between Just Jam and Jam Monster e-liquids, even though they were both blueberry jams, they were very different. Gloop definitely nailed the donut flavor. Although it's more of an Italian zepolla than the American style donut, there is definitely a strong fried dough taste, especially on the inhale.
It's the blueberry filling that I can't really get used to for some reason. It's not that it's bad, or has a funky chemical taste, it's just not my kind of blueberry. I've had a friend try it and he loves it, so it's probably just a matter of personal preference. If you're into donuts with fruit filling, give this one a try, you may like it.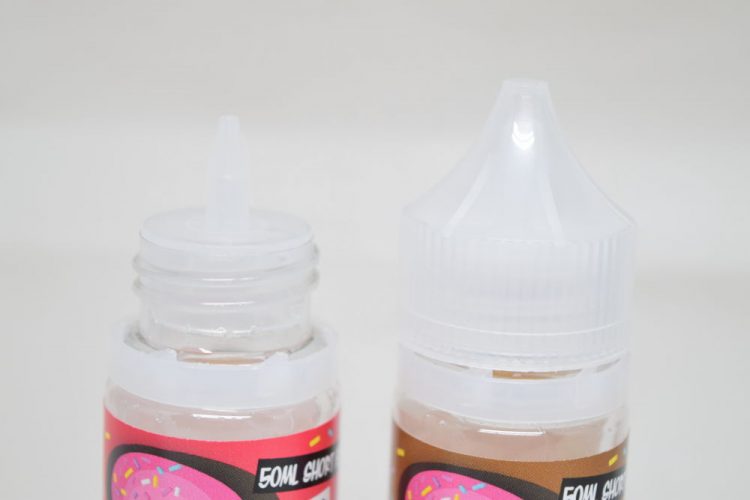 Sticky Strawberry Cake – "A super moist strawberry cake that is heavy on the icing and just too damn tasty for its own good."
That description sure sounds delicious, but I personally didn't find it very accurate. I'm a huge fan of strawberry cake, especially those heavy on the icing, but this juice doesn't have that cake flavor I was expecting. It's got more of a crunchy puffed rice taste to it to be honest, so if you're into those, you're going to love it. The strawberry is pretty good, just sweet enough to satisfy my sweet tooth, but not overly so.
Gloop Sticky Strawberry Cake reminded me a lot of another juice I reviewed a while ago, the Strawberry Shortcake Ice Cream from Vaporfi. It has that same puffed rice undertone, and the creamy strawberry is very similar as well. Overall, a very nice combination, although not quite as described by the manufacturer.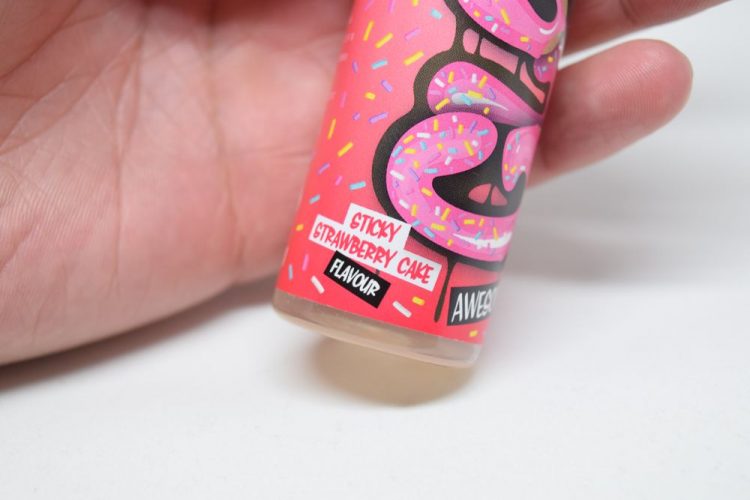 Hazelnut Cookie – "Fresh from the oven and just waiting to be gobbled. A warm hazelnut cookie that's delicious enough to turn anyone into a bit of a monster."
This is the simplest and most straightforward of all four Gloop flavors. As the official description states, it's your classic hazelnut cookie. It's not my favorite flavor in the world, to be honest, as the hazelnut can get a bit nauseating after a while, but if your a fan of this simple but rich treat, this is a very realistic rendition of it.
The hazelnut feels a bit overpowering on the inhale, but the doughie undertone makes its presence felt on the exhale and leaves a nice taste in your mouth.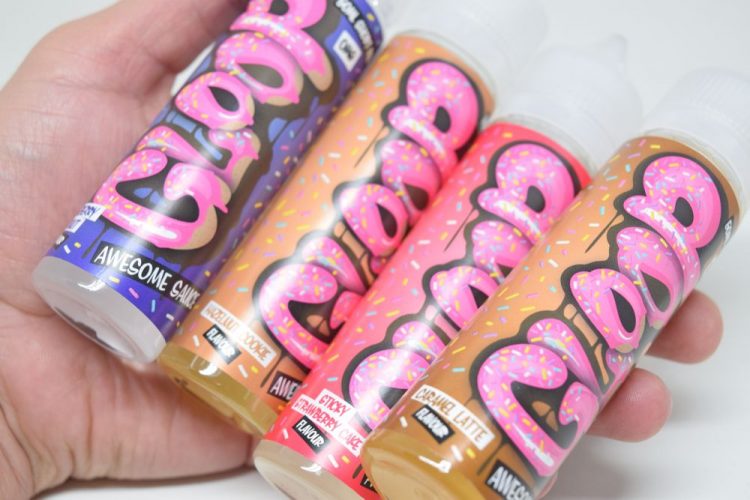 Caramel Latte – "Move over Star*ucks. This wide-eyed espresso with a double shot of caramel syrup is sure to kick start your tanks."
Well, it's stronger than the watery stuff they serve as Star*ucks, that's for sure. It's not the finest coffee flavor to ever grace my taste buds, but it's good enough, and the sweet caramel complements it really well. If you're expecting the delicious latte at your favorite cafe, you're going to be disappointed, but if you're looking for a decent coffee e-liquid with extra caramel, Gloop Caramel Latte has you covered.
Coffee vapes really aren't my favorite, but I've tried a few, and I can't remember any better than this. The complex notes of good coffee are really hard to get right, so as an e-liquid mixologist you can only do so much.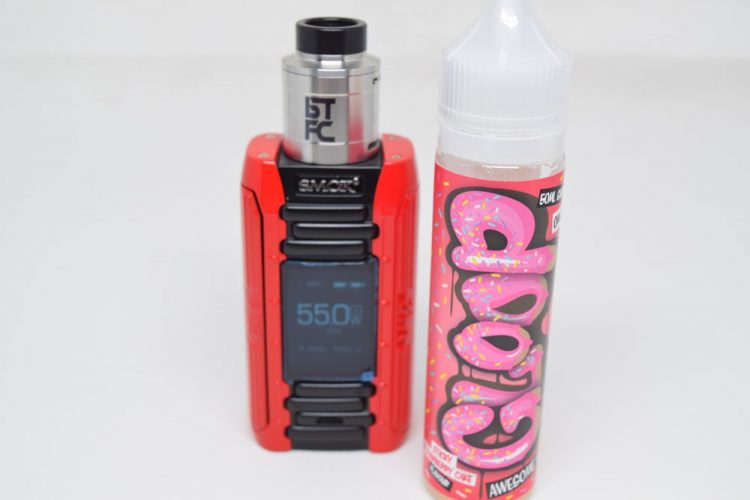 All in all, Gloop is a pretty good line of dessert e-liquids. Some of the flavors weren't to my taste, but that's just a matter of personal preference. Just because I  don't like certain flavors or combinations, doesn't mean you won't either. Quality-wise, they are ok, not the best, not the worst, kind of middle of the road to be honest.
You can find the Gloop e-liquid line as well as several other popular e-liquids at ECigaretteDirect. They are currently selling for £14.99 per 50ml bottle.