Green Smoke Review
One of the biggest names in the e-cigarette business, Green Smoke has received mixed reviews in its many years of activity. There's no questioning the brand's commercial success in this fast-growing industry, but while Green Smoke claims it owes this popularity to the quality of its electronic cigarette, some voices in the vaping community say it has more to do with aggressive marketing. So when I was approached by someone at Green Smoke about doing a review of their Ultimate Starter Kit, I jumped at the opportunity to test this famous e-cig for myself, and find out the truth.
A Look at the Contents
The Ultimate Kit, as the name suggests, is Green Smoke's most complete package. It comes with three rechargeable KR808D batteries, 10 prefilled cartomizers, 2 USB chargers, a wall adapter, a car charger, a useful USB pass-thru battery and a carrying case. It's definitely a bountiful offer, but at $74.05 it's also one of the most expensive starter kits on the market today. And as much as I love the included USB pass-thru that allows you to vape without worrying about battery life, I couldn't help wonder why they didn't include an equally useful PCC (portable charging case). It turns out Green Smoke doesn't offer this kind of accessory at all, which is pretty strange considering that's where the e-cigarette industry seems to be heading. Instead, you get a plastic carrying case for the batteries and some cartomizers, which certainly doesn't make up for the lack of a PCC.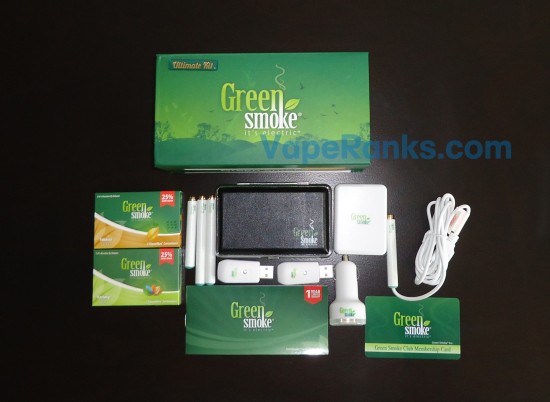 Although Green Smoke uses the same old magnet-top box for its starter kits, I couldn't help but be impressed with the overall presentation. While other companies just slap on their logo on the box and ship it to customers, Green Smoke clearly put some effort into designing a nice background image, as well as other graphics on the back of the package and in its instructions manual. The cartomizer packaging is also top-notch. They come in nifty beautifully-colored flip-top boxes and instead of the common rubber caps to keep the juice in, they have green leaf-shaped stickers. These are just small details, I know, but Green Smoke is one of the few electronic cigarette companies that understands how marketing works. Just make it look good and the product is half sold.
All in all, very impressive presentation from Green Smoke, but for me the steep price of the Ultimate Kit is definitely a deal breaker.
Battery Life and Overall Performance
Green Smoke e-cigarette batteries are the very popular (and my personal favorite) model KR808D. The short battery has a mAh rating of 160, while the long one is rated at 270 mAh. Obviously, the short battery is not going to hold you for very long, especially if you're a heavy vaper, but it's nice to have around for when you want to go incognito, as it's exactly the size of a 100s analog cigarette. I had a chance to use Green Smoke's electronic cigarettes for a couple of months before doing this review, more than enough time to measure battery life. On average, I got about 200 hundred puffs out of the small battery (that's about two hours of use, for me), and between 250 to 300 puffs from the long one (roughly three hours of use). That's about 100 puffs less than what Green Smoke officially say their batteries are good for on a full charge, but I stopped believing commercial claims a long time ago. All in all, I was pretty satisfied with the results, considering the size of the batteries.
Otherwise, the batteries have performed perfectly. The switch is very sensitive, activating the battery at the slightest drag, and the build quality of the devices is visibly superior to many other similar-size batteries I've used. They also handle shocks pretty well, as mine have rolled off the desk a few times and seem to perform just as good as before.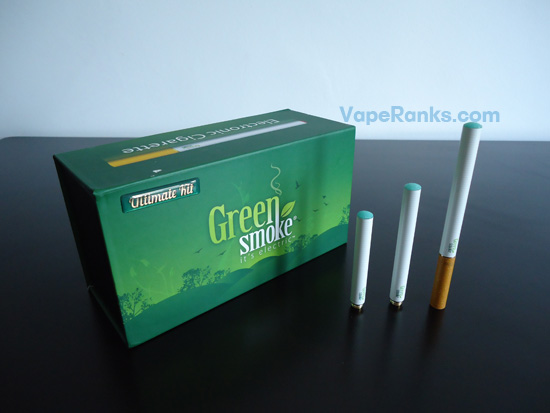 There are a couple of things I don't like about Green Smoke batteries. First, they don't offer any manual batteries. I'm a big fan of manuals, and as much as I like the analog-feel of the automatic, sometimes I get fed up with having to prime the e-cigarette in order to get the vapor and throat hit I crave, and long for that easy-to-use button system. But I guess, Green Smoke is trying to emulate the tobacco cigarette as best they can, and a button sticking out of the battery would ruin their efforts. The other problem I have with the Green Smoke is the threading of the battery. As I said, they are KR808D, but what I didn't tell you before is that they are a D-2 model, not a D-1. What that means is most of the KR808D cartomizers sold by other suppliers aren't going to work with Green Smoke batteries. That's the company's way of making sure you remain loyal to their products, but again, they're swimming against the current, as most vapers like to experiment with various combinations, not be stuck with a limited number of choices.
Vapor Production
Clouds of vapor, this is what Green Smoke e-cigarettes are notorious for, so I was really curious to know if they lived up to their reputation, or if this was just a clever marketing scheme. The company's claim of being the "industry leader in smoke volume" fueled my curiosity even more, and I was pleased to find that these little devices actually produce even more "smoke" than I expected. I've used a variety of mini-style electronic cigarettes, and although I found their vapor production suitable for my needs, none of them were as good as the Green Smoke in this department. I don't know if it's their cartomizers or the mix of propylene glycol and vegetable glycerin in the e-liquid, maybe both, but something is certainly special about the vapor volume of this electronic cigarette.
The Green Smoke certainly has its faults, price being first on the list, but as far as vapor goes, you're going to have a tough time finding a similar-size e-cigarette that will outperform it. The rumors are true, people, Green Smoke is a tiny vapor-making machine, so if that's what you're looking for, you might want to give it a try.
E-Liquid, Flavors and Cartomizers
As I mentioned, Green Smoke e-liquid is based on a combination of PG and VG, which seems to work really well, as far as vapor production is concerned. Now, the range of flavors is not particularly impressive, unfortunately. They do have three different types of tobacco to suit all tastes, which is nice, but otherwise you're stuck with menthol, coffee, vanilla and chocolate. So much for flavor diversity, right? Well, if you're into these classic tastes, you're not going to be disappointed, because they are simply some of the best I've ever tried, every single one of them, but if you're the adventurous type who likes to experiment with different flavors, you'll be bored with these pretty quickly.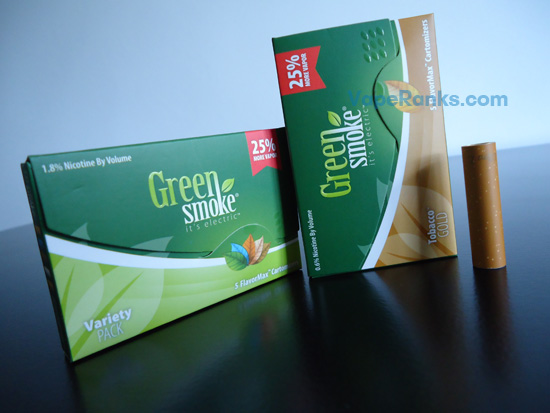 The few flavors that Green Smoke offers taste great. Starting with the rugged taste of the Red Label tobacco and finishing with the throat-freezing menthol, these juices are delicious. No one really knows who makes the e-liquid for them or if it's produced in-house, and that's a pity, because at $16.99 per 5-pack you'll be breaking the bank in no time, buying from Green Smoke. But, hey, as long as you're happy and off analogs, I guess they're worth it! Seriously though, premium e-liquid, but very expensive.
I was a little bit disappointed with these new FlavorMax cartomizers. I think they don't put as much of the good stuff inside them as I'd like, because they seemed to run out of e-liquid pretty quickly. And as if that wasn't bad enough, as soon as they're dry, you get this horrible burned taste. Once that happens, the cartomizer is pretty much unusable. Not that Green Smoke makes it any easier to reuse your cartos, anyway. The plastic cap is glued on to the cartomizer, which means you'll have to use a syringe and refill it through the tiny air hole. I was pretty bummed out about that.
In conclusion
I see now why Green Smoke has been getting mixed reviews all these years. They have a few things going for them, like the fantastic vapor production and excellent flavors, but they manage to shoot themselves in the foot with their outrageous prices and attempts to keep customers loyal to the brand. I enjoyed using the Green Smoke, and if the high price isn't an issue for you, I think you'll be very happy with it, but for the financially conservative, there are other great electronic cigarettes out there at more affordable prices.
The Good
great vapor production
impressive presentation
delicious flavors
The Bad
very expensive
weak flavor selection
incompatibility and reusability issues
Green Smoke 10% Discount
This is a 10% off coupon, should you decide Green Smoke is the right e-cigarette for you. Clicking the code below takes you straight to the company website, and the discount is automatically applied at checkout
Battery Life and Performance