Kimsun Air10 E-Cigarette Review
The Kimsun Air10 is an e-cigarette-type device aimed both at smokers looking for an alternative and intermediate vapers who want a small, portable vaporizer for vaping on the go. With most independent manufacturers these days racing to come out with more powerful and complex devices, it's easy to forget that the vast majority of vapers still use entry-level e-cigs, most of which are extremely inefficient in replacing tobacco cigarettes, and it's them that Kimsun is targeting with the new Air10.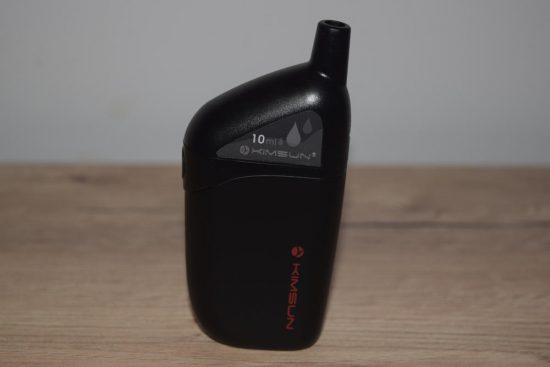 My first experience with a Kimsun product has been reviewing the tiny TC40W Mini mod, which I actually found decent for its price, so I have high hopes that the Air10 e-cigarette is actually superior to the cigalike-type vaporizers that Big Tobacco is pushing hard right now. Let's take a look at this little guy and see what it's all about:
The Kimsun Air10 comes in a large cardboard box, with pictures of the electronic cigarette dominating both the front and back of the packaging. The usual info, like contents, warnings and company information or on the side of the box.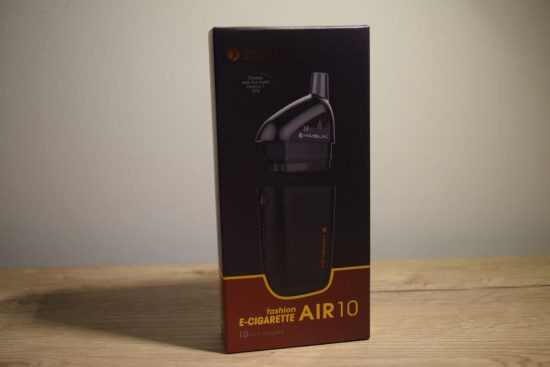 Inside the box you'll find a large blister containing a disposable Air10 e-liquid cartridge, the Air10 e-cigarette, a micro USB charging cable, and an instructions leaflet. It's a pretty standard e-cigarette starter kit – you basically get everything you need to start vaping right away. Cartridges come pre-filled with a whopping 10 ml of e-liquid, so all you need to do is pop them on the device and enjoy the flavored vapor. The buckle design of the cartridges and the magnetic connection means that there is no screwing required, so inserting and removing the cartridges is quick and easy. Well, at least the inserting, because popping one of these bad boys out of the Air10 housing actually requires a fair bit of strength.
The Air10 has a somewhat unusual design for an electronic cigarette. Instead of the classic cigarette shape or the cylindrical design of eGo-style e-cigs, Kimsun went for something that I can only describe as a distorted oval shape with a mouthpiece sticking out at the top. It's not bad looking at all, to be honest, and it actually feels great in the hand. The only features worth mentioning are the plastic fire button (with an actual flame on it), the USB charging port and the LED battery indicator made up of five individual LEDs that light up whenever you press the fire button. When the battery is full, all five lights will come on when you use the Air10, but as it discharges, the lights go out one by one.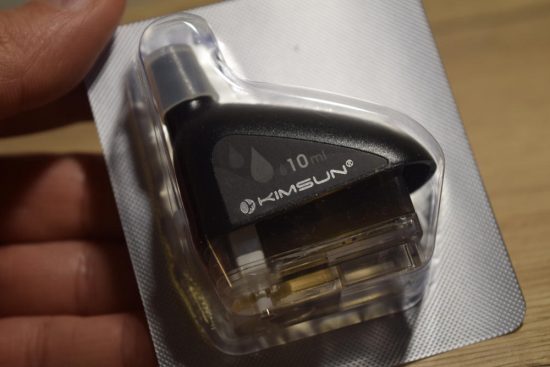 I do have some concerns about the placement of the airflow slots on the back of the replaceable cartridge. When you hold the Air10 in you hand, there's a high chance of accidentally covering these slots with your finger and completely blocking the air to the coil. It only happened to me a couple of times, but maybe they should have just placed them somewhere less problematic, just to be sure.
The Kimsun Air10 measures 48.7 x 25.2 x 102 and weighs 138 grams. That actually puts it in the same size category as small mods like the SMOK OSUB Plus or the Eleaf iStick PICO, although those are advanced vaporizers, whereas this is a simple electronic cigarette with an unusual design. The main body of the Air10 is made of zinc alloy and has a rubberized finish for improved grip. It's light and feels great in the hand, thanks in part to the rounded edges.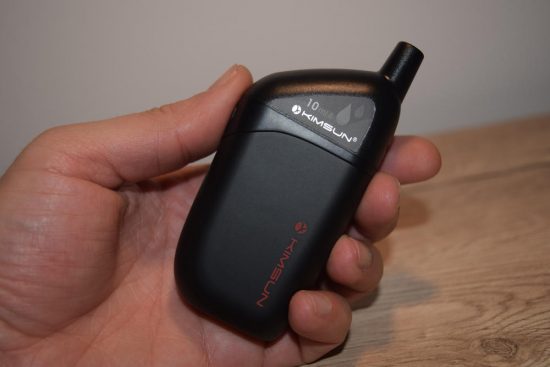 Like the Pax JUUL, the Kimsun Air10 is a closed vaping system, which means that you can only use it with a proprietary type of cartridges. These actually make up the entire top part of the Air10, including the mouthpiece. So when you vape the whole 10ml of e-liquid, all you can do is throw this cartridge away and get a new one. Looking at the cartridge, I don't think refilling is an option, as the platic mouthpiece appears to be press-fit onto to the e-liquid container.
My wife actually prefers these closed systems to the nearly infinite combination of mods and atomizer I usually use, because they are usually mess free. There's no leaking, you don't have to build any coils, or regularly change cotton wicks, just pop in a new juice cartridge and you're good to go. On the downside, you're confined to a single style of atomizer, a whatever selection of e-liquids the manufacturer provides, and the cost of cartridges is higher. I have no idea what Air10 cartridges will cost, as Kimsun hasn't yet released any pricing information yet, but considering their size and the fact that they come with the mouthpiece, I expect they won't be very cheap.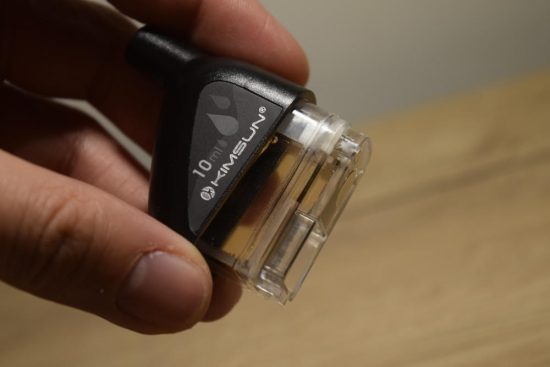 One thing you won't have to worry about when using the Kimsun Air10 is flavor diversity. The Chinese company has already announced a selection of 15 different flavors to choose from, as well as several nicotine strengths. You'll be able to pick from Tobacco 1, Banana Milk, Honey Dew, Tobacco 2, Watermelon Smoothies, Green Mint, Milk, Strawberry with Milk, Whiskey and Chinese Style Flue-Cured Tobacco. I went for the last one, and it's pretty decent. I hadn't vaped tobacco since reviewing the Black Note e-liquid line, but I was curious of how well they had reproduced the taste of tobacco, as this device primarily targets fresh ex-smokers, and people looking to make the switch to vaping.
Chinese Style Flue-Cured Tobacco might appeal more to someone looking for an authentic tobacco taste, but it just reminded me of how glad I am to have given up smoking years ago. There are so much more enticing flavors out there! I would have loved to know the propylene glycol – vegetable glycerin levels used in the juice, but unfortunately I could not find such information on the Kimsun website, or anywhere else for that matter.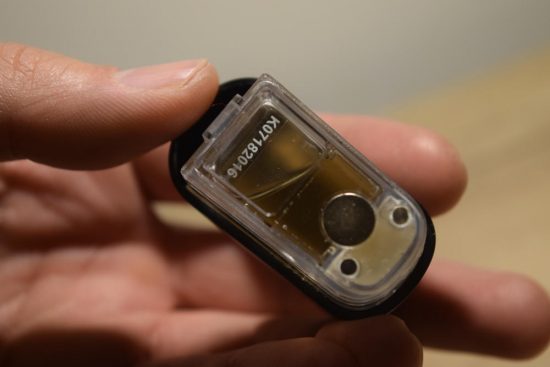 The Air10 battery has a capacity of 1700 mAh, which may seem abysmal for a high-power mod, but for a device aimed at beginners it's actually pretty decent. I've only gone through a full charge a couple of times, just to test out the battery life, and on both occasions I got about seven hours of use out of it. That's pretty impressive for such a small vaporizer, especially one that actually produces a fair amount of vapor with each draw.
You can find entry-level devices with slightly better battery life, like the Stick One Plus (2000 mAh), but the difference really isn't considerable in real life usage, so if you prefer the unique design of the Kimsun Air10, don't let a few milliamp-hours hold you back. For its size and performance, the Air10 offers above average  battery life.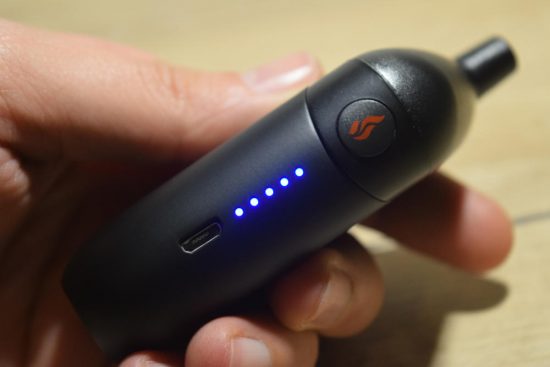 Simple devices aimed at beginners don't usually feature temperature control, but the Kimsun Air10 does. In fact, I was surprised to learn that it operates at a constant 530 degrees Fahrenheit, adjusting the power level to reach this setting. As you might have guessed, that also means that the coil in the replaceable e-liquid cartridge is made of a TC-compliant material. In this case, it's titanium, which which I don't have a lot of experience. I mainly use stainless steel for temperature control vaping, but the tiny 0.25Ω coil of the Air10 seems to do a great job keeping the temperature constant and generating impressive clouds of vapor with no burnt taste.
The Kimsun Air10 is a nice-looking device with some genuinely interesting features, but as always, it all comes down to how well it vapes. In this regard, I have to say that I was very impressed with this little guy. The vapor production is far better than most other electronic cigarettes I have tried before, there is absolutely no delay – you press the fire button and the coil instantly starts to sizzle – and the draw is just right. It might seem a bit too airy for fresh ex-smokers, but not overly so, plus the improved airflow contributes to the vapor production.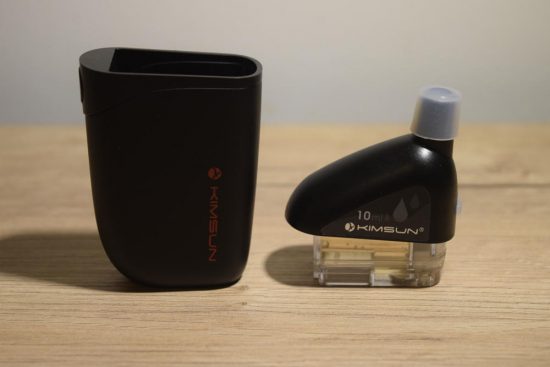 To be honest, the Kimsun Air10 performs about as well as my all-time favorite e-cig, the Joyetech eGo AIO, which is saying something. I'm well past this type of device, but if I were a beginner looking for my first electronic cigarette, the Air10 would definitely be a great choice.
Unfortunately, I can't offer any information on the pricing of the Kimsun Air10 starter kit and disposable cartridges, or even where you can buy it from. I was unable to find a single online store that carries it, and the Kimsun website only provides general information about the product. I guess we'll just have to wait and see.