OXVA Velocity Review
The OXVA brand has only been around for less than a year – as far as I know – but in that short time span it has managed to establish itself as one of the premier pod mod manufacturers in the world. And it's only getting better, as demonstrated by the Chinese company's latest offer, the OXVA Velocity, an advanced pod mod that comes with an included 510 adapter for use with any 510 atomizer, compatibility with three battery types, and lots of other cool features. So without further ado, let's take a look at the OXVA Velocity:
OXVA Velocity Specifications
Dimensions: 119 mm x 35 mm x 27 mm
Material: Zinc Alloy, PCTG, ABS/Leather
Battery: Single 21700/20700/18650
Wattage range: 5-100W
Voltage range: 0.5-8.0V
Vaping Modes: Variable Wattage, Variable Voltage, Smart Mode
Atomizer compatibility: 27 mm and under
Pod capacity: 5 ml
OXVA Velocity Packaging and Presentation
For this review, I received the OXVA Velocity Christmas Edition, which had a slightly different packaging that the standard edition (some fireworks and golden Christmas trees decorating two sides of the box. It also came with a nice card from the manufacturer, but there were no other significant differences. The box has a large picture of the mod on the front, and a short presentation, a list of contents, all the different certifications, a scratch-and-check sticker, and company contact information, on the back.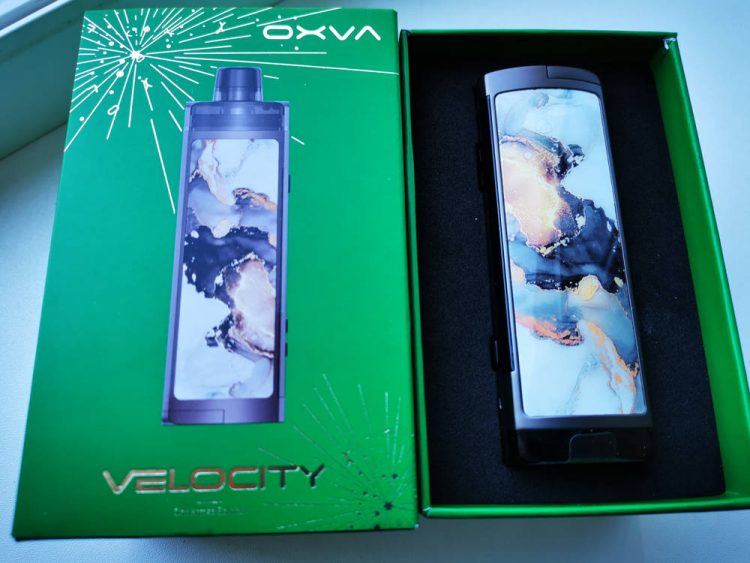 Inside the box, we have the Velocity all-in-one, and a big box full of all kinds of accessories. It's worth that the most important accessory (in my opinion) comes pre-installed on the device, and it's the 510 adapter. Most pod mod manufacturers don't even offer such an options, and those that do, usually sell it separately. This little thing allows you to use the OXVA Velocity as a single-21700 battery mod, and pair it with any 510 atomizers, which opens up so many more vaping options, so it's a huge pro in my book!
The other accessories included in this kit are: 18650 battery adapter (inside the battery chamber), Unipro refillable pod, a Unicoil refillable pod, spare Unipro coil-head (another comes pre-installed in the pod), USB Type-C charging cable, a cool lanyard, a 2in1 metal tool (more on this below), user manual, as well as some other informative and warranty cards. That's quite a lot for a mod or pod mod kit, to be honest, so kudos to OXVA for thinking about pretty much everything!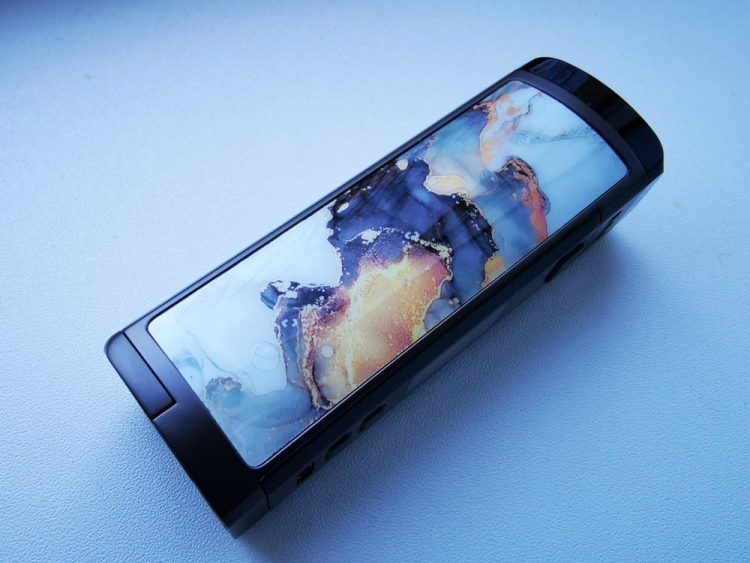 OXVA Velocity Design and Build Quality
Having already reviewed the OXVA Origin X, I already new the Chinese company was capable of coming up with some really nice designs, and that the build-quality of their products was right up there with some of the biggest names in the business. The Velocity mod was just further confirmation of these facts.
The OXVA Velocity has a fairly classic pod mod design, but it's one that looks very nice in single-battery mod mode as well. It features a zinc alloy frame with PCTG plastic cover for the display, and ABS/leather decorative panels. I received the Gold Ripple version, which features ABS panels imitating stabilized wood, and while I do think the quality is way above that of most competitors, like the ABS on the SMOK Trinity Alpha or SMOK RPM80 Pro, for example, I do like the leather and carbon fiber variants more. There are six different Velocity variants in total, which you can check on the OXVA website.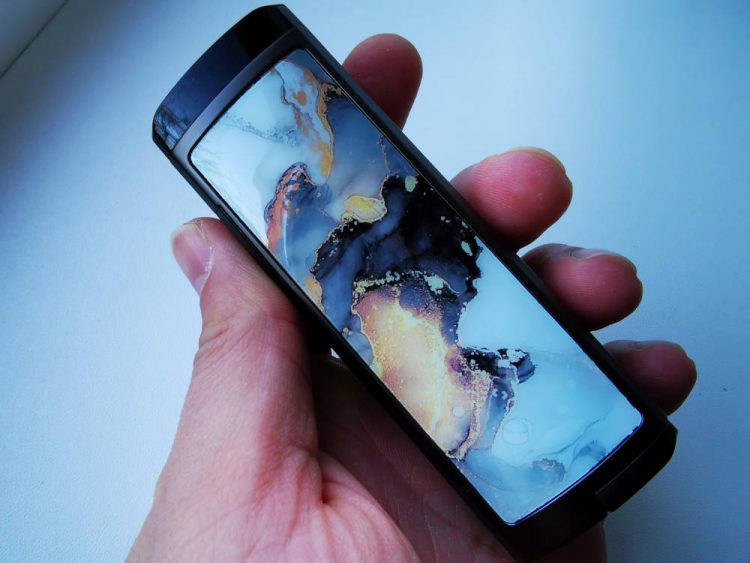 The Velocity comes pre-installed with the 510 adapter, which attaches to the mod itself with both magnets and a clip system that keeps it from coming off accidentally. It's so firmly stuck to the device that you need a special took to get it off. Luckily OXVA includes one in the kit, along with a card detailing how to use it.
The tool features 510 threading on one end, which you attach to the connection on the adapter, as you would an atomizer, and then you tilt the tool to one side, towards the airflow slots on the mod, to release the plastic clip on one side. Then you can pull the adapter off. It's not the simplest system, but it works well enough, and you don't have to worry about the 510 detaching by accident.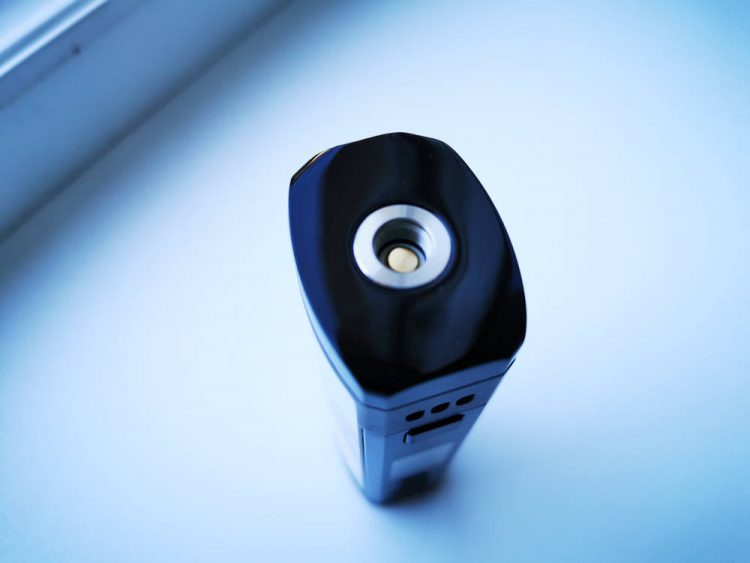 But the 510 adapter is one three options you have with the OXVA Velocity. The kit also includes a Unipro 5ml refillable pod, which works with the new OXVA Unipro coil-heads, as well as a second pod, which is compatible with the company's Unicoils, which we saw on the Origin and Origin X pod mods. Just know that you won't be able to use Unipro coil-heads heads with the Unipod, or the other way around.
The two pods attach to the Velocity mod via four pairs of powerful magnets, so you won't need that metal took to remove them. They both have a top-fil port sealed by a rubber plug, and share the same removable 510 drip-tip. Unfortunately, there is only one drip tip included, so you will have to swap it every time you swap pods.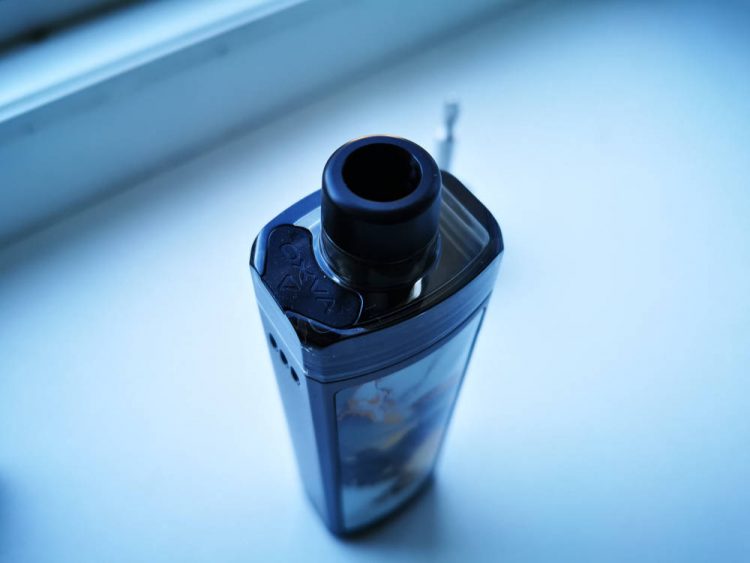 The new OXVA Unipro pod comes with a detachable airflow adjustment base, which attaches to the included Unipro coil-heads. It comes pre-installed on one, but you can unscrew it and use it on another. Juts make sure to detach it when swapping out an old coil-head, as you'll have to buy a new one separately, as coil-heads don't come with it. The adjustment ring features knurling for better grip, and has just the right tension that allows you to smoothly rotate it.
When attaching a new Unipro coil-head, do make sure that the slots on the attachable airflow control base are aligned with the airflow holes on the mod itself, as otherwise the coil-heads won't go into the pod all the way, and you won't be able to use the device correctly.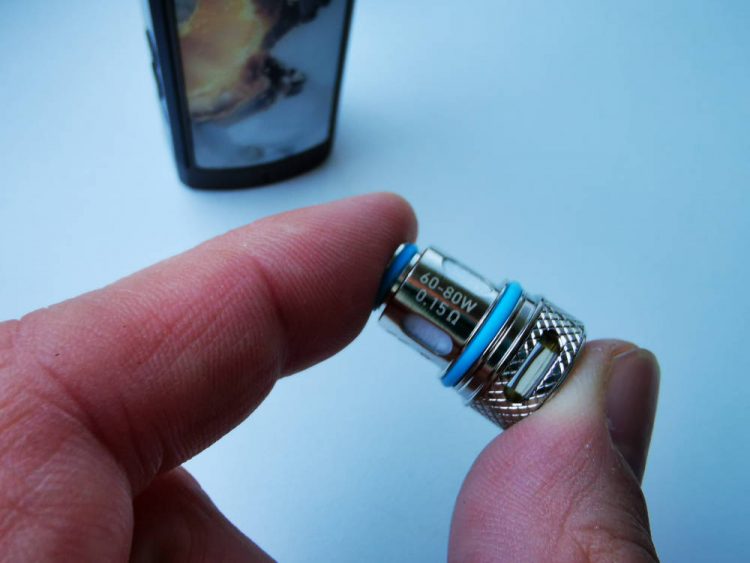 If you're looking for an MTL (mouth-to-lung) option for this device, and you don't mind getting your hands "dirty", OXVA also sells a rebuildable base separately. It's actually a whole kit, complete with an airflow reducer, an airflow adjustment base like the one on Unipro coil-heads, only designed with MTL slots, as well as a pre-made coil and cotton strip. The coil is designed for direct lung, but the base itself can be used for both MTL and DL vaping, depending on your preference.
Personally, I think the 510 adapter makes the OXVA Unipro RBA kind of redundant, as you can use the mod with your favorite rebuildable atomizer, but if you don't want to invest in a separate RTA, or if you just want the whole OXVA experience, this RBA is worth considering. Just know it takes some tinkering, as it's on the small side.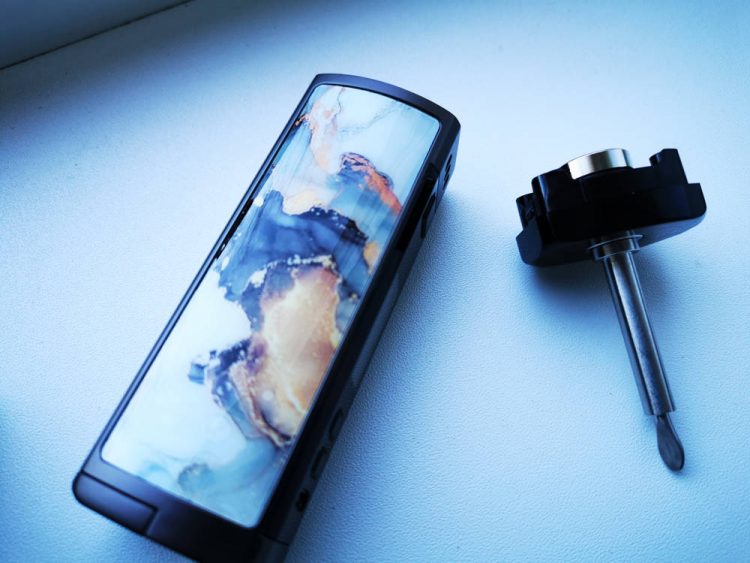 As I mentioned above, the ABS plastic panels on the Gold Ripple version look very nice and are of superior quality compared to most competitors. However, from what I've seen online, the brown and black leather versions look even better. It all depends on personal taste though, so check out all the available versions and choose the one you like most.
The control panel consists of a square fire button near the top of the mod, the classic + and – buttons near the bottom, and a rectangular color display sandwiched between them. There is also the USB-C charging port, which I'm always happy to see located on a side of a mod, rather than on the bottom.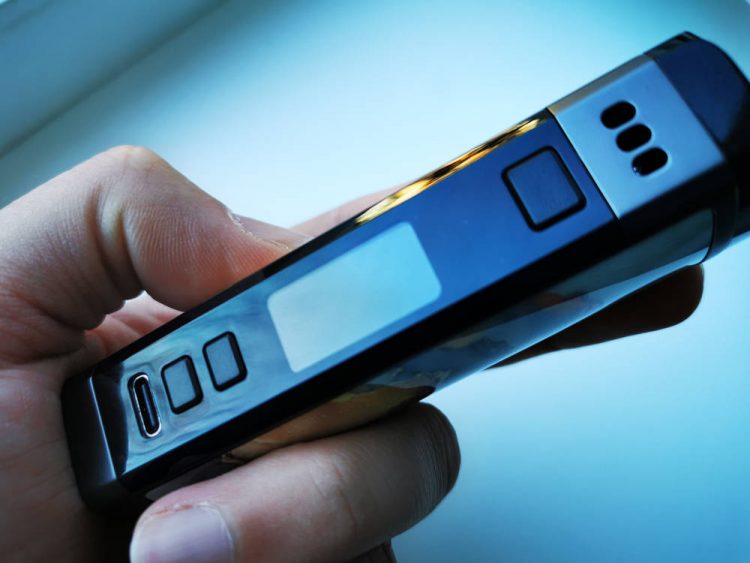 The buttons are nice and clicky, they don't have any rattle issues whatsoever, and the color display is one of the nicest I've seen on a pod mod. It's on the bright side, the colors are nice and crisp, the layout makes sense, so I personally don't have any complaints.
On the bottom of the OXVA Velocity, we have a hinged battery door, with battery venting holes for safety. Inside, you'll find a silicone adapter/sleeve for 18650 batteries. This device works with 21700, 20700 and 18650 batteries. The latter has a smaller diameter, so the adapter keeps it from rattling inside the battery compartment. It works great, the battery loading bay features clear polarity markings both on the bottom of the battery compartment and on the inside of the battery door, and the door closes off easily and stays firmly closed at all times.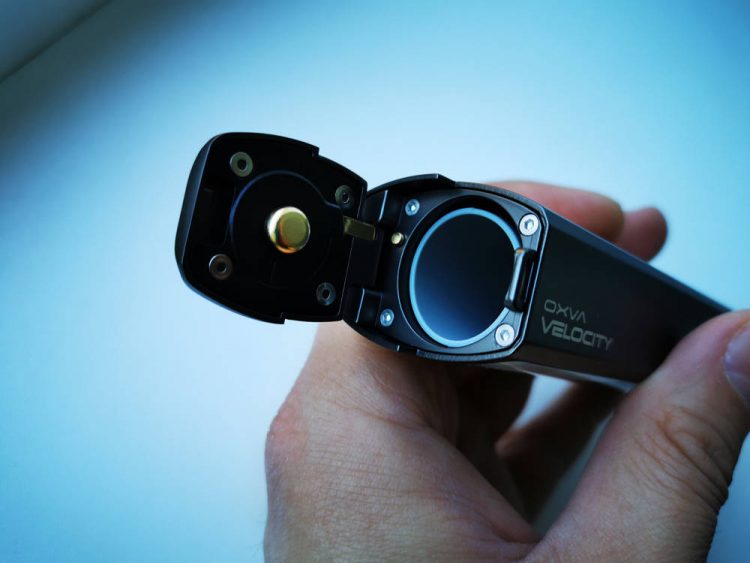 All in all, the OXVA Velocity features a very eye-catching, elegant design, and has even better build-quality than the excellent OXVA Origin X. It's definitely another step in the right direction for OXVA, as far as I'm concerned.
OXVA Velocity Menu System and Navigation
The Velocity is an advanced mod/pod mod, and as such, has a number of advanced settings and options that you can access via a very intuitive menu system.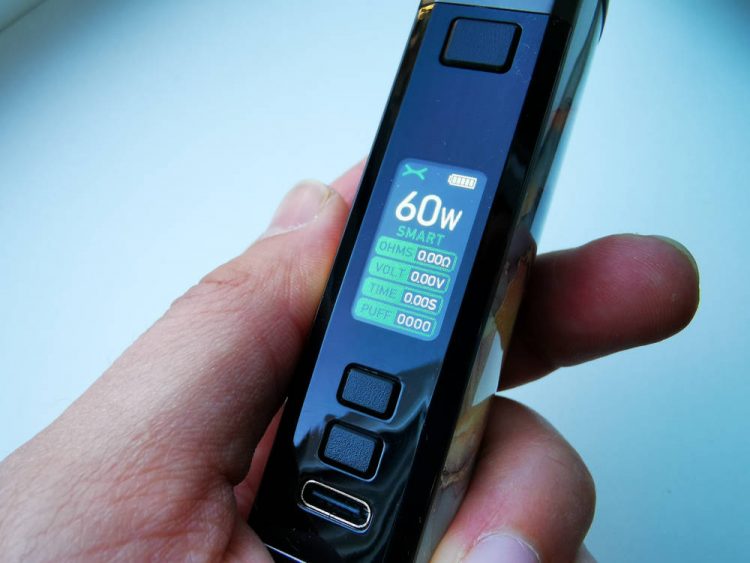 When you insert a new battery, the OXVA Velocity turns on automatically, but in order to turn it on or off after that, you just press the fire button five times in under 2 seconds. Before going into the actual menu, there are some button combinations you should know. For example, by keeping the + and – buttons pressed simultaneously for a couple of seconds, you can lock those two buttons, while leaving the fire button active.
By keeping the fire button and the – button pressed, you can reset the puff counter, and by pressing the fire button and the + button, you can swap the color of the display interface. Finally, to go into the menu, all you have to do is press the fire button three times rapidly.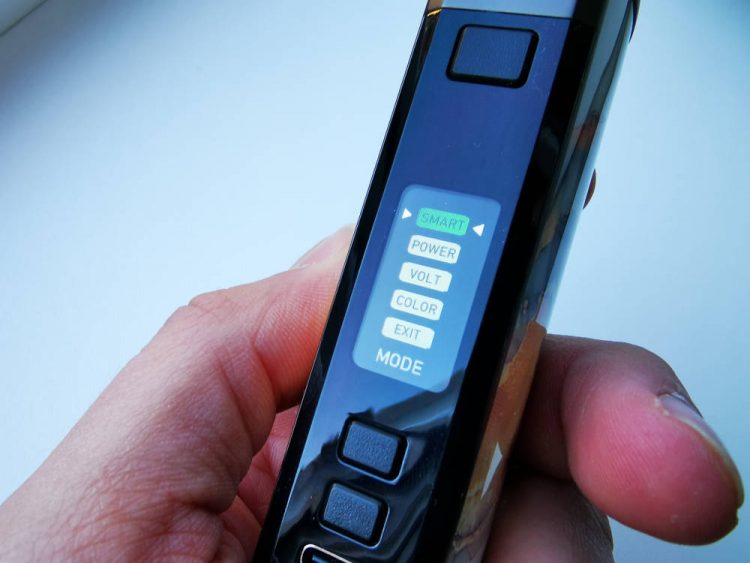 The OXVA Velocity menu system is very straightforward. It's basically a list of the vape modes available (Smart, Variable Wattage, and Variable Voltage), a screen Color change option, and an exit button. It's not the most advanced set of options, but it's more than enough for the average user, and definitely more than you'll find on most pod mods.
OXVA's version of Smart mode detects the resistance of your coil, and allows you to adjust the power output in a wattage range it considers adequate, in order to prevent you from accidentally burning your coil-head. It's a great option for beginners, but of you know what your doing, classic wattage mode works perfectly well.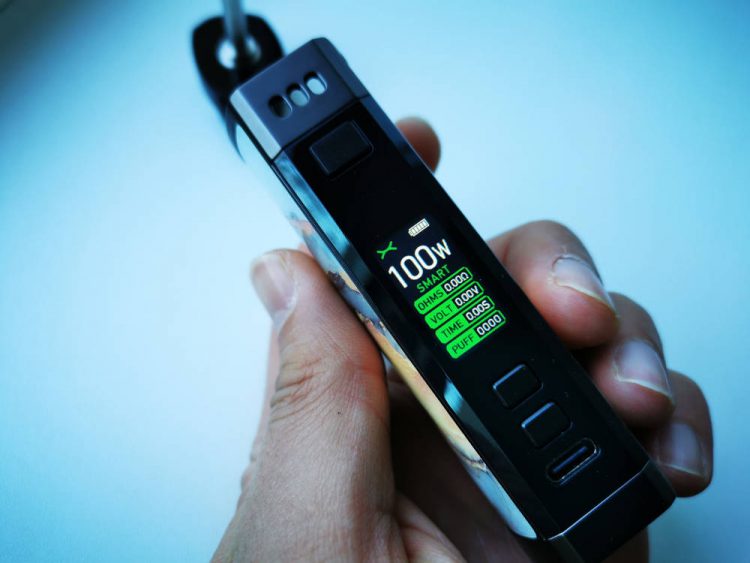 OXVA Velocity Battery Life
Battery life is one of the strengths of this device, as it is compatible with three different battery types: 21700, 20700 and 18650. The 21700 option gives you the best "mileage" for sure, but then again 18650s are the most common, so maybe you already have one or two around the house. The fact that you have the option to choose from multiple battery types is a big plus within itself.
Interestingly, even with an 18650 battery, the OXVA Velocity has a max power output of 100W, which is impressive, but also takes a toll on battery life. Not only does it drain the battery a lot faster, you can actually feel a dip in power as the charge level of the battery drops, when vaping at high wattage ( 80W and over). It's not a big problem, but you should definitely keep that in mind.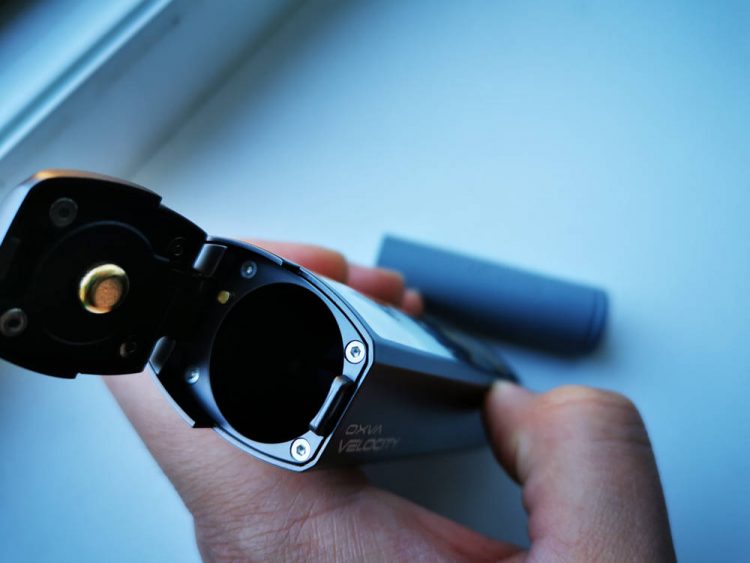 I never recommend on-board charging, and this is no exception, but I will mention that the Velocity pod mod features USB Type-C charging, at a rate of around 2A. It will charge your batteries at a decent rate, but I still recommend investing in an external battery charger.
How Does the OXVA Velocity Vape?
Well, that is a tough question to answer, as it depends on a variety of factors. If you're using it in single-battery mod mode, with a 510 atomizer, it depends a lot on your coil-build or coil-head, but the mod itself does fire quickly enough and has a fast power ramp-up time. You also have a max power output of 100W, which puts it ahead of competing pod mods like the Smoant Pasito 2 or even the VooPoo Vinci X.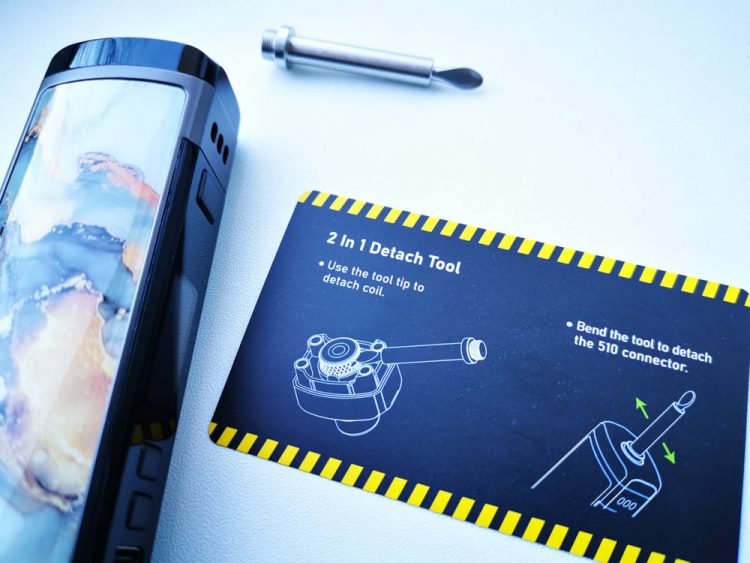 If you plan on using the Velocity with the provided Unipro pod and coil-heads, you'll only have the option of direct lung vaping, as the coils included in the kit are rated at 0.15Ω and 0.30Ω, with relatively high recommended wattage ranges. You can always buy the Unipro RBA though, and OXVA may actually launch MTL-suitable Unipro coil-heads sometimes in the future.
Even though an MTL option isn't included in the OXVA Velocity kit, the airflow adjustment base does allow you to at least opt for a restrictive Direct Lung (DL) vape, if that's what you prefer. Whatever your vaping style, I can tell you that you will enjoy both amazing flavor and impressive clouds of warm vapor. I like the Unicoil coil-heads as well, but these Unipro ones are on another level!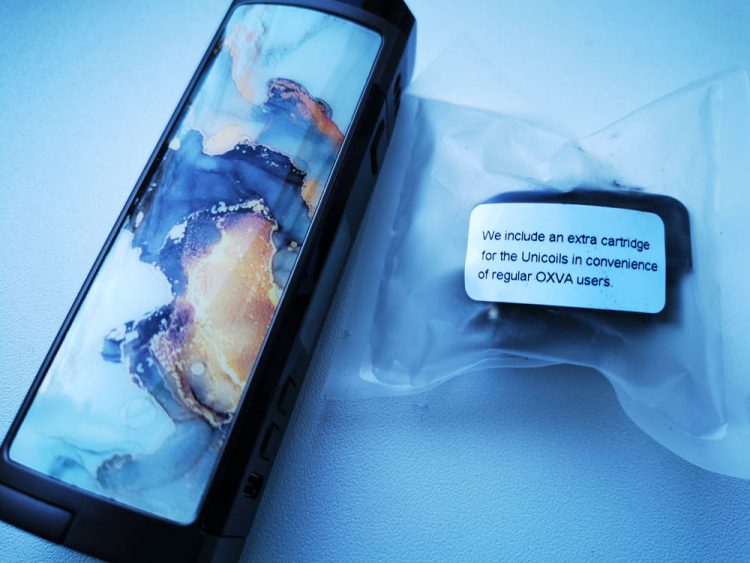 I've enjoyed my time with the OXVA Velocity, and its excellent performance both as a 510 mod and a pod mod have played a big part in that. Devices this versatile are incredibly rare, so the fact that they actually vape great as well is a huge bonus, as far as I'm concerned.
Conclusion
OXVA is one of the most promising manufacturers in the vape industry, and I'm eagerly looking forward to seeing what they come up with next. If the new Velocity has shown me anything, it's that these guys will go above and beyond to create something truly great, even if it means cutting profits. The inclusion of the 510 adapter in the kit is a big deal, as is the compatibility with multiple battery types, and the detachable airflow adjustment base. There are so many interesting features to talk about that the classy design and the excellent built quality of this device have to take a back seat.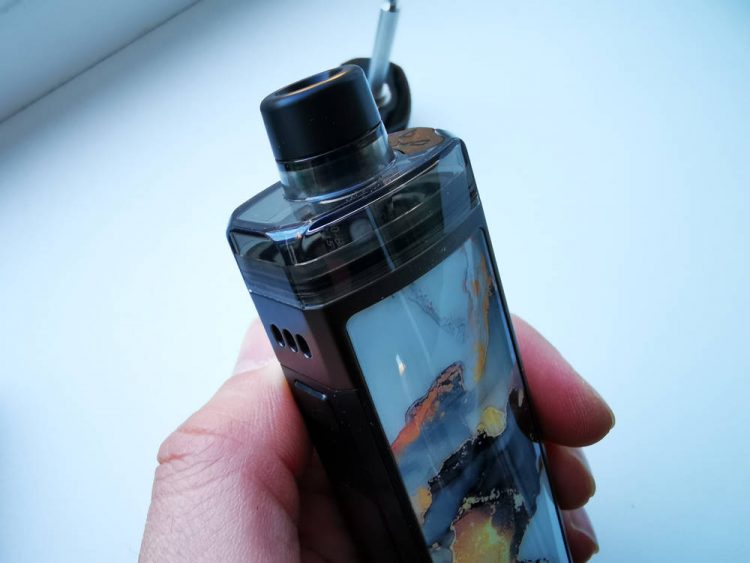 The OXVA Velocity has definitely won itself a spot in my top five best pod mods, at least for the time being, as well as a place in my daily rotation of setups!
The Velocity mod/pod mod was sent to me directly by OXVA, for the purpose of this review.
Pros
great build quality
elegant design
510 adapter included
21700/20700/18650 battery compatibility
adjustable airflow base
5ml pod capacity
great Unipro coil-heads
Unipro RBA available (separate purchase)
USB Type-C charging
Unipod and Unicoil compatibility
Cons
dip in power output as the battery discharged (80W and above)
no MTL options out of the box