Pax JUUL Review
Cigalikes may be obsolete, but did you know that over half of e-cigarette users still use them over more efficient second-generation devices? It would be nice if someone stepped in and brought some innovation to that corner of the market, don't you think? Enter Pax Labs, or as some like to call them, the 'Apple of the e-cigarette industry', a company better known for its for sleek high-performance dry-herb vaporizers. They've recently decided to enter the vaping game and have brought not only their eye-catching design ideas but also revolutionary technology to better replicate the experience of smoking.
Their new product is called the JUUL, and even though it's marketed as an electronic cigarette, it certaily doesn't look like one. Design-wise, e-cigs and advanced vaporizers usually fit in one of three categories: cigalikes, which as the name suggests replicate the size and shape of traditional tobacco cigarettes, tubular devices like the once popular eGo style e-cigarettes or the Apollo VTube v4, and box mods like the SMOK X Cube 2. Sure there are a few exceptions, like Vaporesso Target, but for some reason, most manufacturers like to play it safe and go for one of these three main design choices. Not Pax Labs, though.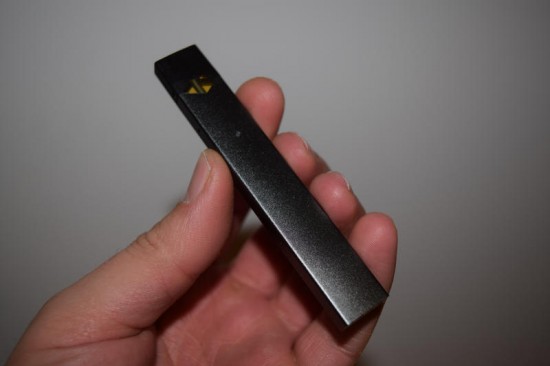 The JUUL looks unlike any e-cigarette I've ever seen before. If I didn't know what it was beforehand, I could have sworn this thing was just an unusually long USB flash drive. It has a rectangular shape, it's incredibly thin and light, and features absolutely no buttons. This is minimalism at its finest, and I for one love it. This streamlined design not only makes the JUUL easy to use and carry around, it also oozes elegance and originality.
The packaging is minimalist as well, but here I believe Pax could have done a much better job. The JUUL comes in a small cardboard box with two separate compartments – one for the actual device and the magnetic USB charger, and one for the blister pack of four proprietary flavor pods. The cardboard box is almost paper-thin and feels a bit cheap, and there's also no user manual inside. The JUUL may be easy to use, but a first-time vaper still needs a bit of guidance. Luckily, Pax didn't forget to add instructions, they just decided to hide them really well.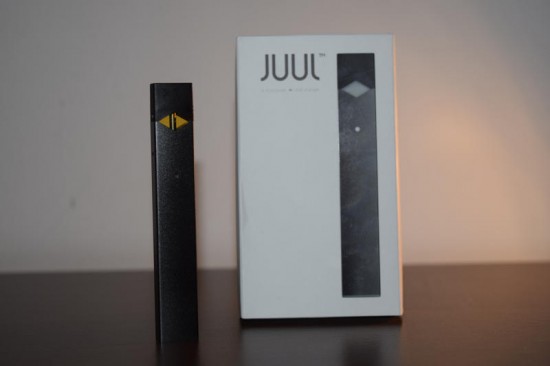 Basically, the JUUL packaging is also the user guide. You can see a picture of the device and some writing on the inside of the cardboard box after you remove the two compartments, but you actually have to take it apart to properly read the instructions. It's different, I'll give them that, but it just feels like they were trying too hard to be original. Some users may end up throwing the packaging away before realizing it contains the instructions of use.
The Pax JUUL is a closed system very similar to automatic cigalikes. Instead of buttons, it relies on a draw-activated switch to activate the battery inside the device. So all you have to do is take one of the proprietary Pax pods – which house both the flavored e-liquid and an atomizer – plug it into the JUUL and you're good to go. Gently draw on the plastic mouthpiece and you'll start to hear a faint crackling sound letting you know that the battery is heating the atomizer.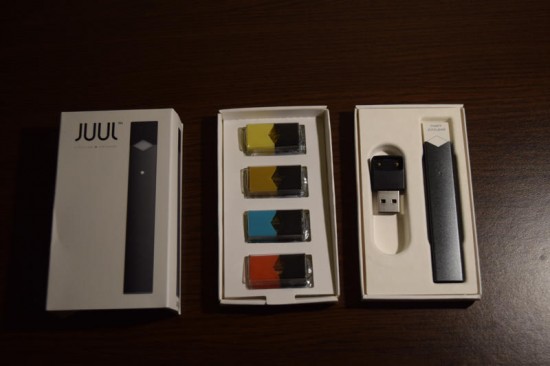 Before we talk about the performance of the Pax JUUL, it's important to note that this device was not designed to compete with advanced open systems, like variable wattage and temperature control mods, or even intermediate-level vaporizers like the VaporFi Rocket. To be honest, after using high-power mods for so long, I had to constantly remind myself that the JUUL is an entry-level electronic cigarette and I should judge it as such. It's not supposed to be a cloud chugging machine, but an alternative to inefficient cigalikes.
Vapor production is obviously not the JUUL's strong point. You need to draw on it slowly for a long time to get a decent plume of vapor, and even then, it's very unimpressive. One of the reasons for this might be that on the unit I received from Pax the automatic switch didn't perform consistently. Sometimes a very gentle draw was enough to activate the battery, while other times I would really have to put my lungs to work to get it to work. I don't know if this is a general issue, or just my device, but I feel it could use some improvement.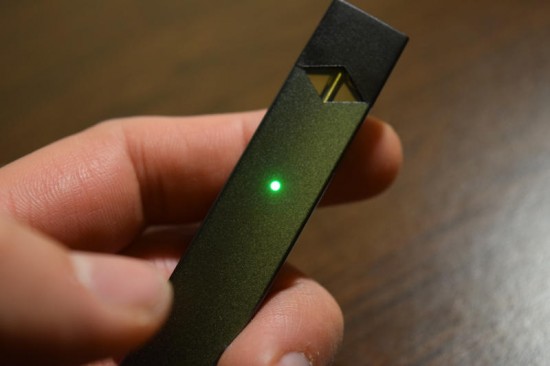 Yes, you could easily get much more vapor from an eGo-style e-cigarette, but keep in mind the size of the JUUL. This thing is tiny and almost as light as a feather, so you really shouldn't expect it to produce huge plumes of vapor. Plus, vapor production was never really the main concern of Pax Labs. Instead, they concentrated more on the design of the unit, and a new means of nicotine delivery to satisfy smokers.
It's the science behind nicotine delivery that truly makes the JUUL an innovation. While all other electronic cigarettes and e-liquids use freebase nicotine, the guys at Pax have patented nicotine salts, which replicate the way nicotine is found in tobacco leaves. "Nicotine in nature is a compound that wants to form and join with the organic acids and salts you find in tobacco leaves," CEO James Monsees explains. What that means is that thanks to the company's proprietary nicotine salts, you can expect the JUUL to deliver the drug in a similar fashion to combustible cigarettes.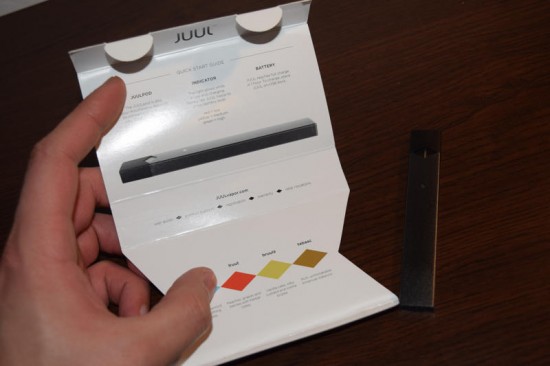 Another thing that makes the JUUL special is the concentration of nicotine in the e-liquid. You're not likely to find any juice with more than 2.4% nicotine content, but the JUUL pods carry o.7 ml of e-liquid with a nicotine concentration of 5%. That's double the nicotine of the hardest juice you can normally buy. This explains how such a tiny device can deliver a very strong throat hit with so little vapor.
Battery life is actually quite impressive for the size and weight of the JUUL, and slightly better than that of larger cigalikes I have used in the past. Holding this device in your hand, it's hard to believe there is a battery inside, it's that incredibly light! Pax claims a full charge should be good for 200 puffs, and I would say that's a fairly accurate estimation. I've gotten about a day's use out of it, but I should clarify that I didn't use it exclusively, but rather as a backup for my main setup.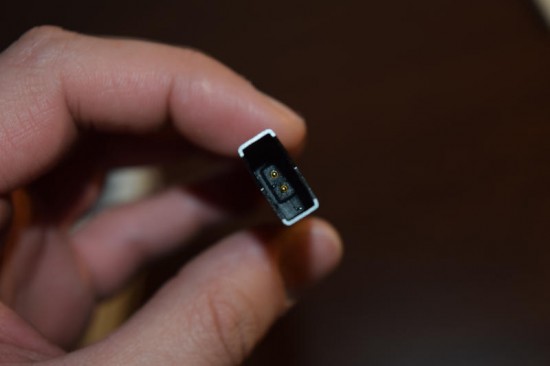 The JUUL has an integrated smart sensor that lets you check the battery level simply by tapping on the device two twice in rapid succession. When the battery is full, the small LED indicator lights up green, when you're about half way through the battery it lights up yellow, and when it's low on power, it lights up red. It's a pretty neat and user friendly battery indicator, I have to say.
To recharge the JUUL, plug the magnetic USB charger into a power source, snap on the device and wait. A full charge only takes about an hour, which is very impressive, but given that the kit only comes with one device, that's one hour that you have to go without a nicotine fix, if this is your only e-cigarette. Sure, you can easily detach the JUUL from the charger to take a hit from time to time, but that's not exactly the optimal solution.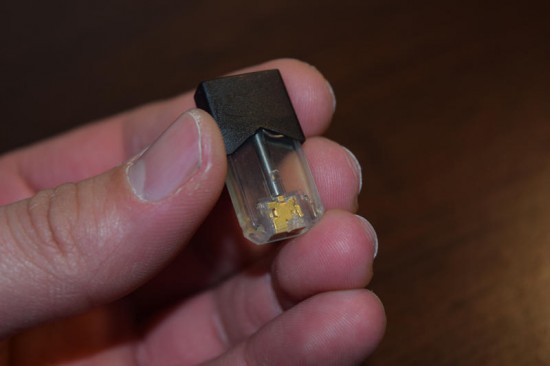 The JUUL pods, or cartridges, come in four different flavors – Tabaac (tobacco), Miint (Menthol), Fruut (fruit cocktail), Bruule (creme brulé) and Coco Miint (chocolate and peppermint). This last one was just launched, so I didn't get a sample, but I can tell you that the other four taste pretty good.
Tabaac, for example tastes exactly the same as the Green Smoke Classic juice I fell in love with many years back. Except for naturally-extracted tobacco e-liquids like Black Note, this is the most realistic tobacco flavor I've ever tried. It's got that distinct dry leaf aroma, a hint of sweetness on the exhale and a good throat hit to boot.
Miint is a clear and strong menthol and, for some reason, produces considerably more vapor than the other JUUL flavors.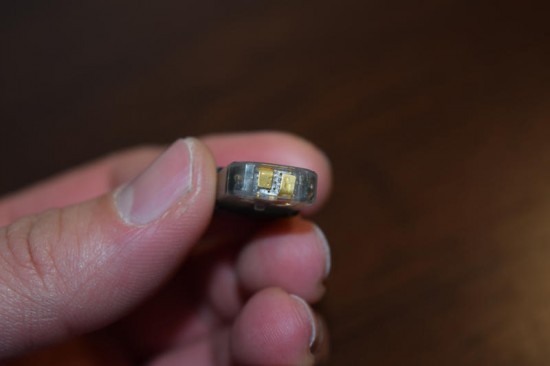 Bruule is a dessert flavor that's bound to appeal to anyone with a sweet tooth. It lacks the creaminess of other similar e-liquids I have tried, but makes up for it with a pleasantly strong vanilla custard taste.
Fruut is not bad either, but I would say it was my least favorite of all the four Juul flavors. It's basically a fruit cocktail, with strawberry and peach among the strongest notes I picked up, but I would have preferred it to be more flavorful.
The cartridges themselves are really easy to use – just remove their colorful caps and plug them into the vaporizer, but, like any closed system, they can only be used with the JUUL. Even though the company doesn't mention this, you can refill the pods by removing the plastic mouthpiece, but you'll have to fill them up with regular e-liquid, since Pax doesn't sell their nicotine salt juice separately.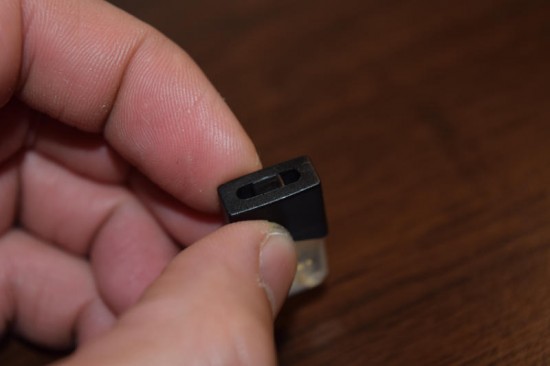 The two issues I have with the JUUL flavor pods have to do with visibility and pricing. Although the cut diamond shape of the pods and the vaporizer allow you to see the level of e-juice when you're vaping, it's kind of an ok system, but it could have been done better, in my opinion. The problem is that once the e-liquid level drops past the little diamond-shaped window, you can't see if there's any left. It' a minor problem, but having gotten used to transparent tanks, I guess it bothers me more than it should.
The price of the pods is a more serious issue. A pack of four will set you back $15.99, which adds up to a pretty sum in the long run. Pax claims that one cartridge contains the equivalent of one pack of cigarettes, so using the JUUL is still cheaper than smoking, but at roughly $4 per pod, it's still a very pricey affair. Hopefully, the price will come down soon, to be more inline with the cartridge prices of regular cigalikes.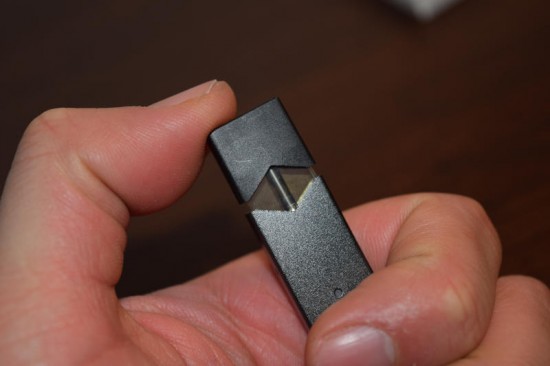 The device itself is not the cheapest either. At $49.99, the JUUL is considerably cheaper than most cigalikes, but I guess Pax is not called the 'Apple of the e-cigarette industry' for design and innovation alone. You definitely pay a premium for a unique good-looking device.
To their merit, Pax offer customers a way to save 15% on their supplies by enrolling in a monthly subscription program. You can choose to have between two and eight 4-pod packs delivered at your doorstep every month. It's a nice deal if you're willing to tie yourself to the JUUL for at least one month.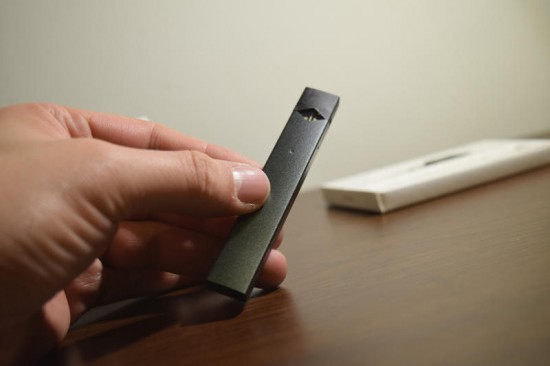 So, would I buy the Pax JUUL? Probably not, but only because I've long since transitioned to high-power mods that greatly outperform it. For a smoker looking to cut back on cigarettes, or make the switch to vaping, it's definitely a great choice. Keeping in mind the gorgeous design and feel of the JUUL, its good performance for a cigalike and innovative nicotine delivery system, I'd say it's undoubtedly superior to a classic cigalike.
If you're one of those people who hate getting their hands dirty with coil builds, DIY e-liquid or learning about resistance, voltage and wattage, and if you're looking for a simple yet stylish alternative to smoking, you should definitely check out the Pax JUUL.