Usonicig Zip Review
Before you click away thinking that this is yet another pod system review, you should know that Usonicig products use a completely different technology to vaporize e-liquid. While all the other products on the market rely on electricity to heat up a metallic element, Usonicig vaporizers use ultrasonic technology to turn the liquid into vapor. A metallic disk inside the refillable pod vibrates at super-high frequency and turns the e-juice into aerosol. It's something completely different than what we're used to, which is what made me so excited to try the new Usonicig Zip pod system.
A Look at the Contents
At first glance the Usonicig Zip isn't at all different than most of the other vape pods I've reviewed in the past. It comes in a rectangular cardboard box with a picture of the device and a large nicotine warning sign on the front, and a list of contents, manufacturer information and more warnings on the back.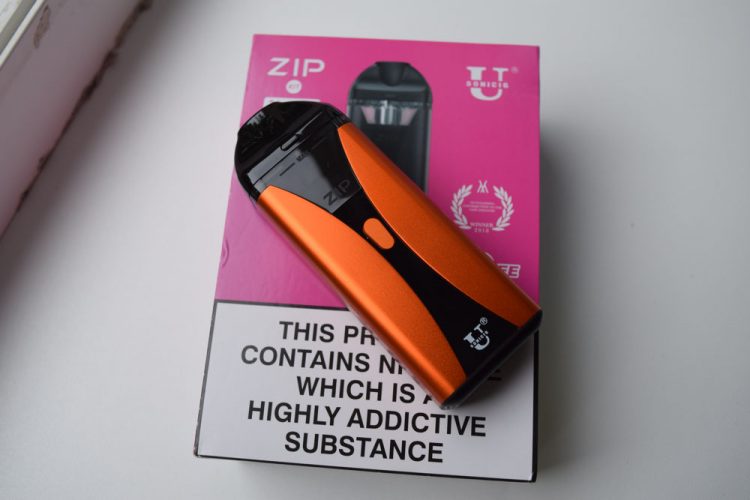 Inside the  packaging we have the Zip pod system sitting in a plastic holder, as well as a smaller cardboard box containing the various included accessories – micro-USB cable, user manual and warranty card. You'll notice that Usonicig doesn't even offer a spare coil-head, let alone a whole pod. Well, that's because the Zip is a coil-less pod system that relies on a built-in vibrating disk inside the pod to produce vapor. But more on that later.
Design and Build Quality
The Usonicig Zip measures 94mm x 34mm x 20mm and is made primarily of aluminium and plastic. The pod and the bottom of the mod are made of different types of plastic, while the battery casing is mostly aluminium. The Zip comes in five different colors (I received the orange version for this review).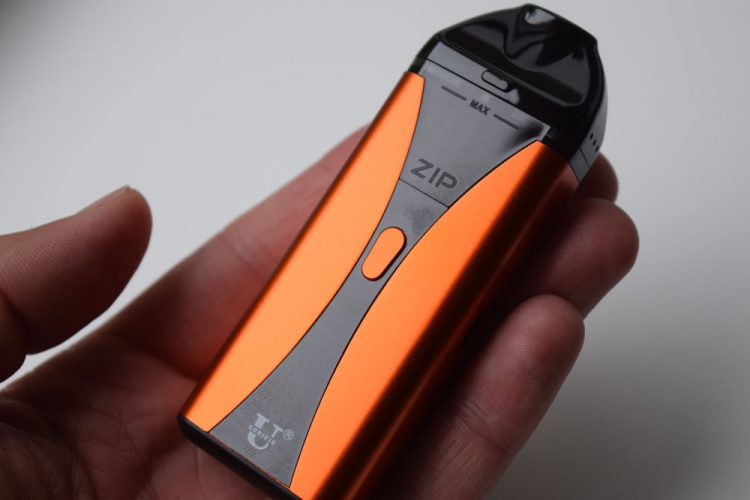 Design-wise the Usonicig doesn't really stand out the way its predecessor, the Usonicig Rhythm did. At first glance it looks a lot like the popular Aspire Breeze, or even the VooPoo Find S Trio (although a much thicker version of it), but as we're about to see, the Zip is very different in the way it turns e-liquid into vapor.
The Zip is a manually-activated pod system, which means you have to press a button in order to activate the battery when you want to vape. The fire button is located in a central position, on one of the two wider sides of the device. It's the same button as on the Find S Trio, only you need to keep it pressed for about a second before the battery is actually activated. So while other vaping devices these days are lightning fast, the Zip takes its time to register the fire button press, for some reason. It may have something to do with the ultrasonic technology, so I won't call it a con, it's just something to be aware of.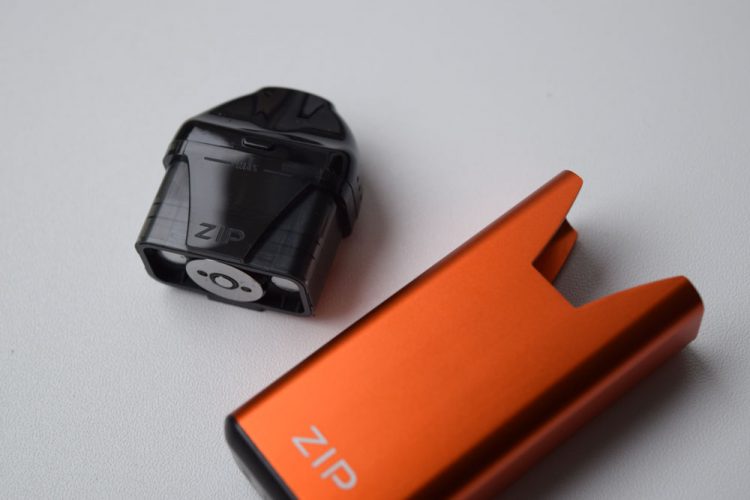 The pods look very similar to many of the other types we've seen used on pod systems lately, but are actually quite different. The most notable difference is the lack of an actual coil inside the pod. That has been replaced by a metallic disc that vibrates at high speeds whenever the fire button is pressed, turning the e-liquid into vapor. Then there is the filling system, which requires the user to press two small buttons on each side of the refillable pods and then twist the mouthpiece to reveal two filling holes, one on each side. The holes are covered by thin membranes, but any pointy juice bottle should work just fine. Once you're done filling, just twist the mouthpiece back into its normal position until you hear a clicking noise.
The pods connect to the battery section via two pairs of magnets and don't seem to rattle at all, which is always a good thing. You'll notice  some small holes on each side of the pod, which I assumed were some type of airflow slots, but covering them didn't seem to affect the draw at all, so I don't quit know what purpose they serve.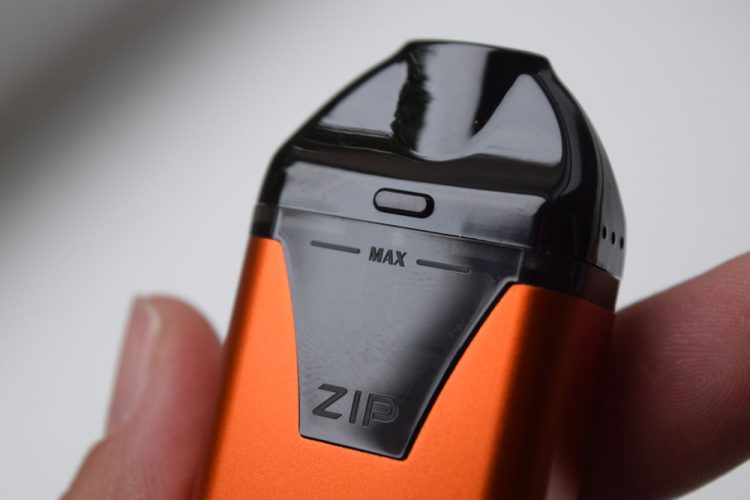 We also have the micro-USB port on the side of the mod, for charging, as well as some venting holes on the bottom, just in case something goes wrong with the battery. The chances of that happening are slim to none, as this devices comes with multiple built-in protections, but it's better to be safe than sorry.
All in all, the Usonicig Zip seems like a solid device. There's a bit more plastic than I would have liked, but so far it's been holding up pretty well, so I can't really fault it.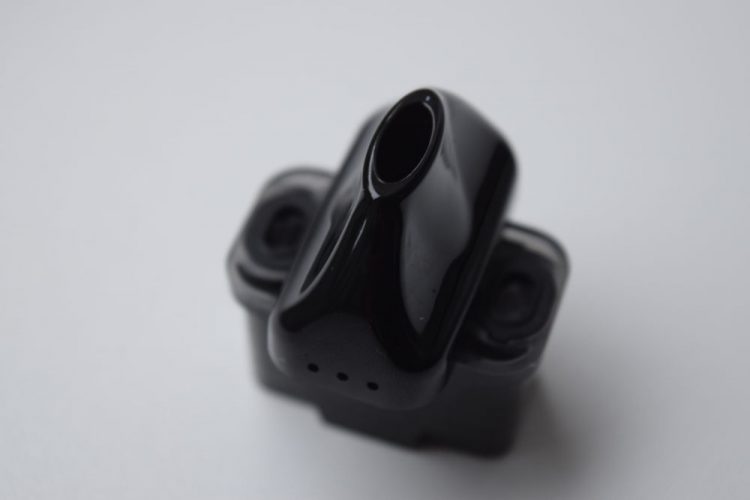 Battery Life and Performance
The Usonicig Zip has a built-in 1,200mAh battery, which as far as pod systems go, is about the largest capacity we've seen. That means you won't have to worry about the battery dying on you in the middle of the day, even if you hardly ever put your vape pod down. And, just in case you forget to charge it, the Zip also features vape-while-charging technology, so you can use it while it's charging. I don't recommend you do that, though, for safety reasons.
The Zip has a simplistic battery indicator just above the fire button. It's basically an LED that lights up in different colors. If the light is white, it means you have more than 20% battery left, and when it turns red, you have less than 20% and you should recharge it. The LED can also light up blue to indicate an issue, or a protection being activated. It's not the best battery indicator I've seen, as it basically leaves you guessing whether you have 25% or 75% battery left, but it's better than nothing, I guess.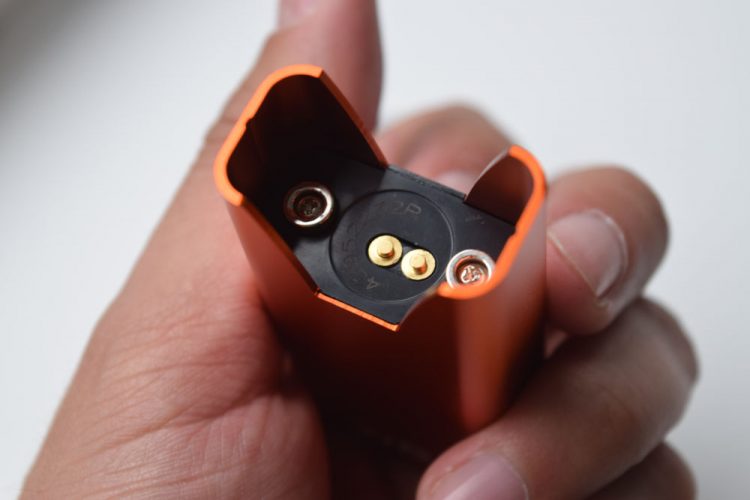 Regarding performance, I found it difficult to compare the Usonicig to other pod system I have tried in the last couple of years, because of how different its technology is compared to everything else. Its pods don't have a heating element; instead they have a metal disk that vibrates at ultra-high frequency, turning the e-liquid into aerosol. But what are the advantages of ultrasonic technology, you may ask? Well, I was rather curious myself, so I went to the Usonicig website to find out.
According to Usonicig, by using ultrasonic vibrations instead of a conventional coil, the risk of dry hit is virtually nullified. More importantly, because there's no heat involved, the chances of potentially-dangerous compounds being inhaled is greatly reduced, which does make some sense. I would like to see some scientific research on this, but the chances of that happening anytime soon are pretty slim.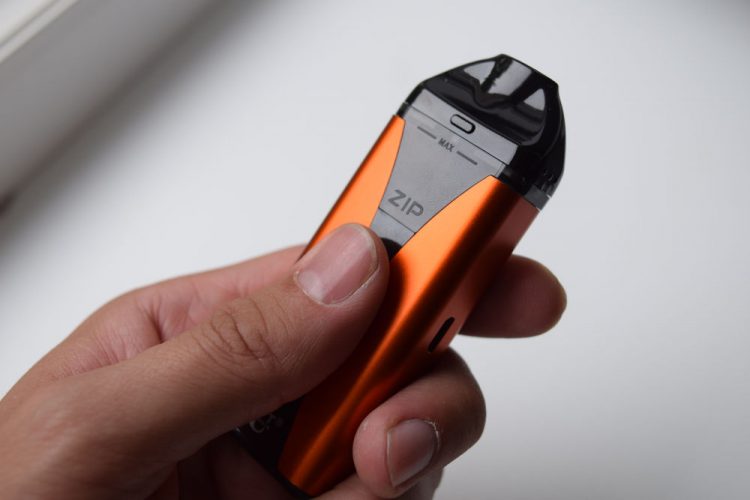 Now, it's only fair to point out the shortcomings of ultrasonic technology as well. As far as I'm concerned, the most crucial difference to conventional pod systems is the temperature of the vapor. Because there is no heat involved, the vapor you inhale is room temperature which, coming from conventional vaporizers, feels pretty weird at first. I'm still trying to get used to it, considering I rather like a nice warm vape, but if vapor temperature isn't that important, you might as well give it a try.
Another thing I noticed while using the Usonicig Zip is that you really need to prime the pod for optimum results. Picking up the pod system and using it after a few minutes will only produce a bit of vapor, but if you do a a couple of primer puffs and then inhale, you'll see a world of difference. I don't really know how this ultrasonic tech actually works, so I can only make assumptions at this point, but what I can tell you is that primer puffs are required for an optimum hit.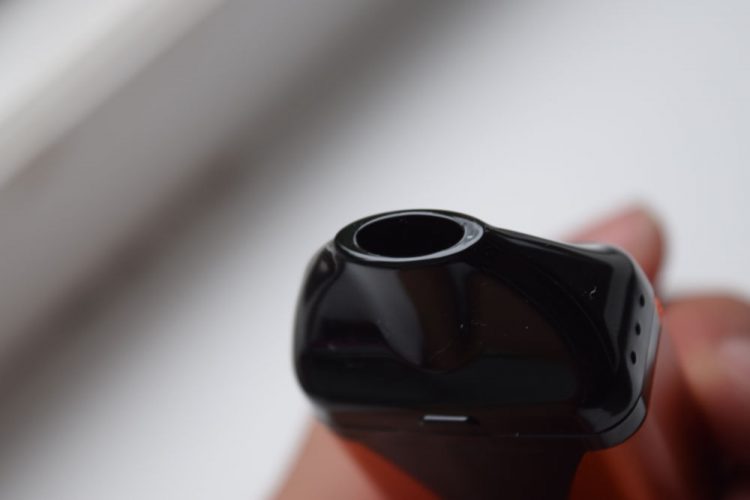 Regarding flavor, I was surprised how clean a taste I got using the Zip. It doesn't mute flavor at all, and even know the vapor is room temperature, the taste is clean and smooth.
The draw is on the loose side, especially if you are an MTL vaper. You can do mouth-to-lung with it, but it's going to be a rather loose draw, not a restrictive one. Vapor production after a couple of primer puffs is impressive, I would even say on par with high-end pod mods like the Lost Vape Orion Plus. Just remember that it's cool vapor.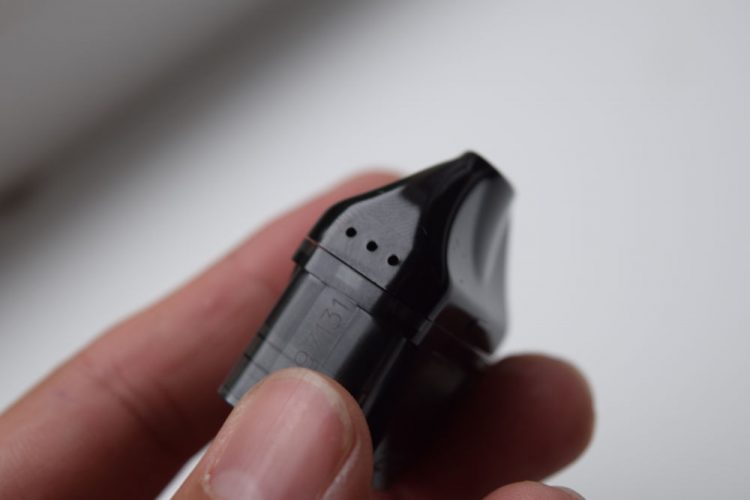 According to the Usonicig website, the vibrating disk inside the Zip pod is god for at least 5,000 puffs, which is more than you get out of most conventional coils. I don't know what happens when the disk stops working, as you most definitely won't get a dry hit or burnt taste. It probably stops producing vapor, letting you know it's time to get a new pod.
I can't say the Usonicig Zip is the perfect device for me, but I will admit using it was an interesting experience. I found it hard to get past the cool vapor, but if the claims regrading lower risk of inhaling potentially harmful chemical compounds are true, ultrasonic technology may indeed be worth looking into.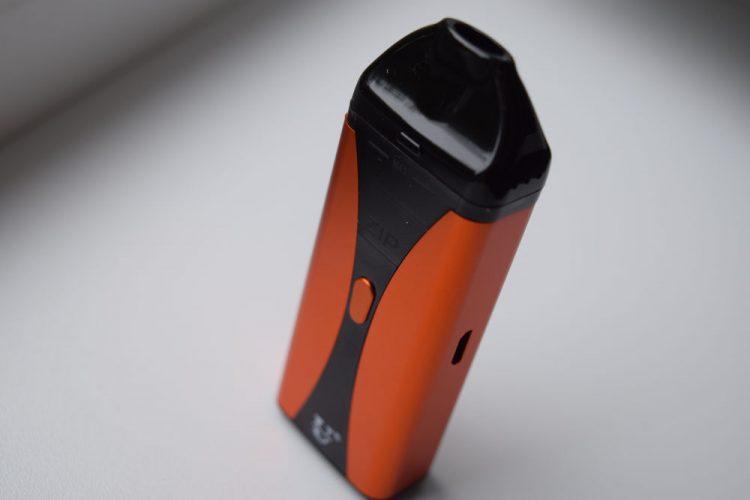 Conclusion
The Usonicig Zip is a different type of pod system. It's a coil-less system that relies on ultrasonic technology to produce vapor, while conventional vaporizers simply heat e-liquid to produce aerosol. Since there is no heat involved, the risk of getting a dry hit or any burnt taste is virtually zero, plus the manufacturer also makes some interesting claims regarding the discharge of potentially harmful compounds produced by heating the e-liquid to extremely high temperatures. That said, getting used to the cool vapor (room-temperature) takes some time.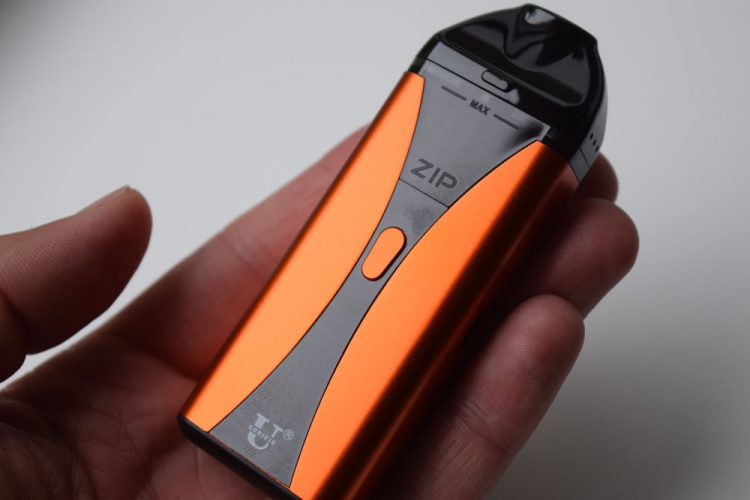 Bottom line, the Usonicing is an intriguing vaping device, but it's not for everyone.
The Usonicig ultrasonic pod system was sent to me by Vape4Ever for the purpose of this review.