Uwell Amulet Pod Review
We've seen extended vape mod functionality before, like devices that connected top your smartphone via Bluetooth, allowing you to check certain parameters with the swipe of the touchscreen, but we've never seen it taken as far as Uwell has with their Amulet Pod System. This thing is called the "vape watch" and it's pretty easy to see why. It's a really tiny vape mod that hooks up to a wristwatch-belt, giving the impression that you're wearing a smartwatch. It's actually not that smart, but the gimmick kind of is, and for this reason the Uwell Amulet is one of the most talked about vaping devices on the market.
A Look at the Contents
The Uwell Amulet pod system comes in a black cardboard box with a stylish image of the device in its wristwatch form on the front, and a list of contents, some legal warnings and manufacturer information on the back.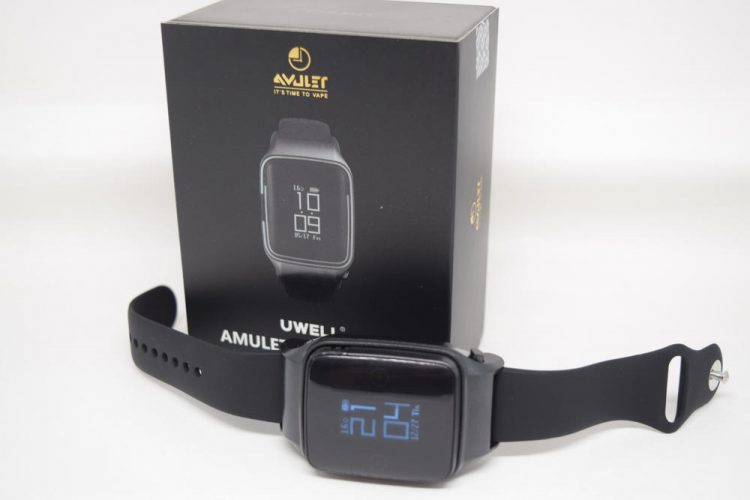 Inside the box you'll find the pre-assembled Uwell Amulet, a user manual and a micro-USB cable for charging. That's about all there is to find, and while a second refillable pod would have been nice, we have to take into consideration that the wristband the Amulet hooks up is an extra as well.
Design and Build Quality
The Amulet pod system itself is incredibly small. I don't think I'm exaggerating one bit when I say it's the tiniest pod system I've ever seen. It measures just 48mm x 37.5mm x 17 mm, and weighs a measly 27 grams. It's a bit thicker than some pod systems out there, like the JUUL, but still, it's insanely small even for a rudimentary vaping device.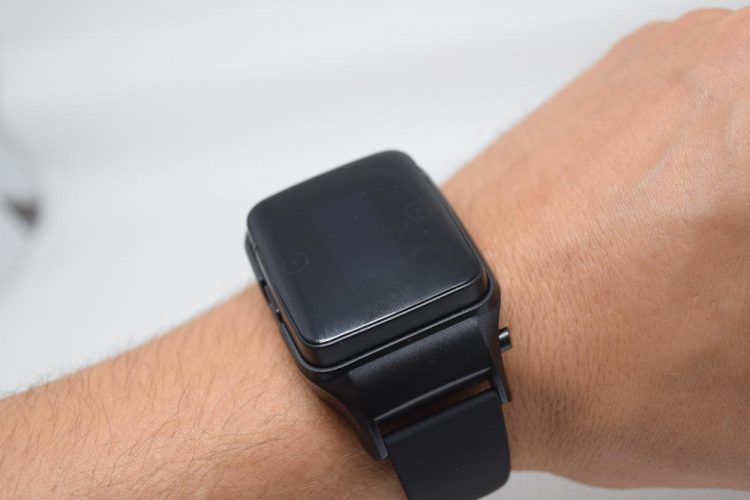 The bod of the Uwell Amulet is mainly made of plastic, as is the wristwatch port it connects to, so it does feel a bit cheaper than other vaping devices, but it also has the advantage of being uber-light. The strap that goes around your forearm is nice and flexible, but it has this plasticky smell I just can't get used to. Luckily, it seems to be going away after a few days of use, so hopefully I won't have to put up with it anymore.
Using the Uwell Amulet pod system is a breeze. The mod comes inserted into the wristwatch port, so you'll have to take it out to fill it up and get it vape-ready. To do that, you want to push that little plastic button on the side of the port to release the Amulet, instead of yanking it out like I did. Once the pod system is out, you can turn the integrated display on and off by pushing the sole button on the device five times in rapid succession. When it's on, the display takes up almost the entire side of the mod, which is pretty cool, even though it doesn't have the best resolution.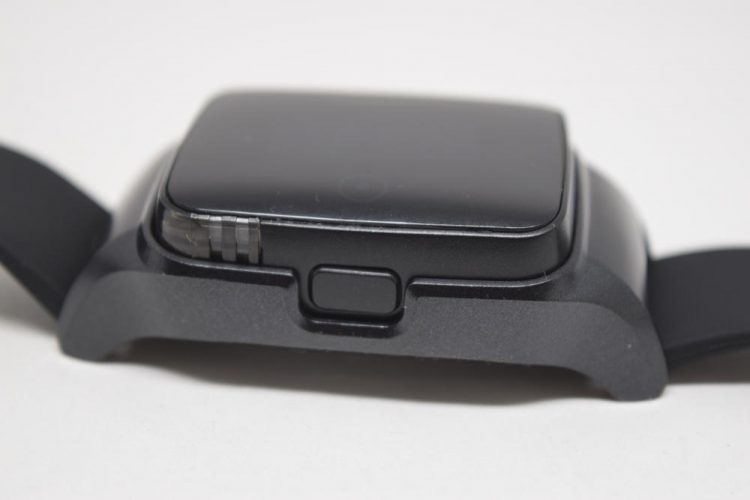 To fill the pod, just grab the knurling on both sides of the plastic tank and pull it out from the pod system. It's press-fit and doesn't have any magnets holding it in place like most other pod systems do, so you just have to pull a bit harder. On the bottom of the 2ml refillable pod, you will notice a small rubber plug which covers the large fill port. Just pop it out, put some juice in there, put it back on and let it sit for a few minutes before vaping.
The Uwell Amulet is being advertised as the "world's first watch-style pod system" and for good reason. You can wear it on your wrist, it tells time and you can vape on it. It even has the look of a modern smartwatch. The problem is that in real-life conditions, you're probably not going to be wearing it on your wrist very much. If this is your only vaping device, you'll probably need to hit it fairly often to get that nicotine fix and having to always push a button to release the mod, than pop it back in only to repeat the process a few seconds later is going to get old pretty fast. At least it did for me.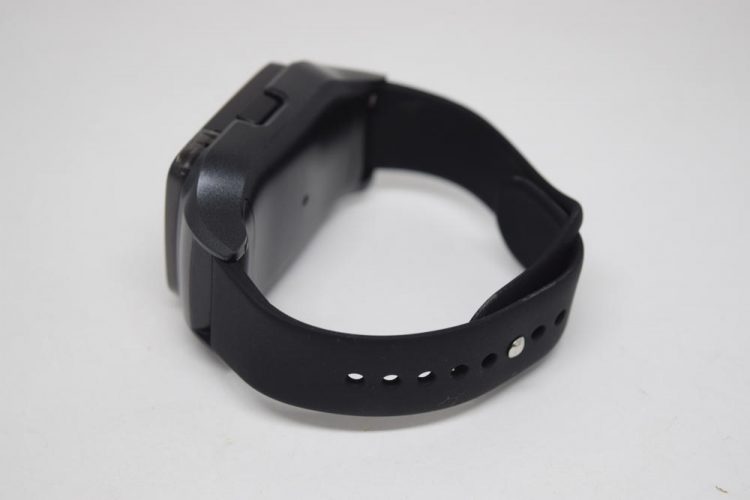 Now, I'm not trying to bash Uwell, I honestly love the concept and that they're thinking outside the box, I just don't think it's going to be used as intended by very many people. Even so, it's still a working pod system, which works just as well if you hold it in your hand more than on your wrist. But, if you can space your vape sessions far enough to wear it on your wrist it really does look pretty neat.
Interestingly, the rubbery straps of the wristband are removable, so you'll probably be able to replace them with differently-colored ones, which is good news for vapers who love customizing their accessories.  The port feels solid enough even though it's plastic, and I've never had the Amulet pop out accidentally.
Now, about that watch functionality. It's really nothing groundbreaking, just a digital display like we've seen on countless vape mods before, just one that only shows time and some basic indicators like battery life and atomizer resistance. You can set the time and date by pressing the physical button on the side of the device three times. Now, you can press short-press the physical button to cycle between hours, seconds and minutes or month, day, year and long press to exit when you're done.
But how do you actually change the time and date, right? You only have one button which seems to have other functions. Well, it turns out the Uwell Amulet has two capacitive buttons on each side of the display. Problem is they are really hard to see under low and even normal lighting conditions, but still, they are there and they actually work pretty well.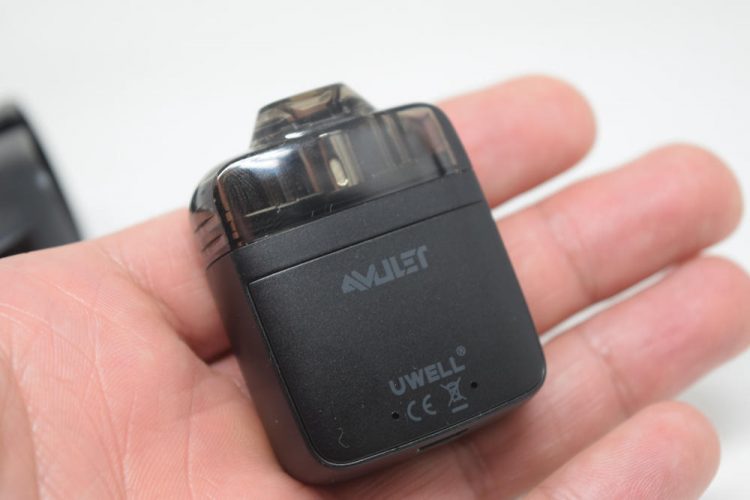 All in all, the Uwell Amulet is a very interesting, if somewhat gimmicky vaping device. It's very compact and lightweight, it looks good as a wristwatch and it actually both as a vape mod and a watch. Just keep in mind that the screen goes out every 10 seconds to conserve battery, but you can turn on the display by pressing the physical button on the mod.
Battery Life and Performance
Now, we talked about the reduced size and weight of the Uwell Amulet so you probably already expect to hear some abysmally low battery capacity. Well, at 370mAh, it's not that bad for its size, but it's not very good either, at least when compared to other pod systems out there, like the Renova Zero, or Eleaf Tance Max. It's certainly not going to last you a whole day, that's for sure, so I would not recommend it as your main vaping setup.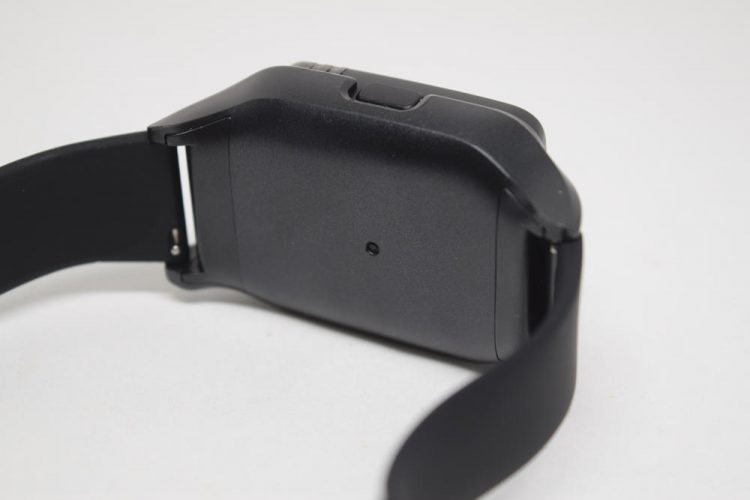 I am definitely not going to fault the Uwell Amulet for its battery capacity. 370mAh is more than decent for such a small device, especially one with such a large integrated display. Don't let battery life scare you if you like the device, just get it as a backup, not your main setup.
In terms of vaping capabilities, I actually wasn't expecting very much from this device. Its main selling point is the wristwatch functionality, so I would have been happy to see it vape at all, never mind if it vaped well or not. However, for a pod system, it's actually not too shabby.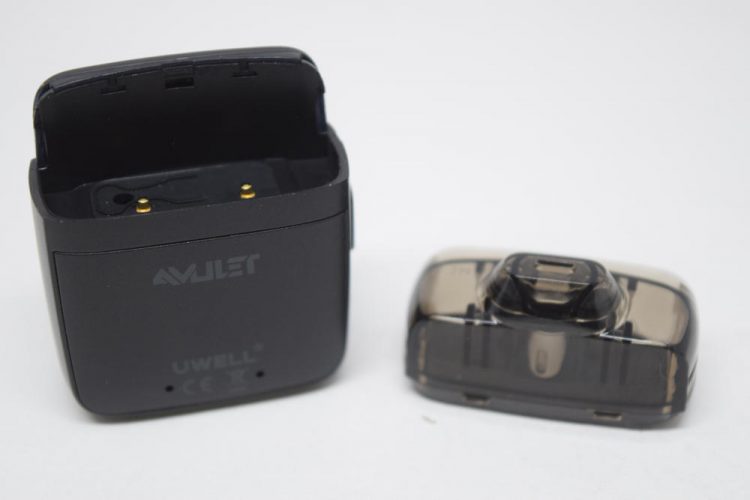 But let's start with the one and only con I could find – the mouthpiece on the plastic pod. It's nicely designed to fit between your lips, but it's way too short, to the point where it becomes uncomfortable to use. It's not a deal-breaker by any means, in fact it's an understandable flaw, considering the size of the device and how it has to fit perfectly in that wristwatch port, but some people may find it awkward.
After testing a large number of pod systems designed for direct-lung hits, or restrictive direct lung at best, it was nice to finally review a device meant for mouth-to-lung. It wasn't the tightest MTL draw, but it was restrictive enough to be satisfying, so I'm not complaining. Vapor production wasn't stellar, and since this is not a regulated device, you'll see the amount of generated vapor drop as the battery level goes down. Again, that's nothing major, just something you should be aware of.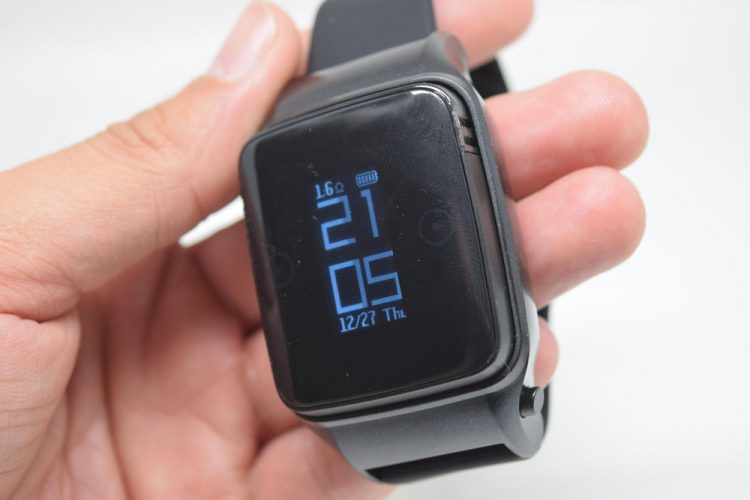 Flavor on the Uwell Amulet was ok, or about as good as you can expect it to be on a 1.6Ω conventional coil-head at about 10W of power. It won't blow you away, that's for sure, but this isn't that type of device anyway. You can vape on it and wear it as a watch, that should be good enough.
I have only been using the Uwell Amulet for about four days, but so far I have had no problems with it. The pod hasn't leaked at all, I've experienced no gurgling, and the draw-activated sensor has been impressively accurate so far, activating the battery at the slightest draw.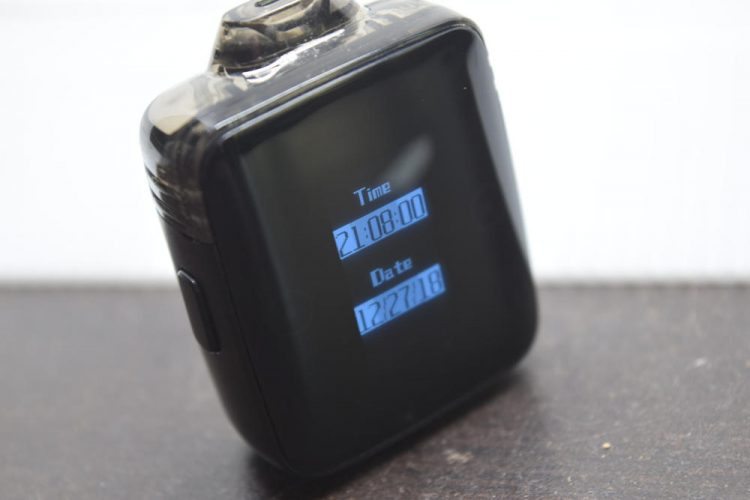 Conclusion
I've had my eye on the Uwell Amulet ever since it was first announced, and now that I've had some time to fiddle with it, I can say that it was worth the wait. This thing does what Uwell says it does – it works both as a vape mod and a wristwatch, and as long as your expectations aren't set too high – they really shouldn't be – you're not going to be disappointed. That said, there is one thing that I just can't ignore and that's the price. This pod system/wristwatch sells for almost $50, which is kind of outrageous for this rudimentary type of vaping device. Now, if you think the double functionality is worth it, I'm not going to argue with you, but I will say that as far as vaping is concerned, there are much cheaper and better pod systems out there.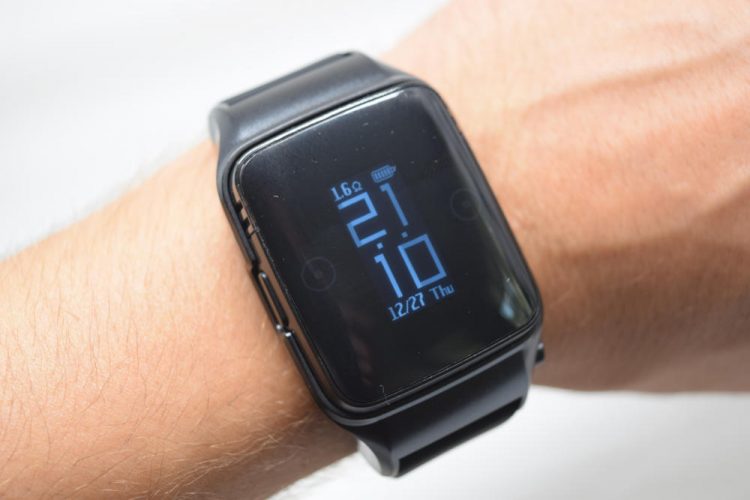 The Uwell Amulet pod system was sent to me by VapeSourcing, for the purpose of this review. They currently have it in stock for just $42.99.