VooPoo Argus Air Review
Buy the VooPoo Argus Air
Get a nice discount on the VooPoo Argus Air vape pod from a trusted vape seller.
Along with the superb Argus GT vape mod, VooPoo kicked off its new line of products with an interesting pod system called the VooPoo Argus Air. Featuring the same high-quality leatherette finish we saw on the company's other recent products, as well as an ingenious airflow control system and a small display, the Argus Air is definitely one of the nicest vape pods I've seen in a while. Let's take a closer look at it:
VooPoo Argus Air Packaging and Presentation
The new Argust air vape pod comes in a small, drawer-like cardboard box featuring a picture of the device (in the color it comes in) on the front, and a list of contents, the usual age-restriction and nicotine warnings, as well as manufacturer contact information, on the back of the box.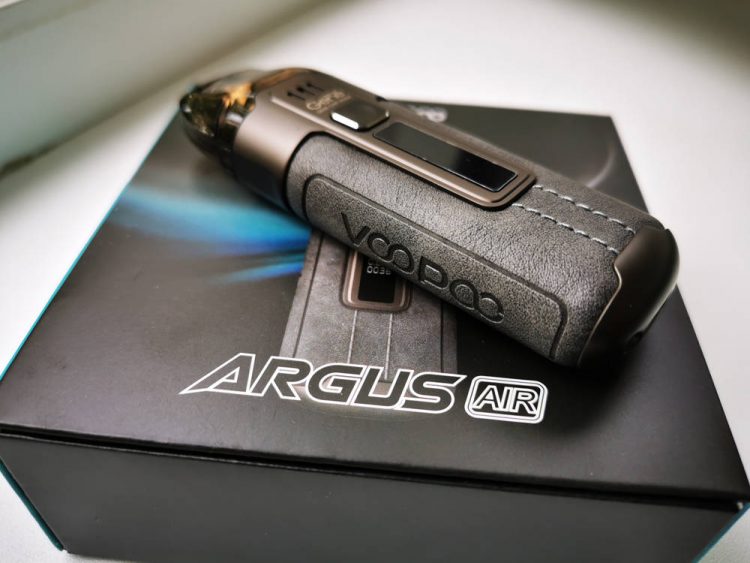 Inside, we are greeted by a white accessories box with a welcome cartridge airflow presentation printed on it. We,ll get into this later, but it's definitely need-to-know information if you want to use this device properly, so I'm glad VooPoo made it as visible as possible. The accessories box contains a USB Type-C charging cable, a spare coil-head and a user manual.
Deeper inside the packaging we have the VooPoo Argus Air pod system and two refillable pods, one of which comes pre-installed with a proprietary Plug 'n' Play (PnP) coil-head. The two pods look identical, apart from the color of the fill-port silicone plug, which indicates that they are indeed different (more on that later).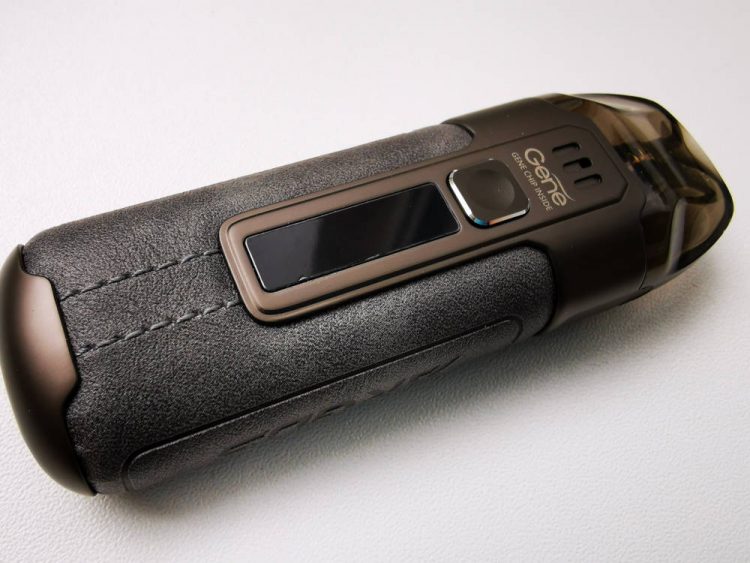 VooPoo Argus Air Design and Build Quality
The Argus Air pod system measures 95mm x 31mm x 19mm and is made primarily of stainless steel. It comes in a total of 7 different finishes, from classic black, to carbon fiber imitation and several types of camouflage. For this review, I received the Vintage Grey version, which I consider to be one of the stylish of them all.
Regardless of which one you pick (apart from the carbon fiber), you will end up with a pod system partially wrapped in very nice, high quality leatherette (fake leather) which not only looks amazing, but feels very nice in the hand as well. I liked this material the first time I saw it on the Drag X and S mods, and I hope VooPoo keep using it, because it's awesome!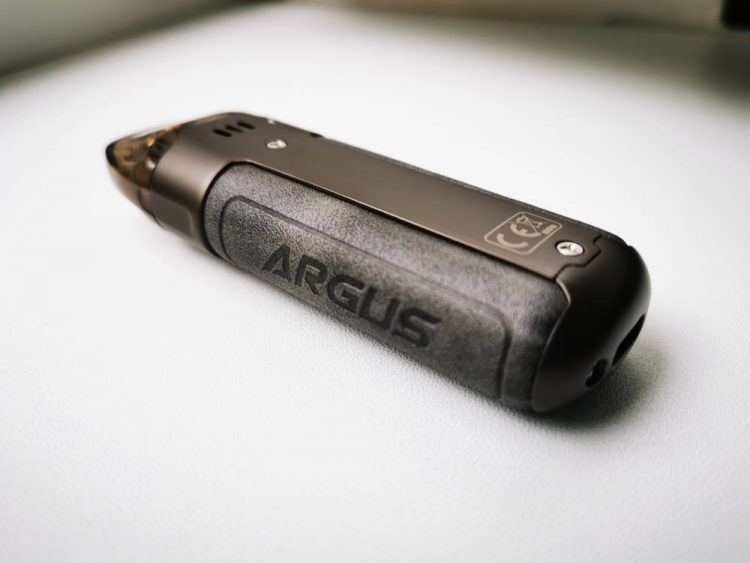 Apart from the leatherette, the metallic parts of the Argus Air are not too shabby either, featuring this really nice gun-metal paint job. I've personally come to appreciate the build quality of VooPoo products, and the Argus Air further confirms the high standards of the manufacturer.
With the launch of the original VooPoo Vinci pod mod, the Chinese company introduced dual battery activation, allowing users to vape either by simply drawing on the mouthpiece of the device, or by pressing a fire button. Both have their advantages, so it was nice to see them available on the same device. Well, the Argus Air vape pod has that same system, so you can activate the battery just by drawing on the pod, or by pressing the square fire button.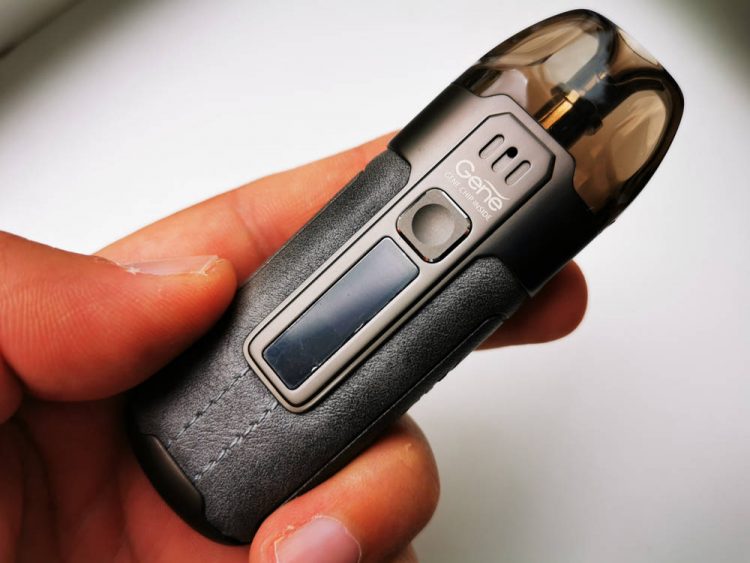 The black and white display located under the fire button wouldn't be all that impressive on a larger vaping device, like a pod mod, but on such a compact pod system it looks really nice. The brightness is just right, resolution is decent, and it offers useful information like battery life and power output.
Located above the fire button are the now classic "GENE" chip logo and perhaps the most interesting feature of the Argus Air, a dual-sided airflow control system. Similarly to the one on the VooPoo Vinci X, the Argus Air has different air cutouts on each side, and you can use either by simply turning the pod around 180 degrees. We have just one dot-shaped hole on one side, and the same dot, plus two large hollow lines on the other, for a considerably looser draw.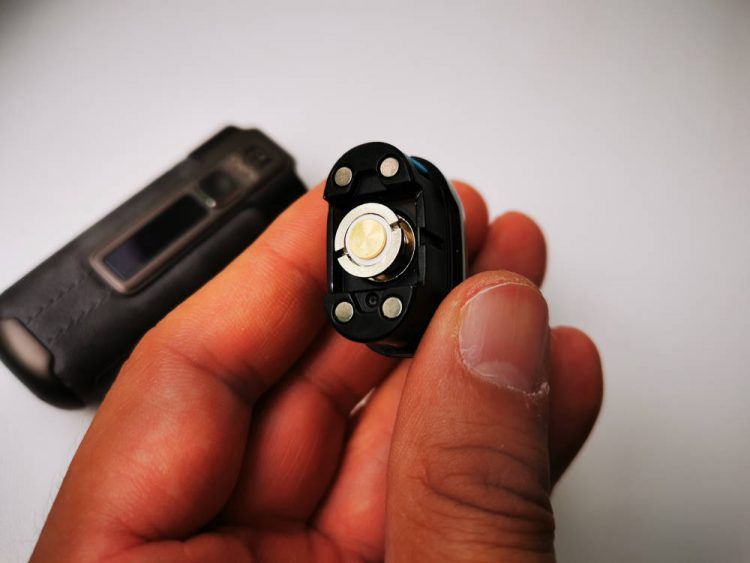 But the cool thing about the Argus Air airflow system is that it works in conjunction with the pods. They both look the same at first glance, but a closer examination reveals that they have different cutouts on the lower  half, which allow with the slots on the battery unit. One has a very narrow cutout, while the other has a massive cutout, making it more suited for direct lung (DL) vaping.
You do notice a change in airflow by simply switching the same pod 180 degrees, but for a significantly better vape, I recommend using the smaller cutout pod for mouth to lung (MTL) vaping and the other for a looser direct lung (DL) vape.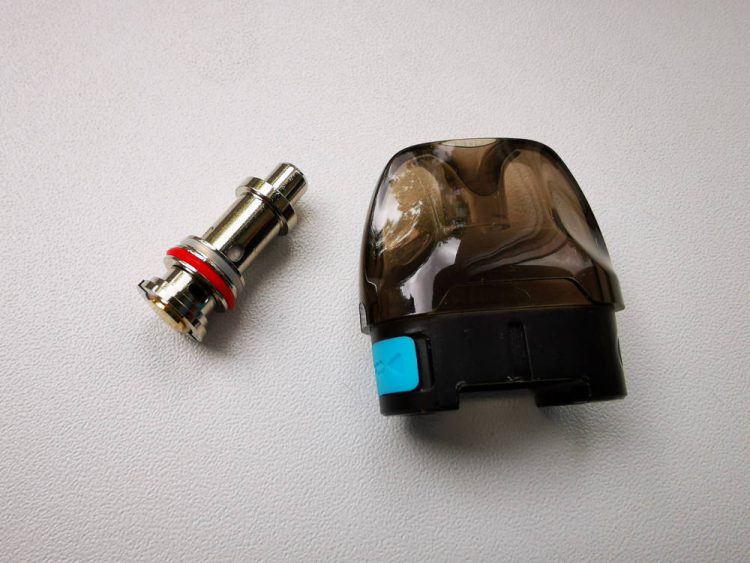 Finally, on the bottom of the VooPoo Argus Air, we have a USB-C charging port, which can apparently also be used for software upgrades, should any be made available by the manufacturer.
VooPoo Argus Air Menu and Features
I don't usually include this section when reviewing pod systems, mainly because there is nothing to go over, but the Argus Air isn't your average vape pod. It not only features a nice display, but it also has a simple menu system and some smart features you don't really see in this segment of the market.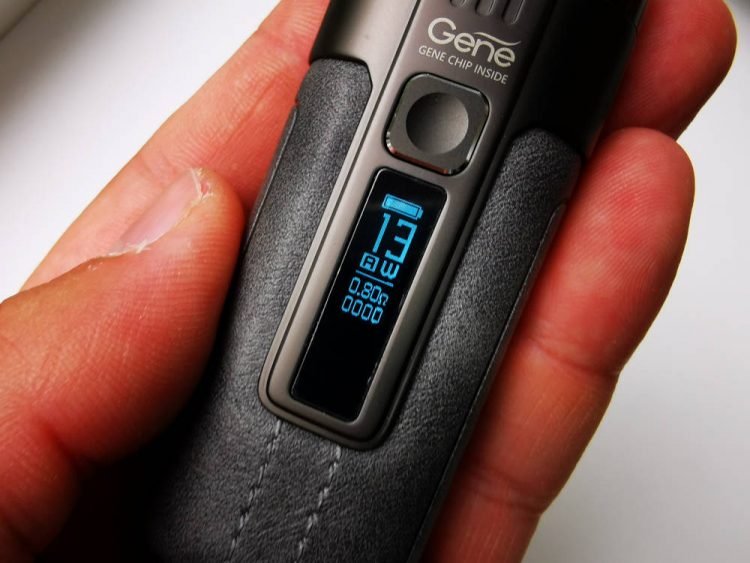 To turn on the VooPoo Argus Air, you need to push the fire button five times in rapid succession. However, doing the same when the device is turned on will not turn off the power, as it does on other vaping devices, but take you into the menu. From here you can lock the fire button, clear the puff counter or turn off the device. Just hover over the desire option with short presses of the fire button,, and then long press the same button to confirm your choice.
Three presses of the fire button will cause the W icon to blink, indicating that you can adjust the power output of your Argus Air. You can do that with short presses of the fire button, but note that you can only scroll up, between 5 and 25 watts. The device round-robins so if you scroll too fast, you can just keep pressing and start over.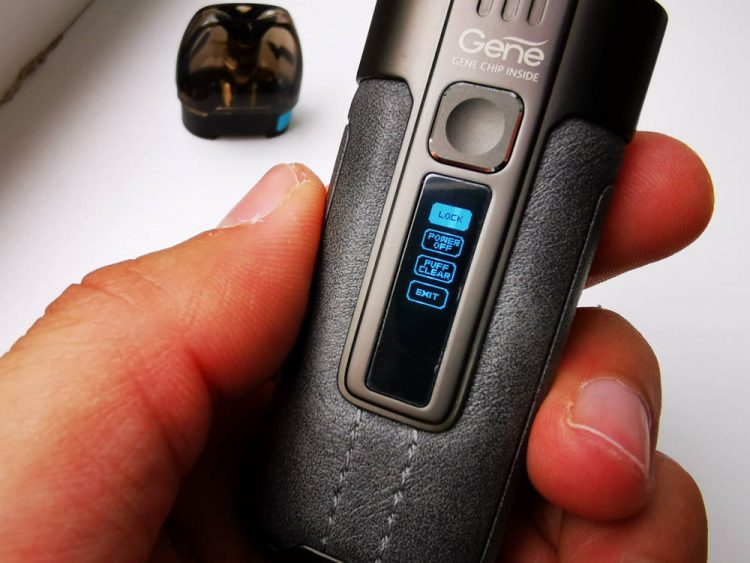 The VooPoo Argus Air also has that smart resistance detection we've seen on other more advanced devices, only here you cannot turn it off. When you attach a pod with a new coil, the Air will automatically set a wattage level it deems suitable for that coil resistance. It usually goes for a conservative wattage, but you can adjust it by manually increasing the power as explained above.
That about covers the menu and features. It's not the most complex, but it's a lot more than you get on most other devices in this class.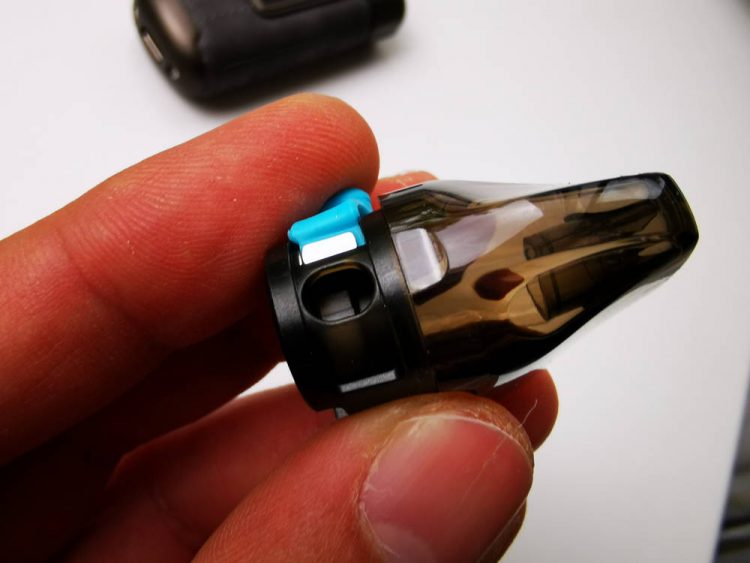 VooPoo Argus Air Battery Life
The Argus Air has an integrated 900mAh battery, which is decent enough for its size. Keep in mind that this is a compact, slick device that only pumps out a maximum 25W of power, not a cloud chugging machine, like the Augvape VX217 mod, for example.
If you plan on using the Air mainly for MTL vaping with the higher resistance coils, you may get up to a whole day of use out of it, depending on how much you vale. But even if you run out of battery, the Argus Air has 1A fast charging via USB Type-C, as well as vape-while-charging technology.
How Does the Argus Air Vape?
Just like the vast majority of VooPoo's other vaping devices, the Argus Air uses the company's PnP coil-heads, so you can theoretically experiment with a variety of different resistances and coil designs. That said, you have to consider the limitations of this device. With only 25W of power, you have to go for the higher resistances available, like the included 0.6 and 0.8 ohms, otherwise you won't get a satisfying vape out of this thing.
Personally, I've been using the 0.8Ω coil-head with the airflow in the tightest position, because I mainly like to use vape pods for MTL. That said, the 0.6Ω is no slouch either, it's just a lot better suited for a restricted direct lung vape, so I recommend using the spare pod with the airflow open. It all comes down to personal preference, honestly, because the device actually works well both for MTL and DL vaping.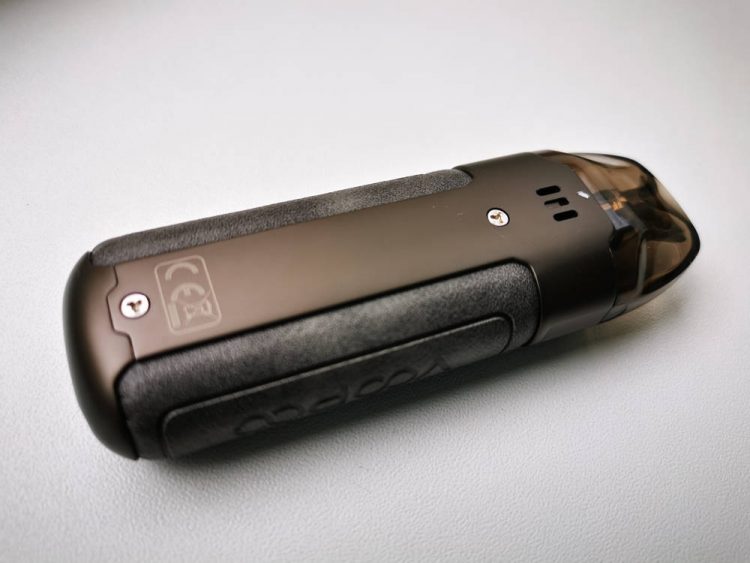 I will say that the airflow system thought up by VooPoo, while ingenious, doesn't offer the option to fine tune the amount of air that comes through, like you can on the new Vaporesso Xros, for example. That device lacks most of the features of this device, though, so it all depends on how important airflow adjustment is to the buyer.
The fact that you can fine tune the power output makes vaping the Argus Air so much better, because you can get a warmer or cooler vape, depending on every user's taste. Plus, vapor production is influenced by that as well, so there are a lot of benefits over simpler pod systems.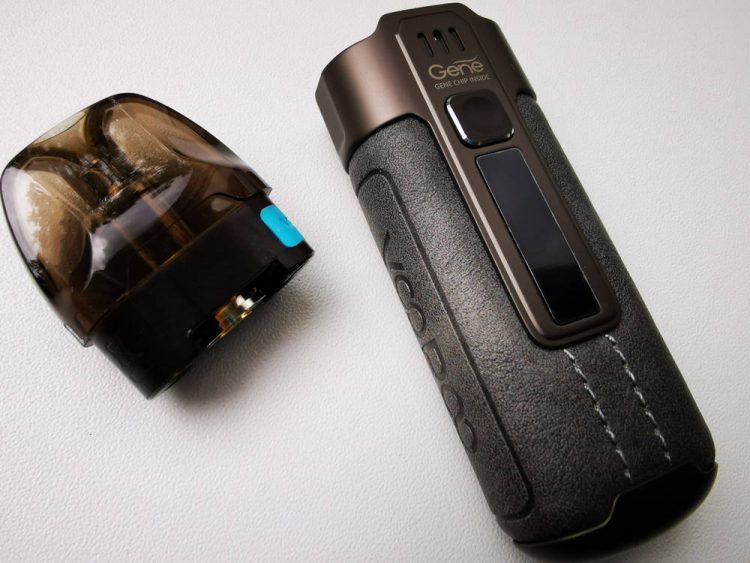 Last but not least, VooPoo is pushing PnP coil-heads for all its devices, so chances of getting new types of coil-heads and new resistances are actually really high. Plus, it looks like these coil-heads are going to be around for a long time, so you don't have to worry about them going out of production anytime soon.
Conclusion
Having been using the Argus Air pod system for about a week now, I can say that it's a worthy addition to VooPoo's new Argus family of products. While it's a simpler device than the Argus GT, it more than makes up for it in build quality, style and size. This is a much more compact device, so the 25W maximum output is pretty impressive, as are its other main features, like adjustable airflow and dual-battery activation. Plus, it's a really nice-looking device, thanks mainly to the high-quality leatherette.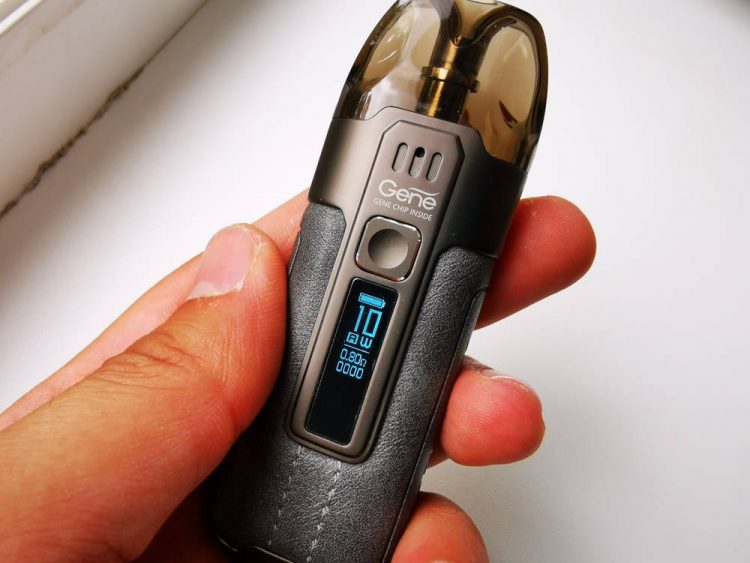 The VooPoo Argus Air was sent to me directly by VooPoo, for the purpose of this review.
Pros
great build quality
slick and compact
high-quality leatherette finish
adjustable airflow
adjustable power output
LCD display
great vaping performance
Buy the VooPoo Argus Air
Get a nice discount on the VooPoo Argus Air vape pod from a trusted vape seller.