The gateway theory, according to which electronic cigarettes lead youths to smoking tobacco, has already been debunked numerous times, but a new study from Dartmouth College's Norris Cotton Cancer Center, in New Hampshire, suggests that vaping is pushing hundreds of thousands of kids to smoke every year, while only helping a small number of adults quit.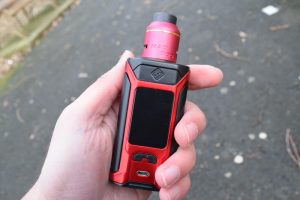 Using 2014 census data, national health and tobacco use surveys, as well as published literature on vaping, scientists at Norris Cotton Cancer Center built a model which they then used to calculate the number of people that had successfully quit smoking using electronic cigarettes, as well as those that went on to smoke tobacco after using them. The results of their research, entitled "Quantifying Population-Level Health Benefits and Harms of E-Cigarette Use in the United States" were recently published in the PLOS ONE scientific journal.
According to the model developed by lead author Samir Soneji, PhD, Associate Professor at The Dartmouth Institute for Health Policy and Clinical Practice, and his team,  e-cigarette use in 2014 would eventually lead to about 1,510,000 years of life lost. That sounds bad, but Soneji claims that estimate is based on an optimistic 95 percent relative harm reduction of using e-cigarettes compared to traditional cigarettes.
"E-cigarettes could lead to more than 1.5 million years of life lost because their use could substantially increase the number of adolescents and young adults who eventually become cigarette smokers," Dr. Soneji said. "Kids who vape are more likely to start smoking cigarettes—notably kids who were otherwise not at a high risk of starting to smoke. The harms of e-cigarette use among adolescents and young adults are serious."
Using the aforementioned model, scientists were able to calculate that 2,070 adult smokers were able to successfully quit with the help of electronic cigarettes in 2015, but at the same time, a whopping 168,000 teens and young adults who had never smoked tobacco started smoking and eventually became daily cigarette, after experimenting with electronic cigarettes.
"E-cigarettes will likely cause more public health harm than public health benefit unless ways can be found to substantially decrease the number of adolescents and young adults who vape and increase the number of smokers who use e-cigarettes to successfully quit smoking," Soneji said. "We also need to close the regulatory gaps that make e-cigarettes appealing to adolescents and young adults by reducing the availability of kid-friendly flavors (e.g., fruit-flavored e-cigarettes) and issuing product standards that reduce the level of known toxins and carcinogens in e-juice."
Basically, this study concludes that electronic cigarettes currently do more harm than good. They're apparently leading a lot more never-smokers to smoking tobacco than they are helping smokers quit the habit. There's just one problem with that, though – government studies show that the number of smokers in the US has been on the decline for quite some time, and that rate has actually accelerated since vaping became popular. So where are those hundreds of thousands of teens and young adults who were supposedly pushed to smoking?
Judging by the suggestions made by the authors of this study, these controversial results are meant to support the FDAs rumored ban on most e-liquid flavors, especially those deemed attractive to kids. I'm not in a position to comment on the model used by Dr. Soneji and his team, but these results contradict most of the studies on the controversial gateway theory and those on the effectiveness of e-cigarettes as smoking cessation aids.