Voopoo Drag Nano Review
The Voopoo brand is virtually synonymous with its most popular creation ever, the Drag mod, so I guess it makes sense for the Chinese manufacturer to push the Drag name as much as possible to promote its products, even when they happen to be simple pod system. The Drag Nano, not only borrows the original Drag's name, but also its iconic look, complete with its mirrored design and authentic resin panel, only on a much smaller scale. It's definitely one of the coolest-looking pod system reviews I've ever tested, but let's see how it vapes:
A Look at the Contents
The new Voopoo Nano pod system comes packaged in a simply cardboard box featuring a life-size picture of the device on the front, and a list of contents, the usual warnings as well as a scratch-and-check authenticity sticker on the back. It's not the greatest packaging I've ever seen, but it's not bad either.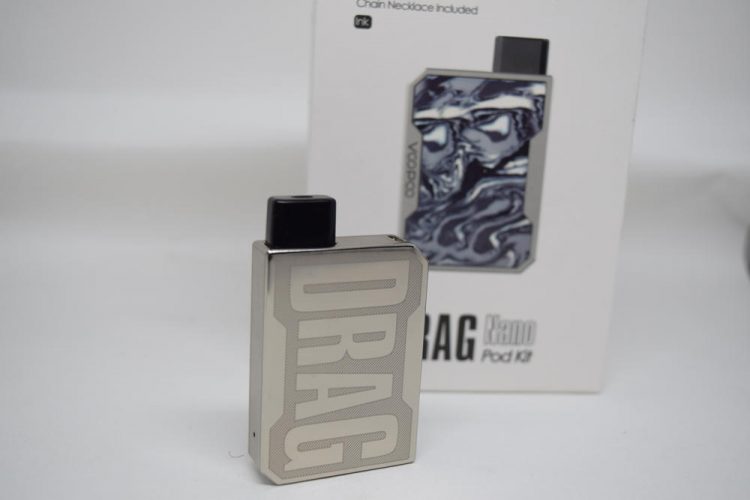 Inside the box we have a plastic holder containing the Drag Nano mod wrapped in a protective bag, one refillable pod, a micro-USB charging cable, a user manual and a metal chain designed to be used as a lanyard for the device. The chain was a nice surprise, but I have to say I was disappointed to see just one pod included in this kit. I've been saying it for a while, one pod just isn't enough, especially for beginners, as they may ruin it by mistake before even getting the chance to properly use the device. But it's not just Voopoo, most other companies don't include a spare either.
Design and Build Quality
As I said, the Drag Nano is a virtually a scaled down version of the iconic Drag mod. It's really tiny though, measuring just 54.5mm x 35mm x 11mm, and weighs only 44 grams. Still, thanks to a robust zinc alloy and aluminium body, it doesn't feel cheap at all. In fact, it's one of the most well-made pod systems I'eve ever reviewed.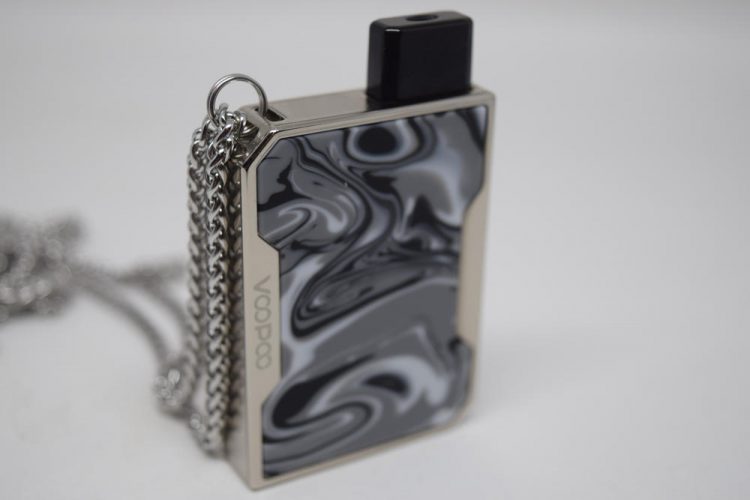 The Drag Nano doesn't have the physical buttons of the Drag 157W and Drag 2 mods, nor their 510 connection, but other than that, it looks about the same. It even has the cool resin panel that feels super smooth to the touch, and the glossy "Drag" logo on the opposite side, as well as the heavily beveled corners of Voopoo's popular mod. Even the placement of the pod on the mod emphasizes the classic Drag look.
Speaking of the pod, it holds only one milliliter of e-liquid, which isn't very much, and features a 1,8Ω coil. It's a heavily tinted pod, not that it matters very much, as most of it goes into the mod anyway, and the part that sticks out is covered by a plastic mouthpiece. That's a bit of a con, to be honest, as you can't see the juice level inside without taking it out to check.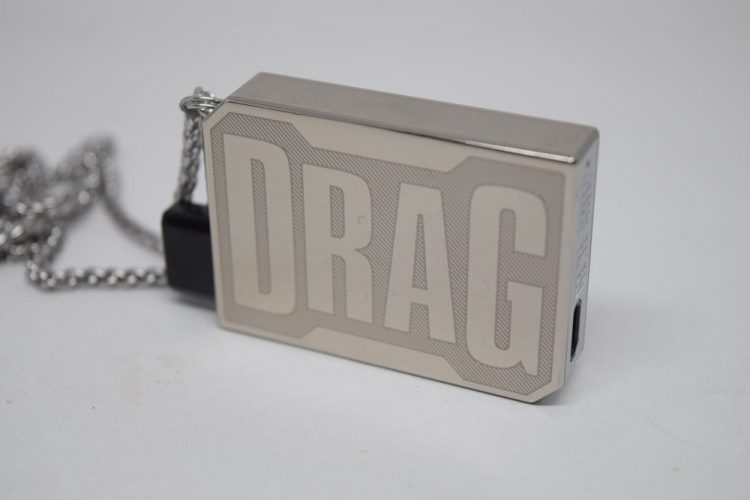 Another thing I didn't like about the pod is how firmly it attaches when pushed into the Drag Nano. I'm all for a strong magnetic connection, but this is a bit too much. Because the top of the pod is covered by a detachable mouthpiece, which also acts as a cap for the fill port, trying to pull the pod out results in the mouthpiece coming off instead. You just have to grab the pod itself and yank it out, which isn't very fun.
On the corner opposite to the Drag Nano pod, you'll find a lanyard connection to be used with the included metallic chain. It took me a while to hook it up, but this little device actually looks pretty cool as a medallion, so kudos to Voopoo for trying something different. On one of the narrow edges of the mod, you'll see a little dot that lights up when you pop in a pod or draw on the attached mouthpiece. It's an LED battery indicator that lights up in different colors depending on how much battery life you have left.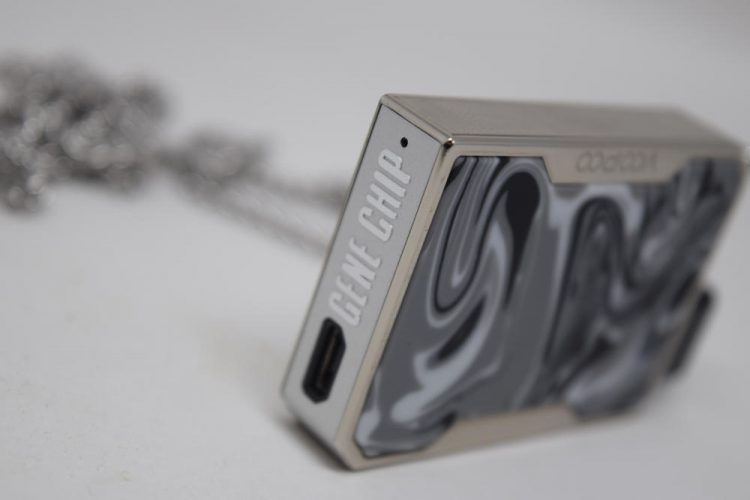 Finally, on the bottom of the Drag Nano pod system we have micro-USB port for charging, as well as a "Gene Chip" branding. That's right, this thing also uses the now famous Gene Chip, albeit a very dumbed-down version of it which doesn't even compare with the one in the advanced Drag Mods.
All in all, the Voopoo Drag Nano is a very cool-looking, quality pod system, but not a perfectly designed one. Not being able to see the e-liquid level in the pod and struggling to pull it out of the mod are the obvious faults that come to mind.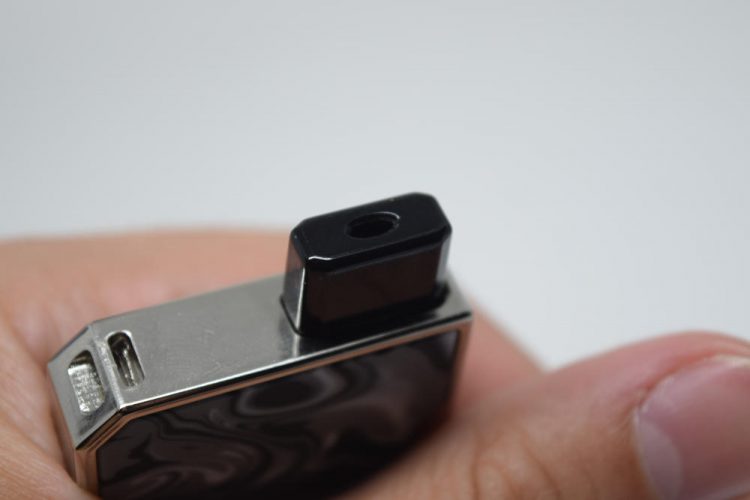 Battery Life and Performance
The Drag Nano is one of the smallest vaping devices I've ever tested, so I was to surprise to learn that it features a built-in battery with a capacity of 750mAh. That's a lot better than most similar products on the market today, with the exception of larger versions, like the SMOK Trinity Alpha or Smoant Pasito. Honestly, a fully charged battery lasts me a whole day, but then again I also use a second pod just to keep that vaper's tongue in check. Still, most people should get a full day's use out of it.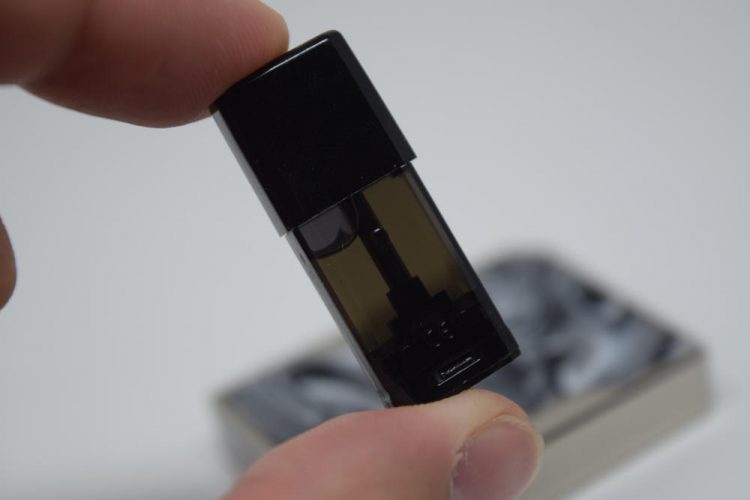 As good as the battery capacity is, every pod system needs passthrough functionality to truly make battery life a non-issue, and sadly the Drag Nano doesn't have that for some reason. You can't use it while it's charging, which is a big con in my book. You'll just have to keep an eye on the LED battery life indicator to make sure you'd run out of power. Green means you have between 100% and 61% battery, blues is 61% to 20%, and red let's you know it's time to recharge.
Performance-wise, the Drag nano is ok, but definitely not as good as I expected it to be. As a big fan of the original Drag mod as well as the newer Drag 2, I was really hoping for device that would revolutionize the pod system sector just like the Drag 157W did when it came out a few years back. Sadly, that isn't the case. When you take away the flashy design, excellent build quality and that metal chain, you're left with a rudimentary vaping device the likes of which we've seen many times before.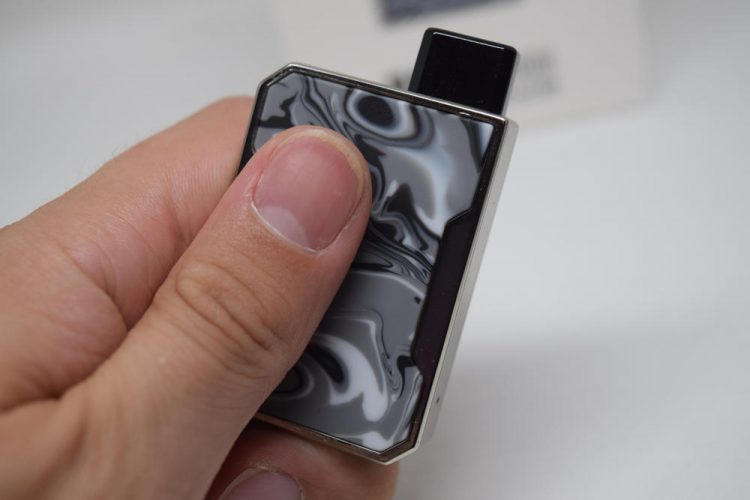 First of all, the draw is not as tight as I'd like. It's still a mouth-to-lung, but a very airy one, at least compared to other popular mods, like the Renova Zero, for example. Somehow I always end up comparing pod system to the Renova, but it's only because it's so darn good. If you prefer a loose mouth-to-lung draw, you'll probably like the Drag Nano, but if want that tight, cigarette-like draw, maybe try something else.
Battery activation is really fast – maybe that's where the Gene Chip comes in – vapor production is decent, but the flavor is a bit lacking. It's not bad, don't get me wrong, but having tried the same juice in other pod systems, I feel that the vapor isn't as flavorful in the Drag Nano.
Conclusion
I think the Voopoo Drag Nano would have benefited from some of the innovations we've seen on other pod systems recently, such as variable wattage, adjustable airflow, or vape-while charging. The way it is right now, the Drag Nano is a really coll-looking device with not a lot to offer in terms of performance. Maybe I was expecting too much, but I really think the Drag name deserves better than this. Hopefully Voopoo will go back to the drawing board and come up with a better version next time.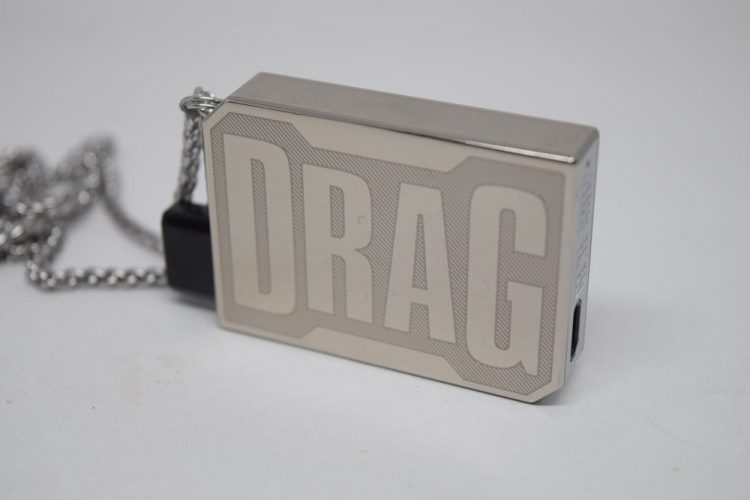 The Voopoo Drag Nano was sent to me directly by Voopoo, for the purpose of this review.