Vaporesso Xtra Pod System Review
Buy the Vaporesso XTRA
Get a special price on the Vaporesso XTRA pod system from a trusted seller.
Despite being one of the last big brands to get into the pod system market, Vaporesso is definitely making up for it now. They've been putting out all sorts of vape pods and pod mods, and some of them are actually pretty innovative. The company's latest creation is called the Vaporesso Xtra, and despite its compact size, it promises to be one of the best pod systems of 2020.
A Look at the Contents
The new Vaporesso Xtra comes in a tiny cardboard box that hints at the compact size of the device inside. It features a life-size picture of the vape pod on the front, and some technical specifications, a list of contents, as well as an authenticity sticker and manufacturer information.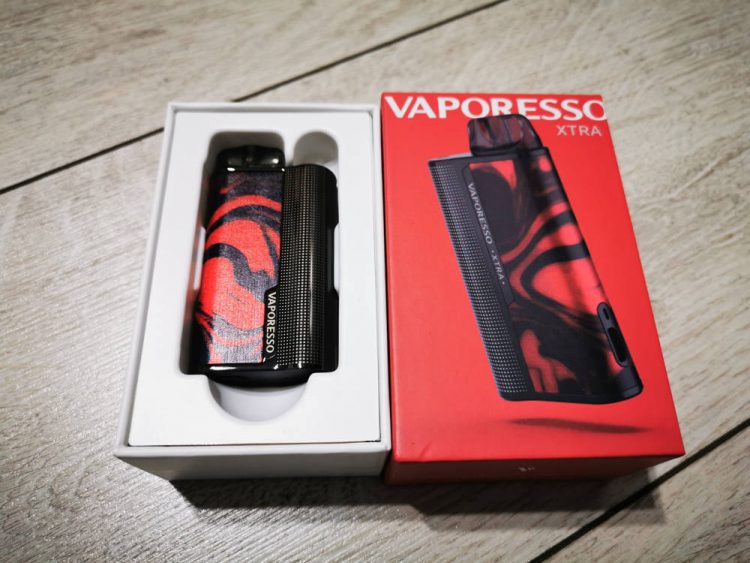 Inside the box we have the Xtra sitting snug in a plastic holder, as well as all the accessories we've come to expect from this type of kit: a micro-USB charging cable, an extra refillable pod, user manual, warranty card, and other informative reading material.
Design and Build Quality
While I wouldn't go as far as calling the design of the Vaporesso Xtra eye-catching, it's definitely different than most of the vape pods and pod mods on the market today, and that alone deserves commending. It's vaguely reminiscent of a Zippo lighter, or a really small battery pack, but it feels very comfortable in the hand, thanks to its smooth edges.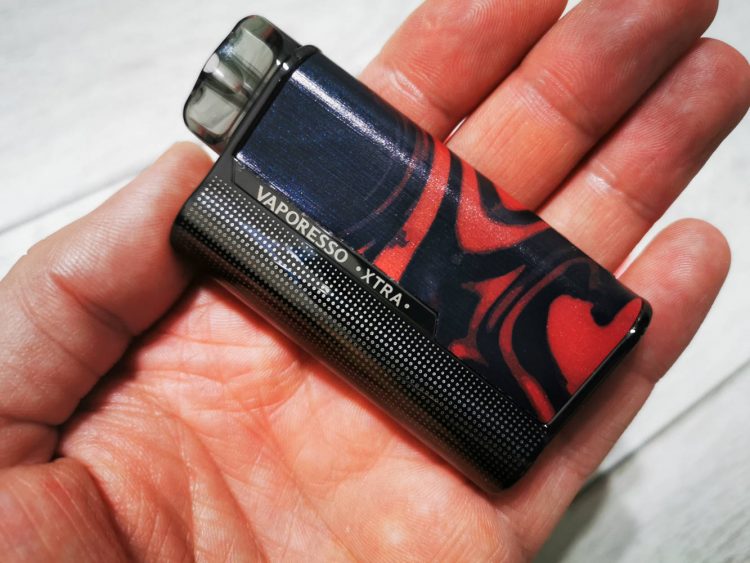 The Xtra measures 74mm x 38mm x 17mm, and is made primarily of zinc alloy. It comes in a variety of colors, including grey, silver and rainbow, with even more decorative stickers. Mine came with a red and black resin-imitating sticker, but there are also carbon fiber, leather or rainbow stickers to chose from.
One thing that I was disappointed by upon a more careful inspection of the Xtra was that the sticker wasn't glued to the device properly. There were air bubbles that had to be smoothed out and the sticker had been glued over the edges of the mod. That isn't something I'm used to seeing from Vaporesso, so I'm blaming this on my device being a review sample. It would be a shame if Vaporesso lowered its quality standards, this is one of the world's most popular brands we're talking about…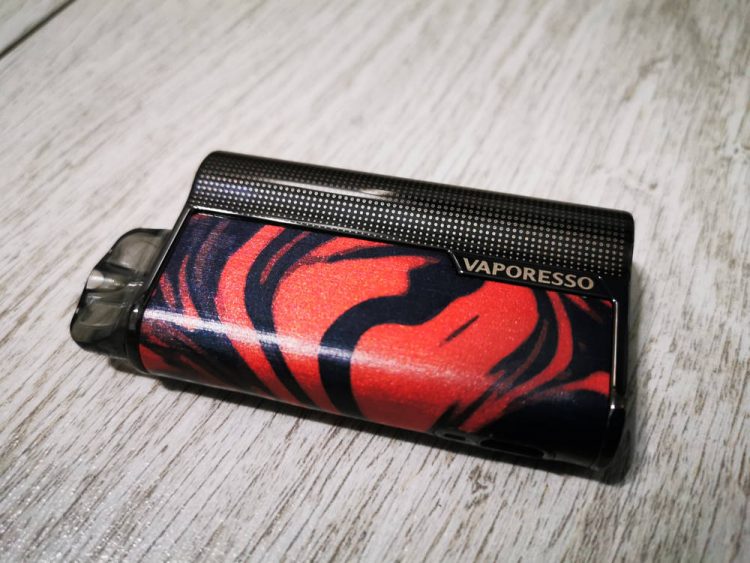 The Vaporesso Xtra is a very simplistic device, at least when compared to the company's Target PM80 pod mod, for example. It's a draw activated system that uses disposable plastic pods to deliver a mouth-to-lung vaping experience that is very close the sensation of drawing on a tobacco cigarette. If you're looking for something more, I suggest you take a look at a Lost Vape Orion Plus or a VooPoo Vinci X, because this device here isn't it.
The fact that the Xtra doesn't come with different modes, or other bells and whistles is most certainly not a con. Like the Renova Zero, which I personally consider a direct predecessor, the Vaporesso Xtra is aimed at casual vapers or fresh ex-smokers looking for something easy to use. And in that regard, I'm having trouble recommending any other pod system over this one.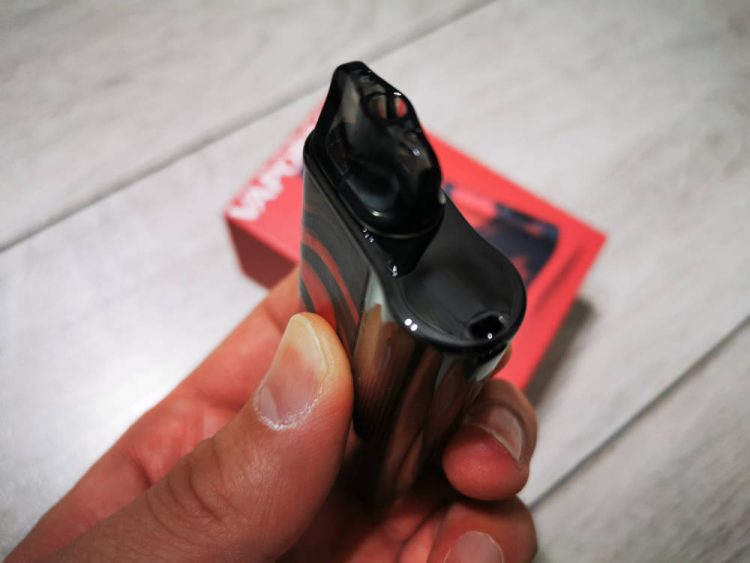 One of the coolest thing about the Vaporesso Xtra is the new Unipod it comes with. It's basically a disposable pod with a new type of cotton that Vaporesso claims enhances flavor. Another interesting thing about it is that it comes in two variants – with a lower resistance mesh coil or with a higher resistance round wire coil, for a more authentic MTL draw. I personally think they're both great, and you can tell which one is which by the color of the fill port plug, on the side. Red is for the mesh coil one and grey is for the round wire coil.
The pods both hold up to 2ml of e-liquid and are easy to fill. Vaporesso passed on its patented push-valve fill port, which we saw on the Vaporesso Degree and Renova Zero pod systems, opting instead for the conventional refill hole. It works just fine, the hole is decently sized, and the plug stops the juice from leaking out into the mod. The pods attach to the mod magnetically and they stay firmly in place.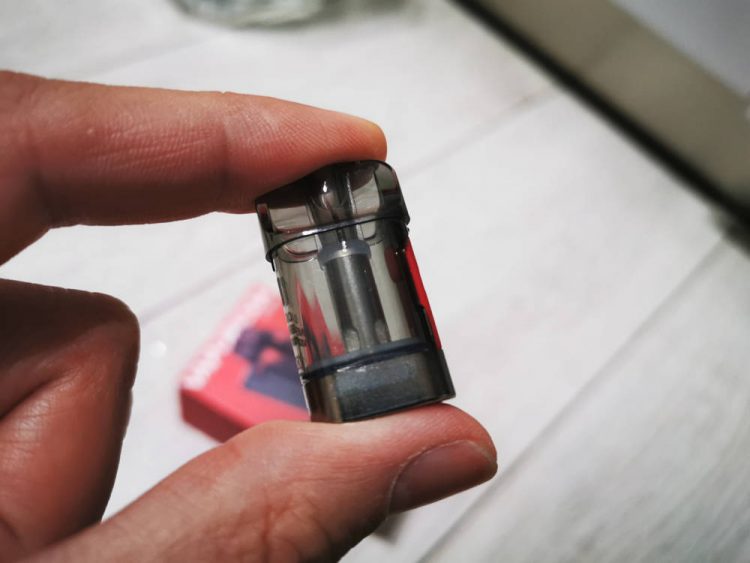 Although the Vaporesso Xtra has an automatic, draw-activated switch, it also has an on and off button on the bottom. Not the most appropriate location for a physical button, I know, but it is recessed, so even if you were to place the pod system upright on a flat surface, you wouldn't have to worry about the button being accidentally pressed.
Unlike the Renova Zero, where the button served multiple purposes (LED battery indicator, on/off switch, and power output adjustment), the button of the Xtra vape pod is simply a power button. You press it five times in rapid succession to turn it off, and another five times to turn it on, that's all it does.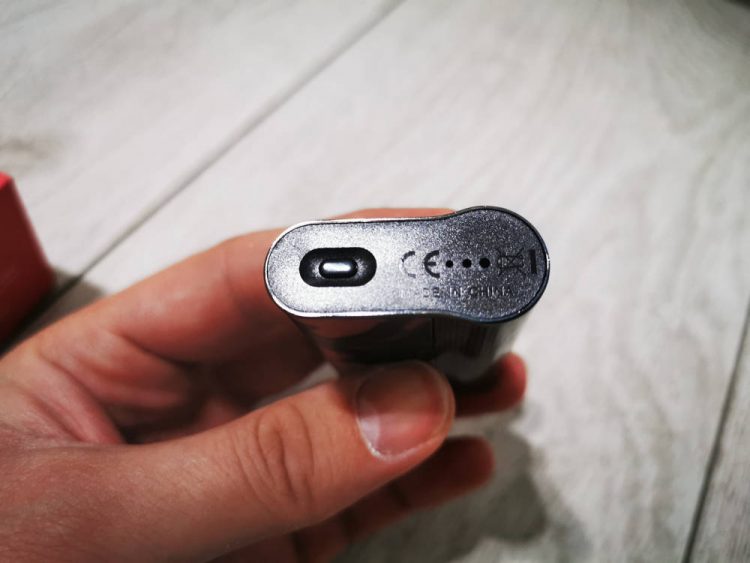 The tiny LED battery indicator is located on the side of the device, right next to the micro-USB port, and lights up green, blue or red, depending on how much battery life you have left.
Overall, I think the build quality of the Vaporesso Xtra is still pretty high, but there are some touches that could have been better implemented, like the decorative stickers I mentioned above. Still, I do love the ergonomic shape of the Xtra and how incredibly small and light it feels in the hand.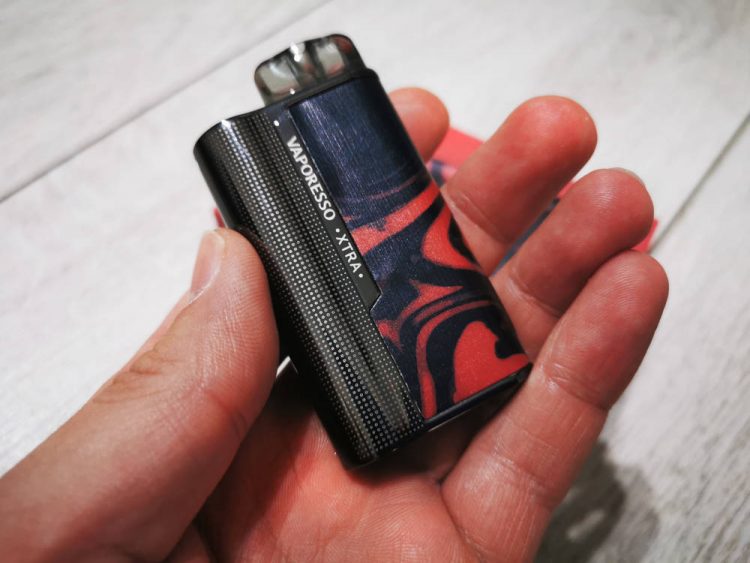 Battery Life and Performance
For such a compact pod system, the Vaporesso Extra's battery capacity is nothing short of incredible – 900mAh. That's almost as much as the Lost Vape Q-Pro (950mAh), and that is essentially a pod mod, not a pod system. I don't know how they managed to cram such a large capacity battery into such a small device, but I'm glad they did.
Vaporesso changed the game before, when they launched the 650mAh Renova Zero into a vape pod market where 400mAh capacity was the norm, and they are doing it again with the Xtra. You simply will not find another pod system of comparable size with a battery capacity this impressive!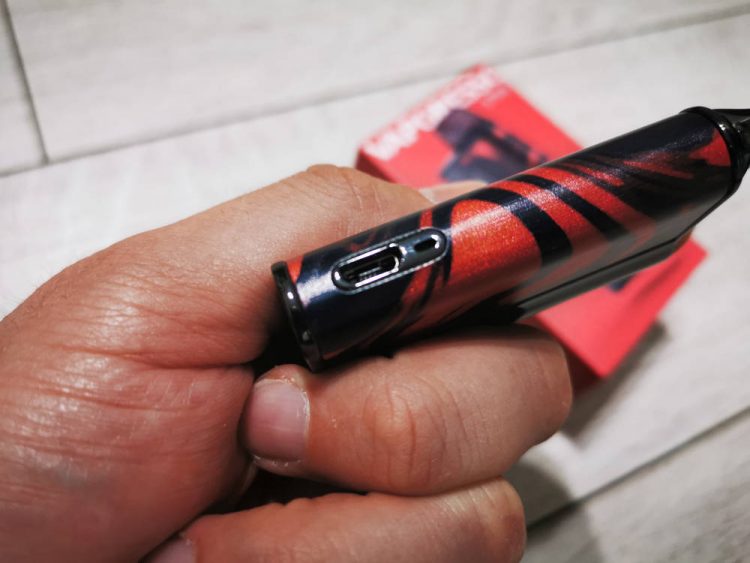 Gone are the days when vape pod only lasted a couple of hours before needling a recharge. With 900mAh available and the high resistance coil-heads in the new Unipods, you can probably use the Vaporesso Xtra for at least eight hours before even thinking about recharging. It all depends on how much you vape, of course, but still, you should get more vaping battery life out of this thing than out of any other compact vape pod.
If I were to complain about anything, it would have to be the fact that Vaporesso refuses to upgrade to USB Type-C, for some reason, even though most other major manufacturers have already adopted that standard, and that the Xtra pod system doesn't have fast charging. You can only charge at 1A, which means it'll take a few hours for the large battery to fully recharge. On the upside, you can use it while it is charging, so it's not a huge deal.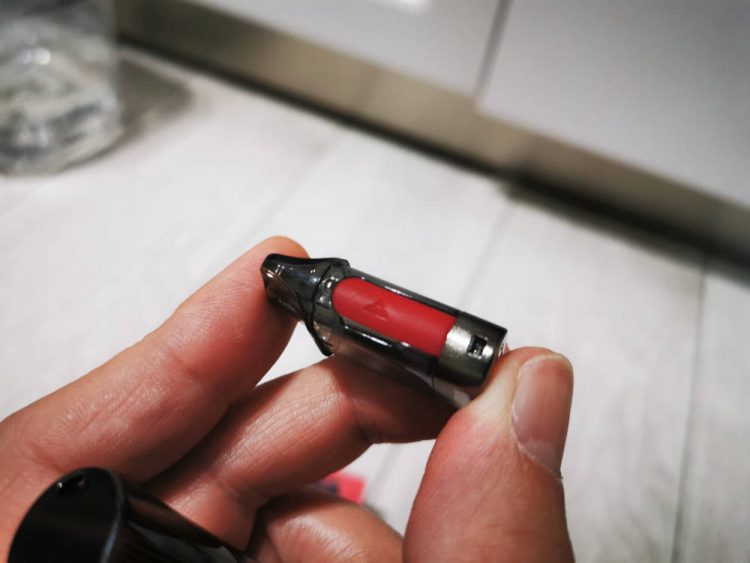 When it comes to vape pods designed for MTL vaping, the Vaporesso Xtra is the best one I've tested in a long time, perhaps even the best one yet. If you've ever read any of my previous reviews, you probably seen several mentions of the Renova Zero, as that was previously my standard for what an MTL vape pod should be. It had great battery life compared to the competition, a relatively tight draw, great flavor, it was compact, and it was reliable. Well, the Xtra is even better, in my opinion.
While it may lack the multiple power output settings of the Renova vape pod, the Xtra makes up for it with new, more advanced Unipods. It even introduces 0.8Ω mesh coils for better flavor, as well as offering the tried and true 1.2Ω round wire coils the Renova Zero used. Having different options to choose from is always great, especially when they're both this good.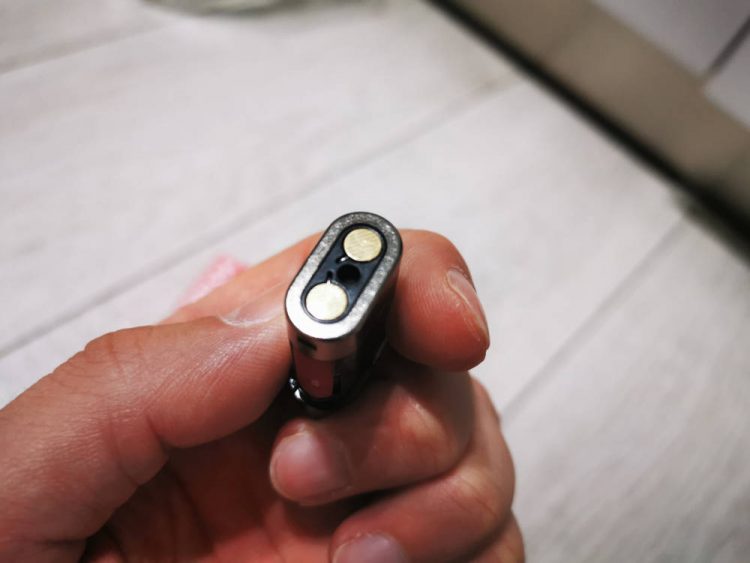 While I remain a big fan of the 1.2Ω round wire coil-heads, especially with the new cotton wicking, the 0.8Ω mesh coils are substantially better. While retaining the tight draw that MTL enthusiasts want, the mesh-coil Unipods offer even better flavor, thanks to the new wicking and the large contact surface of the mesh. I wasn't that big of a fan of mesh for MTL vaping, but these new coils are really good, I'm not gonna lie.
All things considered, if you're looking for a simple, compact device and an authentic MTL vaping experience, you're going to have a tough time finding something better than the Vaporesso Xtra.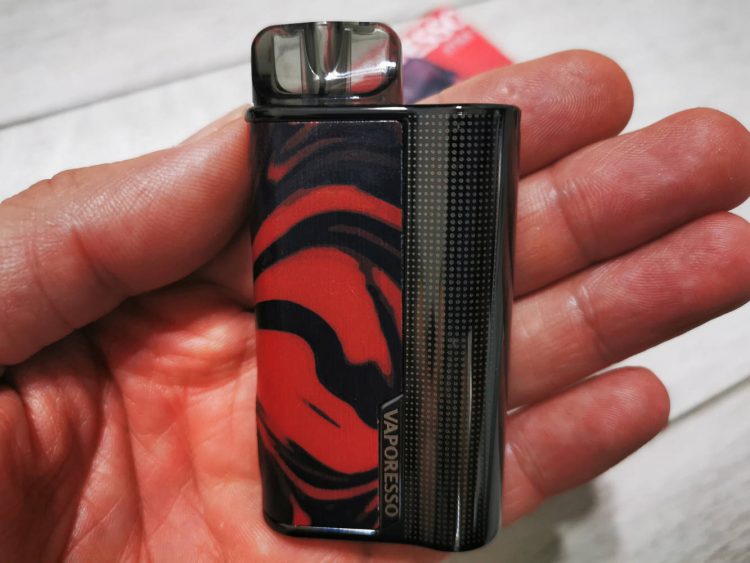 Conclusion
If this review was too long, all you need to know is that Vaporesso has another winner on their hands. the Xtra pod system is simply the best option for casual MTL vapers right now. The build quality is decent – although it could be even better – battery life is unmatched in its size category, and the new Unipods offer two great coil options, both mesh and  round wire. It's not perfect, by any means, but there is definitely much more to be praised than there is to criticize.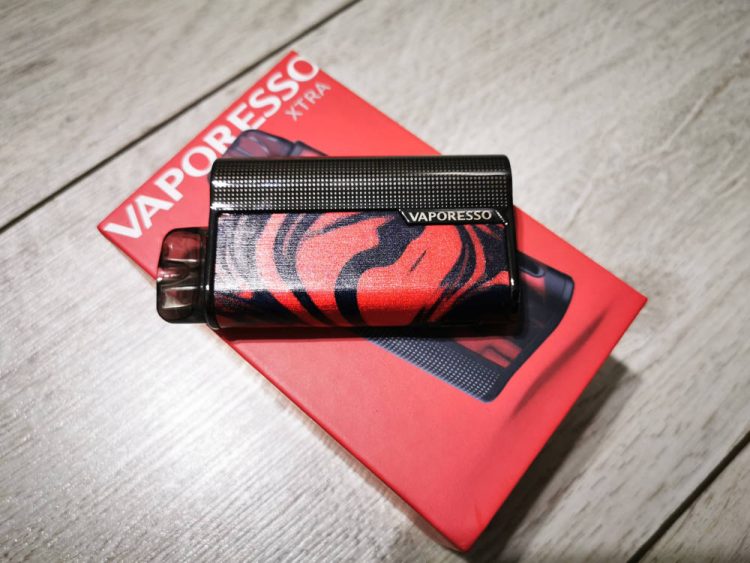 The Vaporesso Xtra pod system was sent to me directly by Vaporesso for the purpose of this review.
Buy the Vaporesso XTRA
Get a special price on the Vaporesso XTRA pod system from a trusted seller.