SMOK TFV4 Sub-Ohm Tank Review
I have been putting off this review of the SMOK TFV4 sub-ohm tank for a while now, partly for lack of time, but mostly because I have been having mixed feelings about it. The build quality and performance of this thing are absolutely amazing, but, on the other hand, it's hurting my wallet so bad that I can almost hear it screaming in pain.
The SMOK TFV4 (Taste Fusion Version 4) is a monster of a tank, both literally and figuratively speaking. At 24.5mm wide and 73.5mm high, it's one of the biggest – if not the biggest – tanks on the market today. I used to think the Aspire Atlantis sub-ohm tank was a big boy, but this thing just dwarfs it. The good news is it can hold up to 5 ml. of e-liquid, but on the flip side, it will likely overhang on most mods, except the one it was actually designed to be used with, the recently released SMOK X Cube 2 160 W temperature control mod. However, if aesthetics are not a priority, the TFV4 will work fine on any decent vaporizer.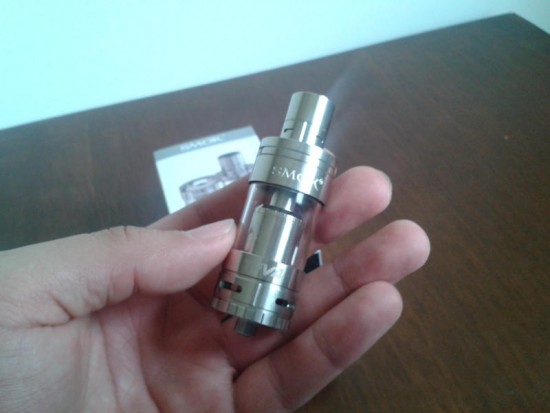 As I mentioned in the opening, the design and build quality of the SMOK TFV4 are top notch! Accept for the glass tube, everything is made of stainless steel. It has a total of eight adjustable airflow slots – four on the base and another four on the drip tip – a unique top-filling design meant to make refilling leak-proof, a double-layered drip tip and an unprecedented array of disposable coils and RBA decks to meet your vaping needs. SMOK claims the TFV4 could be the last tank you'll ever need, and judging by the degree of customization this thing supports, I tend to agree with them. If only we could all afford it, but, more on that later.
The top-filling design is one of the features I was most impressed with. The top of the TFV4 is connected to the tank with a hinge and can easily be pushed to the side to reveal a silicone gasket with a whole in it, through which you add the juice. The great thing about the silicone gasket is that it's so flexible, accommodating virtually any kind of refilling medium, be it a dropper, a syringe or dripper bottle. Simply fill up the tank, slide the top back into place until it locks and you're good to go. I have been using the TFV4 for about a month, and I've never had any kind of leaking issues. If you're worried about the silicone gasket deteriorating in time, the SMOK TFV4 comes with a spare, so it'll be a while before this becomes a problem.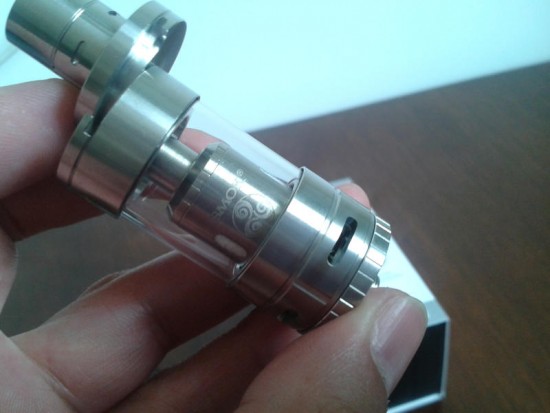 The airflow control drip tip is another noteworthy feature of the SMOK TFV4 and one that really comes in handy at high wattages. The lower part of the stainless steel drip tip has four adjustable airflow slots, just like the base of the tank itself, and you can cover or open them by rotating the ring surrounding them. I usually keep them completely closed when vaping at up to 100 watts, but anything over that is just too hot for my lips. Even though it's designed as a "double-layered structure" – an inner and outer tube with a 2 mm spacing that acts as a heat shield, the stainless steel conducts heat very well at high wattages making it almost impossible to hold so close to your lips. However, opening the airflow slots makes all the difference in the world. Cool air comes through the holes and into the heat shield as you vape and, yes, the draw is much airier and the vapor isn't as dense, but it cools down the drip tip, allowing you to go as high as 140 watts (even though anything over 120 was way too hot for me) without burning your lips.
The airflow control of the TFV4 consists of four massive slots on the base of the tank that work in the same way as the ones on the drip tip. Just rotate the metal ring to cover or expose them completely or partially, depending on preference. I for one enjoyed vaping on this thing with all four slots wide open, for maximum vapor production and above average flavor, but you can experiment and find your own sweet spot. One thing is for sure, with four big air slots on the tank and equally large chimneys on the SMOK coil heads, airflow is not an issue with the TFV4.
Now on to the most impressive part of our review – the SMOK TFV4 coil heads, of which there are many. The tank itself comes with a triple coil, a quadruple coil and a single-coil RBA base. This would normally be enough diversity to satisfy most vapers, but SMOK went all out on this one, releasing an additional 6 coil types, as well as a dual-coil RBA Base. That's just insane, unheard of, or whatever you want to call it. I just call it awesome.
Let's start with the TF-T3 triple coil head, which comes pre-installed in the tank. This is easily the most visually impressive of all TFV4 coil heads. It features three massive vertical coils each individually wrapped in separate Japanese cotton wicks, encased in a stainless steel chamber with only the top part exposed. The bottom features four massive air slots that really speak volumes about its vapor production capabilities.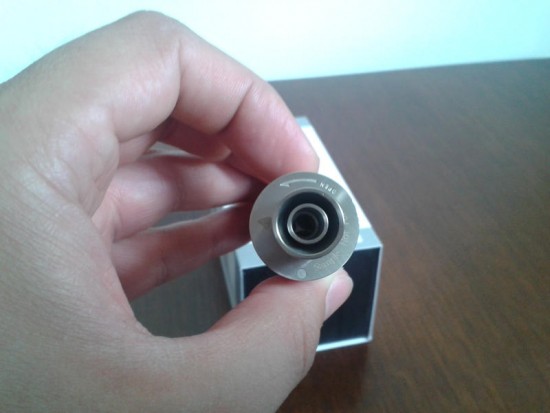 The coils are made of high-quality kanthal, and the coil head has a resistance of 0.2 ohms. It has a recommended wattage range of 40 – 130 watts, but from my experience, you only get decent performance at 60 watts or higher. My sweet spot was around 80 watts with the tank's air slots wide open. The vapor production is way above anything I've ever gotten from a tank, even better than some of my RBA's. This thing chugs so much vapor it's pretty intimidating the first time you use it. It's pretty impressive flavor-wise as well, but not so much at over 120 watts. It's not that the flavor is muted or anything, but the vapor gets so hot and the throat his is so strong – even with 3mg/ml nicotine – I personally could only handle very short draws without feeling like my throat just got scorched. But at that point you're basically cloud chasing, so flavor is not your main concern.
Vaping  a 50/50 PG-VG e-liquid at about 80 watts, I got about two weeks out of the triple coil, but much less when vaping Max VG juice, like Apollo Fa-Q. After just four days, the coils had gunked up so bad that I had no choice than to throw it out.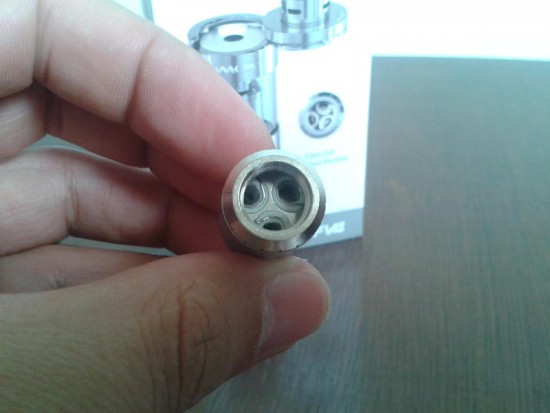 The 0.15 Ω TF-Q4 quadruple coil head has a completely different design than the triple coil head. Instead of four individually wrapped coils, this one features fur parallel coils that, seen from above, look like a single massive vertical coil. The protective chamber also has a unique design, with a whopping 16 individual wicking holes. Performance-wise, however, this is even more impressive than the triple coil and can handle a bit more power – between 40 and 140 watts.
Again, my sweet spot was at around 80 – 90 watts, and anything over 120 watts was just too much for me to handle. My lungs are apparently just not well-enough equipped to handle the massive hot vapor the TFV4 coils can produce. It's just insane!
Coil builders will be happy to know that the SMOK TFV4 comes with a reasonably-sized TF-R1 RBA deck that makes mounting custom coils a breeze. Unlike the SMOK coil heads, the RBA has a detachable protective chamber that you can unscrew to expose the deck. Then all you have to do is loosen the two fairly large screws, mount your coil, screw it into place, wick it, add juice, and you're good to go. It's worth pointing out that the RBA deck comes with a pre-installed 0.85Ω coil, so you can give it a try even if you don't have coil-building experience.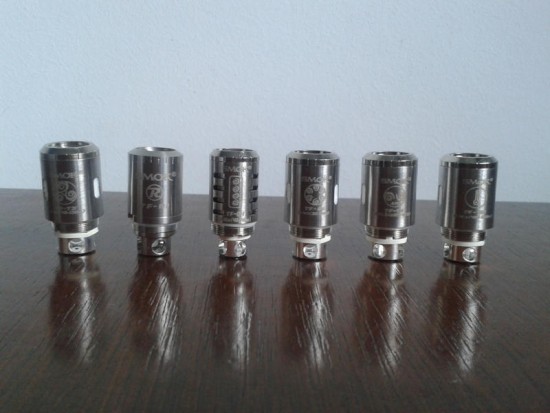 The RBA deck has a very large vertical airflow slot positioned right under the coil, so you can expect massive vapor and plenty of flavor. The wicking ports on the sides of the deck are pretty large as well, so the cotton wicks superbly, but you have to make sure you fit enough cotton in them so the juice in the tank doesn't flood the chamber.
The one disadvantage of the TFV4 RBA deck – and this applies to every other tank RBA deck I've tried – is that once you fill the tank with juice, you don't have access to it without making a big mess or draining out the e-liquid. So if you screw something up, or if you need to change the cotton or the coil, you have to empty the tank to access the deck. Hopefully manufacturers will make a design improvement in that regard sometime in the near future.
I only got the new coil types a week ago, so I haven't had a chance to test them all out yet, but if they're anything like the original ones that come with the tank, you can safely refer to them as 'miniature fog machines'. Let's at least run through them a bit, so you know what to expect:
TF-S6 Sextuple Coil Head (0.4Ω resistance/40 – 100 watts): I personally thought four coils was pushing it, but this thing is just insane. I couldn't resist giving it a try as soon as I got them, and boy was it impressive. The vapor production on this is mind-blowing. I've been using it with the X Cube 2 at 80 watts and it's been performing beautifully so far. In terms of vapor, this has been the most impressive of all SMOK TFV4 coil heads.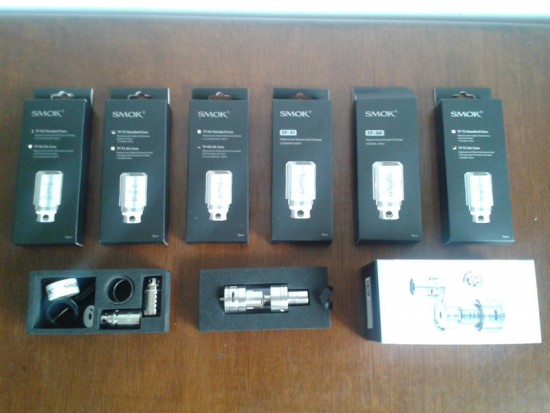 TF-N2 Dual Coil Head (0.12Ω resistance +/- 0.02Ω/420'F~600'F): this one is part of SMOK's temperature control range of TFV4 coil heads. The coils are made of Nickel 200 instead of kanthal, making it the perfect choice for use with temperature control mods.
TF-N2 Air Dual Coil Head (0.12Ω resistance +/- 0.02Ω/420'F~600'F): this is essentially the TF-N2 coild head, with an extra two air-holes that apparently ensure a cooler vapor.
TF-TI Dual Coil Head (0.33Ω resistance/420'F~600'F): also part of the temperature control series, this particular coil head uses titanium coils instead of nickel.
TF-T2 Dual Coil Head (1.5Ω resistance/20 – 40 watts): featuring two higher resistance kanthal coils, the TF-T2 requires less power, so it can be used with just about any mod, and delivers a cooler vape.
TF-T2 Air Dual Coil Head (1.5Ω resistance/20 – 40 watts): the same as the TF-T2 but with two extra air holes for better airflow and even cooler vapor.
The dual-coil RBA deck is about the size of the single-coil one, but has a slightly different design. It features two separate vertical air holes under each of the coils, and four smaller wicking ports, instead of two large ones. Just like the original, it comes pre-installed with two sub-ohm coils with a combined resistance of 0.25Ω.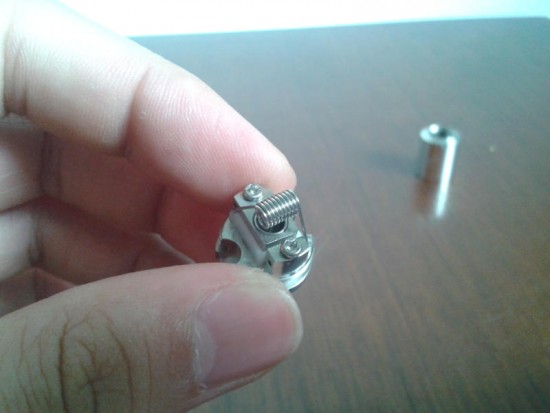 It certainly looks like SMOK thought of everything when they designed the TFV4. It supports temperature control coils, extreme sub-ohm coils, low-power coils for cooler vape as well as two RBA decks for a personalized vaping experience.
The only big issues I have with it have to do with cost. The SMOK TFV4 kit retails for $49.99, which makes it the most expensive sub-ohm tank on the market today, as far as I know. It costs more than some decent mods, but considering the build quality, level of customization and stellar performance, I would say it is totally worth it. I have never been more impressed with a tank like I have with the TFV4, and the competition is going to have to work really hard to come up with anything close to what this thing can do. But forking out the cash for the tank is just the beginning of a very expensive affair.
The TFV4 is by far the thirstiest tank I have ever used. Chugging huge clouds of vapor is awesome but it takes a heavy toll on e-liquid. Basically, you're filling this monster of a tank with juice and depending on how much power you're pushing through it and how heavy you are vaping, you may have to refill it in a matter of minutes. You can literally see the juice level dropping in the tank after taking only a couple of hits. It's crazy!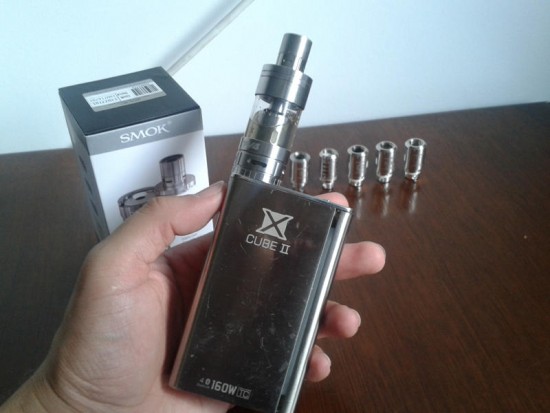 Sure, juice consumption drops to more decent levels when using the TFV4 at lower wattages or temperatures – depending what mode you're using it in – but performance drops visibly as well, and quite frankly, this thing is designed for cloud chasing and using it for anything other than that just isn't worth it. With so many sub-ohm tanks available these days you can easily find a cheaper option. But if a fog machine is what you're looking for, there's nothing better than the TFV4. Just know you'll be investing in juice much more than you're used to.
And lastly, there's the price of the coils. These things are massive, intricate and made of stainless steel, so I never imagined they would be cheap, but paying between $24.95 and 34.50$ for a five pack, depending on the model, is definitely not for everyone. Just imagine the costs of using the TFV4  as part of your daily vaping setup, it's going to make your wallet cry, trust me.
As much as I love to chug the clouds with the SMOK TFV4, I've decided this is not an all-day vape device. The costs associated with using it frequently are too high to be ignored, and the amount of vaporized e-liquid you inhale without even realizing is frankly a little scary. So I'm only going to use it on special occasions.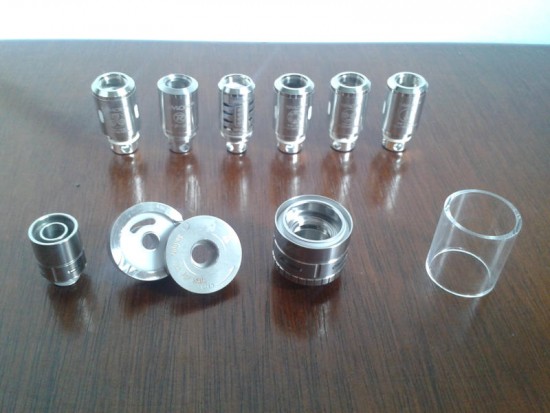 So, is the SMOK TFV4 ultimately worth your hard-earned money? That's a difficult one to answer. I guess it depends on a series of factors, like how deep your pockets are, how much you intend on using it and how much you love blowing big clouds of vapor. I can only say that performance-wise, the TFV4 is the most impressive tank I have ever used and I don't expect that to change anytime soon.