Vapor Storm Trip Mod Review
Vapor Storm's new dual-battery mod is design to look like one of those plastic suitcases (yes, seriously), so they decided to name it Trip. Unlike its inspiration, this device is actually made primarily of metal and is one of the lightest, most compact dual-18650 vape mods ever made. In fact, Vapor Storm claims its the smallest and lightest 200W mod ever, but that has yet to be officially confirmed.
A Look at the Contents
The Vapor Storm Trip mod comes packaged in a rather bland cardboard box with nothing but the name of the mod plastered on the front. That's kind of odd, considering the back of the box looks much better. You have a list of contents, detailed technical specifications, manufacturer contact information, some warnings and even a scratch-and-check authenticity sticker.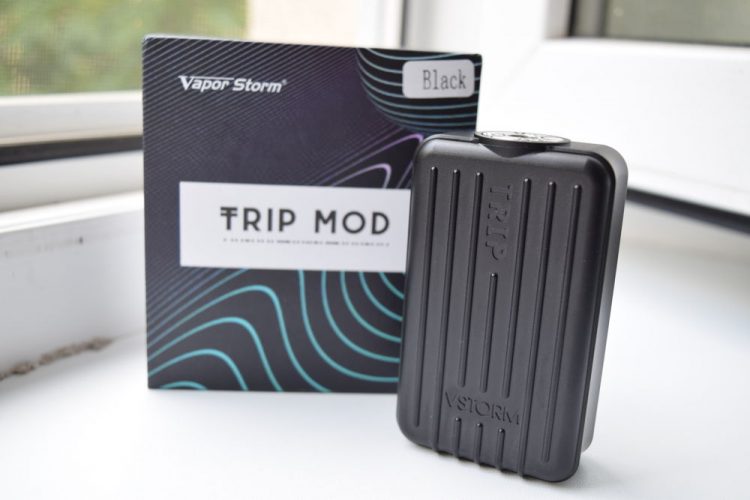 I normally don't care too much about packaging, but I think VStorm dropped the ball on this one, considering they could have at least put a picture of the Trip mod on the box, so people could see what it looks like. If someone's out shopping for a new mod at a vape shop, you can bet they're not going to go for the blandest looking box there.
Anyway, inside the box we have the 200W Trip mod, a micro-USB cable for charging and a user manual. That's the standard offering for this sort of kit.
Design and Build Quality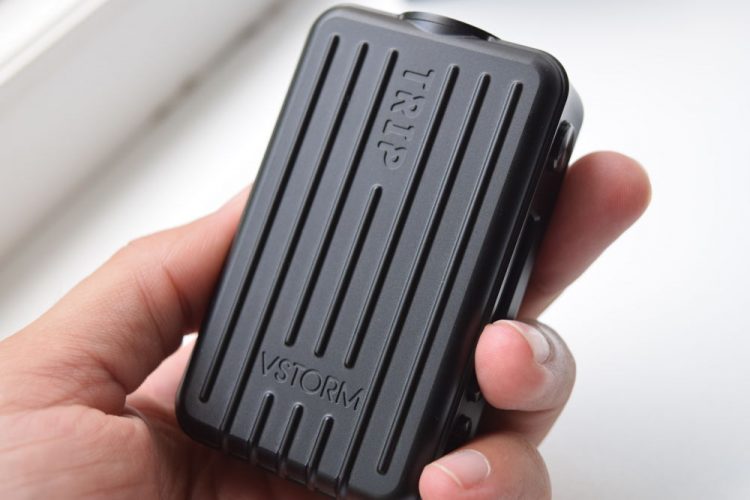 As I mentioned in the opening paragraph of this review, the Vapor Storm Trip was designed as a miniature travel suitcase. Seeing it for the first time was a little weird, but nowhere near as weird as finding out that they went for that design on purpose. Who designs their vape mods after a type of suitcase? Well, apparently Vapor Storm does.
Anyway, the Trip mod doesn't look all that bad, in my opinion. It's box mod with bevelled edges and corners, it feels nice in the hand, and if you're into plastic suitcases, you'll probably love its design. It measures 85mm x 51mm x27mm, and weighs only 90 grams without batteries. Vapor Storm claims its the smallest and lightest 200W (dual-18650) vape mod ever made, but again, I wouldn't put too much trust into their words.
For example, on the official Vapor Storm website, it's stated that the Trip mod is made out of "aerometal" and PVC. What is aerometal exactly? I've been looking for answers and I couldn't find any. Is it aerospace metals, is it some kind of alloy no one has ever heard of? We just don't know. Also, the Trip is apparently "the first device with Golden Ratio (0.618)", which is really quite impressive in a very abstract way… Anyway, I'm just saying Vapor Storm talks a big game, that's all.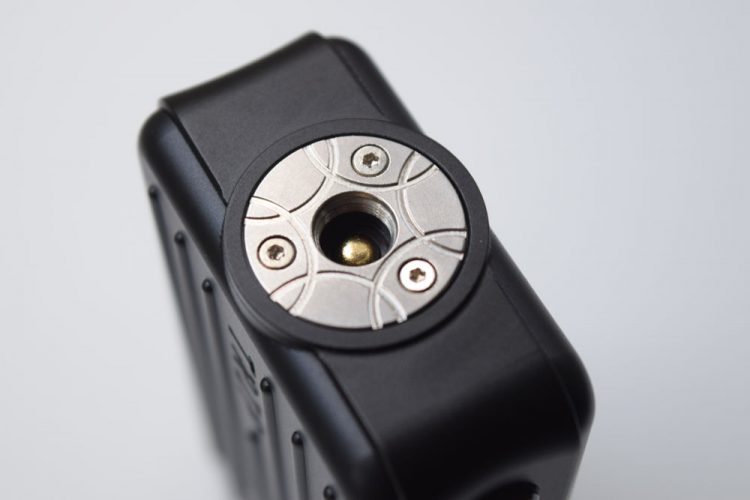 Back to our review, the Vapor Storm Trip has  a centered 510 connection with a gold-plated, spring-loaded pin and a stainless steel plate screwed onto the mod itself. Atomizers up to 24mm in diameter will fit great, but anything larger than that will overhang. I'd say that's a bit of a con, but then again, most atomizers out there are 24mm, so it's not that big of a deal.
The sides of the Trip mod are identical; they both features the same vertical-line texture characteristic to the suitcases that inspired this mod, as well as some not-so-subtle branding. One of the metallic panels act as a battery door, and you can tell which one it is by the small notch visible on the bottom of the mod. Just place yout fingernail in there, pull and the magnetic door will pop off.
The battery compartments are pretty standard. They're made of plastic, they feature visible battery polarity indicators, and they even have a ribbon to help you remove the batteries easier. You're probably going to need it too, because in order to make the Trip Mod so small, Vapor Storm had to be stingy with space, so 18650 batteries are quite a tight fit. So much so in fact that I'm worried that the battery wraps will get damaged over time. Batteries do fit, you just have to push them in more than you do with other vape mods.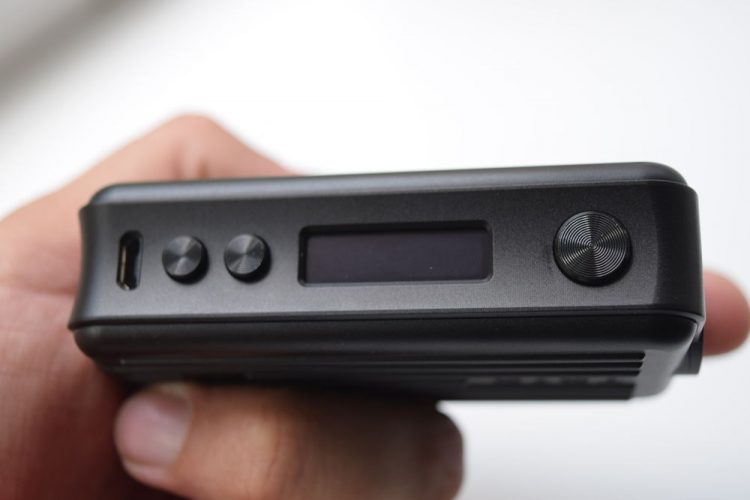 Also, I don't like the fact that the battery door doesn't have any kind of insulation on the inside, so if a battery wrap does tear and the battery makes contact with the battery door, it could cause a short. It's unlikely, but why not make it a non-issue by adding some plastic insulation? In terms of stability, the magnets work well, the door doesn't wobble one bit, and the chances of it coming off accidentally are slim to none.
Finally, on one of the narrow sides of the Trip mod we have the buttons and the display. The buttons are the round, metallic and painted in the same color as the mod. They're nice and clicky, but the larger fire button is very loose and rattly. It doesn't bother me much, but I know a lot of folks who can't stand button rattle, so I thought I'd mention it.
The display is pretty basic. In fact it reminds me a lot of old SMOK mods I reviewed a long time ago, like the SMOK Osub Plus, or the SMOK Quantum Brit. Granted, this one is a bit more complex, but not by much, and certainly not as modern as other displays we've seen recently, like that of the Smoant Charon Mini, or even the Vaporesso Polar. But then again, this a rather cheap vape mod, so I guess you can't expect too much.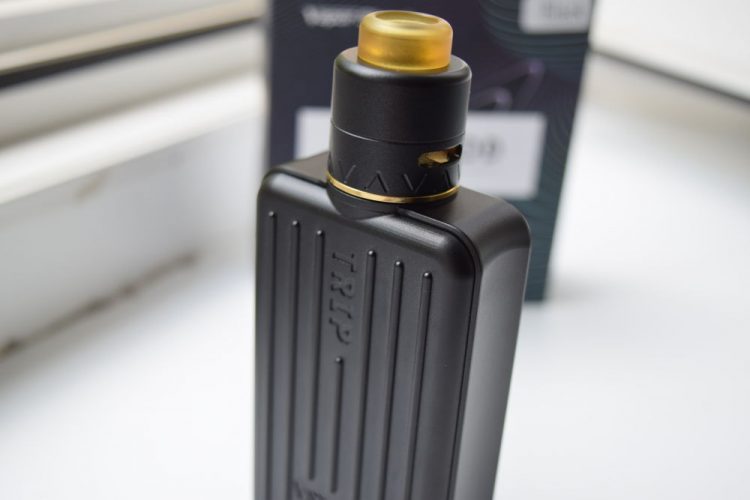 All in all, the Vapor Storm Trip mod is a rather bland-looking device, which is what you can expect from a device modelled after a plastic suitcase. Other than that, it is very compact and lightweight, but doesn't have too cheap a feel in the hand, thanks to the all-metal body.
Menu System and Navigation
At first glance, the Vapor Storm Trip looks like a very simple mod, The usual three-press of the fire button doesn't take you into any menu, so you're tempted to think that it's one of those wattage-mode-only devices, like the OBS Cube-X. But you should know not to judge something on a first impression only, and the Trip mod is a good example as to why, because it actually has all the modes of an advanced vaping device.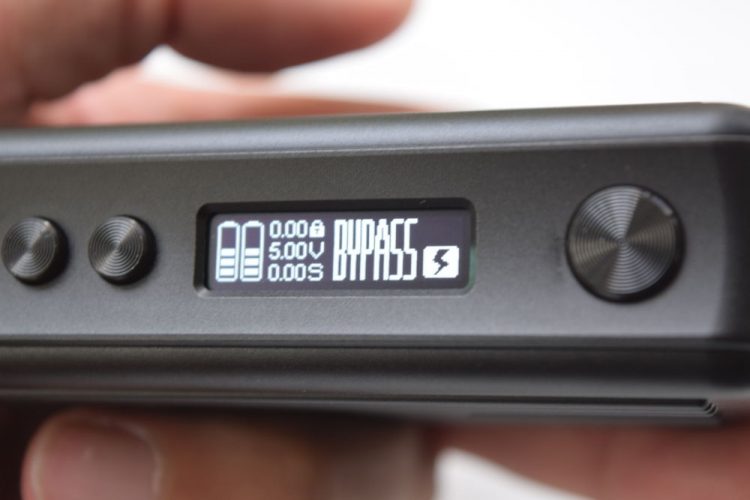 To browse through the different available modes, you have to first keep the '+' and '-' buttons pressed simultaneously for a couple of seconds, until you see the VW (variable wattage) icon start to flash. Then, pressing the '-' or the '+' buttons will let you cycle through the different other modes. Apart from variable wattage, you can use the Trip mod in Temperature control (for nickel, titanium and stainless steel), Bypass mode, Memory Mode and Custom Curves mode.
Depending on what mode you select, pressing the fire button will do different things. For VW and Bypass modes, it will simply confirm your selection, while for Temp. Control it will open two different settings – wattage adjustment and TCR setting. I don't usually mess with TCR, and I don't recommend you do either, but being able to set the wattage in temperature control is always a plus. In Memory Mode, you will be able to adjust the TCR before exiting to the home screen.
In Custom Curves mode pressing the fire button will let you cycle through ten adjustable increments. Each represents 0.5 seconds of a 5-second interval, and you can set a wattage for each, to create a custom vaping experience. To confirm your selection, just keep the fire button pressed for a couple of seconds.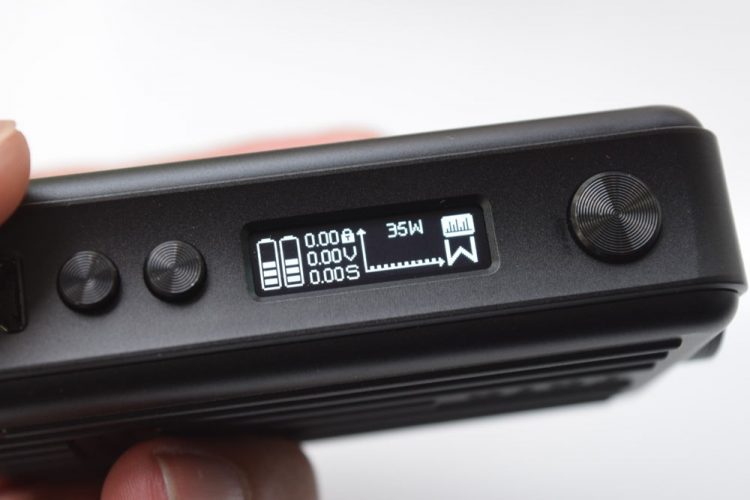 That's pretty much all there is to the menu, honestly. You can also press the '-' and fire buttons at the same time to change the orientation of the screen, but that's hardly worth mentioning. Bottom line, the Trip mod features all the major settings we see on modern mods these days, without all the bells and whistles. So if you only care about functionality, what it offers should be more than enough.
Battery Life and Performance
The Vapor Storm Trip mod is powered by two 18650 batteries (not included). It does feature on-board charging, but I've seen no mention of fast charging or even balanced charging. Judging by the outdated interface, I doubt it has any of those features, but I always recommend charging the batteries with a dedicated battery charger anyway, so I'm not counting that as a con.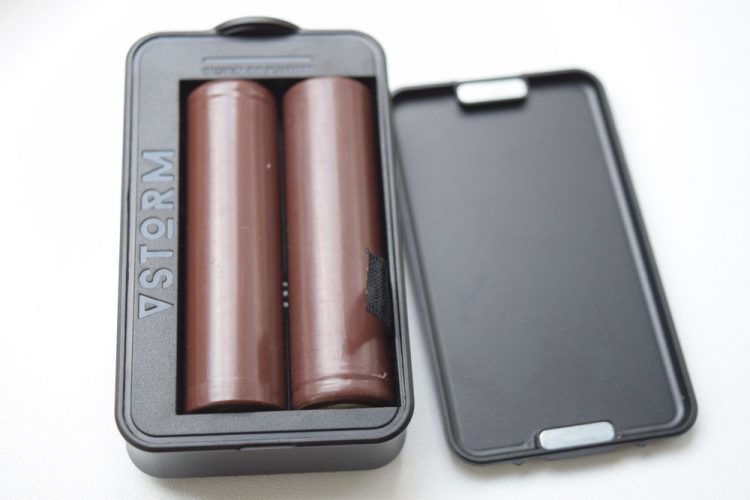 As always, battery life depends on what kind of batteries you are using, what the set power output is and how much you vape. These are all very important factors, so estimating battery life is pretty much impossible. Using this thing exclusively, with a couple of Sony VTC5-A batteries, at around 65W, I get almost a full day of use out of it, which is what I get with most other dual-18650 mods.
Performance wise, the VStorm Trip mod works about as well as all the other mods I've tried recently. It may not fire in 0.001 seconds like the new SMOK Morph 219, but it's fast enough that you most likely won't be able to tell the difference anyway. Power ramp up is decent as well, especially of you set a high-enough pre-heat level in temp-control and custom curves modes and resistance reading seems accurate.
Vapor Storm boasts a maximum power output of 200W, which is pretty standard for 18650 vape mods, although not all of them go that high in reality. Does the Trip mod? Honestly, I don't know and I doubt anyone but the most extreme vapers do either. Most users barely go over 80W, but that doesn't seem to be stopping companies from competing over who can get the most out of two 18650 batteries, in safe conditions.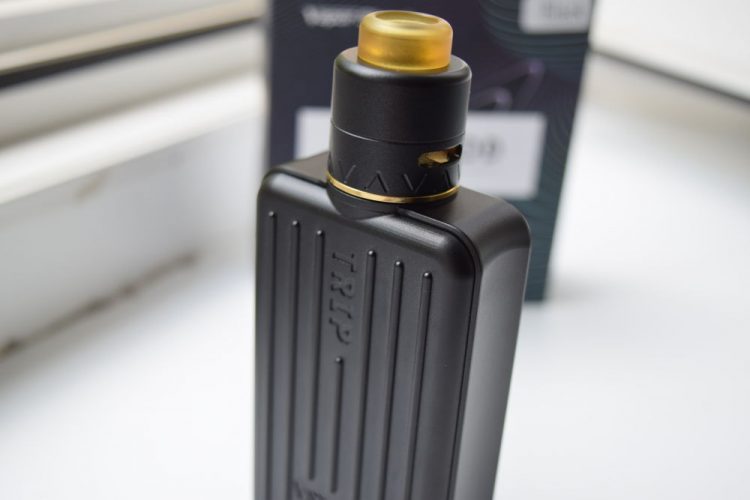 I haven't messed with temperature control, so I can't give you any information on that, but who even vapes in TC anymore these days? Personally, I think it's just a feature manufacturers include because everyone else does, which is fine. I've always been a power mode vaper, and that's never going to change.
Conclusion
The Vapor Storm Trip is about as standard as dual-battery vape mods get, unless you consider its inspiration – luggage. despite the manufacturer's bombastic claims, it's still just a bevelled box mod with the same style battery door, display and built-in features we've seen countless times before. Yes, it's compact and lightweight, but there are other such vape mods out there, so unless you've always dreamed of a mod fashioned after a plastic suitcase, I can't think of a reason why you should buy it over other vape mods.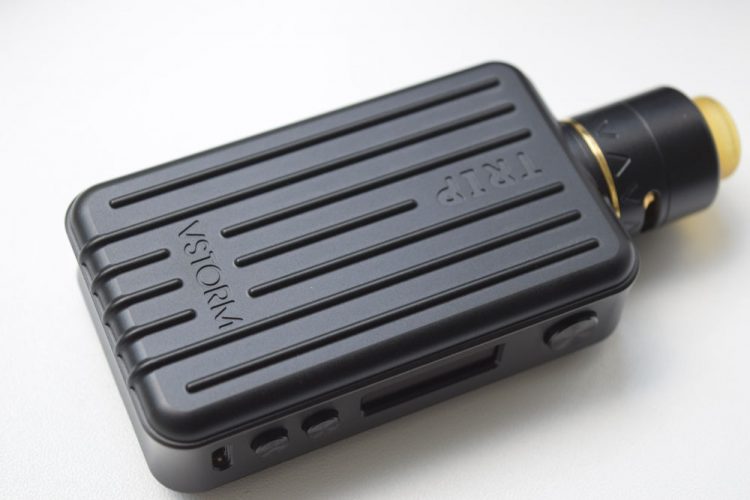 The 200W Trip mod was sent to me by Heaven Gifts, for the purpose of this review. They currently have it in stock for $44.47 as a standalone mod, or $59 for a 'Suitcase kit'.