SMOK Nfix-Mate Review
Pod systems are all the rage these days, and while they are virtually unbeatable when it comes to convenience, they don't offer a lot of options in terms of customizations. Sure, there are some devices that feature airflow adjustment, and multiple power output settings, but variable wattage pod systems aren't very common. And that's exactly why I was drawn to SMOK's latest vape pod, the Nfix-mate.
SMOK Nfix-mate Specifications
Dimensions: 74 mm x 46.6 mm x 13.6 mm
Material: zinc alloy, PCTG
Battery: 1100 mAh (non-removable)
Wattage range: 1W – 25W
Voltage range: 3.3-4.2V
Resistance: 0.6Ω – 3.0Ω
E-liquid capacity: 3 ml
SMOK Nfix-mate Packaging and Presentation
The SMOK Nfix-mate pod system comes in a white, square cardboard box with the same design elements we've gotten used to seeing on vape packaging lately – an image of the device inside as well as pictograms of its main features. On the back of the box, we have a list of contents, age and nicotine warnings, as well as a scratch and check authenticity seal.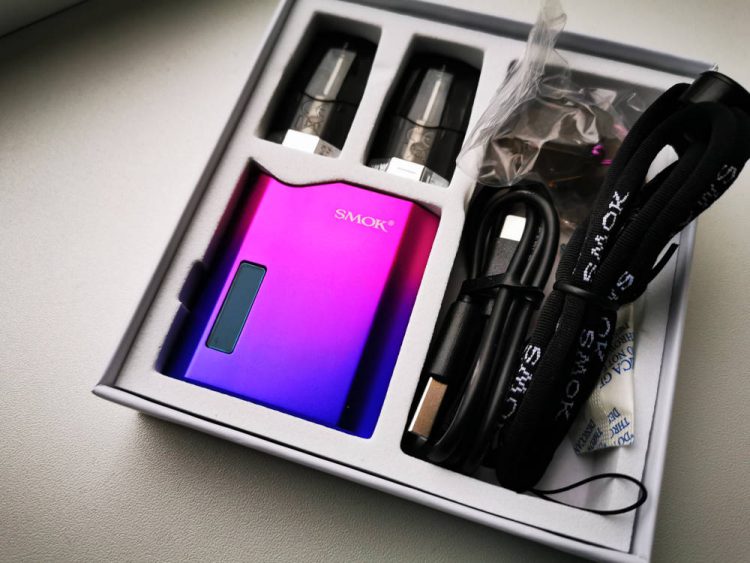 Inside the packaging, we have a Styrofoam holder with separate slots for the Nfix-mate vape pod, two refillable pods, a USB Type-C charging cable, a lanyard, two silicone mouthpiece covers, as well as a user manual and warranty card. It's actually a very interesting offering for this type of device.
SMOK Nfix-mate Design and Build Quality
The first thing I noticed about the new Nfix-mate was how similar it looked to another notable pod system I reviewed last year, the Uwell Caliburn Koko. It has the same slim square shape, very similar refillable pods, and about the same weight. A closer inspection reveals some major differences as well, but the two devices definitely look very similar at first glance.
Interestingly, the SMOK Nfix-mate is the successor of the original SMOK Nfix, a pen-style pod system, just like the Koko succeeded the massively popular Uwell Caliburn. It could be a coincidence, sure, but SMOK have a history of "borrowing" popular ideas and trends. Just look at their Thallo S pod mod, and you'll see what I'm talking about.
The SMOK Nfix-mate is not only very slick and compact, but it's also incredibly light, especially for a device with a built-in 1,100 mAh battery. It's easy to hold in the hand or store in the smallest of jeans pockets, and just as easy to use. But if you're looking for more than just a stylish draw-activated pod system, you'll be happy to know that the Nfix-mate has some advanced options available.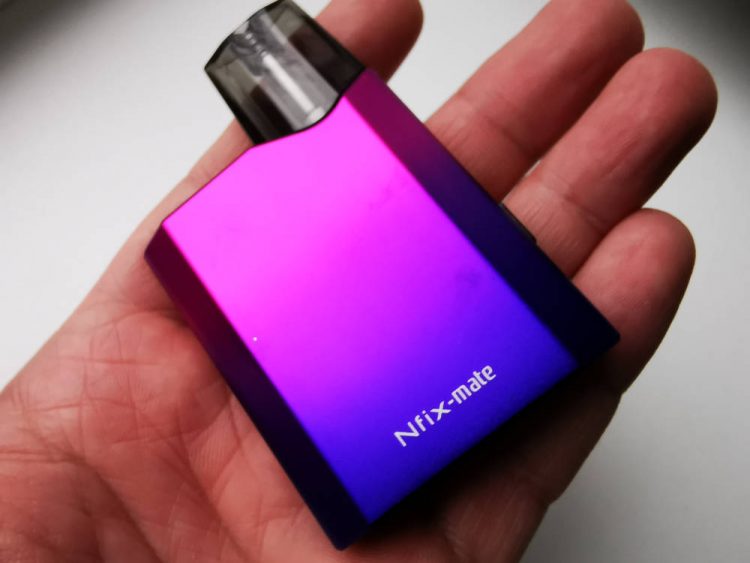 One of the most noticeable features of the new SMOK Nfix-mate is the rectangular display on one of its sides. It's not the largest screens I've ever seen on a vaping display, but it's more than enough for a device this size. It's also very bright, which is always a plus, and has a nice interface which offers plenty of useful information.
But why would you put a screen on an automatic pod system, right? Well, because this particular pod system has variable wattage functionality. That's a pretty rare feature for this type of vaping device, and could prove to be a game-changer, if the Nfix-mate proves a commercial success.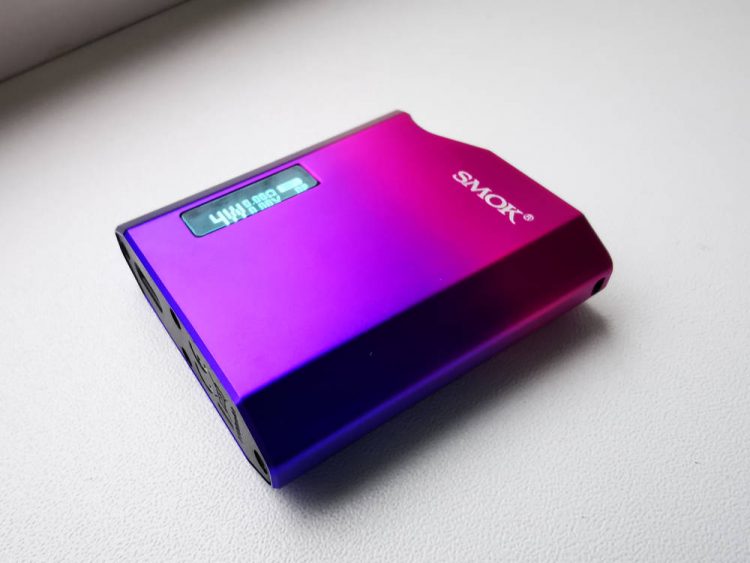 SMOK's newest pod system also has a small button, on one of its narrow sides, near the display. It's not a fire button, as you might think, but a power adjustment button, for taking advantage of the variable wattage feature. All you have to do is press it three times rapidly, until the wattage starts to blink on screen, and then you can keep pressing it to increase the power output. Because there's only one button, you can only increase the wattage up to 25W. Press it again, and it round-robins.
The button can also be used to turn the power on and off, by pressing it five times in rapid succession, the way you do on pretty much any other manual vaping device, but that's about all the functionality you get out of this little button. Still, for a pod system, it's more than enough.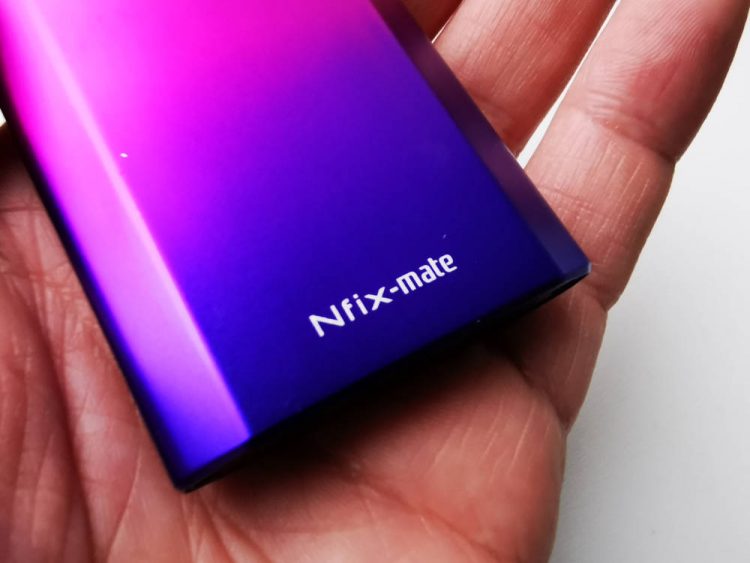 SMOK Nfix-mate Pods
The new Nfix-mate comes with two refillable pods, featuring two different type of non-removable coils. They are both rated at 0.8Ω, but one is a classic round wire, and the other is mesh. The pods both look the same, so you have to check the metallic base for the "meshed" branding to tell them apart.
The pods are magnetic, so you just have to slide them down into the cutout at the top of the battery unit until they click into place. Unfortunately, the Nfix-mate lacks the clever side window of the Caliburn Koko, which allowed you to keep an eye on the e-liquid inside without removing the pod. It's not a deal-breaker, for sure, but it would have been nice to see something similar done here.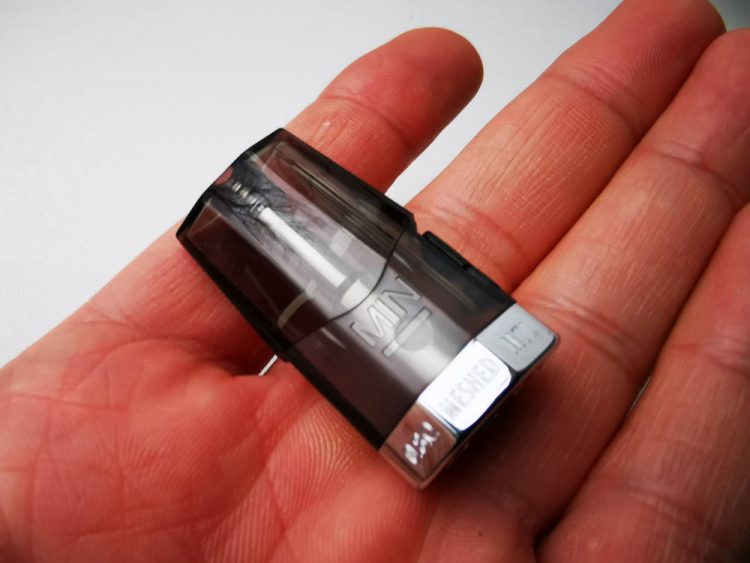 The pods hold up to 3ml of e-liquid, and are very easy to fill through the fill port on the side. They go into the battery unit both ways, so you don't have to fiddle with them, just remember that even though most of the pod is exposed, the bottom third is actually inside the battery unit, so you'll have to either take it out to check the juice level, or top it off after it drops under the visibility line.
The SMOK Nfix-mate kit includes a couple of attachable silicone mouthpiece covers, which latch on to the pod system and go over the mouthpiece to protect it from dust and lint while you're not using it. It's definitely a more hygienic way to vape, but it looks a bit strange to me, so I'm not going to be using it. However, if you care about keeping the mouthpiece as clean as possible, this is definitely a plus.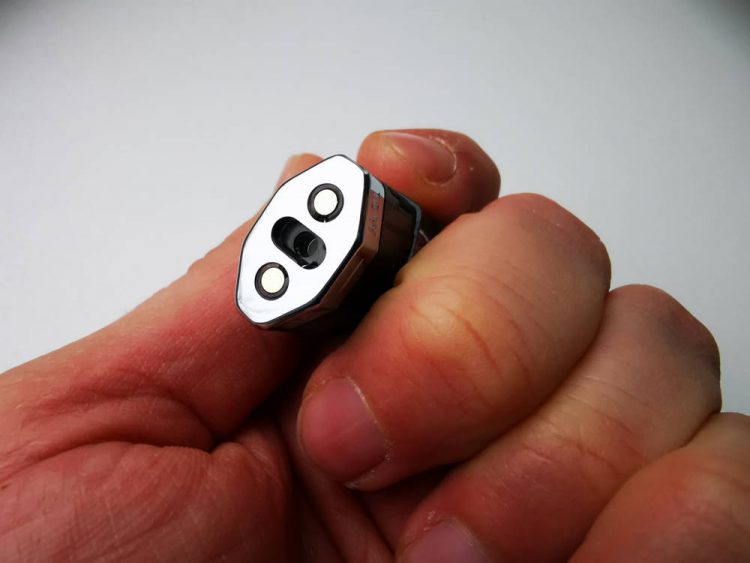 SMOK Nfix-mate Battery Life
The original SMOK Nfix had a battery capacity of 700 mAh, which was already pretty decent for a slick, pen-style pod system, but the newer Nfix-mate is even better in the battery department, featuring a 1,100 non-removable cell. How they managed to cram that large a battery in such a small device is a mystery to me, especially considering that the similarly-sized Uwell Caliburn Koko only has a 520 mAh battery.
And if the battery capacity wasn't impressive enough, the new Nfix-mate also features USB Type-C charging, which allows you to go from no battery back to full in just an hour. Plus, you can use the pod system while it is charging.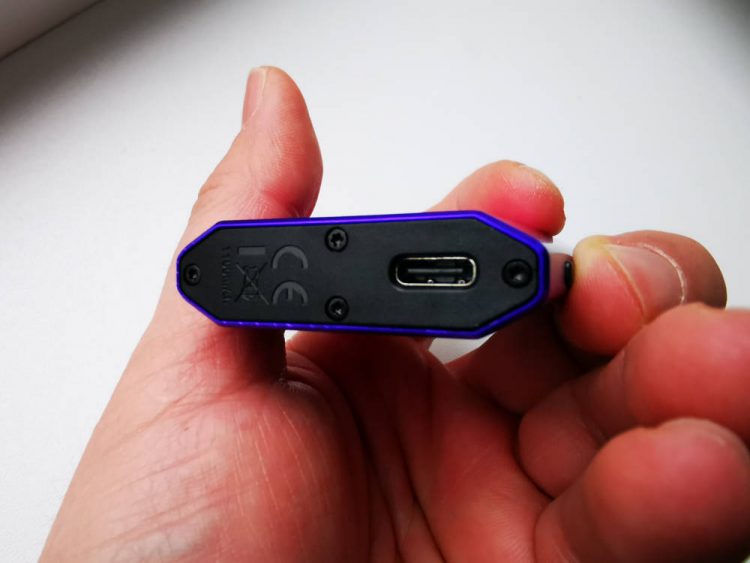 How Does the SMOK Nfix-mate Vape?
I never had a chance to try the original SMOK Nfix, but I can tell you that I was very impressed with the performance of this newer mate version. Even though it doesn't have adjustable airflow, it just happens to have the type of restrictive MTL draw that I prefer, so in that sense, my opinion of it is subjective. If you prefer a looser direct lung draw, and thick clouds of vapor, for example, you probably won't be too pleased with this pod system.
There are plenty of loose draw pod system out there you can try, in fact, most of them have a loose, airy draw, it just so happens that I personally enjoy a mouth-to-lung draw more when it comes to pods. And this one is right up my alley, reminding me a lot of the draw I got from the old Renova Zero.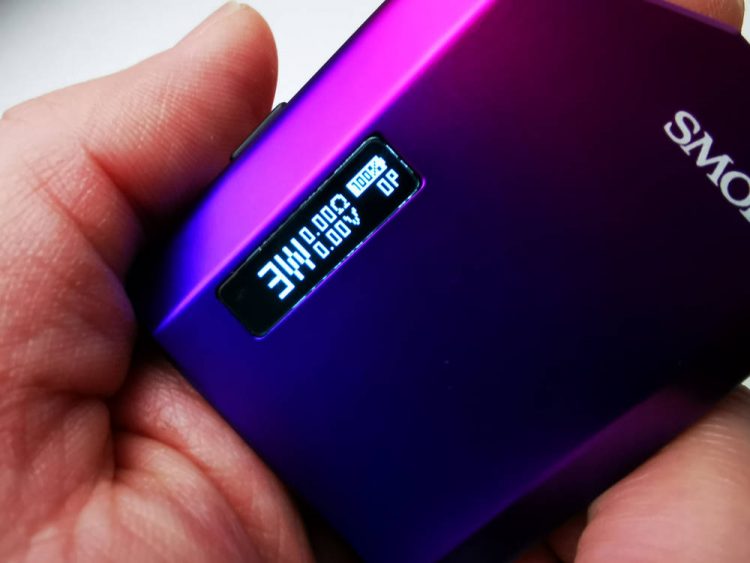 Even though they have different styles of coils, both pods vape about the same to me. I would say the mesh coil one has an even tighter draw than the other one, but other than that, I didn't notice any notable differences. The mesh is supposed to provide better flavor, but I was perfectly happy vaping the round wire pod. They both deliver decent flavor, not RDA-level, but definitely good enough.
Unfortunately, there is no way to adjust the airflow, not even by covering one or both of the air slots, as you can with the ZQ XTAL, so if airflow adjustment is an issue, you may want to try something different, like the Vaporesso Xros, for example. That one doesn't have variable wattage, though, so it's all about what matters to you.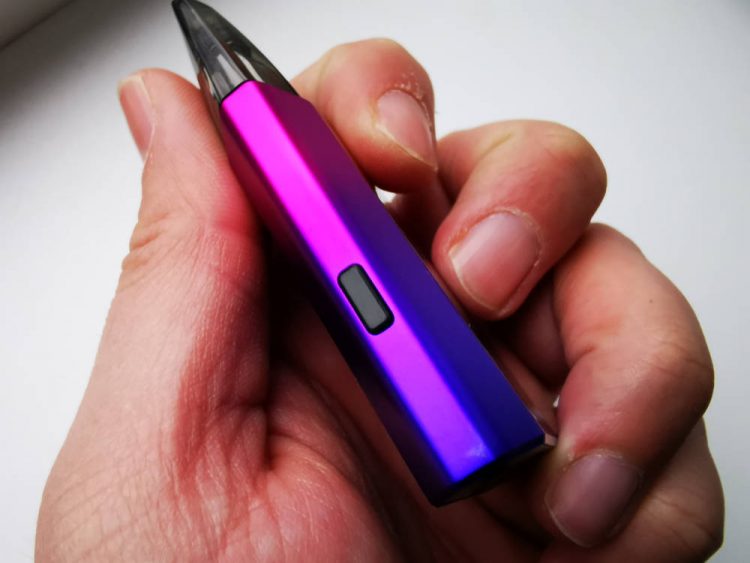 I've been perfectly happy with the performance of the SMOK Nfix-mate so far, but one thing I would have liked to see is multiple resistances for the coils. Variable wattage just seems like a wasted opportunity if you don't have different resistance coils to use it with. But, hopefully we'll get more pod options in the future.
Conclusion
The SMOK Nfix-mate is one of the most advanced pod systems available on the market. It features variable wattage, and a nice little display like you see on advanced mods, but it's also super thin, compact and just easy to use and carry around. Did I mention it has a battery capacity of 1,100 mAh? That's more than many devices twice its size. It lacks airflow adjustment and a way to check the e-liquid level without taking out the pod, so it's not perfect, but it's definitely one of the best vape pods I've tested lately.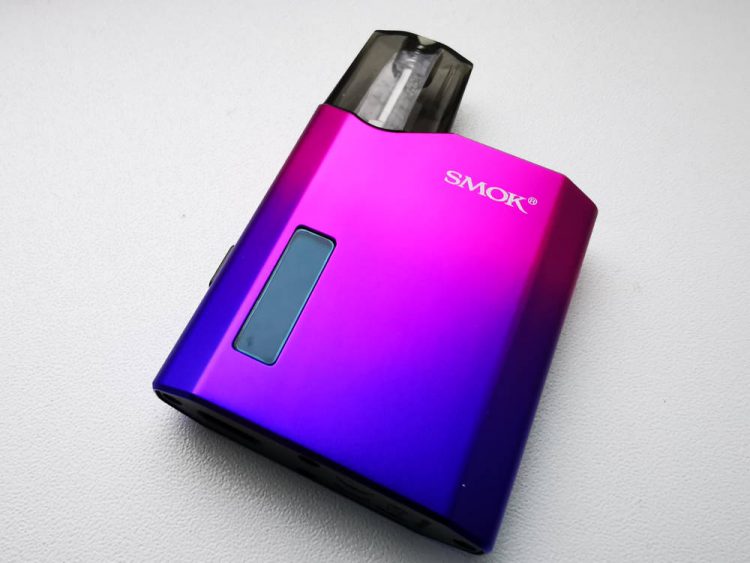 The SMOK Nfix-mate was sent to me by Health Cabin, for the purpose of this review. They currently have it in stock at a price of $35.50.
Pros
good build quality
compact and lightweight
variable wattage
great battery life
great for MTL
nice OLED display
USB Type-C